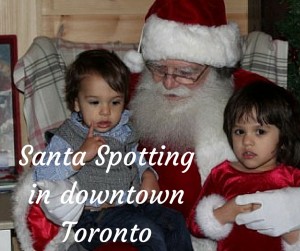 Instead of our regular Fashion Friday series I thought we'd share some Santa spotting options for us downtown Toronto dwellers. We're in full holiday prep mode and while Little Monkey is counting down to December 1st to open her Kinder Egg advent calendar, I'm counting down to our Christmas tree going up. Last night Baby Boy and I swung by a hotel lobby and I couldn't help but take a few pictures…see below!
If you're looking to find Santa downtown this year, here's some good bets!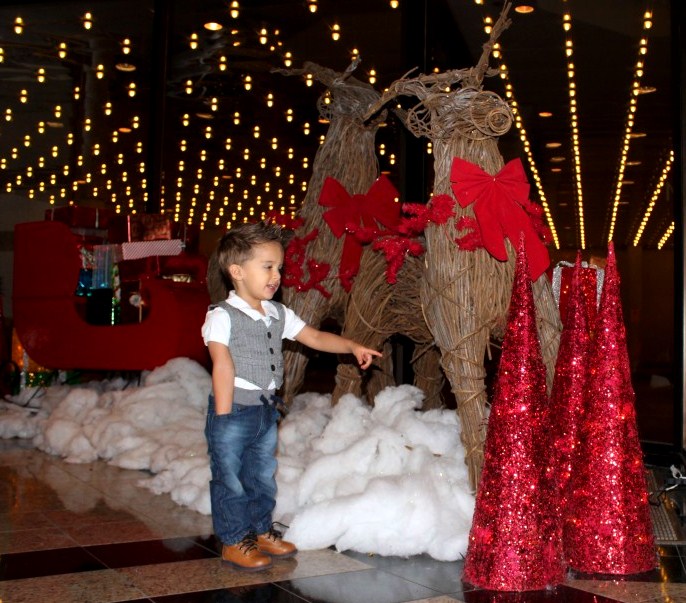 Children's Place Grey Vest
 Children's Place White Shirt
 Joe Fresh Jeans
 Osh Kosh B'gosh Boots
Chelsea hotel: This lobby is my favourite spot to take holiday pictures at. It's well decorated and as you can see Baby Boy had the place all to himself when we visited one afternoon. Santa is here every Friday (3 to 7 p.m.), Saturday (3 to 7 p.m.) and Sunday ( 9 a.m. to 1 p.m.) from December 4th to 20th. They do request a donation which will benefit the SickKids Foundation.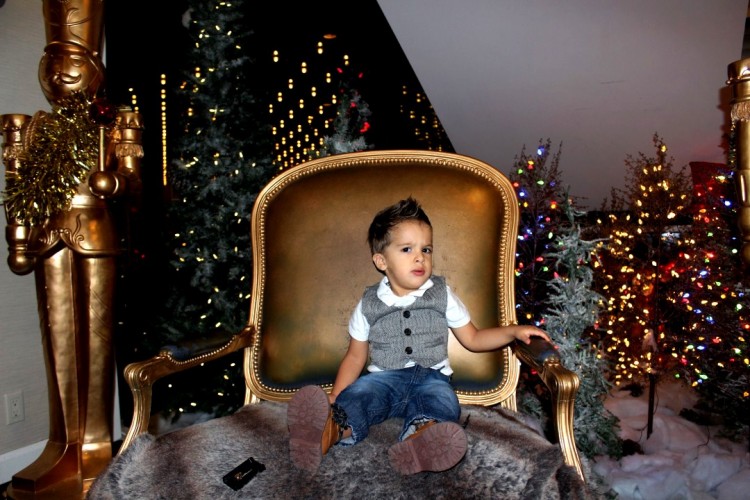 Loblaws  Maple Leaf Gardens: Yes folks you can spot the big man while you do your groceries! The Loblaws Maple Leaf Gardens store will have a life-sized Holiday Gingerbread Village every weekend from November 28 until December 20 from 10 a.m. to 6 p.m. and on December 22 and 23 from 10 a.m.to 6 p.m.. Cookie decorating and a photo with Santa is all yours with a $5 donation to the President's Choice Children's Charity.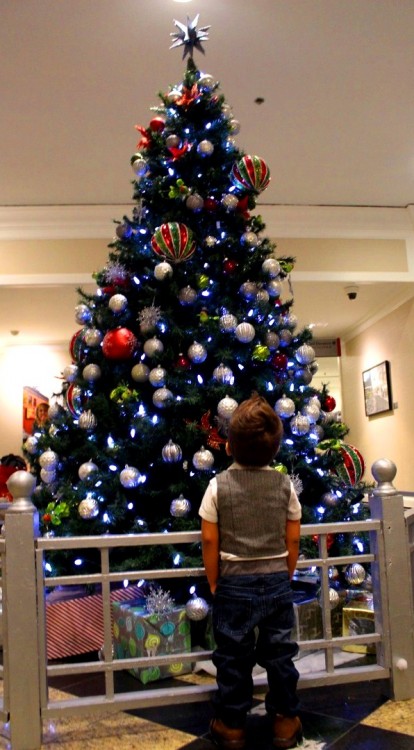 Christmas Market : A visit to the Toronto Christmas Market in the Distillery District is free during the week days ( closed on Mondays) and will cost you $5 on Saturdays and Sundays, however a visit to Santa's house is free no matter when you pop by! Santa's hours are Tuesdays to Thursdays 2:00-7:30 p.m., Fridays 2:00 to 7:30 p.m., Saturdays 10:00 a.m. to 8:30 p.m. and Sundays 10:00 a.m. to 7:30 p.m. Expect a bit of a line up during the peak hours but there's plenty to see while you wait. You have until December 20th to get here!
Eaton Centre : Visit Santa's Log Cabin at the Trinity Square and have him read the kids a book before taking photos. He's there from November 26 until  December 24 between 9:00 am and 5:30 pm. The $10 charge is donated to one of three charities. Be sure to book a spot to avoid line ups and if you're hesitant about making a commitment, there's drop in community days on Fridays.
Do you know of any others in the downtown Toronto area? Let me know and I'll add them in here!