If you're looking for a relaxing family vacation in Abu Dhabi, we're going to tell you about our experience at Fairmont Bab Al Bahr with kids. We spent two wonderful nights at this beach resort in the U.A.E and it was just what our pandemic leery minds and bodies needed. Friendly staff, talent chefs and pristine views await you and your kids at this luxury hotel!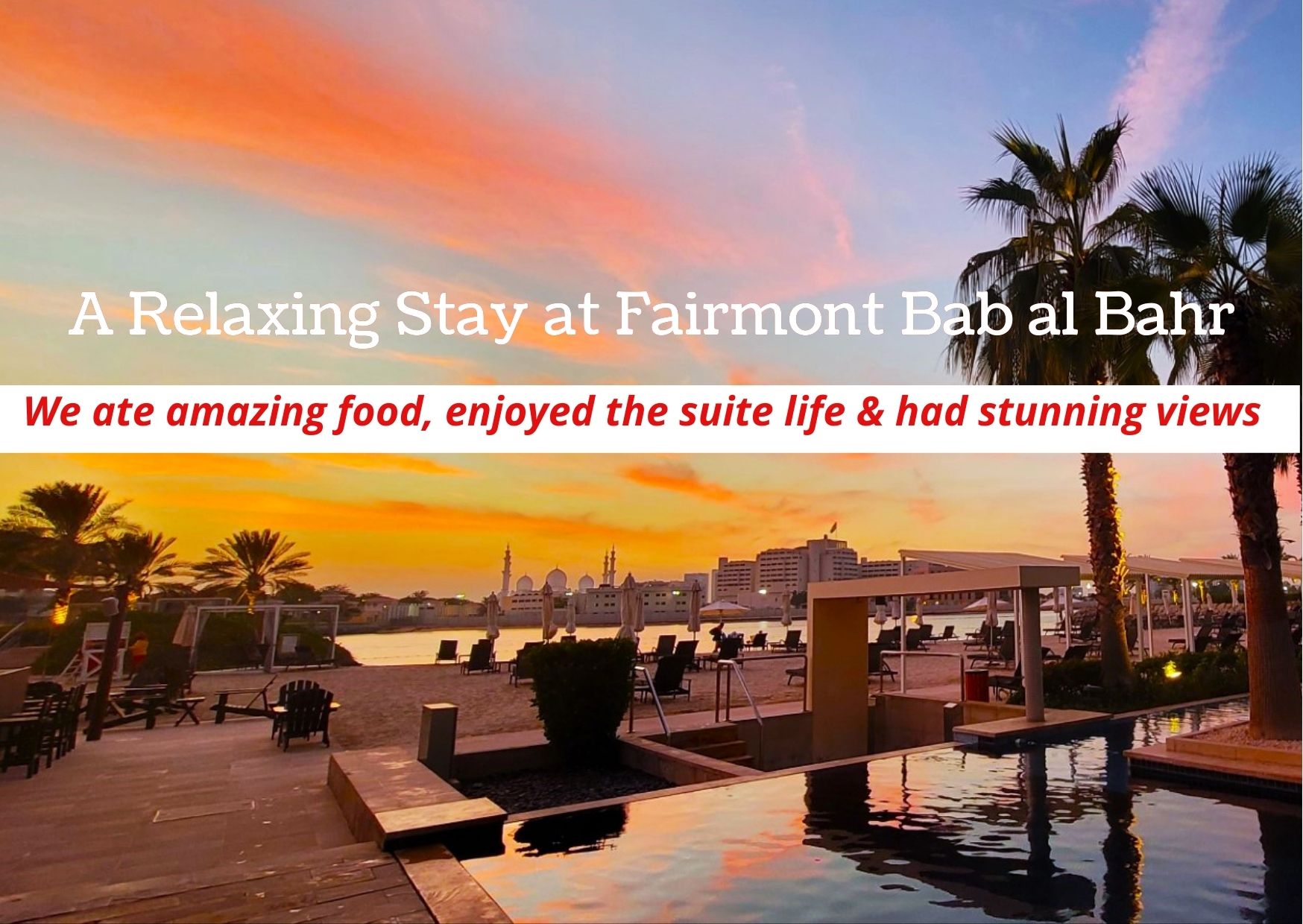 Disclosure : We were guests of Fairmont Bab Al Bahr but, as always, opinions are TOTALLY ours!
Where is Fairmont Bab Al Bahr Located?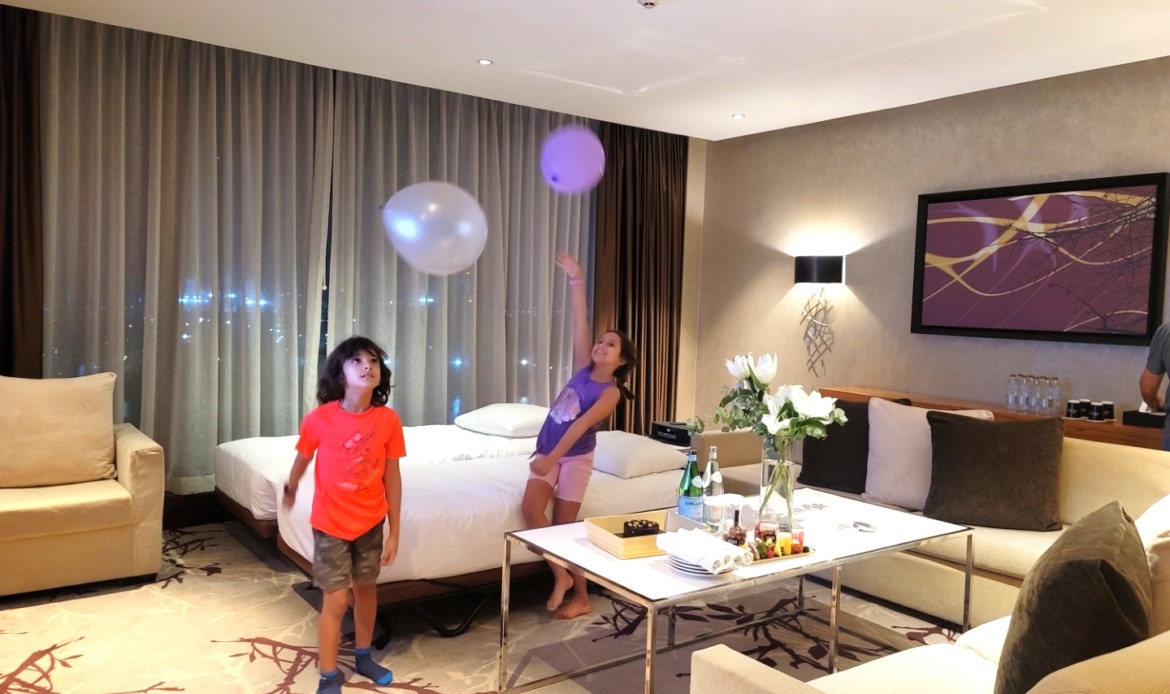 This beachfront five star hotel in Abu Dhabi is located across the water from Sheikh Zayed Grand Mosque and offers breathtaking views. Visiting the Mosque was the only excursion I had in mind for this trip because relaxing and unwinding was the main focus of this U.A.E holiday. Which means a stay at this Fairmont property was an easy decision for us. It took us under an hour and a half to drive to this Abu Dhabi beach resort from Bur Dubai and from the moment we stepped out of our vehicle, we were warmly greeted. This five star luxury Abu Dhabi hotel is about 20 minutes from the downtown core, Yas Island, the airport and all the fun amusement parks, making it an ideal spot for a family holiday in Abu Dhabi.
Fairmont Gold Suite Life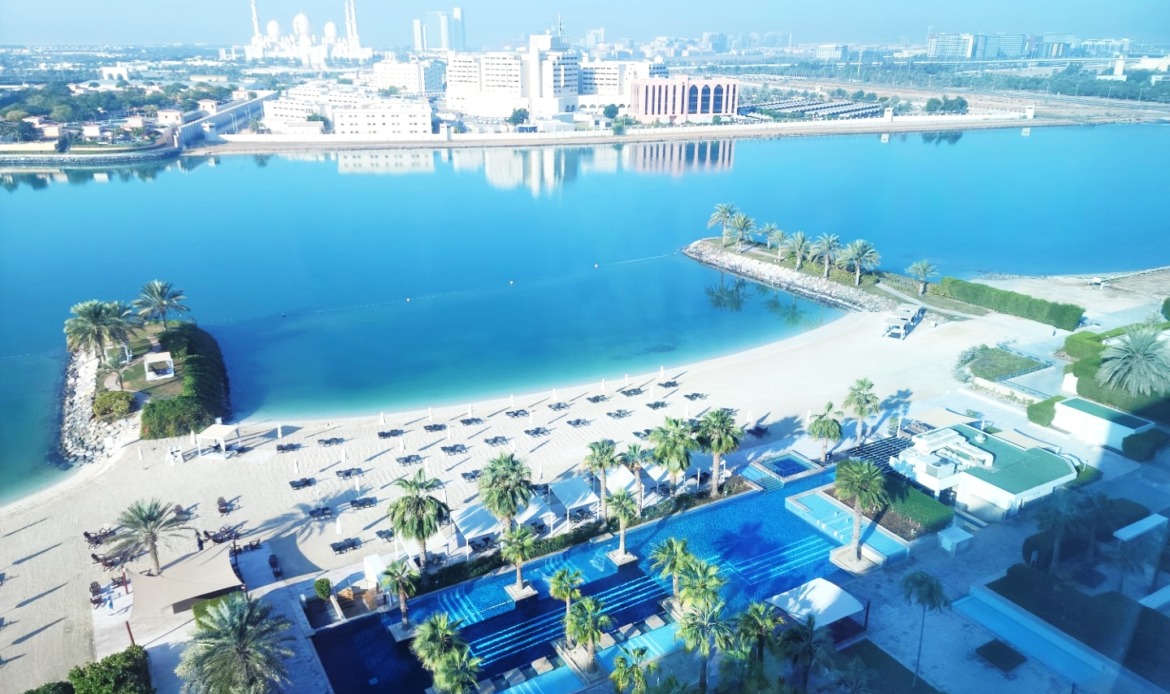 We're no strangers to the Fairmont charm and I especially love the more modern Fairmont locations. So if you guessed that Akira and I LOVED Fairmont Bab Al Bahr, you're right! From the moment you enter the stylish hotel lobby filled with gold accents, soothing sounds of babbling brooks and trendy seating areas, you can feel your shoulders relax and your senses awaken. We visited leading up to Christmas and I loved how festive the lobby looked!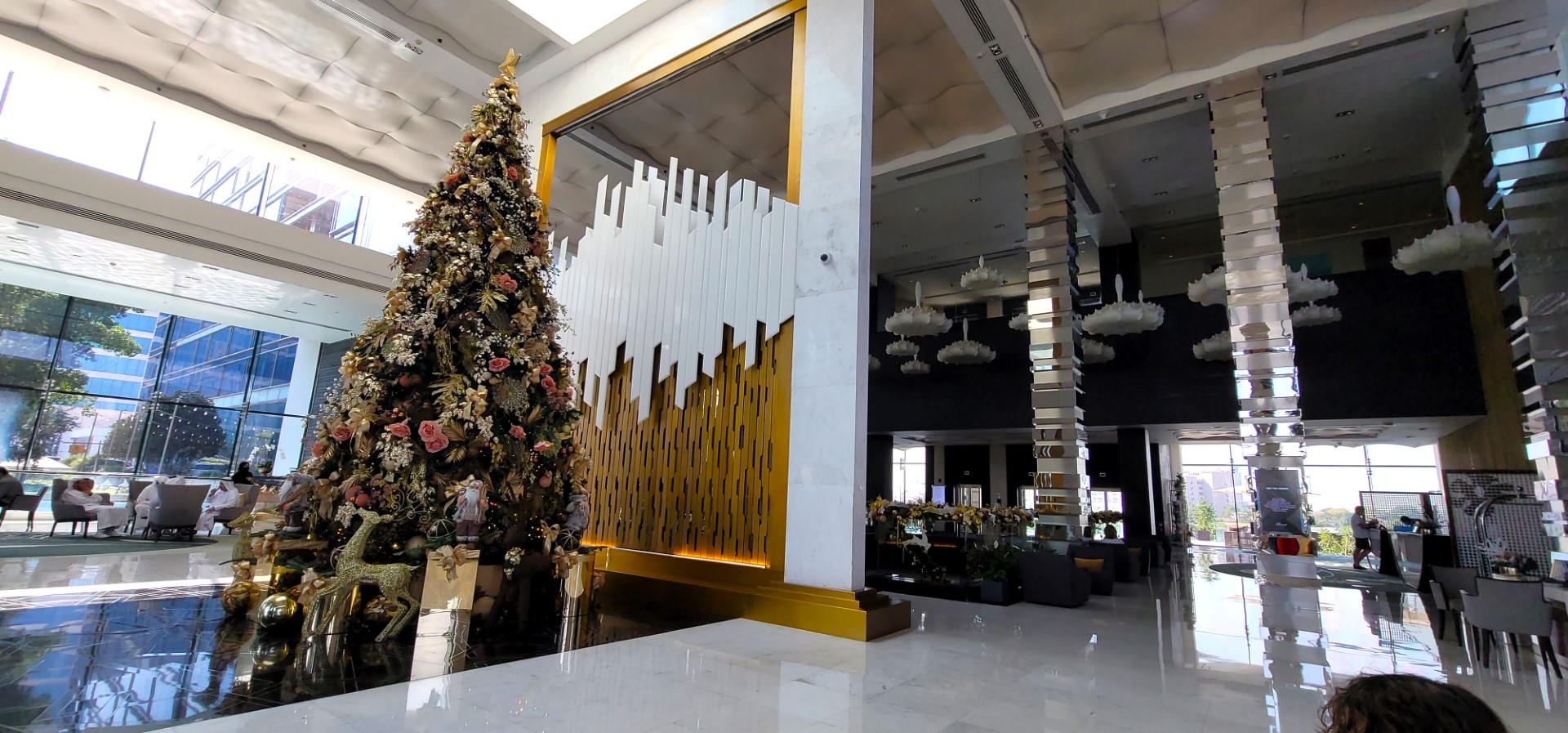 If you're staying on a Gold level floor, you can expect the personalized services and amenities you've come to expect. There's complimentary breakfast, evening drinks and nibbles, laundry services and dedicated lounges and check-in areas. This is definitely one of my main reasons for choosing to holiday at a Fairmont property.
On this Abu Dhabi holiday with kids, we stayed in a Fairmont Gold Premium Suite at Fairmont Bab Al Bahr. Chris and I had our own bedroom and we had a living area with a couch and an additional bathroom. This meant that our suite had two sperate toilets in addition to a room with a gorgeous soaker tub and standing shower. So helpful when travelling as a family! The kids probably had the best view because their rollaway beds were right by the floor-to-ceiling windows that offer uninterrupted views of the Sheikh Zayed Grand Mosque! All Fairmont Creek View rooms offer jaw dropping views of the Abu Dhabi Creek and the Sheikh Zayed Grand Mosque and we got these views from our living room and the bedroom. It was so nice to watch sunset from our room and wake up to the sprawling water views where the kids were able to see the pool, beach and Mosque.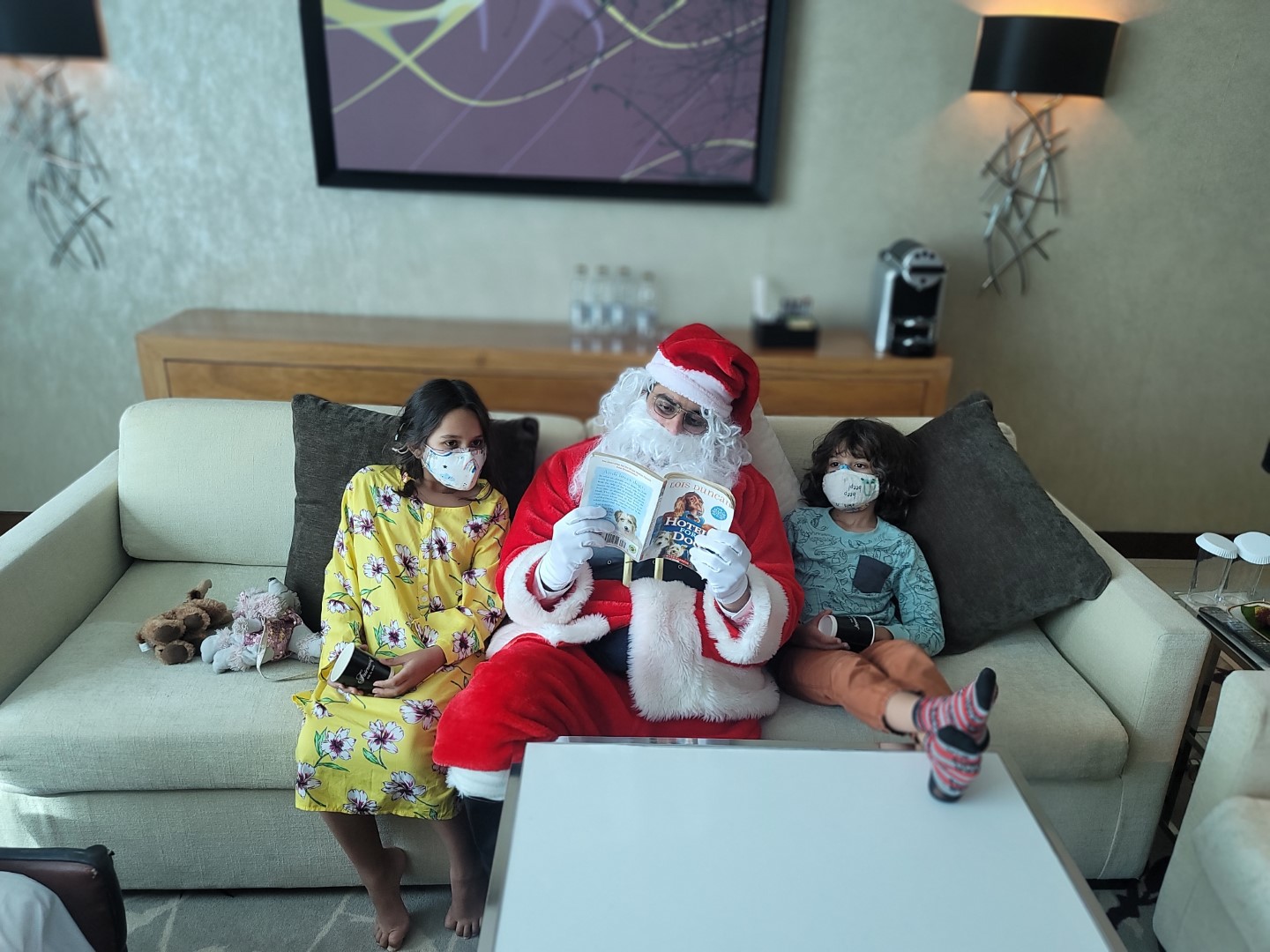 Even if you're not staying on a Gold level floor, you can expect attentive and personalized service. I was so impressed by how kind and generous the staff at the hotel were. They were fabulous with the kids and often chatted with our shy kids.. even getting a smile out of Akira!
Family Friendly Amenities at Fairmont Bab Al Bahr
We were absolutely delighted by the amenities on offer here. During these times the kids club was closed but I bet you it's just as fun as the Fairmont Fujairah was a few years ago. Akira and Apollo loved the Olympic sized pool which had sections with mini fountains and areas for them to lounge in. There was a children's pool area as well.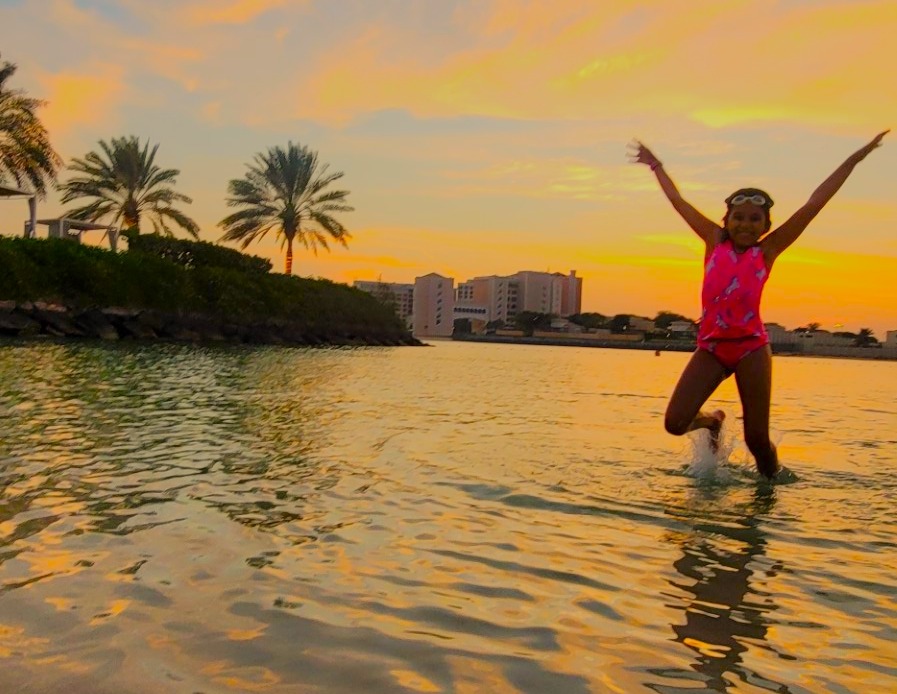 As for me, I found the entire resort so peaceful. Especially during our post dinner walks. It was magical to see the Mosque a glow in the evening and to catch sunset by the beach. The beach was right by the pool and we had views of both from our hotel suite. Paddleboards and kayaks are available for rent if you want to get in the water. We'll definitely be returning to Fairmont Bab Al Bahr, that's for sure!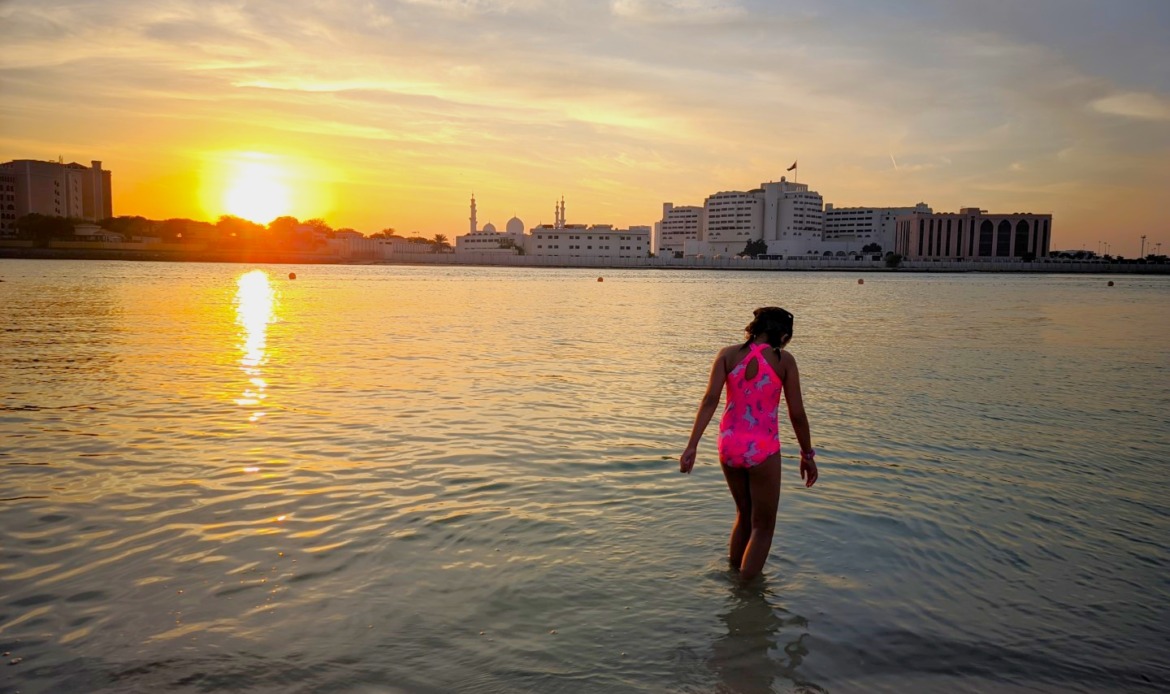 Parents looking to enjoy some workouts will be glad to know that the VOLT fitness programs are offered at this Fairmont property and you can also receive personal training, if you wish to do so! Families looking to explore the city should definitely check out the FREE Visit Abu Dhabi Shuttle Bus service which stops at the hotel and main city attractions. The hotel also offers private limo service and that's how we roamed around the city.
I will also highlight that for parents looking to enjoy a date night, the babysitting services are very reasonable at 50 Dhs (CAD 17) per hour before midnight for up to two kids.
Dining with Kids at Fairmont Bab Al Bahr
Food is a huge part of our travels and the restaurants at Fairmont Bab Al Bahr did not disappoint! There are some amazing chefs at this hotel and I can guarantee that you will find what you're craving. The ambiance and service at each and every restaurant we dined at was just what we needed after nearly two years of constant lockdowns in Canada. Our food adventures at this hotel brought me such joy! I will also highlight that these restaurants and bars are open to the general public, so even if you aren't staying at the hotel, it's worth coming in for the food.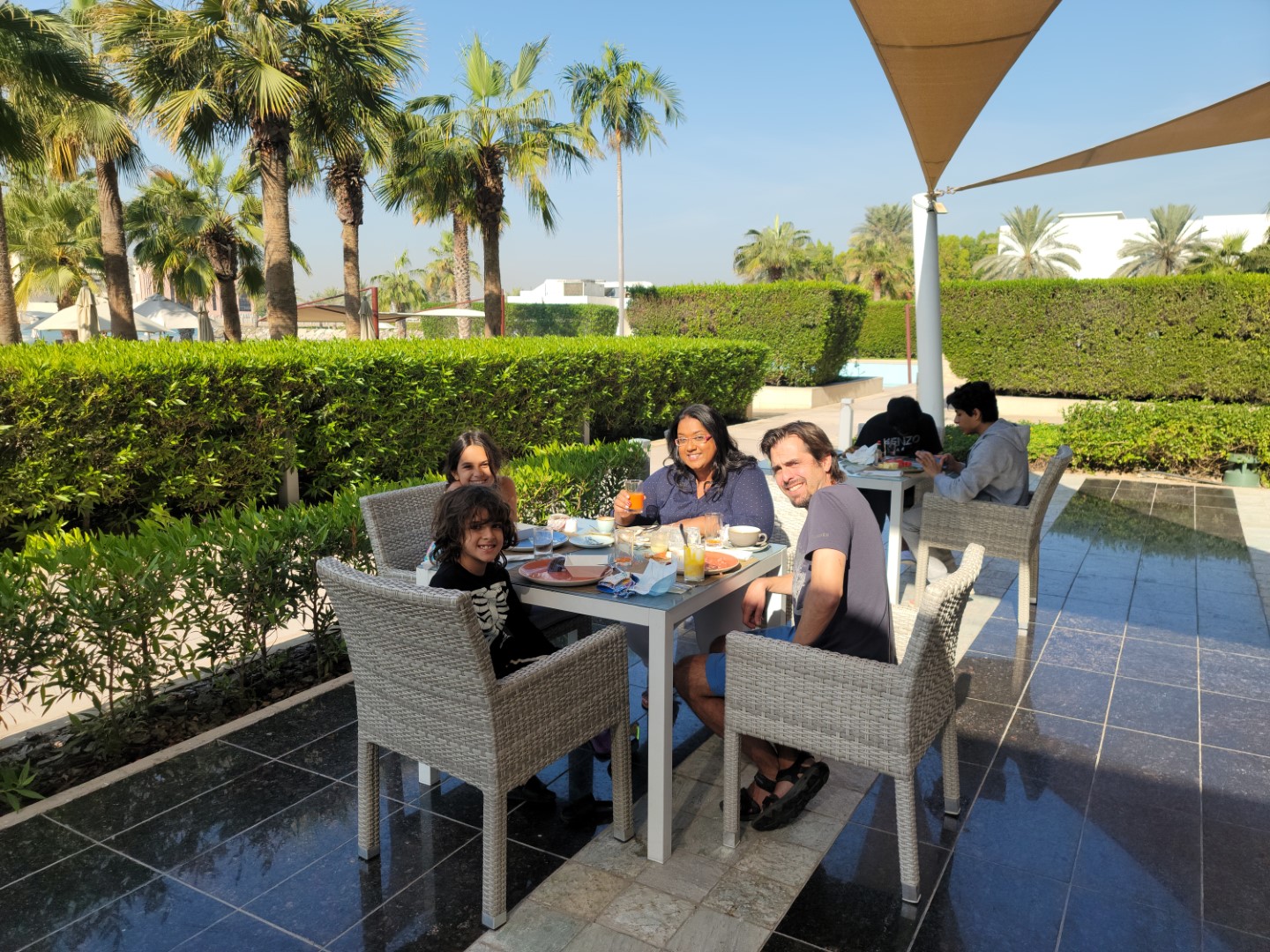 There are 6 restaurants on this property, including a guilt free patisserie offering ketogenic, sugar-free, gluten-free and vegan creations, which made Apollo (who is dairy free) very happy! The restaurants were great at catering to allergies. Below are our thoughts on the meals we enjoyed over the two days. Most restaurants offered an option to dine indoors or outdoors and more often than not, we dined outdoors.
Mazaj Bab Al Bahr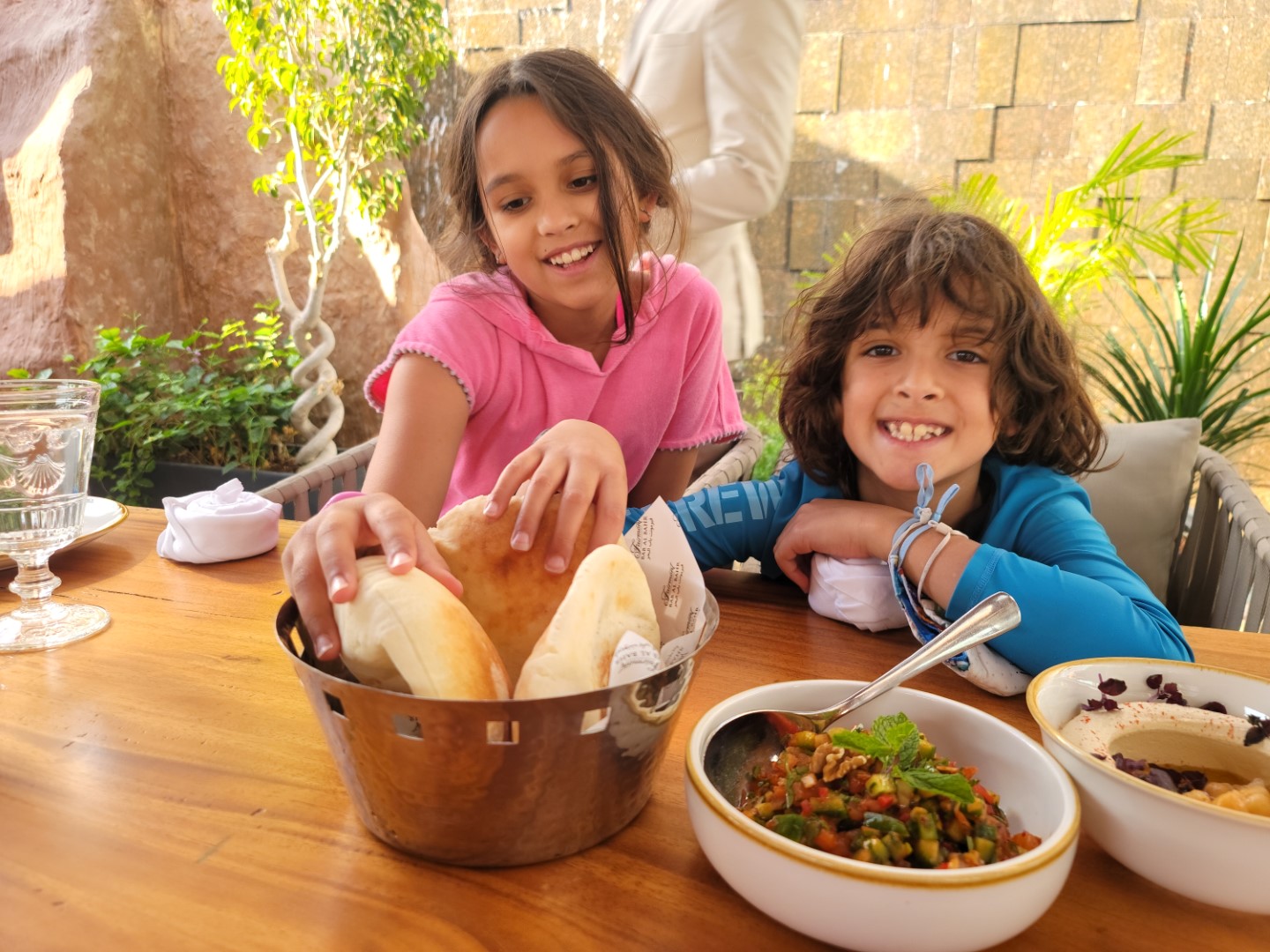 This Mediterranean restaurant was quite possibly my favourite (though as you will see, it's hard to choose!). We enjoyed all the amazing eats in the garden lounge for a late lunch and were so full after our meal that we needed a nap.
As you can see from the pictures above, the meal here was absolutely fabulous. The Chef came by and greeted us and we could hear the passion in his voice as he spoke about a few of the dishes we had in front of us. I'll be dreaming of that Kunafa for years to come!
Café Sushi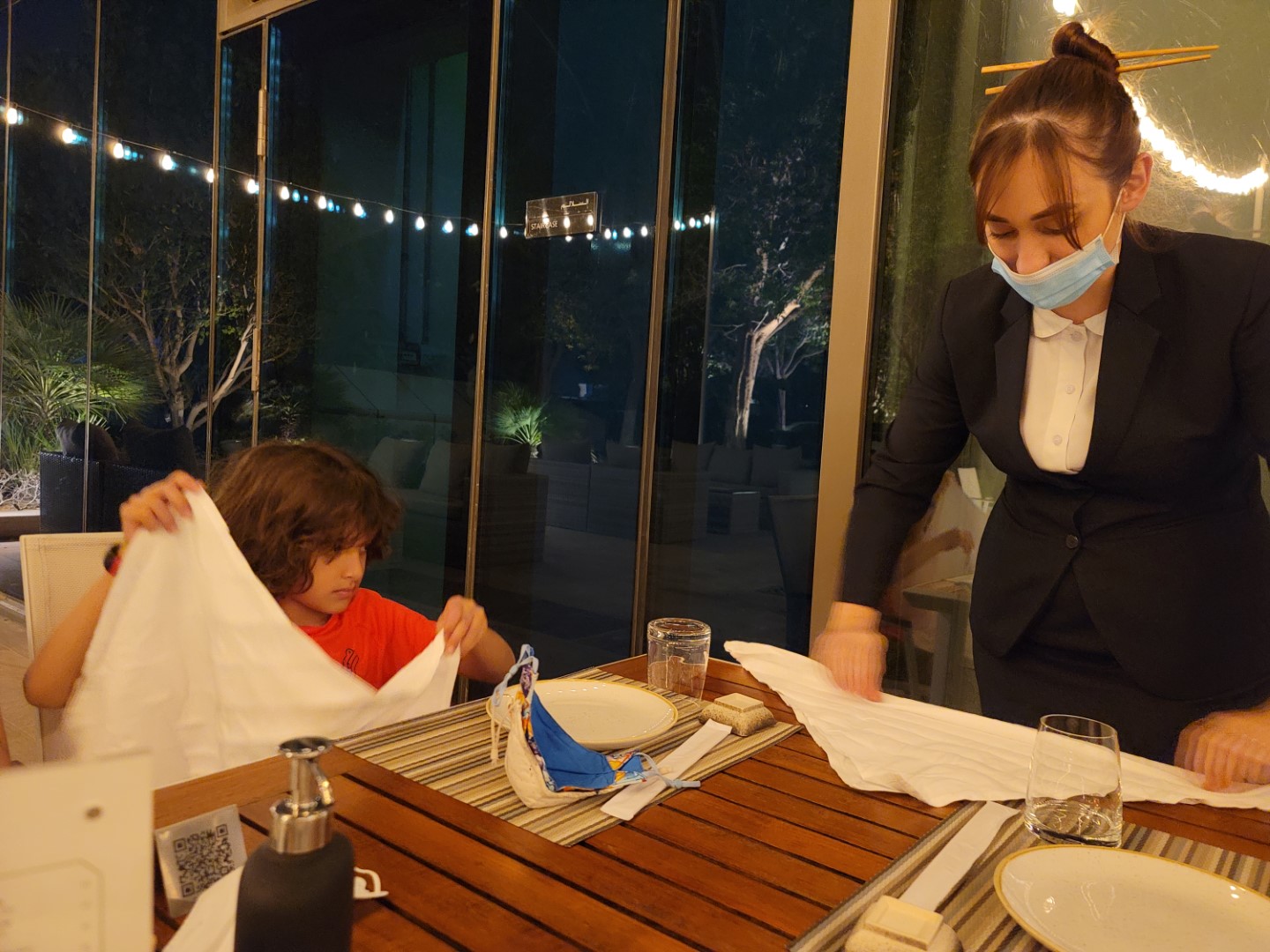 On our first night we dined at Café Sushi and the kids loved it. They offer a wide selection of sushi, salads and main course options but the highlight was our server teaching the kids how to fold their napkins to look like a cake!
They offer a conveyer belt style delivery if you dine indoors but dining in their outdoor garden patio was perfect even on a cooler mid December night. I loved the presentation of the dishes here… the ice bowls were so fancy! They offer all you can eat sushi options here for those looking for that unlimited experience (and yes, the sashimi is really good here).
CuiScene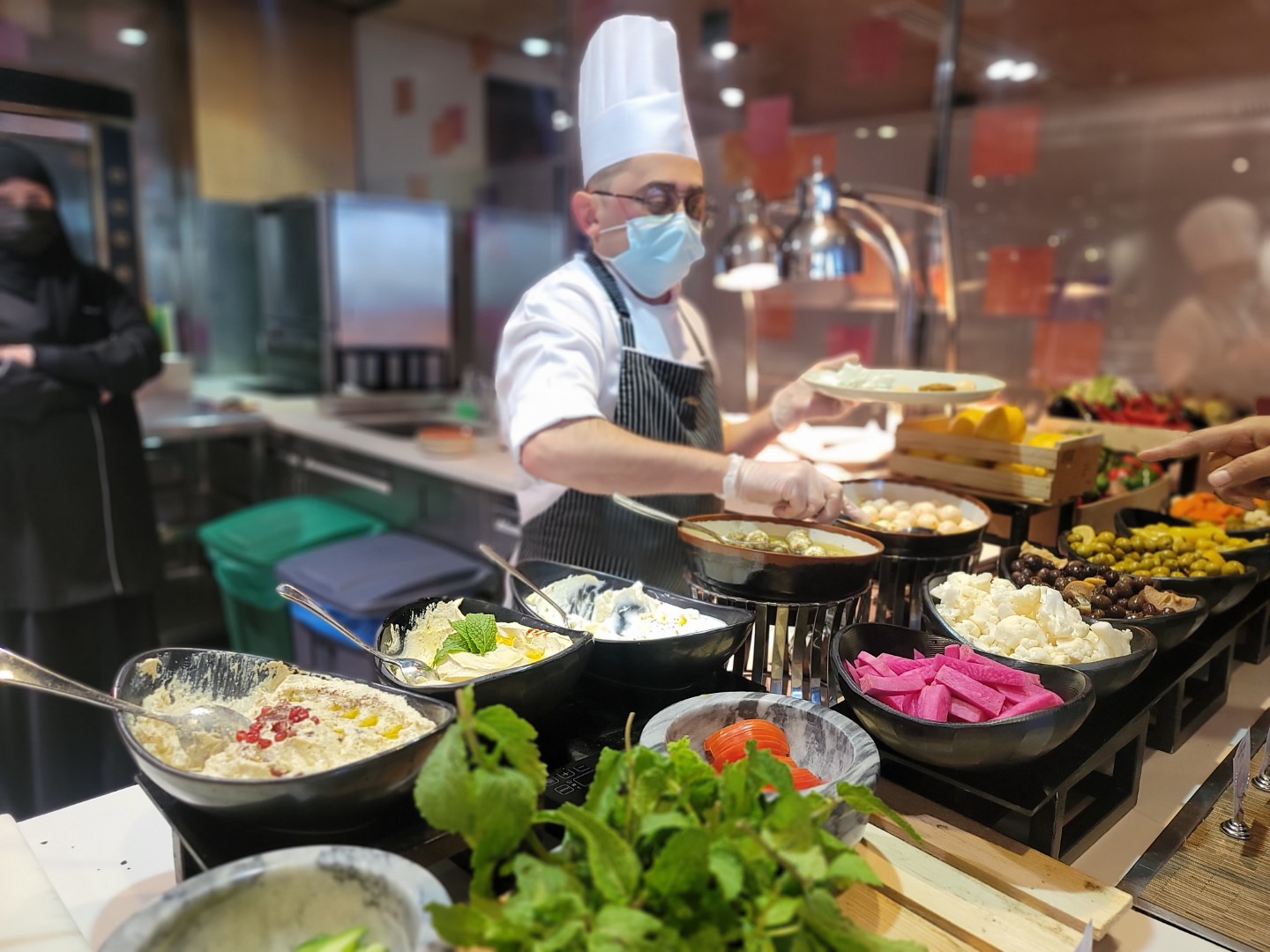 This was our breakfast spot and we loved it. Fairmont Gold guests get free access to this buffet breakfast and starting your day with a spread of dishes from Europe, Asia and the Middle East was absolutely fantastic.
I loved starting my morning with a mix of sweet and savoury items. The Za'atar Croissants with Labneh smeared on it was just divine! From fresh fruit and smoked salmon to noodles and roti, they had it all on offer for breakfast here.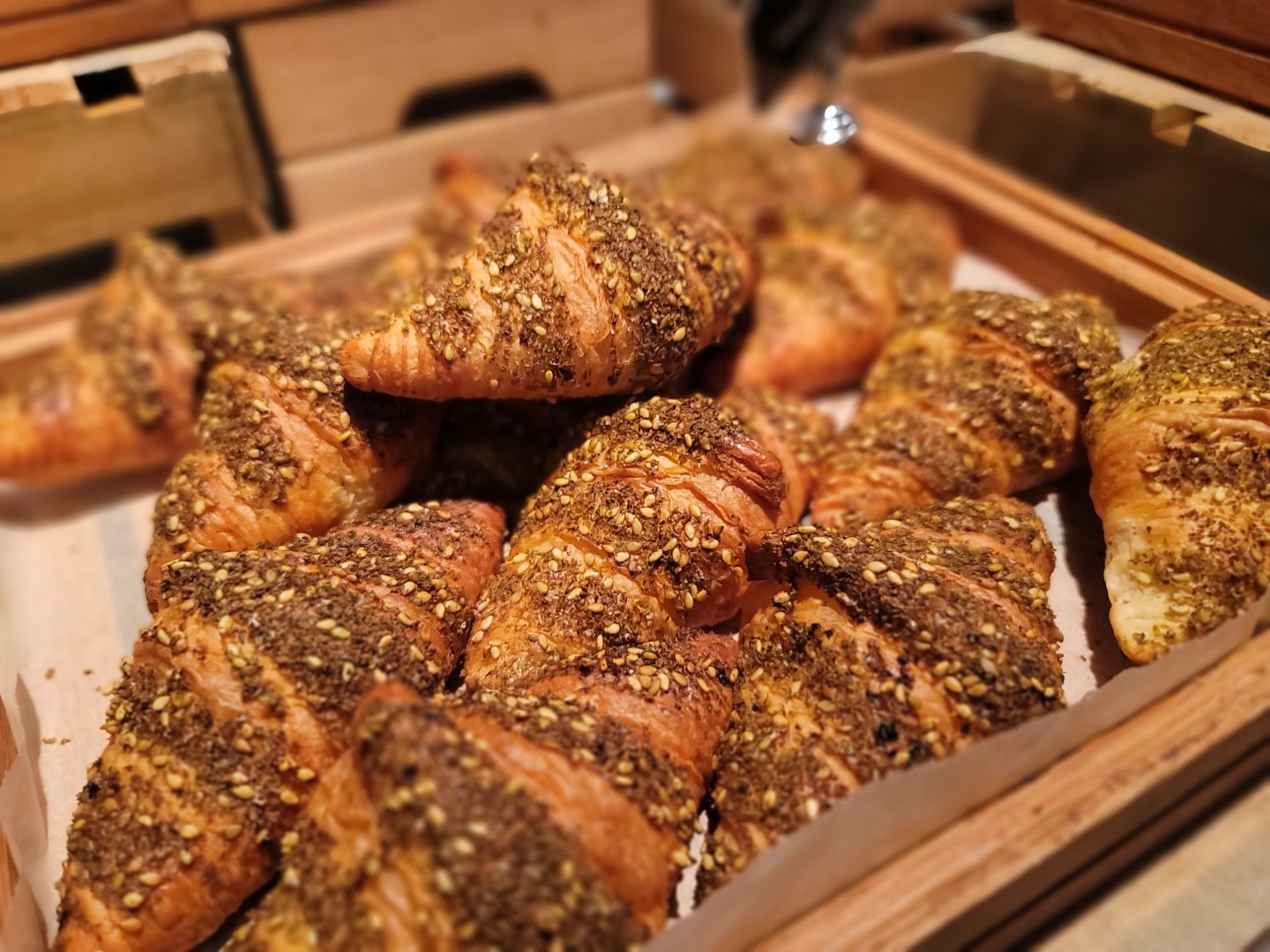 There were fresh smoothies, coffees, fresh juices and keto friendly options. Apollo found plenty of dairy free items and yes, they had almond and soy milk at the cereal stations. Even if you're not staying at the hotel, families dining with children between 6 to 12 years of age usually receive 50% off and kids below 6 years old dine for free!
Marco's New York Italian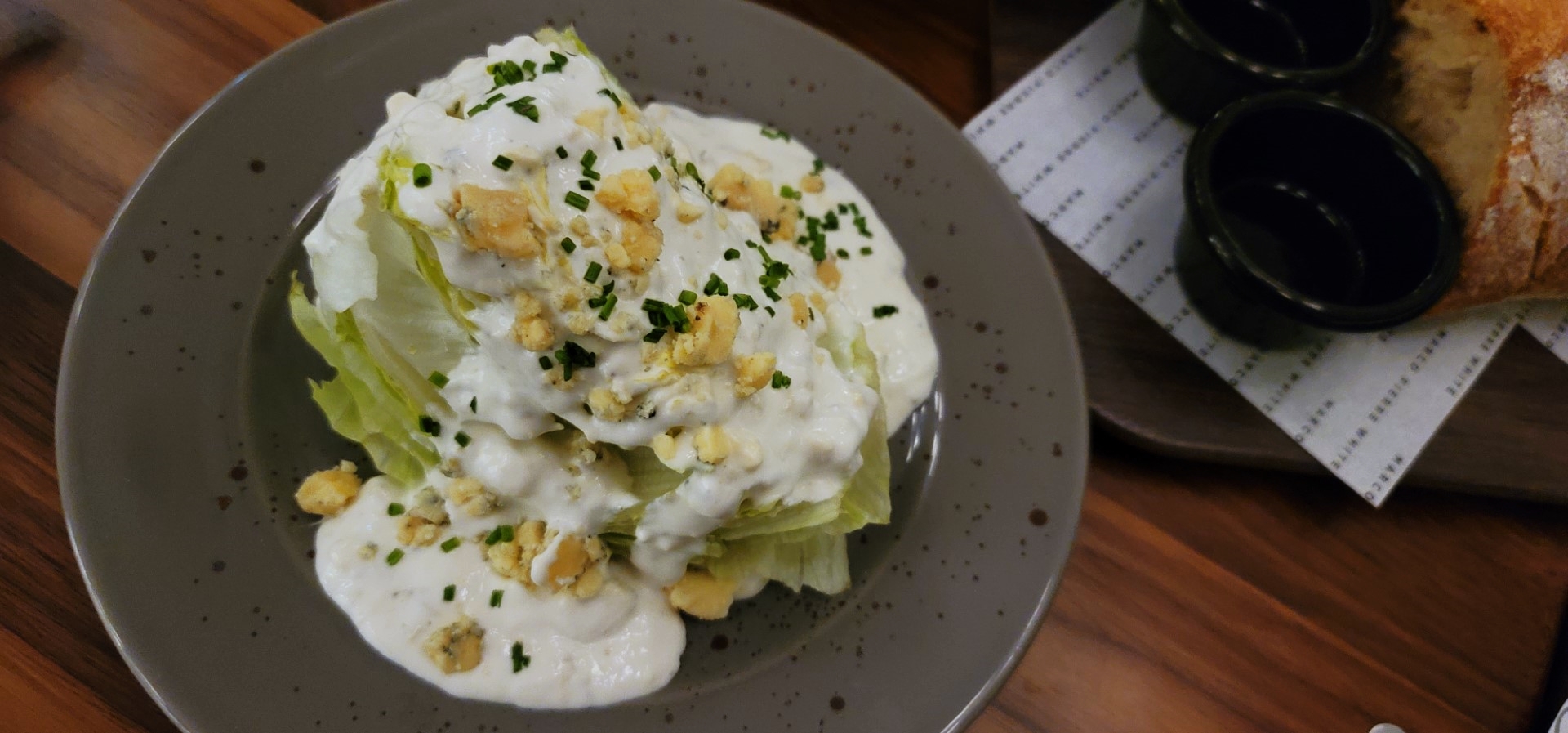 Marco's New York Italian was a delight for Chris and the kids who love pizza and pasta. The menu is a thoughtful combination of Italian home-style options and American classics including New Orleans steaks and the Great American Beef Burger. The Quarter Salad (with blue cheese dressing) was so simple and SO good!!! The Lamb was also amazing here.
They have unlimited lunch and Friday brunch of dinner options here, so it's definitely worth checking out if you're in Abu Dhabi over the weekend.
Drinks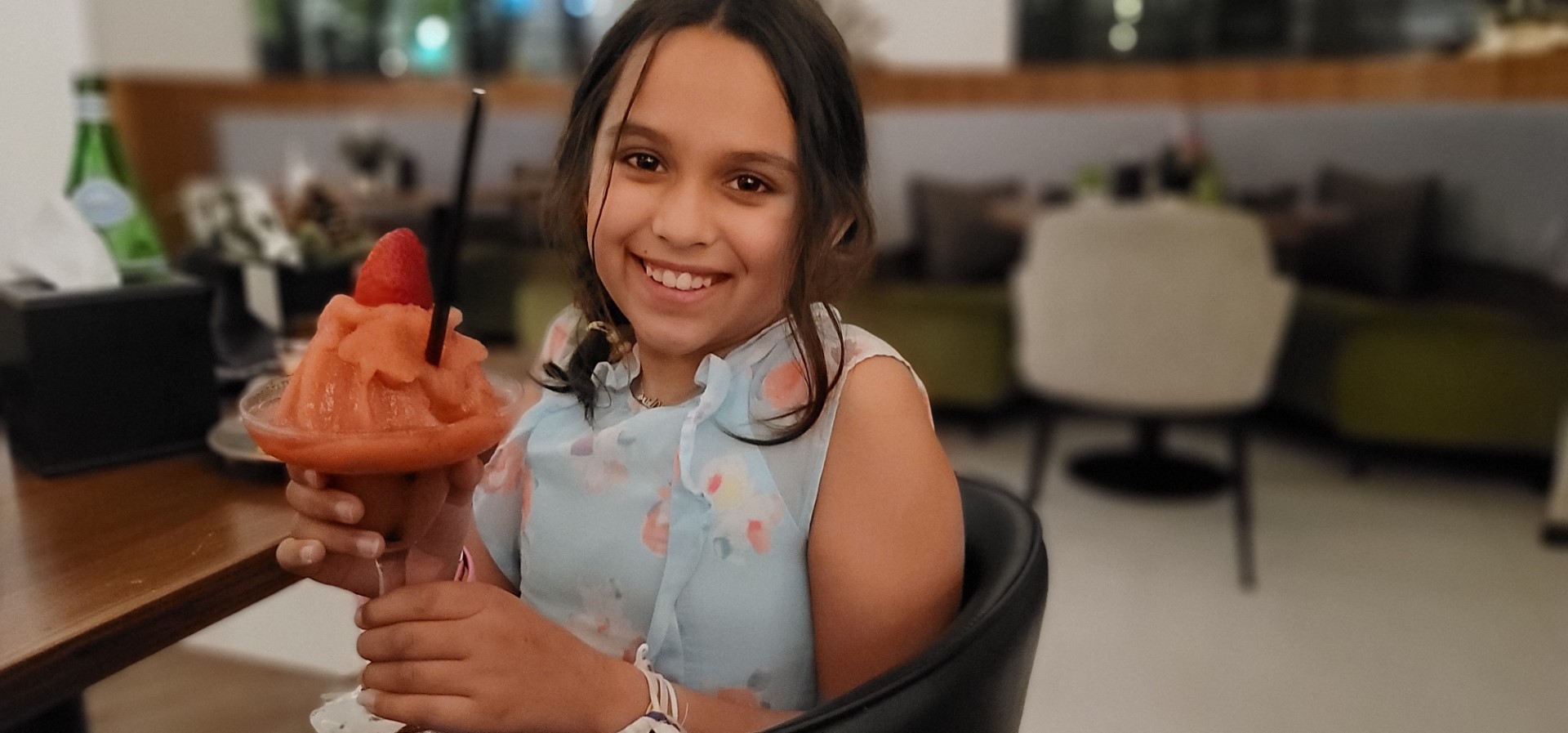 If you're looking for craft cocktails, beers and wine, the resort offers them at all the restaurants, including the pool side bar. There are ladies nights on Wednesdays and happy hour deals too, so be sure to check them out on your visit. The kids loved the mocktails at each of the restaurants so not to worry if you're looking for fun alcohol free options. We had friends drop by for a catch up and we popped by two bars that evening. The one at Mazaj not only offered sheesha but also live music to pair with the cocktails and there's a fun nightclub vibe at the outdoor bar near Marco's.
As you can see…our bellies were VERY happy during this luxurious five star stay. Sadly I did not get to enjoy the famous Saturday Brunch , the Steakhouse or the afternoon tea at the hotel lobby, but this just means that we'll have to return the next time we're in Abu Dhabi, right?
COVID-19 Policies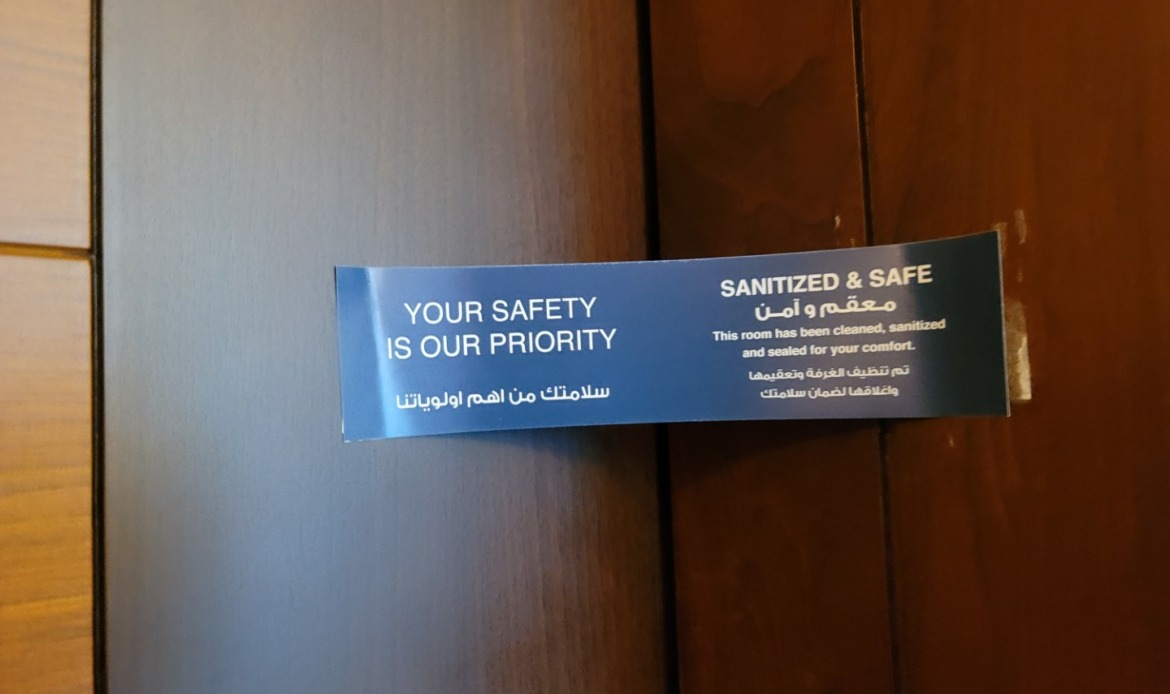 Obviously we are living in a pandemic and as you know, we're being very careful. On this trip we were spending a lot of time with my 94 year old grandmother so we were even more cautious than usual. This is why I noticed the extra steps taken at the hotel. Overall we found Abu Dhabi to be stricter than Dubai when it came to COVID-19 protocols and the hotel did everything right (in my books anyways). Staff checked the Al-Hosn app for locals and asked us for our proof of vax or negative PCR test results (we had them for our flight so it was easy to show the print outs). Staff were masked properly and sanitizing areas frequently. In addition, the hotel is so spread out that it's easy to distance from others. This beachfront property also had plenty of outdoor spaces so that's where we opted to dine more often than not. I also heard through the grapevine that staff are tested often and so, you've got an extra level of protection when staying here. We felt very safe during our family holiday in Abu Dhabi.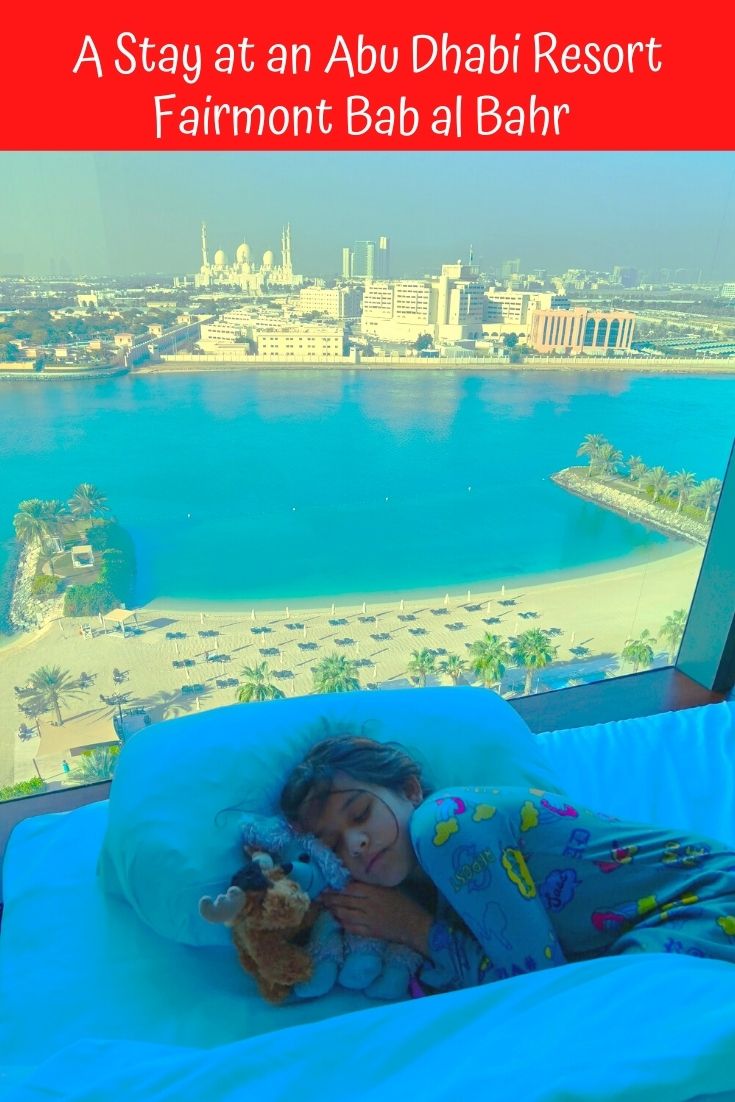 If you're looking for an Abu Dhabi hotel to relax at with kids or without, this is certainly one of the best. Our family enjoyed a perfect getaway and it was nice to unwind and leave the stress behind. Our bellies were also very happy and even a month later, 8 year old Apollo still speaks of the meals he enjoyed during this stay!