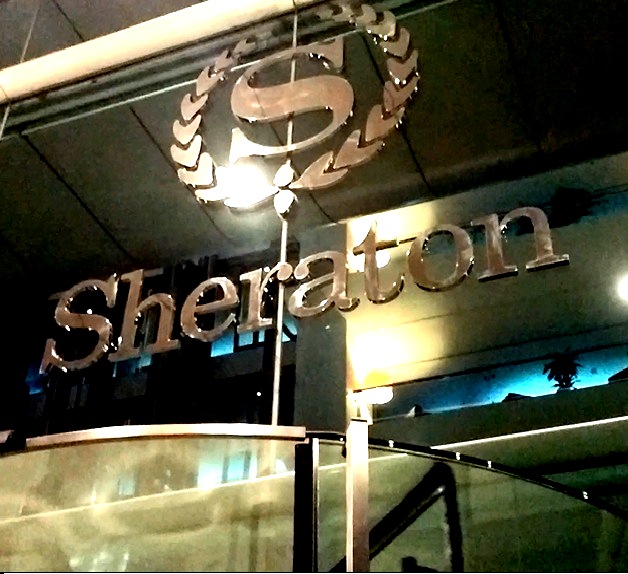 Our very last day in Portugal saw us drive six hours from the Algarve back to Porto and this was my one unplanned night. I wasn't sure if we would want to spend the night in Coimbra or head straight into Porto and so I had made no hotel bookings until the VERY last minute. As we kissed Sagres goodbye I quickly opened up the usual hotel apps (here's looking at you Hotel.com, Booking.com and Expedia.com!) and soon realized that the city of Porto was BOOKED UP! I hustled desperately trying to get a booking at HF Ipanema or Porto but they were at capacity and the Hotel Tonight app showed me that there were two rooms at the Sheraton in Porto. As much as I wanted to click buy via Hotel Tonight I knew that the danger was that the price quoted was for a couple and since we had two kids with us, the last thing I wanted was to be thrown out on arrival after that drive ( I totally regret not booking it via the app though!).
I decided to go down the old school route and called in to make our booking. Lucked out and scored the two double rooms and then enjoyed the drive in (as much as possible). While the Sheraton screamed business clientele with their lack of double beds and  location smack dab in the middle of the business district  they did turn out be surprisingly kid friendly.  Little Monkey did have to share our bed but it was much larger than a traditional Queen bed and the rooms came with a fridge and a bathtub as well. Our room was spacious and there was plenty of room for Baby Boy's crib (which came with extra towels and toiletries).
One of the reasons I opted for the Sheraton Porto was because they had a pool but sadly kids are only allowed between 1 and 7 p.m. and since we checked in well past 9 p.m. and departed at 1 p.m. (the following day) we never got to try  it out. My father-in-law stayed here a second time ( lucky ducks went to Italy after we left Portugal!!) and said that the pool was relatively small but would have been great for young kids. There's also an extra charge if you plan to use the pool.
The staff at the Sheraton Porto were  friendly and ready to help from the moment we pulled up in our rental van (which was running out of gas!). They did not mind going out of their way to ensure that our needs were met from ensuring that our car was parked (no extra charge for valet) to offering suggestions on everything from area offerings to getting around the city. While there isn't much in the immediate area (there is a mall but that was closed on the weekend)  the hotel is situated right by a subway station which can take you towards the water.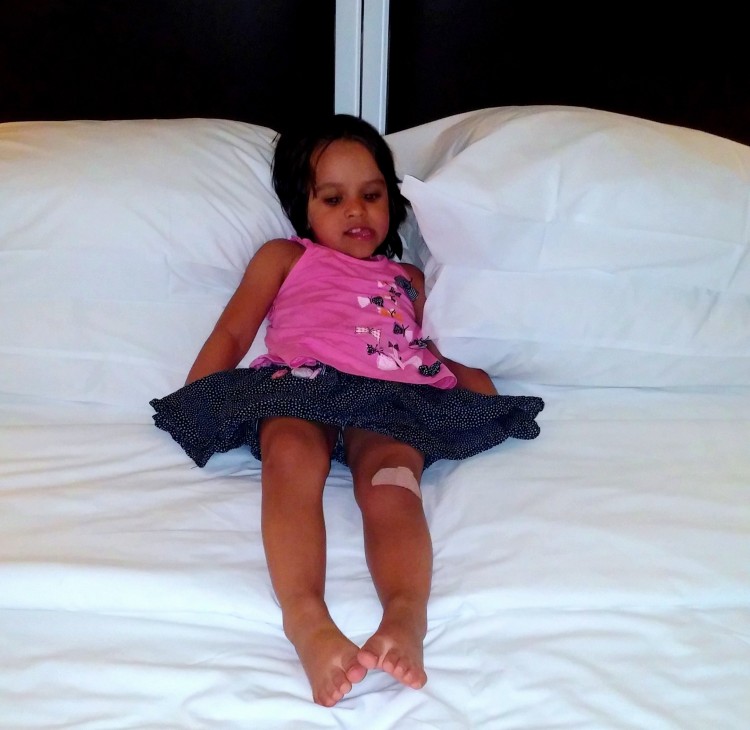 Given that we were exhausted there was no way we were getting to the waterfront for dinner and so we resorted to dining at the Porto Novo Resturant on site. They have an awesome wine cellar with quite a collection of fine wines and totally surprised us by how kid friendly they were. From the most unique high chairs to a dedicated kids menu which featured offerings broken down by age (0-1, 1-12 and older kids) the servers doted over Little Monkey and Baby Boy. My last dinner in Portugal included foie gras and green apple macarons so there was no complaints on my end. We were dead tired and I ordered a risotto so our dinner took a bit longer than expected and I had to dine and dash to get the whiny fish filled kids in bed. Oh and by the way they feature a super kid friendly family buffet on Sundays with a clown in attendance!
I'd highly suggest getting the Club Floor packages because it eliminates the additional fees for the pool, parking and even comes with free breakfast. However best of all (my father-in-law reported) that the Club Floor package comes with access to the highest floors which give you a stunning view of Porto through the panoramic glass elevators! Given my love for 'my view from here' shots you know I'd be all over this! When I checked the rates the price for Club floor rooms were a deal if you plan to use all the amenities on offer so that's my plan if we are ever to return to Porto (though the kids may prefer HF Ipanema!)
I booked the Sheraton Porto because we were in a pinch and because I trust the Sheraton group of hotels having had great experiences over the course of my own childhood. I'm glad that they didn't disappoint us and wonder when our next Sheraton stay may be (back to Niagara Falls perhaps?).