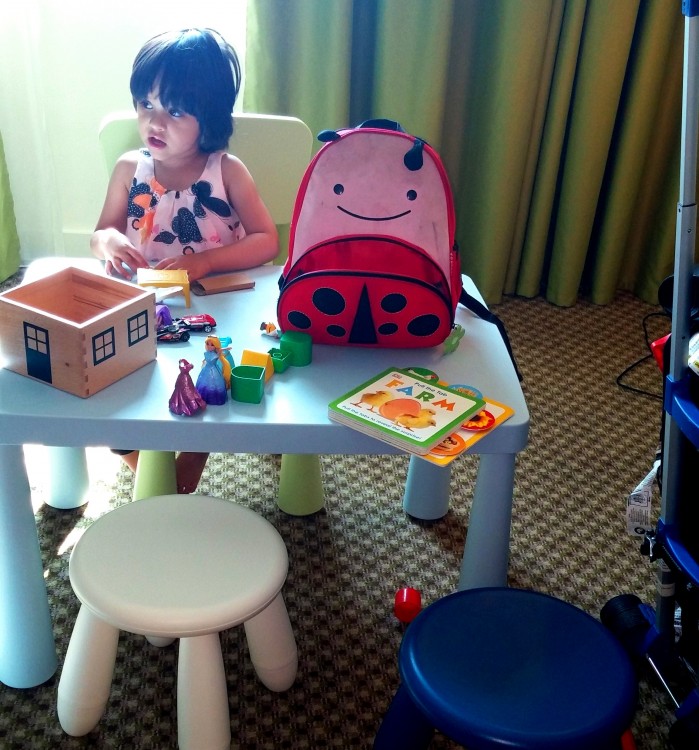 Our Portugal travels started in Porto where we based ourselves at the Hoteis Fenix Ipanema Porto hotel. I stumbled upon this hotel during my research and immediately fell in love with the fact that they offer family rooms with two separate rooms. One of these rooms are made specifically with young kids in mind and was reasonably priced as well (though having to fully pre-pay for the rooms did make me anxious as I'm used to hotels allowing same day cancellations). Our stay here with Little Monkey and Baby Boy was perfect for our two night stint exploring Porto with their grandparents.
Location wise the hotel is fairly central but given that Porto is quite spread out and the fact that we were drawn to the attractions by the water, there was a bit of a walk (steep steep hills!) to get around but at the end of the day, we could have cabbed around for quite cheap had we desired to do so. We mostly walked around taking in the sights  and sunsets on our way from and to the hotel.
We landed at 8 a.m. and as you can expect most hotels do not guarantee early check-in but HF Ipanema Porto offers guests the option to upgrade their hotel stay for a check-in as early at 8 a.m. when you pay an extra 25 Euros. Given that we had two rooms, a Standard for the grand parents and a Family Room for us, we coughed up the 50 Euros and took a nap after our exhaustive flight. Well worth the extra spend in our minds. On arrival our room was ready and we were ushered upstairs but the second room was ready only twenty minutes after we checked-in.
By European standards, this hotel and the rooms were quite spacious. Ours not only had plenty of space for the luggage and car seats but the kids room also had a microwave, fridge and dare  I mention…toys and a kids table? The bathroom even had a footstool for the little ones! I could share more about how awesome Little Monkey thought the bunk beds were or how much the hubs and I enjoyed having our own space after a busy day of exploring Porto….but I won't.  Only because it's all evident in our video!
Starting our days with a full breakfast at the hotel was just what we needed. The spread was quite extensive and I had the chance to stock up on milk and freshly squeezed OJ for the kids which made my life much easier. Oh.. don't tell them this but I also stocked up on croissants, cucumbers and boiled eggs for the kid's snacks. My biggest regret here is not stocking up on the Pastel de Nata which was offered during our first day. THEY WERE AMAZING!!! Better than any other I've had and unfortunately there were none on the second day. The chef likes to mix things up I guess, which is fair. There was everything from bacon and eggs to Lattes and fresh fruits & veggies each day and if you've got a sweet tooth, you'll most definitely enjoy the lavish spread of baked goods. The restaurant was one spot that totally caught me off guard as the servers were so kid friendly! Each morning both Little Monkey and Baby Boy received a pack of coloured pencils and a mini book and there was a dedicated kids section at the buffet. The kids got plastic cups, bowls and even forks!Oh and many pats on their heads and Baby Boy learned to say 'Ciao!'.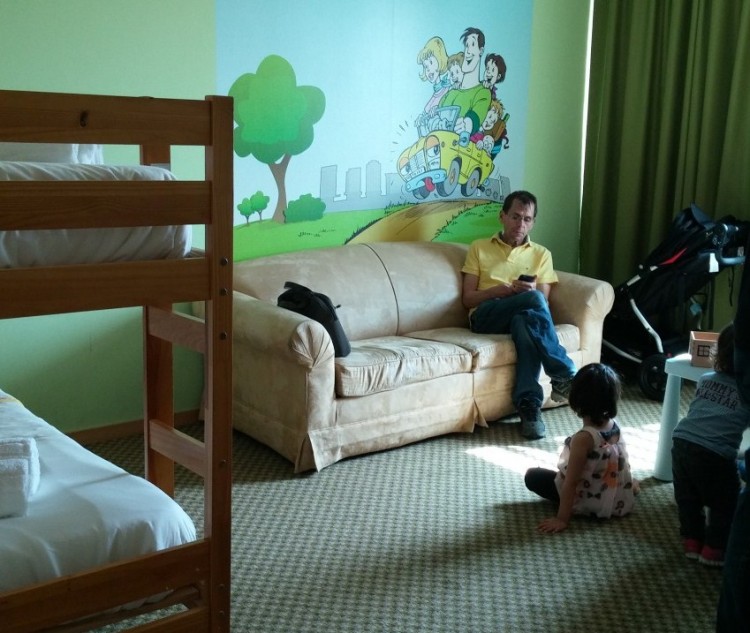 Overall our stay at the Ipanema Porto was fabulous. This isn't a fancy hotel by any means but it was clean, spacious and super kid friendly. One word of caution, the lift here is quite small ("The smallest one I've ever seen" – Little Monkey) which is quite the norm for Portugal actually. What this means is that our double stroller with the kids was all that fit in so the hubs and I took turns taking the kids up. Only one adult and the stroller barely fit in there. After a day filled with Porto explorations, coming to the Ipanema (and the bar) was the perfect way for us all to unwind and for me to jump online and get some work done! We head back to Porto before we catch our flight and I'm so tempted to book again here…or at one of their other properties!