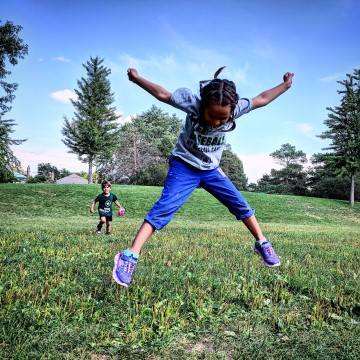 For those looking for a practical gift for kids, shoes can't be beat. Why? Simply because kids tends to out grow them every couple of months. Unless you're Little Monkey, then you somehow manage to fit into the same pair for years while insisting on buying every new sparkly one you see! Chris' mom loves shopping, we'd go as far as to say that she has a shopping addiction but we aren't complaining too loudly when she buys clothes and shoes for the kids. When it comes to shoes she has bought quite a few Skechers for the kids and the first time she did, I was so nostalgic because I used to ONLY wear Skechers during my tween years growing up in Dubai. So for today's holiday feature, we're giving away a pair of kids Skechers to TWO lucky winners!
Disclosure : This post is in partnership with Skechers but, as always, opinions are TOTALLY ours! 
You may recall that I switched my boot camp shoes to a pair from Skechers as I was having issues with the arch support. What I like about Skechers is that it's functional and pretty. Kids need a sturdy firm pair of shoes for running around but they also need a sturdy pair with soft cushioning for their formal and everyday pairs. We even took a pair of Skechers on our BIG trip (remember this post from Morocco?).
Skechers recently invited the kids to pick a pair as a gift and they both chose boots because of the current weather situation and because their teachers asked them to keep their running shoes as indoor options at schools. While I was looking for a pair that would keep their feet dry and warm, they were looking for a pair that lit up!! We found a pair for each that hit all those requirements!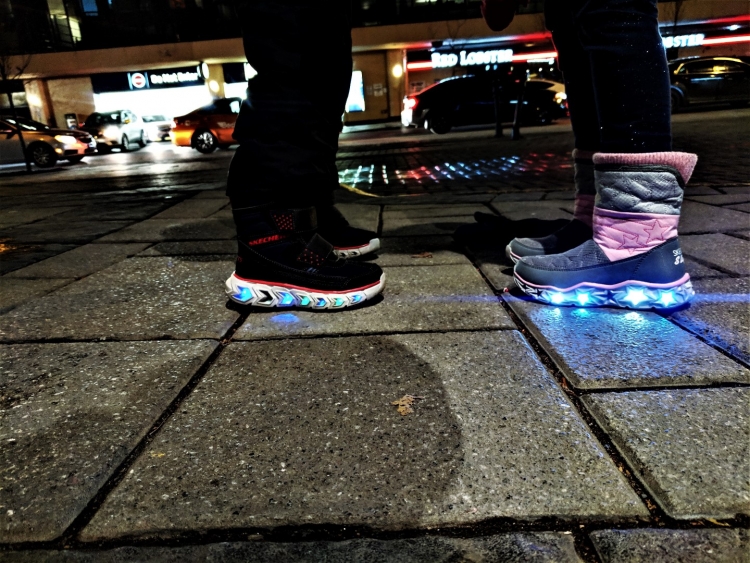 Baby Boy chose the Skechers S Lights : Hypno Flash 2.o Street Breeze which has a great mid calf height and padded collar and tongue for the snowy season. It's also great if you happen to be outdoors at a busy street festival because you can easily spot him lighting up the streets! He also has the Skechers S Lights : Hypno Flash 3.0  Swiftest that a neighbour gifted him with and
Little Monkey chose the Skechers S Lights : Galaxy Lights Star Bright for her winter pair and similar to Baby Boy's pair, this one has a cushioned mid sole but unlike his, she can actually turn her lights off during the day time and protect the battery from burning out. Mind you, they've both been wearing their pairs for about 2 months now and the battery is still strong!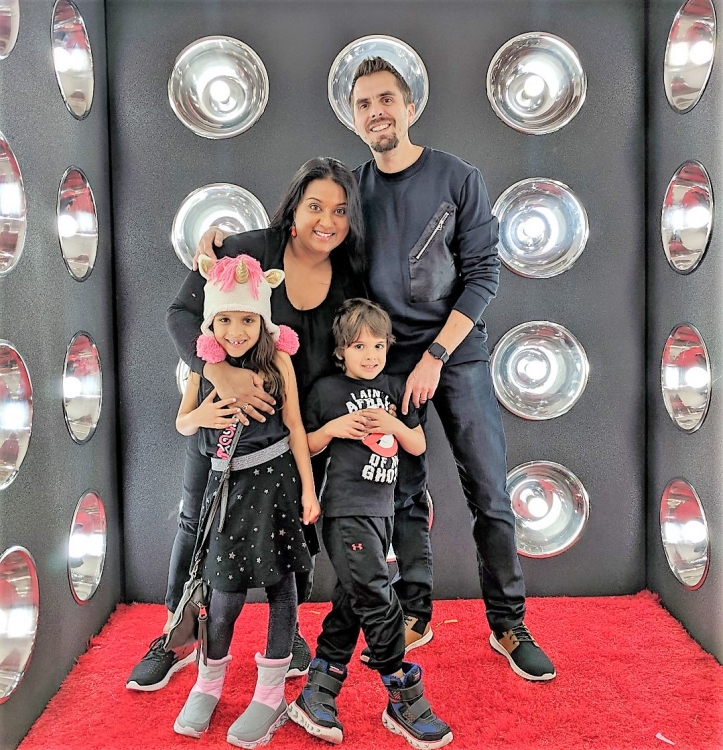 As you can see from the picture above, we all have pairs of Skechers and Chris has been finding his casual pairs to be super comfortable. My dad saw Chris' pair and bought one for himself just last week and if you follow my instastories you know that I bought myself a pair of the sparkly rose gold AWESOME SAUCE pair. I guess we know where Little Monkey gets her love for all things sparkly!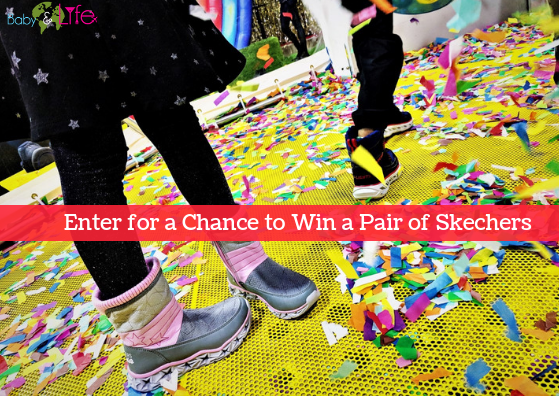 You can find a stellar collection of Skechers at Sports Chek, online at Skechers or at a Skechers store ( we have an awesome one at the Eaton Centre near us). Now it's time for the giveaway!!! We have 2 pairs of Skechers kids shoes up for grabs, one for each of our two winners!!!  Winners will get to select a pair of Boy's or Girl's shoes from skechers.com (subject to availability). Good Luck!
Be sure to check out our Baby and Life Holiday Gift Guide features and enter for your chance to win some awesome prizes!