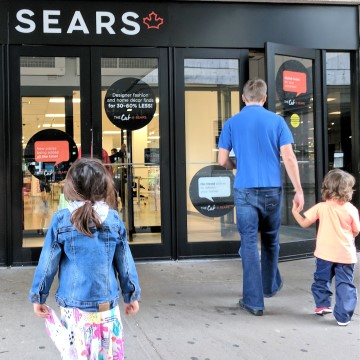 It has been 4 days since we arrived back in Toronto and we've spent half of it catching up with friends and the other half getting the kids ready for school. We're lucky that their grandmother had sent us a HUGE box of blue and white clothes so that was one thing we didn't have to fret  too much about. Little Monkey definitely had a bit of a growth spurt and Baby Boy was in desperate need of new shoes for school as his ones were pretty bashed up so new school shoes were at the top of our must buy list. During our travels I noticed that Sears had revamped a few of their stores and Little Monkey's friend had some very cute ones her mom had picked up recently at Sears so we thought we'd check out the new layout of the store at the Fairview Mall for our back to school shoe shopping spree.
Disclosure : This post is in partnership with Sears Canada but, as always, opinions are TOTALLY ours! 
The hubs' mom loves shopping at Sears and will often score some amazing deals so I wasn't too surprised when Little Monkey dashed towards a very cute navy blue dress as soon as we entered the store . Of course, we were there for shoes and not uniforms but how could I say no to that cute little number? Who says Catholic School Uniforms are boring?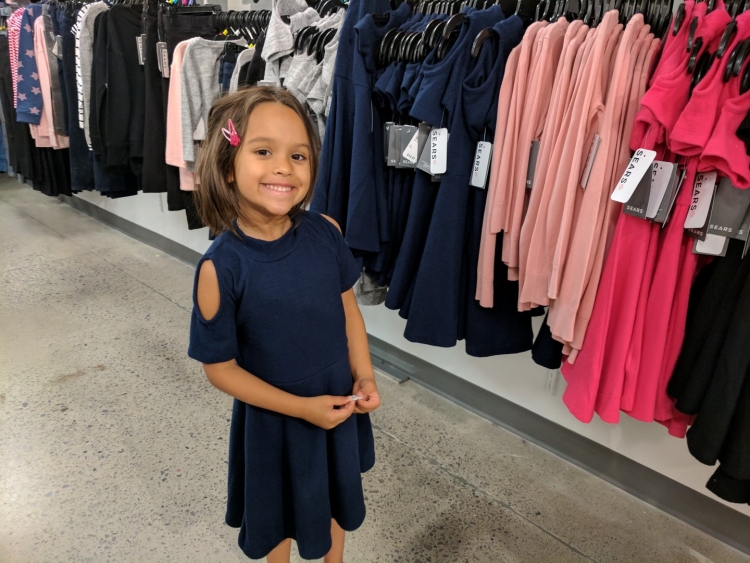 While the kids have to stick to the blue and white theme for their clothes, they have been allowed to have some fun with their socks and shoes so we tend to allow them to pick the shoes they like best. When it comes to buying shoes for kids, there's quite a few things to keep in mind and while the kids ran towards the brightly coloured sparkly shoes, I got the last say of course!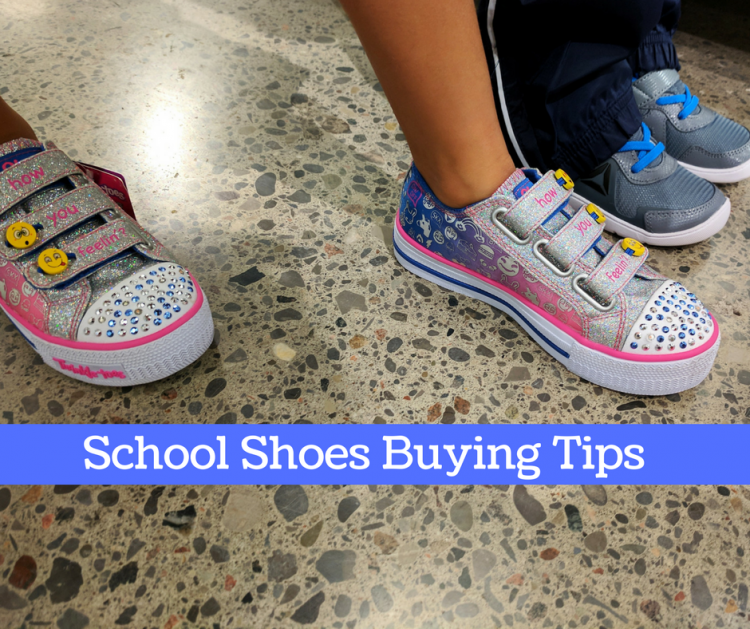 Tips For Buying School Shoes
Measure often :

Kids feet grow rapidly so be sure to have their shoe size checked periodically and ensure they are wearing the right size. On average it's said that a child's foot will grow half a size every six month but Little Monkey has been able to go through each of her two school years to date with a pair per year.

Don't buy bigger :

Trust me, I'm tempted to go up a size as much as you are but we really shouldn't. Ensure that the large toe is half an inch away from the front of the shoe by placing one finger between the toe and the shoe's edge. Alternatively, ask your child to wiggle their toes and ensure that they don't feel any pain.

Buy quality :

It's easy to think you can opt for a cheaper option but quality shoes will actually save you money as you won't have to replace them as often. The selection we saw at Sears was great as most had soles made from rubber and double-stitching around sides and the top which gives shoes a longer life.

Find the right style :

Slip on shoes seem like an easy solution but podiatrists have recommended that we opt for velcro or buckle up shoes (they also suggested laces but we know that teachers won't enjoy seeing those in JK & SK!). You want to find shoes that won't slip off while they run and play but ones that are easy for the kids to put on by themselves. I personally love sneakers for school shoes because they offer great comfort while ensuring that the kids' feet and ankles are protected.

Don't forget that winter's coming :

Most teachers request that kids keep a pair of indoor shoes at school so this is something to keep in mind. You'll want to buy some boots before the first snowfall and have the kids keep their sneakers at school. Sears has a range of Sorels and Skechers that Little Monkey is already eyeing for her winter pair.
We found the shoes we needed but the pink sparkly ones Little Monkey was looking for were sadly not available in her size. Baby Boy found a pair of emoji shoes that will see him leaving happy faces across all the sandpits he visits.
We visited Sears for shoes but walked out with a shower curtain and the desire to buy a new dinner set.