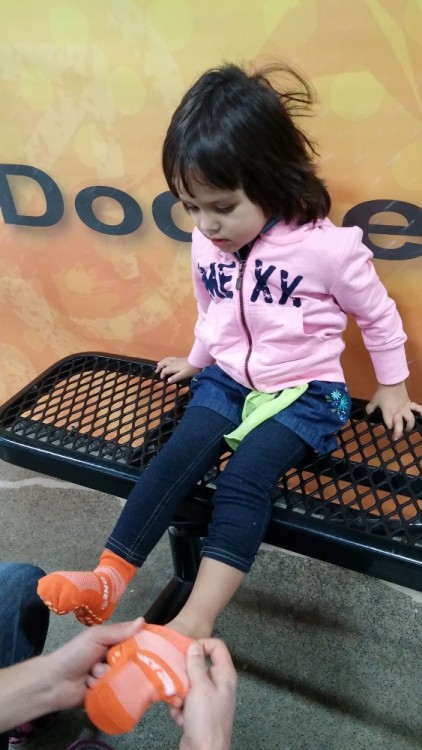 Couple weeks ago my sister in law was visiting Toronto and wanted to take Little Monkey to an indoor trampoline park…but Little Monkey had a busy schedule and we didn't want her missing pre-school which meant that the visit never happened. Much to my sister's dismay as she wanted to re-live her cheer-leading and gymnastic days. Fast forward two weekends and the hubs and I took Baby Boy and Little Monkey to Sky Zone as we were invited for a visit. Sky Zone Toronto is a bit off the subway path so we chose to drive over in our Klout Perk, Chevy Tahoe.
Little Monkey loves jumping castles so she was pretty psyched for the visit and while Baby Boy has JUST started walking.. he was too young for Sky Zone. Obviously kids need to be able to jump by themselves, so I'd say any 1.5 year old and older would have a blast. Yes even YOU! The hubs initially agreed to visit mainly because the Amsterdam Brewery was next door as he wanted to stock up on some seasonal ales. However… he had a blast jumping!
On arrival you are asked to sign a waiver and it's all done electronically and you only have to do it once per year. You're also given orange jumping socks (sky socks) so you can stow away your own shoes and socks. They do cost $2 but you only need to buy them once (as long as you remember to bring them back). Lockers are available for rent but we just kicked off our shoes by the side of the main room. The space is huge and there's plenty of room for kids to roam (they're not allowed to run) and for adults to lounge around at. There's even massage chairs! There's a small snack shop should you get hungry and plenty of spaces for time outs and snack time.
You do need to figure out what your plan is because you buy your passes in half an hour increments up to two hours. Sure you can top it up so it's not a big deal, as long as they don't sell out of slots. From what I could tell, it's all extremely well organized here. Our pass was good for an hour and that was perfect. No cheating the system, everyone wears a sticker which outlines your jumping window and the area is well monitored. There's quite a few rules and there are watch guards at every corner who are happy to take you through the rules. They're quite basic but lengthy and are for our safety.
During the week day they have a toddler sessions for those under 5 years of age but otherwise there's kids of all ages jumping around and no one gets hurt! How? Why? Because the space is well monitored and everyone is allowed to only jump in their own space. Explaining this to Little Monkey was much easier than anticipated, so I was thrilled about that. She jumped to her heart's content and since both the hubs and I got passes as well we took turns with Baby Boy. Baby wearing is fine but you can't be on the trampoline baby wearing. At one point we let Baby Boy roam around since there was an empty corner and he liked it quite a bit… before he flopped on his face. There's plenty of room on the sidelines for the parents to watch the kids from or if you  have a young child there's certain spots on the trampoline that you could step into for a few minutes.

There are various spaces but the popular one with the little ones is the Main Court  where they can free jump to their hearts' (or tiny legs') content. There's also a Foam Zone where they can freestyle jump into foam and do back flips. For the adults there was an Ultimate Dodgeball court but what caught the hubs' and Little Monkey's attention was the Sky Slam. With two lanes to separate kids from adults, there's no danger of getting hurt but egos can get inflated as even the least athletic of us manage to slam dunk here!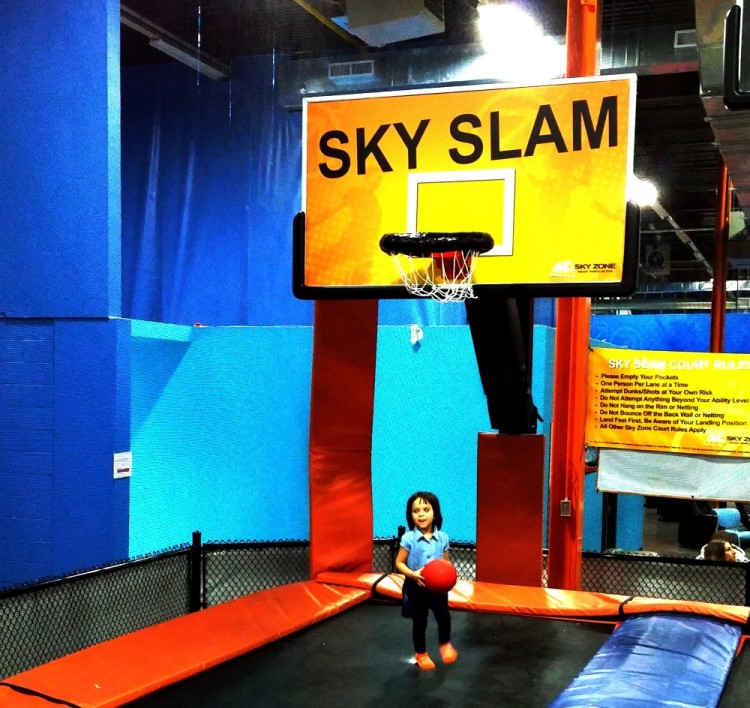 We spent an hour and was quite satisfied by the entertainment and the workout we engaged in. Washrooms are clean and well stocked and yes, there's a change table. You can bring a stroller but the main jump area has steps leading up so you will have to carry it up the steps. We noticed quite a few younger siblings napping in strollers and car seats during our visit.
Weekends can be busy so buying your tickets online may be your best bet if you don't want to be disappointed. You can also sign that waiver online if you want to save yourself some time. There's various programs including a Friday night party and fitness classes so this is definitely a unique spot to hang out at, no matter what age you are. We saw quite a few adult groups during our visit and I wouldn't mind an hour here followed by an hour at the brewery next door! Sky Zone also hosts birthday parties and I think it would be totally fun to organize one here once both kids are able to jump. There's also a new location at Vaughan for those on that end of the city and locations in Mexico, Australia and the U.S as well!
As the winter months arrive, this may be a good spot to get the the little ones to!