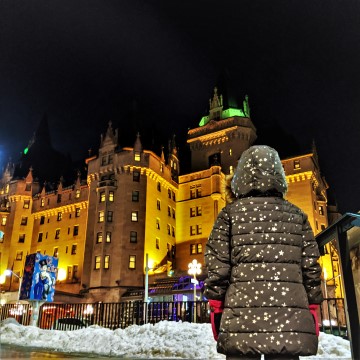 " Hey Mom can I sleep in a Canadian Castle?" I don't often get to say "yes" to the bizarre requests my kids make but I was able to make this one a reality. During our recent visit to Ottawa for Winterlude with our kids, we stayed at the Fairmont Château Laurier. As you may know, we're huge fans of Fairmont and love how guests are able to experience old world charm and learn a history lesson or two during our stays.
Disclosure : We were guests of Fairmont and Ottawa Tourism but, as always, opinions are TOTALLY ours!
Why You May Want to Stay at the Fairmont Château Laurier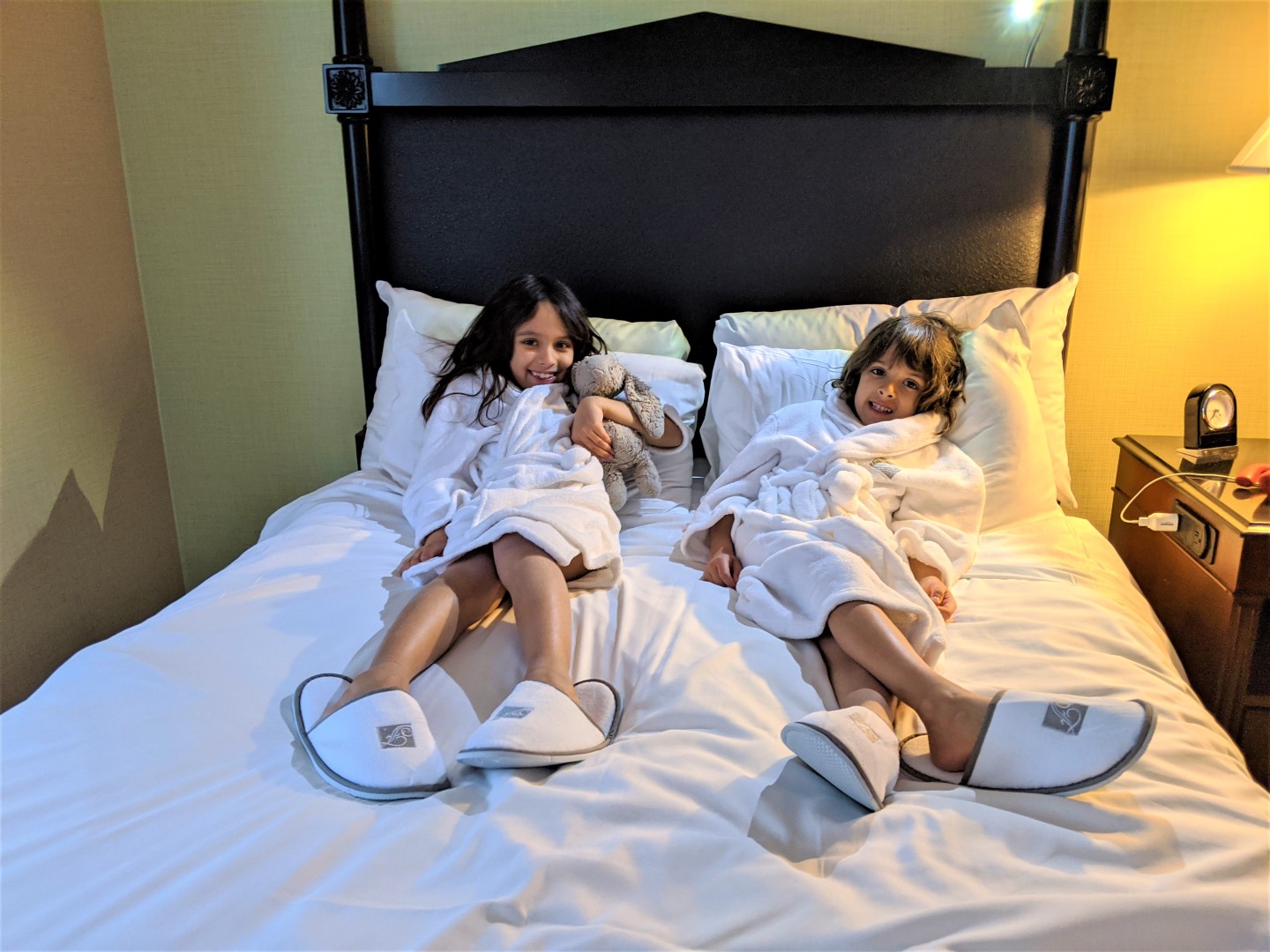 Obviously, sleeping in a castle is at the top of my list of reasons to stay here but there are a couple other reasons. The hotel is steeping in history (was designated as a historic site in 1980) and has seen dignitaries and the likes of people like Nat King Cole, Babe Ruth and The Beatles stay there.
If you enjoy paying attention to architecture and décor elements, you'll have so much fun roaming around the Fairmont in Ottawa. From ballrooms to hidden libraries, there's plenty to be discovered by aimlessly wandering around. The staff are fantastic and go out of their way to ensure that you have the best stay possible. I had cousins who recently stayed here and when the hotel staff found out that there was a "birthday princess', the staff made them feel extra special and I know of two little girls who aren't going to forget their stay in this Canadian Castle for years to come!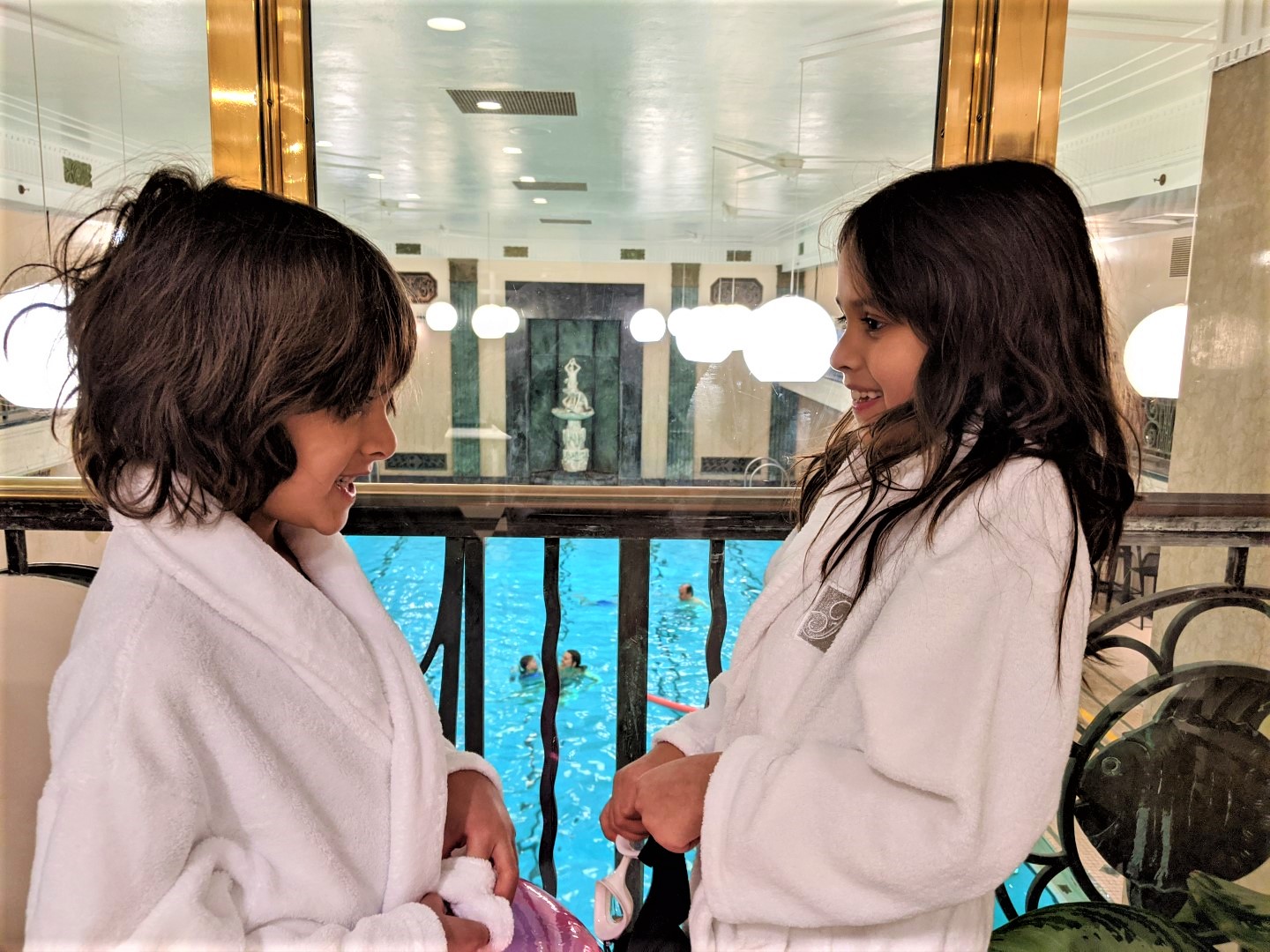 Despite the regal touches and service, the Fairmont is family (and pet) friendly. They know how to make it easier for parents to travel with little ones and provide amenities like mini bathrobes and cribs. Also, this is an Ottawa hotel with a pool! The art-deco pool is 60 ft long and I will mention that the water is a bit cold. While I didn't splash in, Chris and the kids did. Chris came out quickly but we had to drag the kids out because they were quite content.
If you're visiting Ottawa with kids, Fairmont Château Laurier is conveniently located in the downtown core within easy walking distance to Parliament Hill, the subway station, Byward Market and Sparks Street. Our Winterlude weekend was an enjoyable experience partly due to our stay at this family friendly Ottawa hotel.
Choosing the Best Room for your Family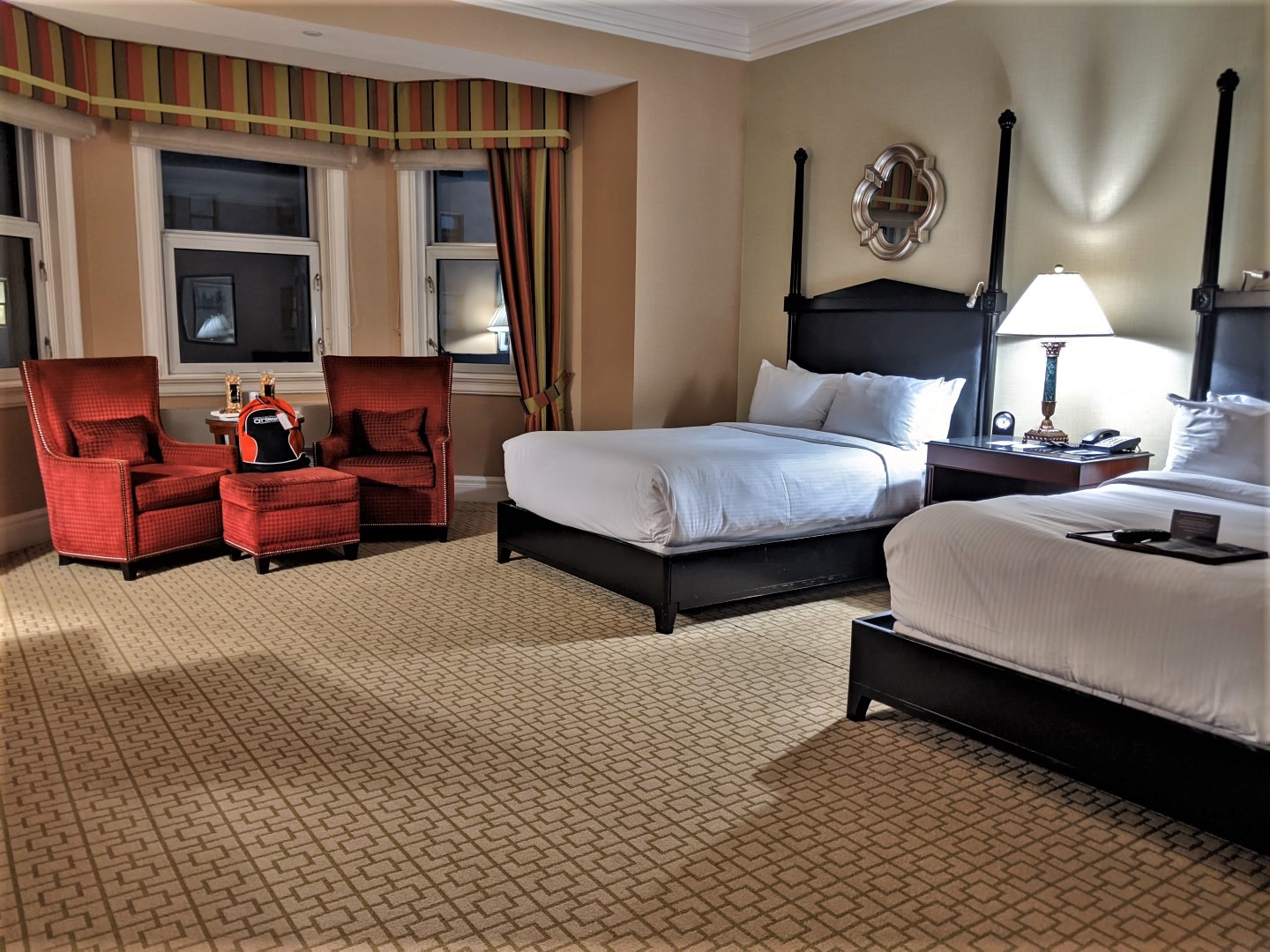 This Ottawa hotel has a variety of rooms on offer including suites. During our visit we stayed in a deluxe room with two double beds. The biggest surprise for me was how huge our room was. We had a walk-in closet with plenty  of space for our suitcases, hangers for our jackets and clothes, plus a set of shelves for the kids clothes (it was in a perfect location for our 6 and 8 year old to grab their clothes from).  If we had a stroller (those days are long gone, thank goodness!) it would fit in this walk-in closet or, if you wanted to hangout in your room when your infant was sleeping, I wouldn't hesitate to set up a small crib in there either. so you could watch some TV or enjoy a glass of wine while adhering to bedtime schedules.
The beds were comfortable but they were on the shorter side. Chris and I are by no means tall (you know that I'm only 5 ft right?) and our feet were touching the edges of the mattress in the double bed setup.
The room was quite large so the kids were able to spread their toys around without being in each other's faces and that was something I appreciated. After a busy day, we all need some down time and usually it's pretty cramped in hotel rooms but not this one! Snuggling up on the chairs by the large windows at night was my way of winding down as I planned for the next day's agenda.
If you're travelling with kids, I was told that the 1 bedroom suites or deluxe rooms will be your best bet. The one bedroom suite has a pull out couch in addition to the separate entertaining area, giving you extra room. The Deluxe rooms are larger than some of the other rooms and more suitable for families.
Dining at Fairmont Ch

â

teau Laurier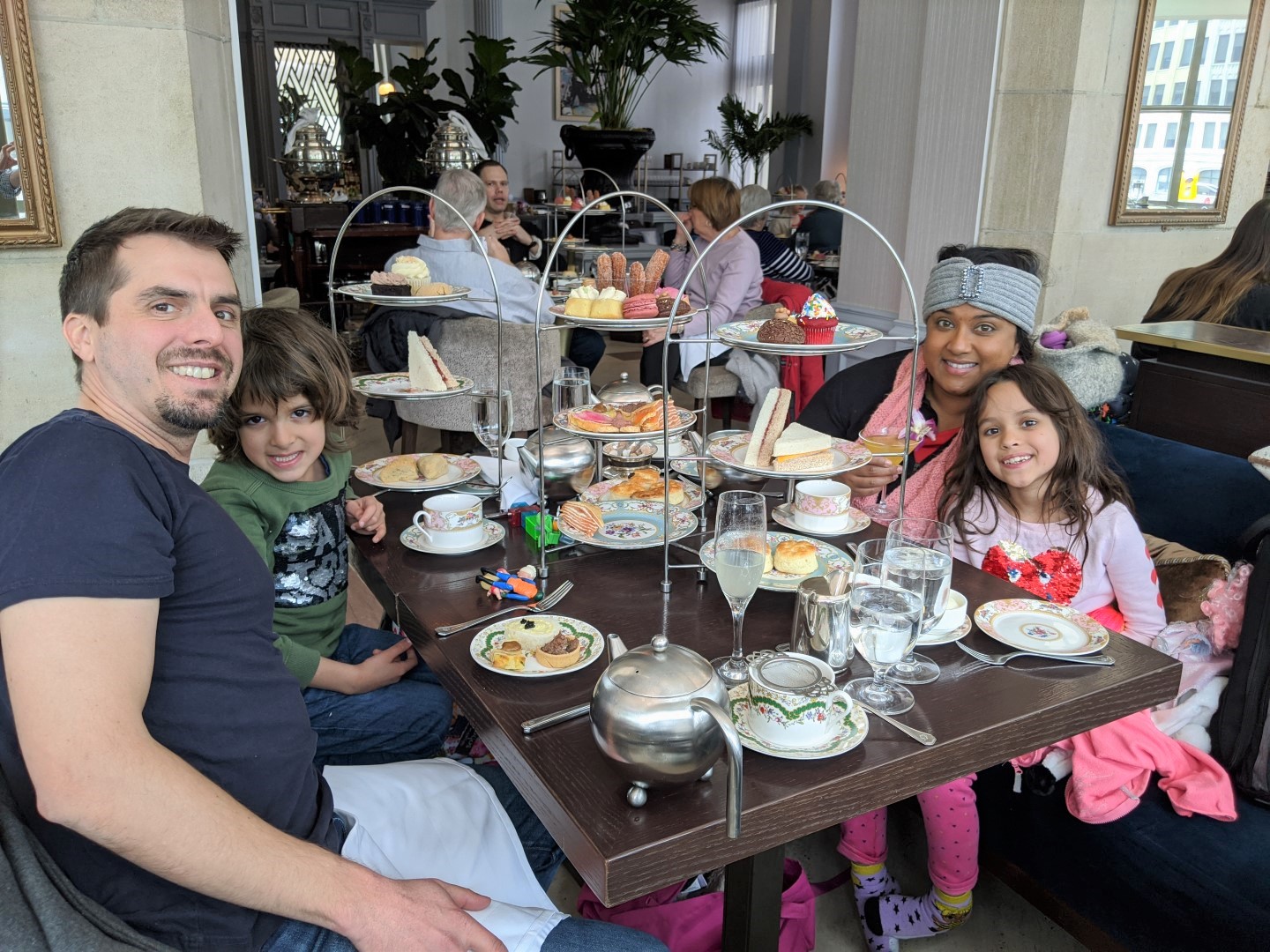 Ottawa is home to an amazing culinary scene but if you don't feel like venturing too far, you're in luck because there are two restaurants on-site making it easy to hibernate on the cold nights!
Zoe's Ottawa
I loved the vibe here because you could saddle up to the marble bar and watch the bartenders shake up some fancy drinks or you could sit by the window and watch the beat of the city. Named after Sir Wilfrid Laurier's wife, Lady Zoe, this space was transformed from a concert hall and reintroduced as a Bar in the late 1980's. We visited Zoe's a couple times but my favourite visit was later in the evening for cocktails and nibbles once the kids went to bed. Kids are welcomed here so there's no issues at all but it was fun to sip on the signature Statesmen cocktail and dig into the Octopus and Beef tartare as we caught up with our Ottawa friends with no interruptions!
Wilfrid's Ottawa
This restaurant is only open for breakfast and brunch so if you want to enjoy a great start to your day overlooking Parliament Hill, this is your spot. We sadly were too early to enjoy the brunch but from what I saw when I was leaving, it looked like quite the brunch buffet!
For breakfast they had a kids menu and offered dairy free alternatives. For adults there was a mix of options and even though I always opt for the Eggs Benny (and they had a various combinations), I just can never say no when I see Shakshouka on the menu!
Afternoon Tea in Ottawa
I had heard of many amazing things about the Afternoon Tea service at the Ottawa Fairmont and was excited when I realized that we could swing by to experience it right before our train back to Toronto. They're fabulous with allergies and can easily accommodate gluten and dairy free requests. Baby Boy was thrilled that he could actually enjoy the desserts on offer!
Chris and I started off with cocktails and moved on to the fantastic selection of teas (they have over 30 to choose from) before we dug into the savoury options. I was so full that we had to doggy bag most of the treats for our train ride! The kids enjoyed the Prince and Princess high tea which also had a mix of savoury and sweet items.
Highlights for me include the Milk Chocolate and Caramel Chocolate Choux, Mulled Wine Maracons, Icewine tea and Moroccan Curried Egg Pinwheel.
Room Service
When you're travelling with kids, having breakfast in the room isn't a bad idea. On our final day we had a 9 a.m. tour planned so I decided to order breakfast to our room. I was pleasantly surprised that all we had to do to order breakfast via the form in our room was hang it on our door before 3 a.m.
We woke up to a knock right on time and there was warm coffee, freshly baked goods, cereal, juices and warm eggs for us. It was a leisurely way to enjoy breakfast whilst nagging the kids to get their snow pants on!
Our stay at the Fairmont Château Laurier in Ottawa was a magical one and I wouldn't hesitate to return! If you're visiting Ottawa and fancy some old world charm steeped in history, this is your spot!