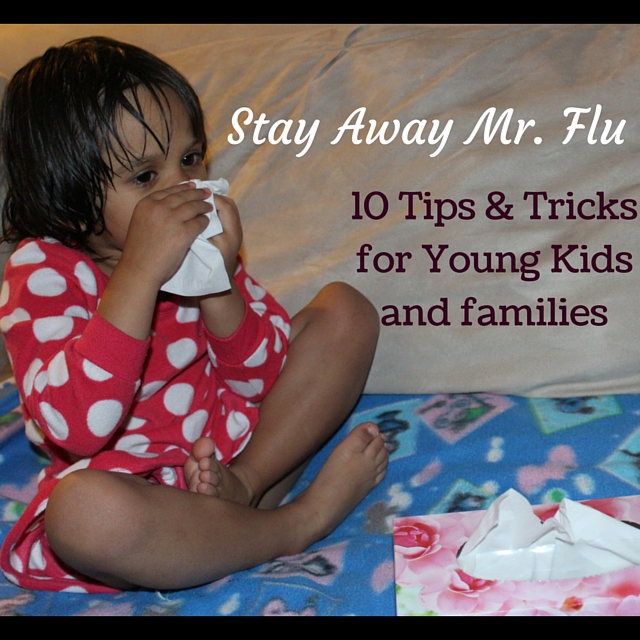 Little Monkey spends a fair portion of her days with 29 other germ filled kids, so it comes as no surprise that she started coughing and sniffling during her second week of junior kindergarten. We have a busy schedule and have no time to deal with the flu so we're trying very hard to ensure that we keep Mr. Flu at bay this year.
Last year I shared our first line of defence against viruses and diseases, and this year I am thrilled to learn that there's a nasal spray flu vaccine. No more mean flu injections for my little ones!! As of October 26th (a day after Baby Boy turned 2!!!), the nasal spray flu vaccine is available for those aged two to 17 years. Little Monkey will be thrilled to avoid an injection!! She is NOT a fan of doctors because they inject her! While parents can still opt to vaccinate their kids with an injection, both the nasal spray flu vaccine and the shot protect against four flu viruses compared to the adult vaccine that protects against three. Evidence also shows that the nasal spray is more effective than the injectable vaccine for children aged two to five years.
Being preventative creates an environment that germs don't want to live in. That's why I vaccinate the whole family as early as possible.
Over the years, I've picked up some more tips and tricks that work for us, besides getting the vaccine. Here are some other ways we use to stay healthy and tell Mr. Flu to stay away…far FAR away!
Washing our hands as soon as we walk through the front door
Cooking with spices such as ginger, turmeric and cinnamon, which are known to have anti-inflammatory, anti-bacterial, and anti-viral properties
Getting plenty of rest (when you're tired your body's defense system doesn't function as well as it could)
Having humidifiers in bedrooms and the living room helps to provide relief from coughs and congestion
Disinfecting the surfaces of doorknobs, light switches, telephones and keyboards that can become contaminated with bacteria and viruses (antibacterial wipes are my best friend!)
Taking probiotics for a healthy immune system
Staying hydrated (kids may feel less thirsty during the winter months vs. the summer but they still need to stay hydrated in order to stay healthy)
Limiting frequent touching of our noses, mouth and eyes (top spots that transmit germs)
Being active outdoors (getting exercise in the fresh air helps boost our immune systems)
Avoiding contact with those who are sick (easier said than done, but we can try!)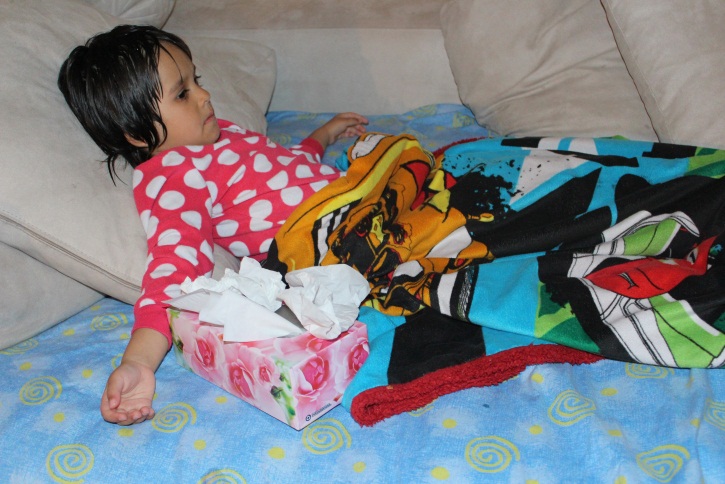 It scares me to think that 10 to 20 per cent of Canadians get sick with the flu each year and that it's estimated that 12,200 people are hospitalized and about 3,500 die (gulp!). As we head into flu season, my wish is that each and every one of you escapes the wrath of nasty Mr. Flu. As much as I enjoy the quiet house when the kids are under the weather, I'd rather be snuggling with them than have them exhausted and miserable as they vegetate on our couch.
If you're looking to get more information about this year's flu program, visit ontario.ca/flu.
This post was developed in association with the Ontario Ministry of Health and Long-Term Care. The opinions of the author are my own. For additional information on the flu or to find out where to get a flu shot, click here.
If you're still on the fence about getting the flu shot for your kids, there's a great new alternative you're going to want to know about. Want to learn more? 
Learn how to ward off the flu this season.
Check out why you should be getting a flu shot for your kids, even if they aren't high risk