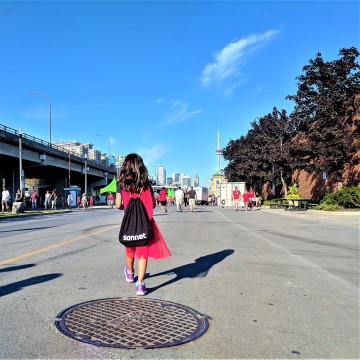 We're back in the city and had the chance to do something new for all of us! None of us had attended a Toronto FC match and  we were thrilled when Sonnet Insurance invited us to bring our kids to Sunday's Toronto FC game against New York. We've experienced the Blue Jays games with kids and have taken our babies to the Raptors game so this was exciting! Toronto is home to the highly energetic TFC fans who take over the BMO field and experiencing the fanfare in person was super fun. If you're looking to take your kids to a Toronto FC game, we thought we'd share our experience and a few tips so you know what to expect.
Disclosure : Sonnet Insurance invited us as their guests but as always, opinions are TOTALLY ours! 
Things to Keep in Mind When Taking Kids to a Toronto FC Game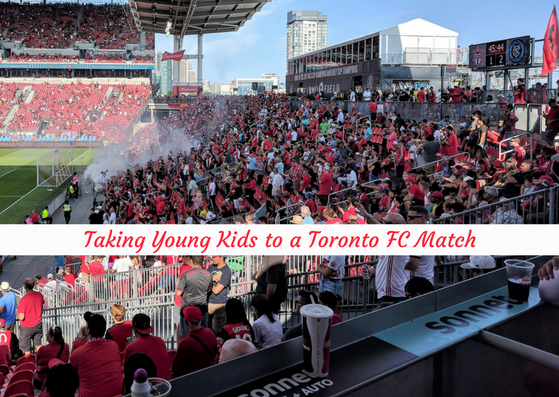 You can take the GO train or the TTC to get there if you'd like to avoid the parking expenses.
If you plan to pick up your tickets at Will Call, be sure to get there early. We ended up missing the first half an hour because we got there just in time for the start of the game and had to wait in line for about 20 minutes to pick up our tickets.
BMO Field has the strictest policies I've seen to date and

you cannot bring in any backpacks

or large bags over 14 x 14 x 6 inches (drawstring bags allowed). No umbrellas either! Click here for a full list of prohibited items.

Kids 2 and older need tickets

but friends have told me that they aren't too strict with that policy and they have taken their 3 year old as a lap child until they recently received a comment to the effect that their daughter seemed a bit big for a 2 year old (lol!).
You absolutely

cannot bring in any food or drink

into the stadium unless you have a food allergy (you do have to call and get approval to bring food in if you do). I saw many water bottles being emptied and plastic ones tossed out. This is a bit of a struggle if you have a snacker with you and so you'll have to plan a visit to the concession stand before you take your seats. Now, I had a bar of chocolate in my tiny purse and when they inspected it they didn't see it, so you may be able to get away with a small snack but not much else I'm afraid. Water fountains can be found near sections 105, 106, 111 and 114 and the fixed concession stands will provide a cup to use.
You're at a game and just like at the Raptors, you can expect a fair bit of swearing. Nothing you can do about it and if your child is really young, they won't really pick it up ("people just like saying Duck a lot" is what I say) and if they're older, they may have heard worse! That said, for all Toronto FC matches, section 227 is the

designated family section

. Located in the upper northwest corner of the stadium, this area has a policy of no standing and no foul language.
The game is 90 minutes long and the crowds are energetic so there's plenty to keep young kid amused. There was a band near our end and 4 year old Baby Boy loved watching the drummers while 6 year old Little Monkey was asking Chris all about the rules (she started playing soccer recently). Sonnet Insurance had given them a small

bingo card

and that really kept them busy and taught them various rules. I thought that was a neat idea – you could even make it simple like "someone wearing a green shirt" or "see someone eating a hot dog". You could make it at home and bring it with you along with a pen.
It's a

busy stadium and I told our kids to hold our hands

when we were leaving. It is easy to be separated from your child and should this occur, a security guard can help as can the Fan Services booth near Gate 1, Gate 3 and on the Upper Concourse near section 207.
Tips for Taking Baby to the Toronto FC Match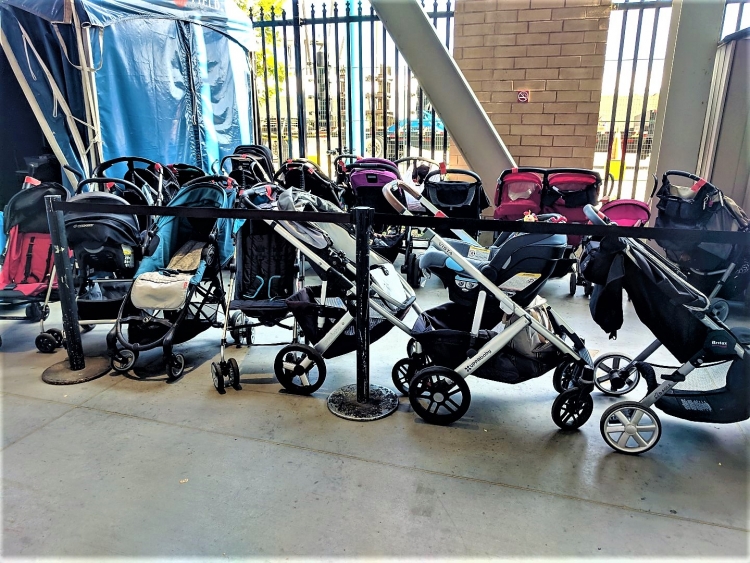 If you are bringing a baby to the Toronto FC game and have a stroller, you can park it in the

designated stroller parking

area near Gate 3. You can't take the stroller into the stands and I recommend baby wearing if you can.
Nursing mothers who require a quiet location in which to nurse are encouraged to visit one of the Fan Services locations near Gate 1, Gate 3 and outside section 207 to be taken to a more private location. I am assuming you can bring milk/formula in if you have an infant.
It is loud at the game but based on my experience at the Raptors game with a baby, I am sure infants would be fine with the noise. That said, if you have

Baby Banz headsets

, bring them along!

Family washrooms

are located near sections 109, 116, 206, 210, 223, & 226 but know that both the male and female washrooms are equipped with baby change tables.
We've been fortunate to experience a Blue Jays game from a suite and thanks to Sonnet Insurance, the official insurance partner of Toronto FC (and a Toronto based insurance company that makes getting a quote AMAZINGLY EASY-seriously take a look online!), our first soccer match in Toronto was in a suite as well. We enjoyed the company of friends and ate some snacks (kids went straight to the cookies) as we watched the soccer game. Toronto FC truly has the most passionate fans. The chants, the vocal emotions and the music makes Toronto FC one of the most entertaining live sports to watch in the city.