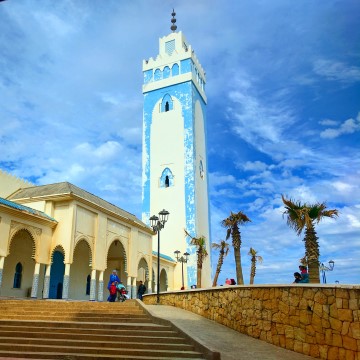 This past month, our family has toured Morocco with two kids under 6 years old, two large suitcases, four backpacks and a double stroller. I imagine that this bounty of luggage has bemused many local residents, who regard us with a mixture of pity and incredulity. After landing in Tanger Med in late April, we have traveled to Martil, Tetouan, Chefchaouen, Fes, and Marrakesh, and have had to rely extensively on taxis as our main means of transportation.
Taking taxis is Morocco has not been a consistent experience. In getting around Marrakesh, we had to learn a whole new set of rules to those we picked up in Fes. I am struggling to describe this range of experiences, and so I'll relate our encounters through a medium I know well, the movies. Here are descriptions from our journeys through the various regions of Morocco, along with the Hollywood movie that most closely portrays each experience.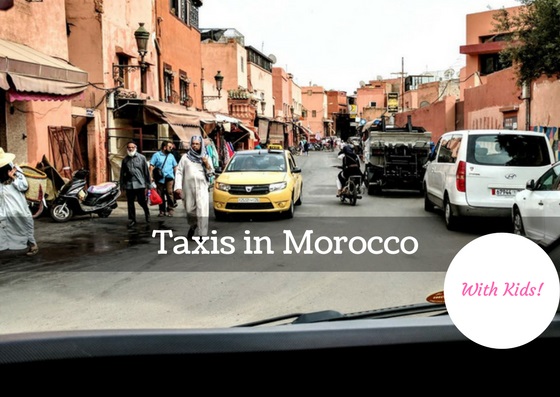 Tangier Med / Martil / Tetouan (Driving Miss Daisy)
If, like me, you haven't seen Driving Miss Daisy in a while, the plot goes a little something like this. An elderly woman finds herself in need of a chauffeur, and so her son hires Morgan Freeman. Unfamiliar with his great work, the lady resents Morgan Freeman at first and is hesitant to give him a chance. Eventually, the two form a beautiful friendship, because who doesn't love Morgan Freeman.
I am that elderly woman. After reading about the driving habits of Moroccans, I was loathe to even visit the country. However, upon landing in Tangier Med, I discovered that the taxis at the ferry station offer set rates to various destinations in the region, rates that are reasonable to the point of being a bargain. For 300 Dirhams (roughly $45 CAD), we took a 1 hour taxi ride from the terminal to our place in Cabo Negro, near the cities of Martil and Tetouan. The driver was friendly, the van had seat belts, and a double lane road stretched along the entire coastal route. The ride was positively luxurious.
Once at our Guest to Guest residence in Cabo Negro, our property manager connected us with a taxi driver who took us into Tetouan to get groceries. He was a responsible driver, friendly, and once again, charged us a reasonable rate. We ended up hiring him to take us to Chefchaouen, a bumpy 1.5 hour drive from Cabo Negro, and to the train station in Fes, another 1.5 hour drive.
We also experienced a surprising bit of honesty from another taxi driver who drove us from Martil to our place near Cabo Negro. Unsure of the exact name of our village, we asked him to drive towards Cabo Negro so that we could indicate the stop when we entered the area. He quoted 30 dirhams but when we reached our destination, he told us that it was not quite in Cabo Negro and that the ride would only be 20 dirhams. By this point, my impression was that cab drivers in Morocco are friendly, cautious drivers. I had seen their inner Morgan Freeman.
Fez (Aladdin)
Fez was once the most populous city in the world. Now, it's a mid-sized city that is the perfect destination for those looking to experience the old world charm of a walled-in Moroccan medina. In most parts of the Fes Medina, cars are not permitted. Visitors are granted the opportunity to explore a city comfortably and efficiently operating in a time before industrialization.
Once outside of the medina, residents and visitors alike are transported through the city in small, red vehicles called Petite Taxis. These magic carpets whisk around the parts of Fes that are outside of the wall, picking up patrons waving from the side of the road. Like Uber Pool, strangers will share their ride on route to their destination, but the taxis allow no more than three riders at a time, which was a problem for us.
We were reduced to walking along the side of the road, hoping that a taxi driver would be willing to risk a fine and give the four of us a ride. Luckily, the Little Man's head was lower than the window and so, at a glance, we only appeared to have three in the vehicle. Most taxis we approached were unwilling to take the risk, but we found that if we waited long enough, one of the magic carpets would make room.
There are larger vans available but they are hard to find. Many of these taxis wait outside the train station and charge riders 4 to 5 times the price of a regular taxi. Once again, we relied on our property manager to arrange for a larger taxi to transport us to the train station, but we did ride in a few petite taxis during our stay. At 10 to 20 dirhams, they are extremely cheap, and the roads in Fes move at a moderate pace. The taxi drivers we had were also courteous and cautious. Aside from the three-person limit, which is inexplicable given that the cars have four passenger seats, taking taxis in Fes was almost as enjoyable as hiring a ride in the Tetouan area.
 
Marrakesh (Mad Max: Fury Road)
Where to begin? When I was perusing the online forums prior to visiting Morocco, the exasperated tales told were often describing the roads in Marrakesh. Just as I was getting over the road dangers I experienced in Sri Lanka last December, I entered Marrakesh. Upon leaving the train station, we almost sparked a yelling match between drivers competing for our business. Our aim was to find a van that would fit our luggage and give each of us a seat. One of the drivers we spoke with seemed to concede the ride because his taxi wasn't big enough, but when we reached the other driver's vehicle, we barely managed to squeeze in. The Little Man had to sit on our lap, meaning he had no seatbelt, and we were too exhausted to go looking elsewhere.
Then began the journey, in which our taxi sped through crowded streets filled with small motorbikes swerving in every direction, often making turns in front of our car. Numerous pedestrians were trying to cross roads that might one day get them killed. The preferred method of driving in Marrakesh, and in most of Morocco, is to ignore the center line. This led our driver to approach the vehicles in front of us at full speed, then ride the car's bumper and honk the horn until the driver relented and let us pass.
This trip occurred on the main roads, which are wide enough for several cars. We later hired a taxi to take us inside the medina, a large swathe of the city surrounded by a wall close to 10 km long. Here, taxis weave through pedestrians whose responsibility it seems is to jump against walls to avoid getting clipped. Children are everywhere. I don't know how parents can even stomach letting them on the streets of the medina.
Lastly, the cost of taxis in Marrakesh can be very high for those who relent and pay the asking price, which always seems to be 100 dirhams regardless of the destination. We had some trouble explaining where we were headed to most of the drivers and discovered that the easiest way to indicate our destination was to provide the location of the nearest mosque. We managed to get all of the drivers to agree on 50 dirhams, which is still almost $7.50 CAD. A good rule I have discovered when purchasing products or services in Morocco is to halve the first price given, offer a little less than half, and then try to meet at this number.
Transportation is a big factor in my level of appreciation for the places I visit. When I encounter dangerous roads and cars without functioning seatbelts, I feel shorted and uncomfortable. I have the same problem taking taxis in Toronto, where many of the drivers consider aggression on the roads as a virtue.
Walking through the medina of Fes was an unforgettable experience, but my whole Moroccan trip is slightly blighted by the general disregard for road safety. For that reason, I appreciated the drivers in Morocco who drove cautiously and operated a vehicle with working seat belts. When self-driving vehicles take over the world, Morocco will be one of the greatest beneficiaries.