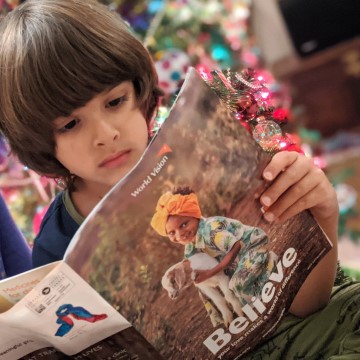 We're in full on Christmas mode and as much as I love getting presents, I also love giving. Finding that perfect gift for someone near and dear, brings me as much joy as receiving a perfect gift. Raising kids who have WAY more than they need, Chris and I have made it our mission to constantly remind Baby Boy and Little Monkey that they too need to give back in simple ways. From donating toys and clothes to giving money for charity, my parents taught me to give back and now we're doing the same with our kids. This year we're looking at the many options available through the World Vision Gift catalogue when looking at gifts because they have many gifts that will make a difference in someone's life.
Disclosure : This post is in partnership with World Vision Canada but, as always, opinions are TOTALLY ours!
World Vision's Gift catalogue provides the opportunity to give a gift that will make a difference in the lives and the communities of vulnerable children. Given that I grew up in South Asia and the Middle East, I tend to support initiatives that help communities in need on that end. It's one of the reasons I gravitate towards World Vision's gifts.
This year I am especially fond of two giftss on offer.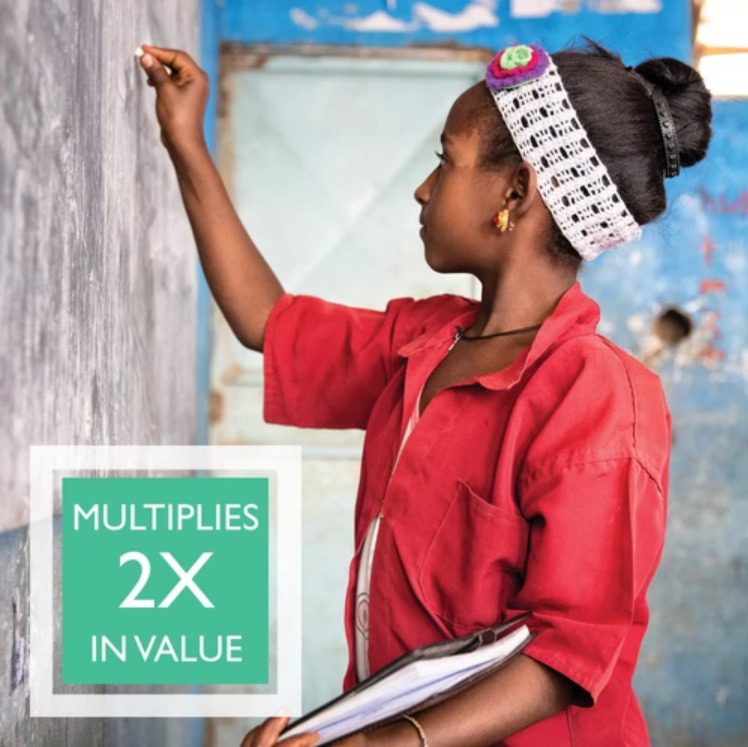 The first gift that caught my eye is the Education Fund. Having visited schools in Sri Lanka and Pakistan, I have seen first hand the importance of education. A child in poverty may not go to school for many reasons but we can ensure that they at least have the resources available for when they can attend school. Donations towards the Education Fund contribute towards renovating classrooms, training instructors, improving literacy and providing vocational skills. Thanks to contributions from the Canadian government, our donations multiply two times in value to educate children and youth to make their dreams come true! I personally believe that our kids' teachers and school staff would appreciate us gifting towards education more than they would in receiving another box of chocolates or pack of tea. Depending on your budget you can provide school supplies, uniforms, musical instruments and so much more. The beauty of World Vision's Gift catalogue is that there are ways to contribute whether you have $10 or $1000. No budget is too small when it comes to making a REAL difference.
The second gift I enjoyed seeing was the Animal Fund. When you give to the Farm Animal Fund, donations are pooled together to purchase animals such as cows, piglets, sheep and chickens that provide families with improved nutrition and increased income. Parents receive feed, education in animal husbandry and business guidance. All that turns into improved nutrition, increased income and a sustainable path to a new life. I personally think that many of our friends would value us donating a bit of money in their honour towards this. I'm not saying not to buy any gifts, because it does give me joy in seeing friends open presents. I'm saying take 50% to purchase something small and donate the remaining to buy something that helps a community in need well beyond the holiday season.
Tips to Encourage Young Kids to Give Back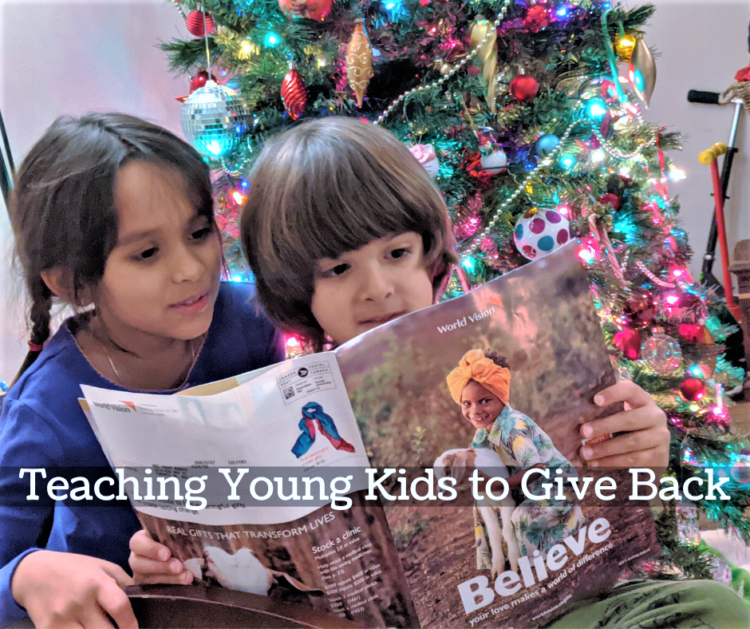 My kids are still at that age where they'd much rather receive than give. They're kids after all. I've made it a point to remind them to give back any chance I get and though it doesn't come naturally (heck, it's something I have to remind myself to do weekly), I think we're making progress because the other day Little Monkey came up to me and said " I got two of these, maybe we can gift one of these toys?" Proud parenting moment right there! Here are some tips we've picked up along the way.
We have a policy of donating toys and clothes every other month, especially leading up to birthdays and gift giving holidays. Find a local charity that is in need of toys and children's clothing and take your kids to drop them off. For every toy that comes into our home, I would prefer that one goes out. Doesn't always happen, but I try!

Showing kids how others live in different parts of the world might not be easy to do, but it does make a difference.

Our kids still remember the gratitude of the family we bought groceries for in Morocco. It was a scorching hot day and they were outside a grocery store when we noticed them and felt the call to help. That was two years ago when they were only 3 and 5 years old but they still remember. It's a memory that helps us ground our kids when they ask for,or waste too much.
That said,

teaching our kids to give joyfully is better than guilting them into giving.

This is one I struggle with and I would much rather my kids get in the habit of giving and not feel like it's an obligation. Since our kids get paid for the work (not chores) they do, we're going to encourage them to put 10% towards charitable giving. Starting a separate piggy bank is a great idea.
If your kids want gifts, encourage them to

get in ways that give back.

For example, why not ask Santa for a gift from the World Vision artisan gift selection? Asking for an Ivy & Alex dress can also give water or food to communities and your child a dress at the same time!
I'd love to hear of additional tips you might have for us. Are you buying presents that give back this year? I'm always on the look out for easy, meaningful ways to give back so please share your ideas with us as we all toast the Christmas season!