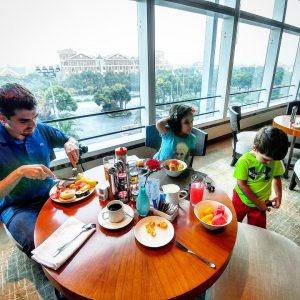 When we booked our China Eastern flight to Sri Lanka we knew that we'd have an overnight stay in Shanghai and while exploring the city is what we'd like to have done, we had two young kids with us and we knew it was unrealistic to think that after a 14 hour flight (and a 8 hour flight ahead of us) we'd have the energy to explore Shanghai between 9 p.m. and 3 p.m. Luckily we had the foresight to realize that because we decided to spend our night relaxing instead. The smartest choice we made was staying at the Kerry Hotel, Pudong because it is by far THE BEST kid focused hotel we've stayed. It's no wonder that the hotel is one of Disneyland's partners! If you're planning to spend time with Mickey in Shanghai, this is the best spot for families.
Disclosure : We were invited for a complimentary stay but, as always, opinions are TOTALLY ours! 
The  Kerry Hotel, Pudong is the first of a new class of luxury hotels from the Shangri-La Group and just as with a stay at any Shangri-La hotel, you can expect the best when it comes to the amenities, facilities and attention to detail. On arrival at the airport (despite a delayed flight) we were greeted by one of Kerry Hotel's drivers who drove us 30 minutes to the hotel. The hotel is well situated and easily accessibly by public transit and the new Maglev train which connects the airport directly to the city but this personal service is available for those who wish to upgrade. Our driver was so nice that he not only waited as I ran around trying to figure out how to store some of our luggage (we helped my mom by taking some gifts for family in Colombo and had 4 suitcases too many so we stored in at the Pudong Airport luggage storage) but he also helped me out by lending me some local currency to pay for the storage. Don't worry, I exchanged money and paid him back promptly! I should also take this time to mention that if you have a connecting flight in Shanghai and want to exit the airport Canadians (and other select nationalities) can easily get a free tourist visa on arrival as long as you're there for less than 48 hours and have an onward connecting flight.
The Room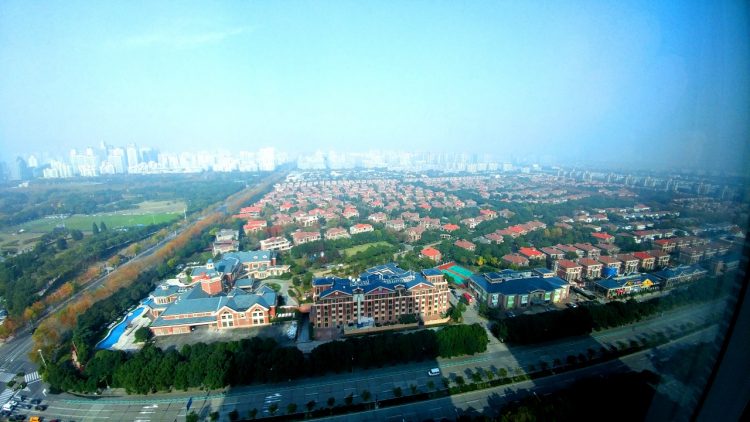 On arrival at the hotel (well past 9 p.m. with two cranky kids) we were able to quickly check in and spread out luxuriously in our spacious Club Room suite. The hubs and I had a king bed and the kids shared a roll-away bed. After being cramped on a flight Baby Boy and Little Monkey enjoyed spreading out in the living room and spent about two hours unwinding. I on the other hand was itching for a shower and was eager to get cozy in my bathrobe.
As we were staying in one of The Club Suites we enjoyed quite a few perks including full access to raid the mini bar at no additional cost (so many amazing local snacks!!). The Club also offers complimentary Wi-Fi (though most social media sites were blocked and this is where my Rogers Roam Like Home plan was super useful), daily fruit baskets (the kids were ALL over the fruits!), evening cocktails with canapes and so much more!
While our room was absolutely lovely  (and we ordered room service the night we arrived) the Kerry Hotel has so much more on offer and so outside of the glorious shower and 7 hours of sleep, we spent the rest of our 18 hour stay exploring the fabulous kid focused and delicious culinary offerings!
The Food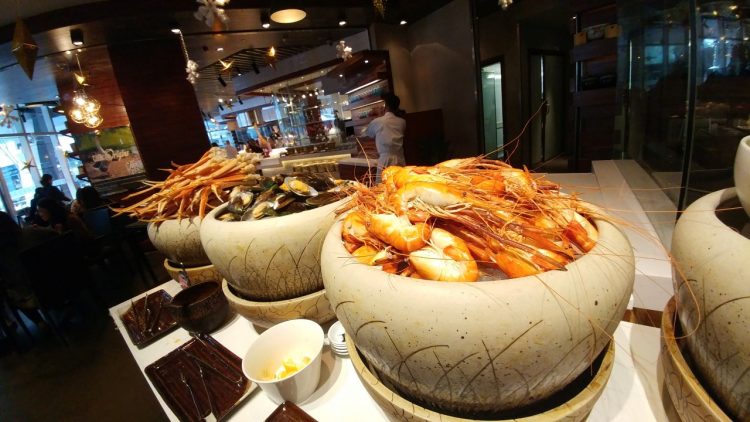 I've always loved Chinese food ( I mean WHO DOESN'T?) and so I was excited to see what was on offer at this Shangri-La property because we did not have time to dine elsewhere in the city. One of the main reasons I chose to spend our one night at the Kerry Hotel was because of the food options on offer. We ordered room service pretty late in the evening and so some of the dishes we wanted (oh nasi goreng :() had run out and we also encountered a few language challenges but the dishes we did receive were delicious. However, given an option I'd prefer to dine at the restaurants versus getting room service. During our stay we enjoyed everything from drunken crab to cooked to perfection BBQ meat.
Families can enjoy a variety of food experiences including many gourmet buffet offerings. The hubs was excited for to sample the beers from The BREW, the in-house brewery. While I would have loved to dine at The Meat (where they had a meat aging chamber!), we decided to start our morning at The Club Lounge (another Club perk) where we enjoyed an amazing breakfast with a view of the public gardens. For someone who loves savoury breakfasts the spread was magnificent (as you may have seen in the video above). From sushi to freshly baked bread and hand squeeze juices, the four us had quite the start to our day.
For lunch we decided to try out the buffet where over 13 live cooking stations were set up and we got to sample authentic cuisines from around the world. I found it very interesting that they not only had Chinese and Japanese stations but also Indian, Malaysian and North American ones. The kids got to enjoy "meat on sticks", steak, eggs, and plenty of local fruit. The hotel really takes pride in offering a wholesome selection of ingredients and dishes and the hubs dashed to the well stocked salad bar while I was totally eyeing the over 30 desserts displayed so lovingly! Parents will be thrilled to learn that children aged 5 and below enjoy complimentary buffet meals when accompanied by a paying adult. Children between 6 and 11 dine at a 50% discount on the buffet price and the hotel offers meal plans with a couple of their family packages.
If you're a food lover like I am, you'll be quite pleased with the many food options under one roof at the Kerry Hotel. I love dining at the Toronto Shangri-La's Bosk restaurant so I'm glad to see that the same level of decadence and deliciousness can be found at every Shangri-La property!
The Entertainment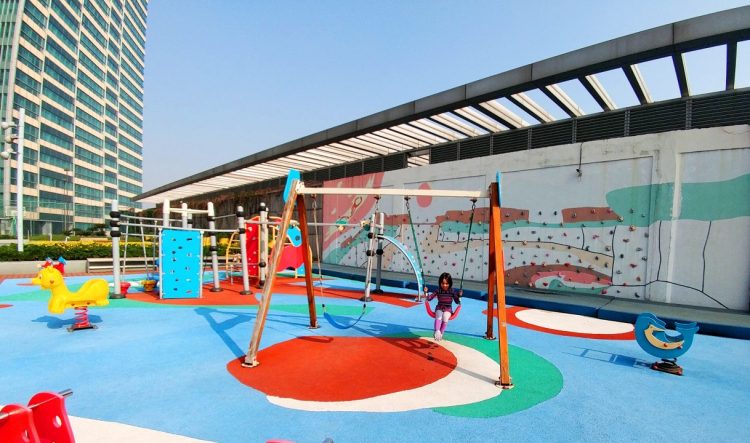 This is where things really shone for me. I've never been to a hotel  like this one and never in my life expected a Shangri-La property to focus on kids THIS much! Hotels usually offer high chairs and cribs and maybe a couple kid friendly food options but the Kerry Hotel has taken in up quite a few notches with their Adventure Zone.
Before I share about the activities for the kids, let me tell you about Kerry Sports! The gym is unlike any I've seen…they had everything from treadmills with a view over the city to yoga classes. It's also open 24 hours a day so you can exercise to your heart's content. I fell in love with the swimming pools and I know Little Monkey REALLY wanted to go for a swim but unfortunately time did not permit us to enjoy even a dip. In addition to the swimming pool they also had a vitality pool and children's splash pool. Shall I mention the outdoor rooftop garden with jogging track, tennis court and basketball court?
We lucked out and it wasn't overly smoggy so Little Monkey spent a few minutes at the outdoor children's playground and the mini-climbing wall. We spent most of our day at the indoor Adventure Zone and if you followed our Instagram stories I showed you quite a bit of the 720 sqm space.
The three heart-racing slides had me a bit cautious and while none of us wanted anything to with the Tri-level Demon Drop Slide, we all enjoyed going down the Hyperglide Astra Slide and the Double Drop Slide. Little Monkey was all about climbing the ropes, pushing through the ball pit and exploring the play zones. I really like the fact that the hotel had thought about kids of all ages. There was the toddler zone for Baby Boy and another one for older kids. One tip is to definitely wear socks and ensure your kids are wearing long sleeved clothes. Even parents are expected to wear socks but they do have complimentary slippers if you forget!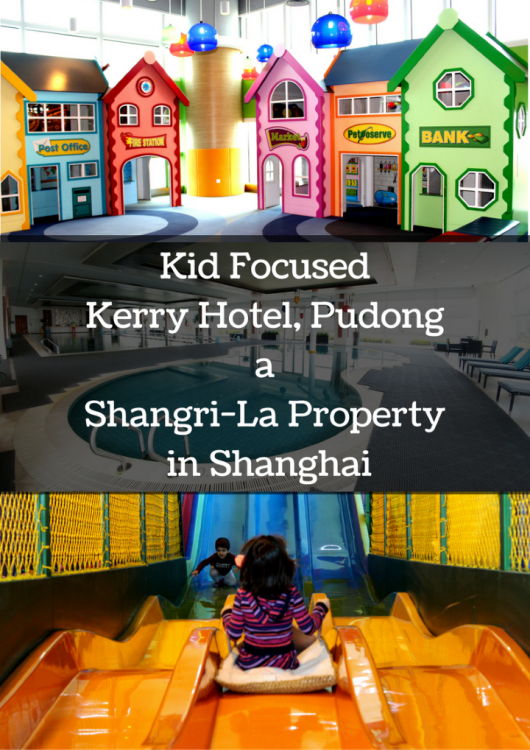 As I mentioned the Kerry Hotel is an official Disneyland partner and so families can enjoy free shuttle service between the hotel and the theme park (they also offer free shuttles into the city!). A stay at the Kerry Hotel comes at a price but as with anything in life, you definitely  get what you paid for and in this case, you're getting so much more! It's Ab-Fab for families with young kids who need to expel energy. Whether you're just staying between an overnight flight connection or visiting for a few days, the Kerry Hotel has everything you need when travelling with young kids. Shanghai was never on my must visit list of places but having had a taste of China, I think I may now add it to our list. I'd love to return to the Kerry Hotel and spend a few days exploring the city the Shangri-La way!