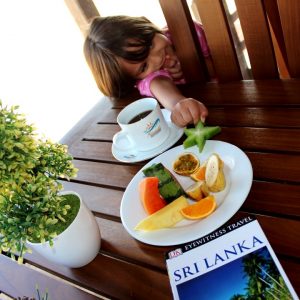 Travelling through Asia with kids takes some extra effort and as with all our trips, I had a bit of an agenda I wanted to follow so that we didn't end up lollygagging in places and totally "wasting" our vacation days. Prior to leaving Toronto I received the Eyewitness Travel Sri Lanka guide and while my family initially laughed at me, they soon changed their tune once I was on ground discovering things they never heard of!
Being Sri Lankan (born and raised there) my parents assumed that we had at least heard of, if not seen, most of what Sri Lanka had to offer. However, I'm here to tell you that we discovered some spots that even my nearly 90 year old grandmother hadn't heard of thanks to the Eyewitness Travel Sri Lanka guide (DK Publishing 2016). While it's easy to hop on Trip Advisor to search what's nearby during our travels, it also really helps to have a bit of an agenda in mind and that's why I loved the day tours outlined in the guide. There's 2 to 12 day tour suggestions and they've done a great job highlighting the must see attractions. Best of all, they've included tips from locals and culinary hot spots and family travel tips as well. For the most part we went with the flow and that's when the guide's area maps and cultural photography helped me quickly determine what was in the area. I of course used my Rogers Roam Like Home plan to navigate the driver to these spots but it was the guide book that brought things to my attention in the rural areas especially.
We landed on the 7th of December into Colombo and departed on the 23rd which gave us 16 days to explore the island. Colombo was our home base as we have family we had to spend some time with  and from there we explored the country from coast to coast. Because we had family obligations, technically the below itinerary is really a ten day drive through Sri Lanka.
Hope this list helps those of you looking to explore Sri Lanka with kids or without!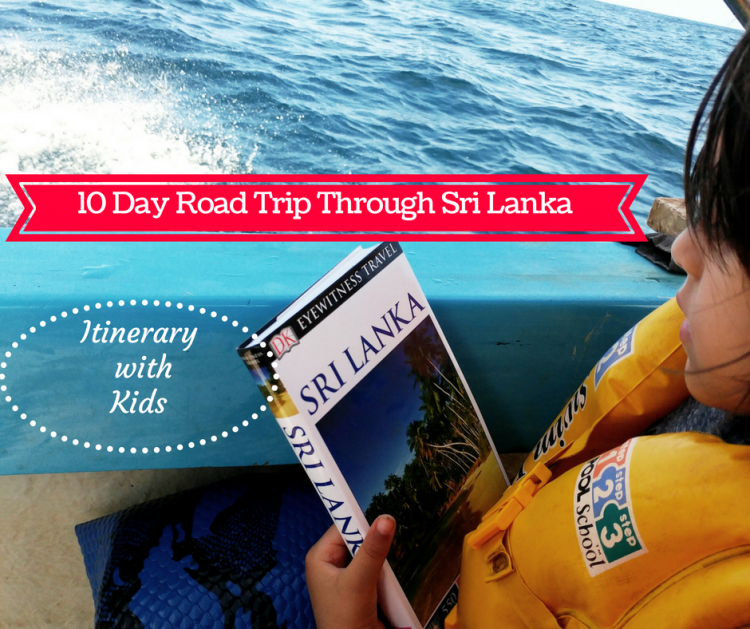 Day 1-3
Explore Colombo. Here's a list of some spots we tend to visit when we're in Colombo.
Day 4
noon – Drive to Mirissa (4 hour drive) and spend evening at the beach
Day 5
6:00 a.m. – whale tour
1:00 p.m. – Handunugoda tea estate visit
4:00 p.m. -Drive to Yala (3.5 hour drive). Here's more about elephants in Sri lanks
Day 6
Morning – pool and relaxation
2:00 p.m. – Shehan Yala Safari
8:00 p.m. – Dad's birthday Dinner at Jetwing Yala
Day 7
11:00 a.m. – Drive To Badulla (3 hour drive)
Pit stop at Buduruwagla site
Day 8
11:00 a.m. – Drive To Kandy (3 hour drive). It's part of  our  top things to see in Sri Lanka.
4:00 p.m. – Daladamaligawa (Temple of the Tooth Relic)
Day 9
Drive to Negambo and spend day at beach ( did not happen as we had to return to Colombo for some family events)
Day 10
Family activities in Colombo. Perhaps you can go for afternoon tea at Galle Face Hotel?
Day 11
10:00 a.m. – Drive to Pinnawela Elephant Orphanage (1 hour drive)
4:00 p.m. – Drive to Dambula Cave Temple (2 hour drive)
Day 12
7:30 a.m. – Climb Sigiriya (no kids)
12:00 p.m. – Drive to Trinco (2 hour drive)
2:00 p.m. Visit Konishawara Temple
4:00 p.m. Drive to Nilaveli (30 minute drive). Here's where you can stay in Nilaveli with kids.
Day 13
10:00 a.m. – Beach day
5:30 p.m. – Drive to Jaffna (4 hour drive) . Read more about what you can do in Jaffna off the beaten path in Sri Lanka. 
Day 14
10:00 a.m. – Explore Jaffna (visited Dad's grandparent's homes)
1:00 p.m. – Drive to Mannar Island and visit fort ( 1 hour drive)
3:00 p.m. – Drive to Kalpitiya (4 hour drive. Wanted a break journey between Jaffna and Colombo drive). We visited to see Dolphins in Kalpitiya.
Day 15
7:00 a.m. – Dolphin Watching tour (spontaneous)
11:00 a.m. – Drive to Colombo ( 3 hour drive)
Day 16
Morning – Shopping
Evening – Departure