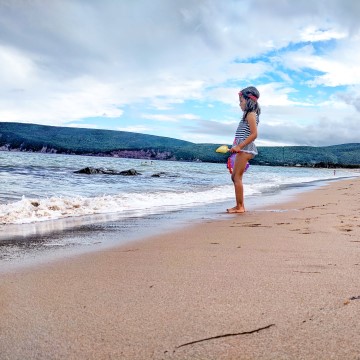 If you're visiting Cape Breton island in Nova Scotia, Canada and are looking for things to do on the Cabot Trail, Ingonish has probably entered your radar. Located along the northeast coast of Cape Breton Island, Ingonish is on the Cabot Trail and is on the eastern entrance to the popular Cape Breton Highlands National Park. Visitors to Ingonish usually come with one thing in mind (visiting the beaches) but after our most recent visit, we discovered quire a few things to do in Ingonish with the kids and grandparents. Chris has visiting Ingonish numerous times during his childhood so we were eager to go and experience it as a family on our multi generational visit.
Where to Stay in Ingonish, Cape Breton with Kids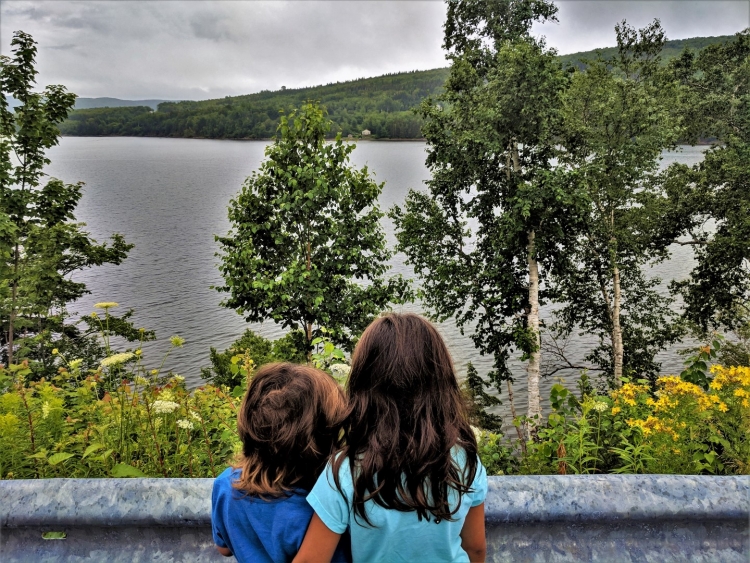 Ingonish is pretty small and so no matter where you stay, you are only a few minutes away from the key attractions and highlights. The area is home to many cottages and private air b&b rentals but I will have to point out that the good spots are booked a year in advance. Most of our trips are rather last minute and I have ended up in some crappy Air B&Bs as a result. For a proper hotel experience, I recommend booking yourself into the Keltic Lodge (friends have told me that the property is also a bit outdated but that it's still the best in the area). That said, the Corson House at the Keltic Lodge did go through a renovation in 2016 and the rooms have A.C so it would be the best option in the summertime as most of the cottages and Air B&B rentals I've seen haven't had A.C! This was a scorcher of a summer and a fan just wasn't cutting it most days!
Things to do in Ingonish with Kids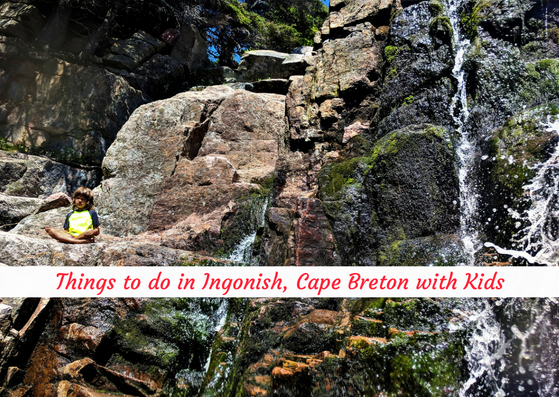 Ingonish is a great spot to have as your home base as you explore the Cabot Trail with kids because most of the best spots on the Cabot Trail are within a 2 hour drive of Ingonish. They say it takes 8 hours to drive the entire Cabot Trail and it's usually best if you give yourself 3 days to it if you're going to do the loop. If Ingonish is your base I'd recommend visiting the north (Pleasant Bay and Cape North) on one day and squeezing in a whale watching tour. Next day you could do Cheticamp or Magaree and Baddeck on the following day. If you manage to give yourself a fourth day you'll want to spend it in Ingonish as there's a fair bit to do here as well. Alright, now for the important stuff – what can you do in Ingonish? Here you go!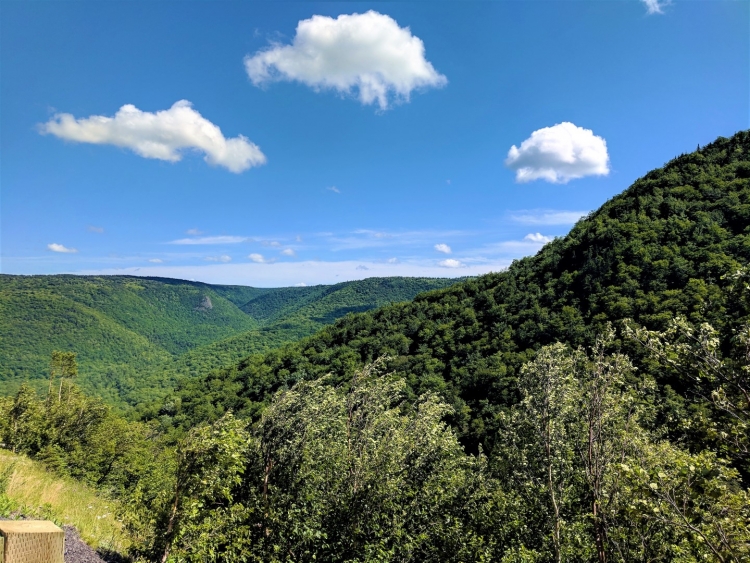 Highlands National Park: This national park is absolutely beautiful and the viewing spots are marked clearly. The park itself doesn't have much in terms of restaurants or shops so pack that car up with snacks if you plan to hang there all day. The best advice I have is to map out your route to figure out on how many days you'll be driving through the Highlands National Park and making stops. I say this because you need to purchase a park pass (avoid the line ups at the welcome centre and drive past to the entrance gate where you can purchase the pass as well) which will give you access to stops within the park. You can drive through with no issues but if you plan to stop and enjoy the beaches and hike, you'll need a pass. We bought a two day pass during our weekend visit. If you're a hiker, click here to learn more about the trails. If you're not a hiker you can still drive through the park on your way to Pleasant Bay and Cape North. Oh and by the way, the Highland National Park is home to 6 beaches, 4 of which are salt water and 2 are fresh water. You can read more about them here.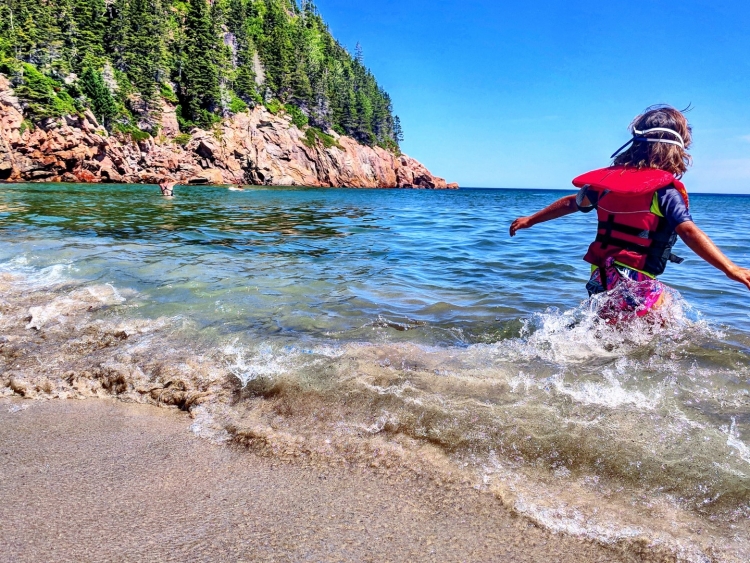 Beach Time : Ingonish is known for its beach and it's the main reason many of our friends in Cape Breton visit Ingonish with their kids. The ever so popular Ingonish Beach is where most people head to but we visited Broad Cove Beach which was filled with purple jellyfish during our visit. We were told they weren't too bad and we saw many kids catching them in buckets. The beach was sandy and there was a shallow entry so that was a win. Remember that you need a park pass to ensure that you don't get a ticket during a random spot check. We also visited Black Brook Cove Beach which was a 10 minute drive from Broad Cove Beach (and near Neil's Harbour). This was my favourite beach because it wasn't as busy and we had the section to ourselves for the first two hours (we got there for 11:30 a.m.). We also didn't see any Jellyfish here and the best part was the waterfall that was hidden towards the side. It was a rocky climb to get to but one our 6 year was easily able to navigate through while Baby Boy received a few bruises on his walk over. If your kids have water shoes they can be worn to climb the rocks but we did it with bare feet and managed to avoid the mossy rocks. The waterfall is small but the water was warm and there was a small area to stand and splash around at for the kids. Black Brook Cove Beach also has change rooms and proper toilets!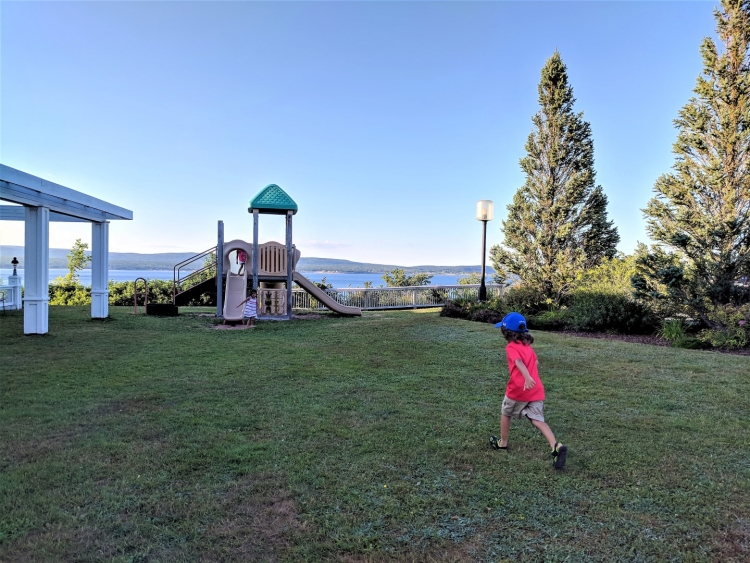 Whale Watching : Ask the locals and they'll tell you if you should be taking a whale watching tour from Ingonish or from the north of the trail. During our visit we were informed that we would be better off getting it from Pleasant Bay but sadly that never did happen. However, there are many tour companies in Ingonish who can take you out on a boat or a zodiak and the kids will love the 2 hour tours. While it may take some time before you spot some whales you're guaranteed to see seals, eagles and stunning views of the coast line. Some companies do provide a rain check offer if you do not see any whales but it's usually tough to get back on a tour after a disappointment like that, not to mention the lack of time.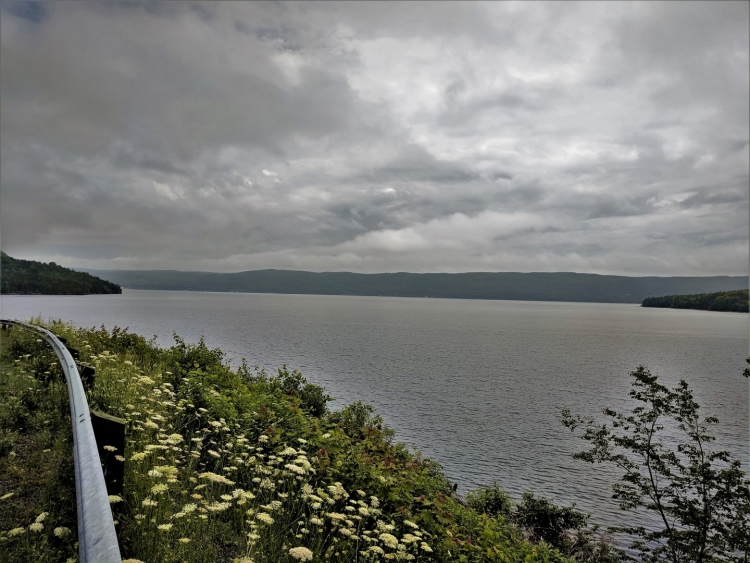 Golf : My kids aren't into golf so we didn't visit Highland Links but if you happen to have a golfer on your hands, this is supposedly one of the best in Canada!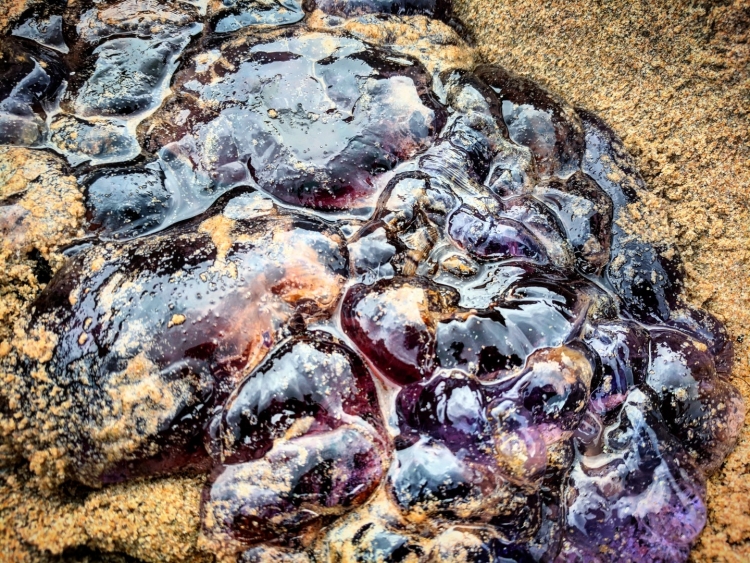 Ceilidhs : You can't visit this area and not experience this amazing musical extravaganza. It'll have you dancing and since most are held at a parish hall, they welcome kids too! I found this link that lists upcoming Ceilidhs in Ingonish.
You can also listen to our podcast about our most recent visit to Cape Breton with kids.
Where to Eat in Ingonish
The island is known for its succulent seafood and tasty baked goods so if you're a chowder or lobster fan (and visiting in the summer), be sure to sample those dishes everywhere you go! Lobster season tends to be mid May to mid July and in August it's crab season in Cape Breton but you can always find both all summer long. Most restaurants (if not all) are very family friendly and I am pretty sure I spotted a change table in all the sit down restaurants we visited. There are a fair number of cafes and restaurants in Ingonish but all are not created equal but nearly all can be slow on the service front as they operate on Island time, is what I discovered. Below are a few highlights from our recent visit.
Main Street Bakery & Restaurant : I discovered the most unique soup I have ever had at the Main Street Cafe – Blueberry!!! I totally loved it and hope to experiment in creating this dish in my own kitchen. We ordered some chowder here that was a bit too chunky for our liking but tasted great. The fish and chips were fresh and kid approved. They have a kids menu and change tables here. My biggest regret is not getting a full lobster or crab meal here as it looked amazing when the table next to us ordered it. Their baked goods are also amazing, so stock up on stuff for your cottage!
Keltic Lodge Arduaine : We discovered that most restaurants in Ingonish are closed on Mondays and that's how we ended up at the Keltic Lodge for dinner (one of the few spots open on Mondays). We're glad this happened because we had totally dismissed this spot, thinking it was pretentious and pricey. It was neither! Our leisurely dinner here enabled us to catch the sunset and for the kids to make friends at the playground attached to the restaurant's patio. The seafood dishes here were fantastic, especially the chowder! There is a kids menu here and change tables as well!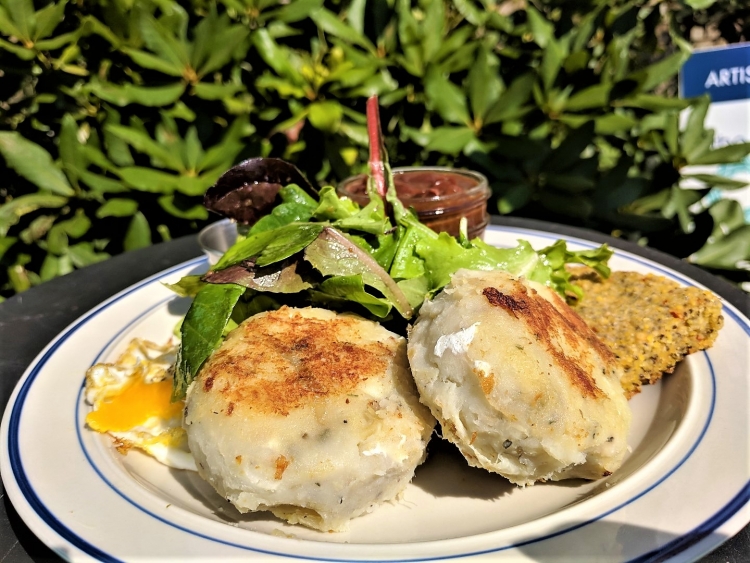 Periwinkle Café : The Salty Rose's is a Bed and Breakfast but their family run Periwinkle Cafe is where you want to go for breakfast or lunch. They cater to many dietary needs and I was able to get gluten free bread and dairy free items. It's a lovely space featuring menu items that were not only made fresh on site but also with locally sourced ingredients. Be sure to check their store featuring jewelry one of the sisters have designed.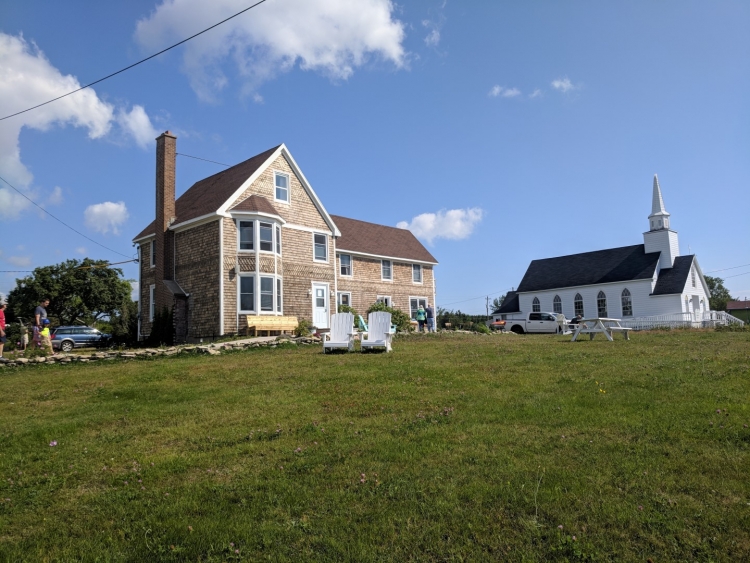 Black Bean Cafe : If you're looking for a good coffee and some pastries, a stop here is warranted. While I'm not a coffee snob, Chris and his sister are and they both approve of this joint!
Chowder House : If you happen to drive into Neil's Harbour (for that amazing beach with the waterfall I mentioned) and it's NOT A MONDAY you want to swing by here for Chowder and the lighthouse next door has an ice cream shop too!
And there you have it! A list of things you can do in Ingonish with little kids along (or not)! Ingonish is a beautiful spot where you'll find yourself clicking picture after picture (heck, you're going to do that no matter where you go in Cape Breton really) but be sure to take the time to relax and soak it all in. This is one gem of a spot for utter relaxation on the water!