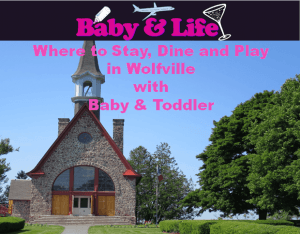 Wolfville, located in the Annapolis Valley in Nova Scotia is a cute little cultural hub that is quite baby friendly. They pride themselves in offering a cultivated experience for the mind, body and soil. Yes they deliver on that promise! Neither the hubs nor I had been by way of Wolfville before and given that it was a mere hour from Halifax we thought we'd spend a couple days exploring the Annapolis Valley with the kids before we jumped on the Cabot Trail. What we discovered has us wanting to go back to this area because there's plenty of good eats and wineries to explore! This is a foodie area and every restaurant we went to had books and entertainment for little kids. Says something doesn't it? If you're looking for things to do in Wolfville Nova Scotia, read on!
2022 Update : With no kids in tow my friend and I enjoyed a Momcation day in the Annapolis Valley and discovered one the best wineries I've been to EVER. I'll share those updates below!
Where to Stay
The Old Orchard Inn is where we spent our evenings and early mornings and can definitely say that this is a cute little spot to stay at. There's hotel rooms as well as cottages and watching the sun set over the apple orchard and the Minas Basin is definitely a sight to behold. I even caught a sunrise and it was gorgeous! The location is great because you're close by to all you want to explore in the area. Click here for a full review.
Where to Dine
Please note that kids are not allowed at most restaurants and bars past nine p.m. in Nova Scotia, so make dinner plans accordingly! That said we didn't encounter any issues in Wolfville (we did in Halifax though).
Le Caveau : Located in one of the oldest wineries in the area, Domaine de Grand Pre, this restaurant is world acclaimed as THE best winery restaurant in the WORLD. Do yourself a favour and ensure you swing by here! Super kid friendly with everything from high chairs and sticker books to change tables. Most importantly the cuisine on offer is top notch! Click here for a full review.
Front and Central : We made it a point to dine here since it was rated as the top (out of 30 odd ) restaurant in Wolfville on TripAdvisor and we were glad we did so! We were the only people here and got the full attention of the server who was extremely sweet. They have crayons and colouring books for kids and the tapas style menu featuring fresh local ingredients was enjoyed by all. This is a fine dining option in the area and everything from the cauliflower salad to the gnocchi was divine.
Rosie's Kitchen : We ended here out of desperation as the lobster pound we drove an hour to get to closed on us. We drove back an hour to Wolfville and found that Rosie's accepted young kids past 9 p.m.! The restaurant is part of the Paddys Pub and Brewery so we enjoyed a good sample of their brews as we had a late dinner. The menu featured some classic pub fare which is what we would have usually differed to, but it was the lobster roll, chowder and steak that caught our attention. Stay away from the burger though! Very kid friendly with high chairs, plastic cups and colouring items.
Where to play
Wolfville is located in a great spot with access to many nearby attractions and heritage sites. There's plenty to see and do here with little ones along. We didn't explore the many walks, outdoor adventures and hikes but those are on offer for nature lovers.
Wineries : There's many in the Annapolis valley so make sure you spend an afternoon visiting a few of them and learning all about the Nova Scotian terroir. We got a good overview at Domaine de Grand Pre Winery and was pleasantly surprised by the varietals we'd never heard of before.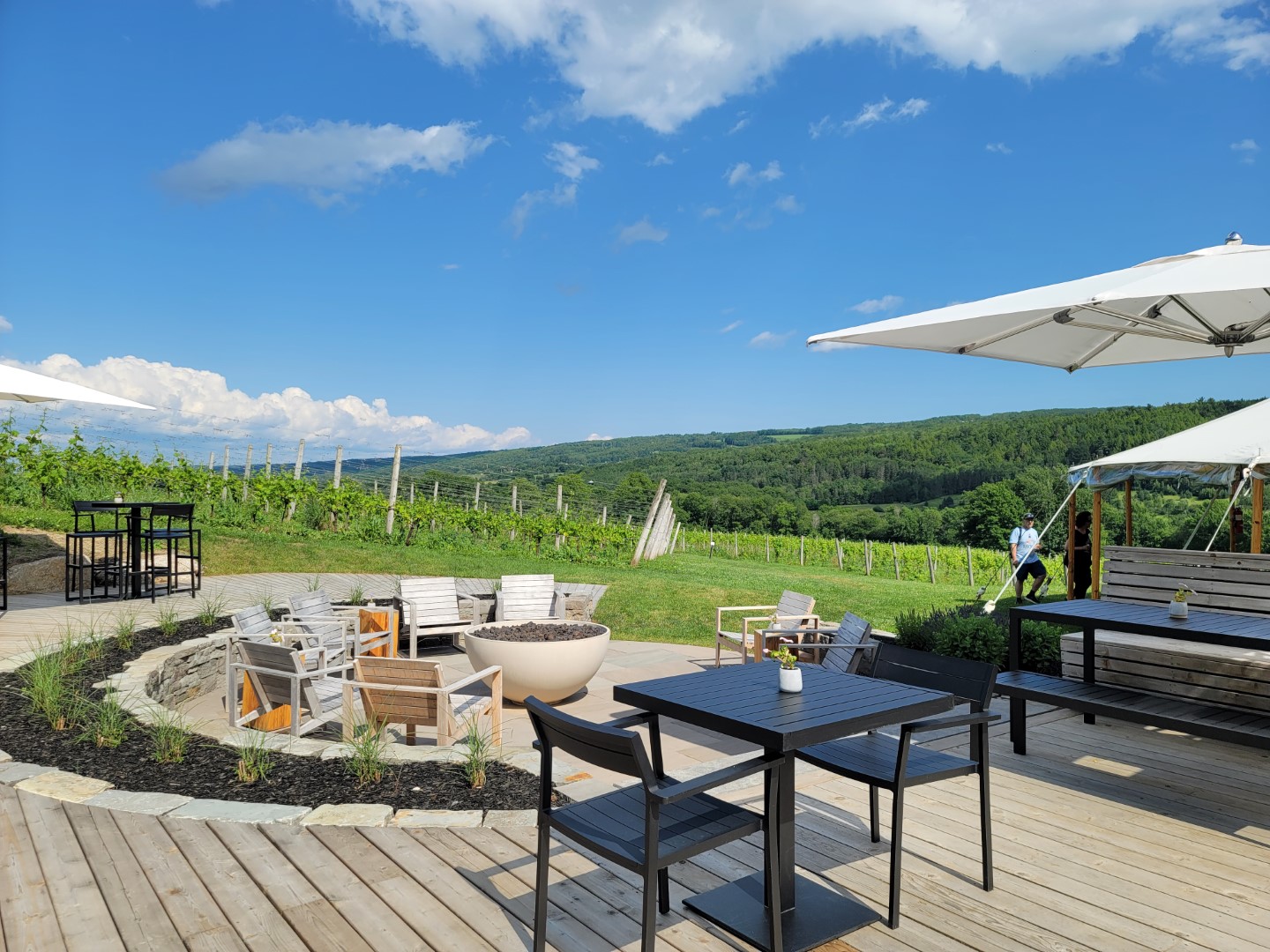 In 2022, I visited Benjamin Bridge and was delighted by the layout. They are known for their sparkling wines so we grabbed a glass and walked through the vineyard before ordering some oxtail and jerk chicken from the food truck on site. The husband-wife duo running the food truck were happy to chat with me even though they had run out of many items by end of day and yes… you must get their hot sauce!! I used it on my all my meals that week. We enjoyed this meal with another glass of sparking on their patio. Truly one of the loveliest winery layouts I've seen in ages!
We also swung by Luckett Vineyards but did not go dancing towards the phonebooth because they closed at 6 p.m. and we only pulled it at 6:30 p.m.
The Tangled Garden : I wasn't sure what to expect here but we spent an hour easily! Baby wearing is definitely required as the entrance is quite narrow. First up is the shop where you have to pay to tour the garden -yes even if you purchase some awesome jellies and jams that have been made with the herbs and flowers in the garden! Then you get to explore the garden area and the toddler had a blast here. There's everything from little ponds with fish to large patterned gardens and a few benches to relax at. It's a very calming spot and whilst it would have been nice to know what each of the plants were, we just found it entertaining enough to watch the Little Monkey and her Grandmother explore the place.
Grand Pre National Historic Site : This is Nova Scotia's 3rd UNESCO Heritage Site and has a couple things on offer. There's an indoor area featuring a narration of the historic journey of the Acadians and a movie as well. What we enjoyed the most was wandering through the outdoors area having the Little Monkey stretch her legs as we took in the stained glass at the Memorial Church and the famous Evangeline Statue.
Local Farms and Markets : There's a farm at every turn and it would be unfair if you didn't pop by and grab a few snacks for your road trips. Honestly, I hadn't tasted fresh strawberries like the ones we picked up at Noggins Corner Farm Market! Of course it depends on what's in season but there's plenty of fresh produce on feature and the Little Monkey enjoyed some decadent oat cakes. Great treats to bring back as souvenirs for the food lovers in your life.
Halls Harbour : This is a bit of a drive and it would be fabulous if you could time it to catch a meal and a high or low tide at the lobster pound. This is the spot for the world's largest tide after all! Unfortunately we got there past 7 p.m. and they weren't seating anyone else. According to the locals this is one busy spot so arrive early. The little one enjoyed throwing rocks into the harbour and we got some good shots of the sunset despite not having any lobster.
Wolfville is a spot that's family friendly and with plenty on offer for the history buffs and heritage enthusiasts. However it's the winding roads, fresh cuisine and the lush gardens that lures us here and the reason we hope to return. And return I did in 2022 and I now want to return again and spend at least a week roaming the many culinary and drink trails here!