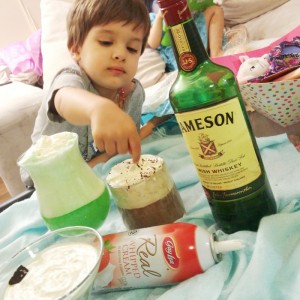 As you may know we love St. Patrick's Day at our place and have hosted a party more often than not over the last ten years. This year we aren't hosting our own but we're still celebrating and have three St. Paddy's day worthy cocktails to share with you. What I love about these three options is that they not only satisfy the sweet cravings, they're also creamily delicious!
Disclosure : I am part of the Gay Lea Ambassador Campaign and I receive special perks as part of my affiliation with this group. The opinions on this blog, as always, are totally mine!
During our visits to my parents' B&B Little Monkey has been enjoying fruits with whipped cream as part of her gourmet breakfast and she got very excited when she saw what I was up to in the kitchen last night. My helpers were even more eager than usual to help me whip up some cocktails and mocktails. While I do love the Coconut Whipped Cream, it is the regular version  that is always in our fridge. I love that it's made from real cream which makes it easy for me to mix it into dishes that require a bit of fluffy creamy goodness. Not only is the Regular Whipped Cream made from real cream, it's also nut free and certified Kosher and Halal.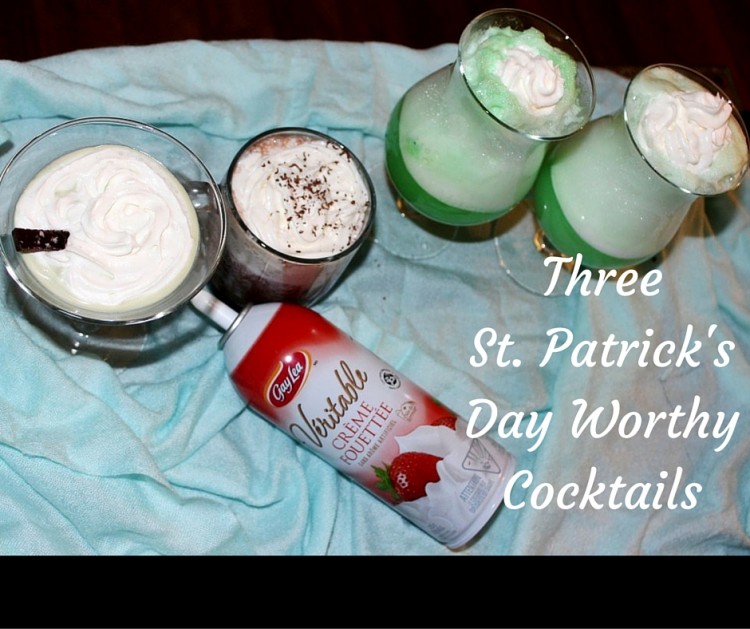 Irish Hot Chocolate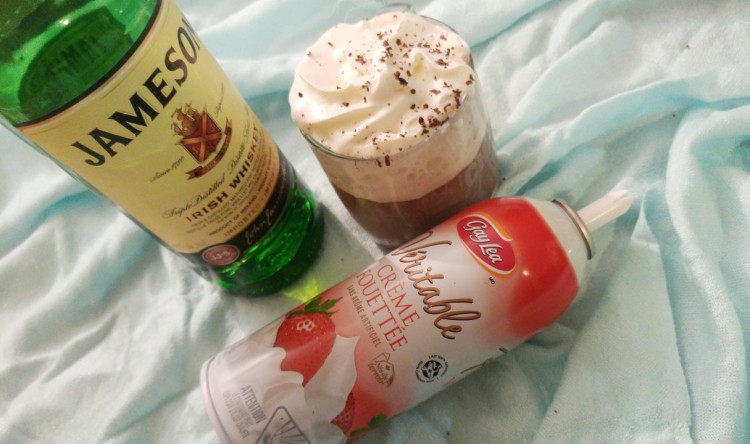 For the kids I simply whipped up some regular hot chocolate and topped with Whipped Cream and Sea Salt Chocolate shavings but for my own one I added in a shot of Jameson Whiskey. What's St. Patrick's Day without some Jameson in your life, right? We all know that Whipped Cream and Hot Chocolate go hand in hand but the addition of some whiskey spiced things up and it's a great way to warm up this cold St. Patrick's Day. I used a hot chocolate mix I picked up from COWS ice cream and you can use any regular mix or better yet, melt chunks of chocolate into a warm cup of milk for your base!
Key Lime Sherbet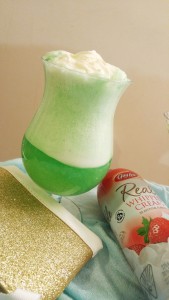 This one was a hit with the kids and I had to live with the sugar rush all evening long. I see this being a great way to kick off our party with because it really peps you up. Place two tablespoons of Key Lime Sorbet into a tall glass and topped with Sprite. For the kids I garnished it with Whipped Cream and I was done. For myself I added a shot of Jameson and in the summer, I plan to kick it up with some tequilla. The Whipped Cream makes it very creamy but there's a couple things to keep in mind. Your sorbet may not be green (you'll have to add some green food dye if that's the case) and also go easy on the Sprite as it all bubbles up very quickly. I stirred my Whipped Cream into the drink and gave the drink a creamy texture that's usually missing in sorbet drinks.
Grasshopper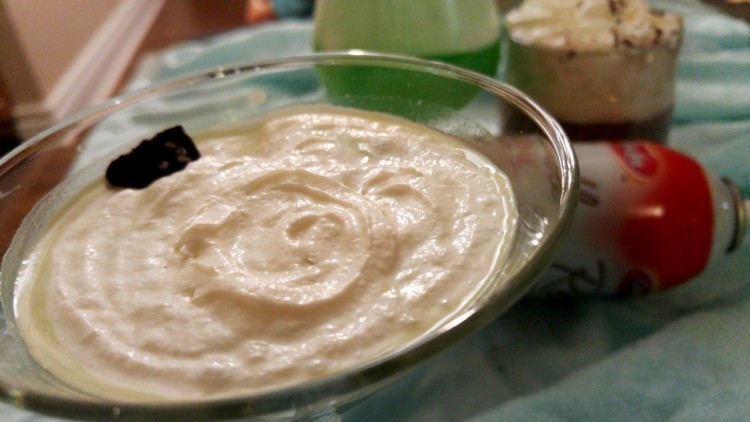 During my college years, my roommate and I used to whip up Grasshoppers for our nightcap and with the resurgence of old school comedies and shows, I think I'm going to bring back the Grasshopper. It's one of those cocktails that people love to hate but it's so darn delicious and easily satisfies my chocolate cravings. Nothing new with my recipe except that I mix in some Whipped Cream (instead of regular cream) before I shake it all up. Into an ice filled shaker add  1 part crème de menthe, 1 part white crème de cacao, and four tablespoons of Whipped Cream (I just sprayed it straight into the shaker for 20 seconds). Shake it all and strain into a chilled martini glass. Top with a thin layer of Whipped Cream and garnish with some dark chocolate.
No matter how you plan to get your Irish on, I hope it's a safe one filled with merriment, friends and lots of good ole Irish luck! If you're looking for some healthy food inspiration be sure to check out this selection of fancy finger food and these non-dyed green savoury pancake bites. Sláinte!