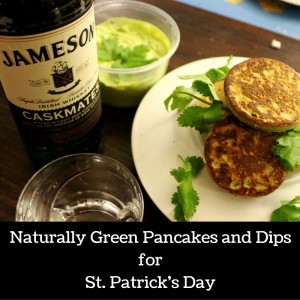 With St. Patrick's Day heading our way, I thought I'd share two healthy recipes that are packed with protein and sure to delight your guests and also allow you to sneak in some goodness into the kid's meals. I've been trying to cut back on my gluten consumption and my naturopath has advised that I up my protein and vegetable intake. Which is why I've been incorporating Cottage Cheese into my diet, along with any veggies I can sneak into my meals.  Trying to come up with some healthy dinner options is always a struggle and one day I decided to experiment, which is how I ended up making savoury pancakes and guacamole that not only had bacon, but also cottage cheese!
Gay Lea's Nordica Cottage Cheese is made from 100% Canadian dairy milk and is high in protein. Just 1/2 cup provides 15g of protein that is low in fat. Which is key for me when it comes to losing weight. It's also a great source of calcium and is of course gluten and nut free. Now you see why I'm such a big fan? Little Monkey and Baby Boy used to love eating it plain but now I need to sneak it in as they refuse to eat it straight.
Disclosure : I am part of the Gay Lea Ambassador Campaign and I receive special perks as part of my affiliation with this group. The opinions on this blog, as always, are totally mine!
Guacamole
I've shared my guacamole recipe numerous times as it's a favourite amongst our usual repertoire of guests, so I was a bit anxious mixing in some cottage cheese when a friend told me that's her son's favourite way to enjoy cottage cheese. While it doesn't taste like the traditional Guac we love, it does taste delicious as a dip for chips and our savoury pancakes.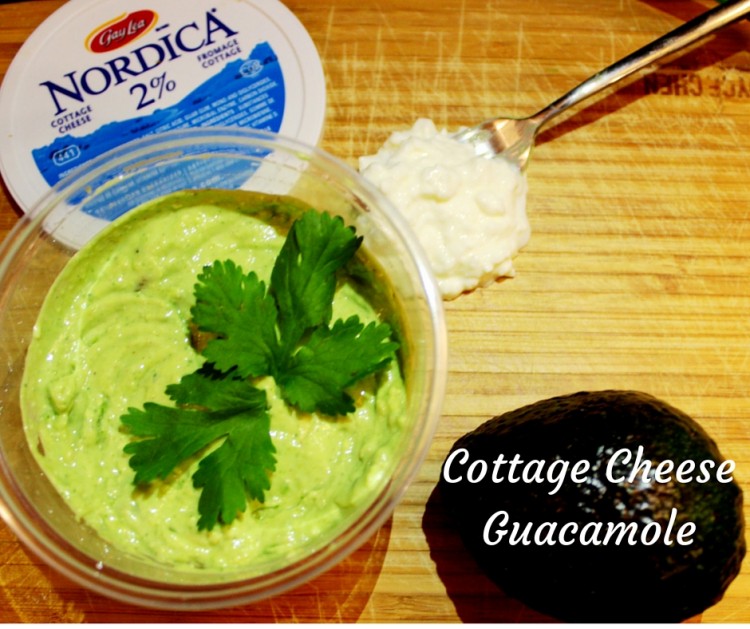 Slice up 4 medium sized avocados, add in 2 cloves of  garlic finely chopped, 1/2 teaspoon of icing sugar (or finely granulated sugar), 1 teaspoon of chilli powder, a sprinkling of salt and pepper and about half a handful of fresh coriander. Now comes the fun part, mushify everything mixing it all up. That's my usual recipe but I decided to mix in two table spoons of Nordica Cottage Cheese and it not only prevented the Guacamole from browning, it also gave it a creamy taste that kept us dipping our chips and pancakes in it, all night long. If you don't like lumpy guacs, instead of mixing everything by hand, toss it all into the blender (Cottage cheese included) and you'll end up with a very smooth, creamy and lump free green guacamole.
Bacon Veggie Pancake
I was inspired by the stuffed rotis I ate in India during our last travels there when I came up with this savoury pancake.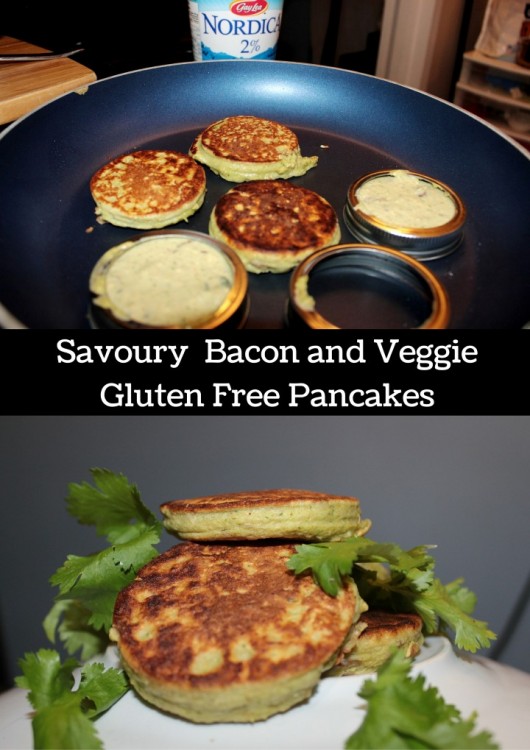 Blend 4 eggs, a cup  of rolled oats, a cup of cottage cheese, 4 tablespoons of milk or almond milk, a handful of cilantro leaves, a clove of garlic and a pinch of salt and cumin. To this sprinkle a few peas (or corn) and half a jalapeno chopped finely (I mixed in chopped jalapenos after I made the ones for the kids). I also crumbled in cooked bacon to the mixture because bacon makes everything better. These last few ingredients will give the pancakes a bit of  a crunch which is why I didn't blend them in with the batter. When it comes to cooking it, you could freestyle it, similar to regular pancakes but I like to use my jam jar lids to get the perfect shape. The trick is to use a hot pan and to use a pair of tongs to lift the jam jar lid 45 seconds after you pour the batter in. This way you avoid the batter sticking to the sides of the lid yet end up with cute little bite sized pancakes. Cook each side for a minute or until it cooks through and turns a golden brown.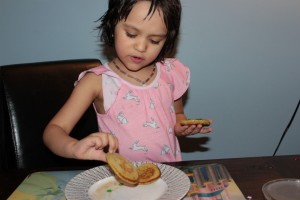 The kids ate it with maple syrup and shamrock sprinkles while we dipped ours in the guacamole….which goes to show you that you can sneak in the veggies without them knowing!! I love that these two dishes are naturally green and doesn't require any green dye for the St. Paddy's day festivities that are coming up! Stay tuned for some cocktail recipes next week!