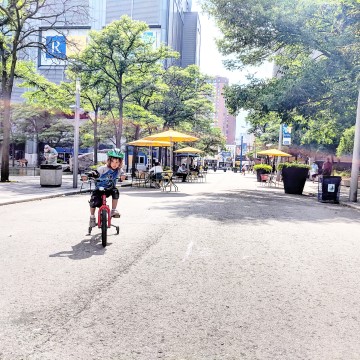 After 7 years as parents, we are finally ready to explore Toronto without a stroller. Since we live downtown with young kids and don't own a car, strollers have been our primary mode of transporting the kids around the city. This summer, it's time to make the switch. The kids are ready to scoot and bike around our neighbourhood. While it may take another summer to get me comfortable seeing them whiz around the busy streets, this summer we are letting them hit the side streets and even scoot/bike to their extra curricular activities and to playgrounds near our home.
Little Monkey, who just learned to ride a bike without the training wheels, told us that she is ready for a "big girl" scooter. Baby Boy, meanwhile, was anxious to own his very first bike. To reward them for finishing the school year, we headed over to Sport Chek at the Eaton Centre to see what we could find. There we met Casper, a Sport Chek associate who was extremely knowledgeable when it came to helping us choose the best gear for our kids. His sage advice on what to keep in mind when choosing safety gear was exactly what we needed. Take a look below for a first hand look at our excursion and hear some of the tips we picked up from Casper!
Disclosure : This post is in partnership with Sport Chek but, as always, opinions are TOTALLY ours !
Safety Tips : Choosing Helmets and Pads for Kids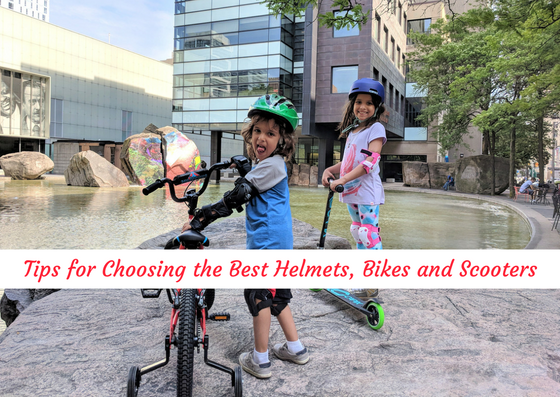 The most important thing to keep in mind when buying a scooter or bike for your child is to ensure that they are wearing the proper safety gear. We had tried buying helmets for our kids but were never confident that they were the right size. Speaking to the Sport Chek associate this time put us at ease. Here is what we learned about picking the best helmets for kids.
There are different helmets for different activities.

During a typical fall or collision, most of the impact energy should be absorbed by the helmet, rather than your child's head and brain (a no-brainer, right?). Each type of helmet is made to protect your child's head from impacts that are typically associated with a particular activity or sport. Luckily for us, bike and scooter helmets are one and the same. Here's the girl's Giro Dine Junior Helmet we chose for its EPS liner for impact management. Its tough outer shell and a polyurethane coating helps to protect the EPS liner from daily wear and tear.
Be sure that the helmet is level on your child's head

— not tilted back on the top of their head or pulled too low over your child's forehead. When worn, the helmet should not move in any direction, back-to-front or side-to-side. Ensure you get your kids to shake their heads when wearing the helmet you like so that you can make sure it stays in place when their head shifts.
Bike and scooter helmets need to be replaced often.

Bicycle helmets are designed to protect against the impact from just a single fall. The foam material in the helmet will crush to absorb the impact energy during a fall or collision and will not protect your child again from additional impact. Kids will fall often so ensure you look at the helmets each day for any cracks and damage. The challenge is that even if there are no visible signs of damage to the helmet, you must replace it if your child has had a huge tumble.
Wear elbow, wrist and knee pads.

We've told our kids that they cannot ride their bikes or scooters without the proper safety gear, and pads are part of that. The wrist pads are often forgotten but that's where most of the impact seems to be during those early days of learning to ride bikes and scooters. Sport Chek had a easy kit that had everything in it for kids and so we bought a set for each of them in colours that they liked (purple and black!).
Dress the kids in bright colours when possible.

Our kids are very opinionated when it comes to their clothing preferences. Luckily for us, Sport Chek carries some of their favourite brands like Under Armour, North Face and Nike. Plus they have some fun designs on t shirts! Here's the Ripzone Tee Little Monkey chose to pair with her bright blue leggings.
What to Look for When Buying
Scooters for Young Kids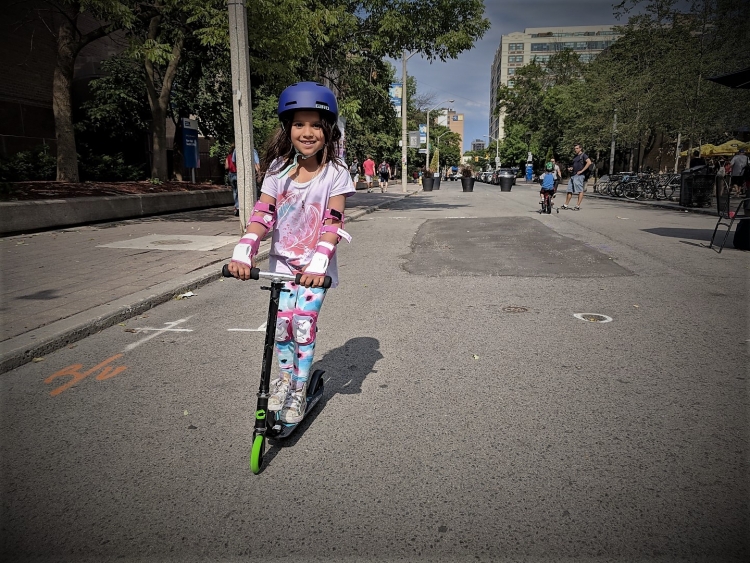 Three wheel scooters and two wheel scooters are the popular options. Three wheel scooters are designed for children three and under (predominantly). The addition of the second front wheel allows young kids the stability they need without compromising on the joy, skill and speed of scooting. Many have adjustable handle bars allow the scooter to grow right along with your child but ensure that the handle bar is not in front of the child's face or neck, as in that position there is an increased chance of the handle bar causing injury to the face or neck during a collision.
Keep them nice and low when young and beginning, and gradually move them up as they grow. As kids get older (especially as they turn 6 or 7 years old), they'll want to switch to the two wheel options so they can move faster. We were advised to avoid the stunt scooters and to opt for a Capix. You'll want to check whether the brake can be easily handled by your kid and ensure that the tires are of high quality, offering a good grip.
What to Look for When Buying Bikes for Young Kids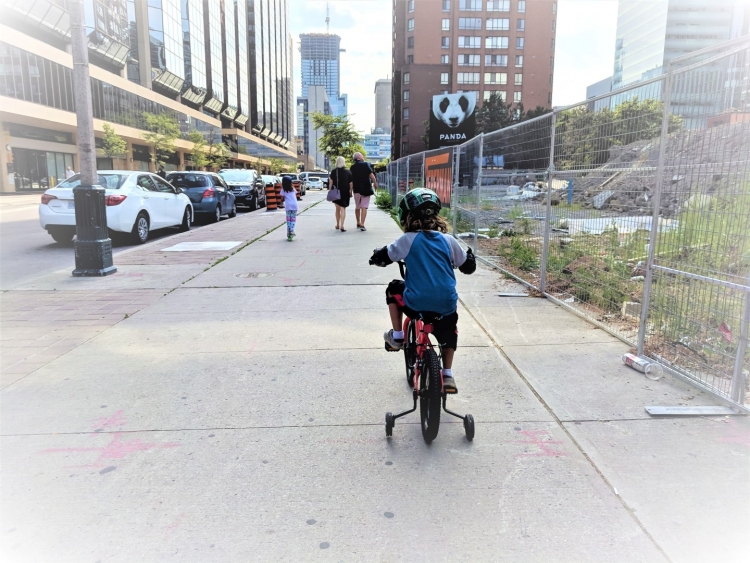 Kids bike sizes reference their wheel (tire) size.

The typical wheel sizes for kids bikes are 12", 14", 16", 18", 20", and 24." The bigger the child, the bigger the wheels. Baby Boy tried a few but as our Sport Chek associate recommended, the 16″ was the best fit for our soon to be 5 year-old. While our Sport Chek store, didn't have this size available, we were told that the Yorkdale mall had one if we wanted it that weekend, or we could have ordered it online easily. The best part about an in-store purchase is that they will inspect the bike and ensure that it's properly tuned. So of course we visited the Yorkdale Mall Sport Chek to buy this Nakamura Crxssfiire bike for our school aged child!
A bike is the right size when your child can

:

Sit on the saddle and rest both feet firmly on the ground
Reach the handlebars with a slight bend in the arms when sitting on the seat. Your child should be able to grasp the handbrakes and apply enough pressure to stop the bike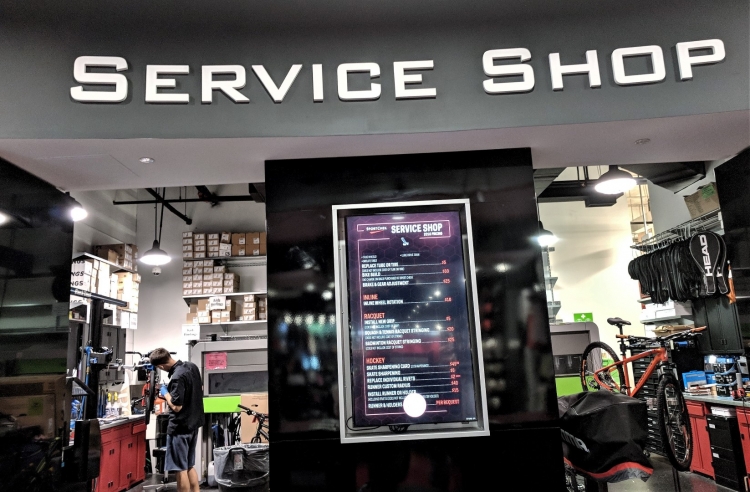 The reason we opted to visit Sport Chek for our bikes and scooters was two fold. First, we knew we needed some solid advice as we had been struggling to find the right helmet over the last year. Secondly, we knew that they had a service shop that would ensure that the bike we purchased was safely set-up and inspected. Given that Chris and I aren't overly handy, we find comfort in knowing that we can easily go back for additional support and safety checks, plus the bike came with a free tune after the first year.
When did you make the switch from stroller to bike or scooter? Was it an easy transition?