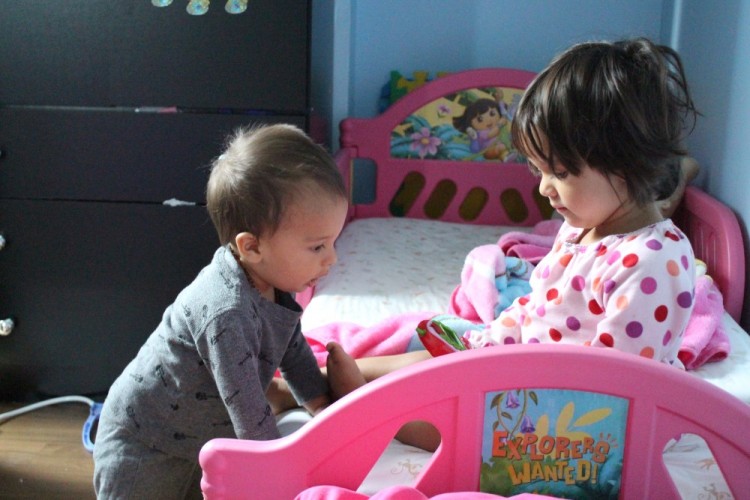 We DID IT!!! The toddler and baby now share a room and we've had a fairly smooth experiences. This move was inevitable as we live in a small two bedroom condo in the heart of Toronto and having Baby Boy in our room was most definitely a short term plan. We had moved Little Monkey to her own room when she was about 9 months (if memory serves me right) and she started sleeping through the night. When Baby Boy started waking up a couple times in the middle of the night I knew it was time to take him out of our room at the 9 month mark.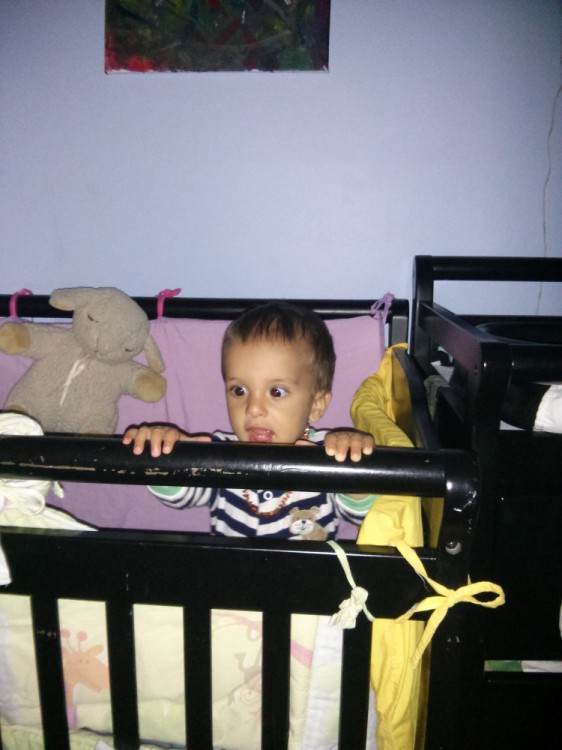 I'm sure most parents have similar questions
 "Will he keep waking  up since he's going to now be in the same room as his sister?"
"Will the baby wake the toddler up?"
"Do we need to test this out without the toddler around?"
We had all these doubts and with our recent travels to Nova Scotia, I kept coming up with all sorts of reasons to delay the move. Two days after our return, the hubs took things into his own hands and moved Baby Boy in with Little Monkey. The futon we had in her room now sits in our room. Fair exchange and luckily everything worked out space wise. We have a mini crib, change table, toddler bed, cupboard and two mini bookshelves in the kids rooms.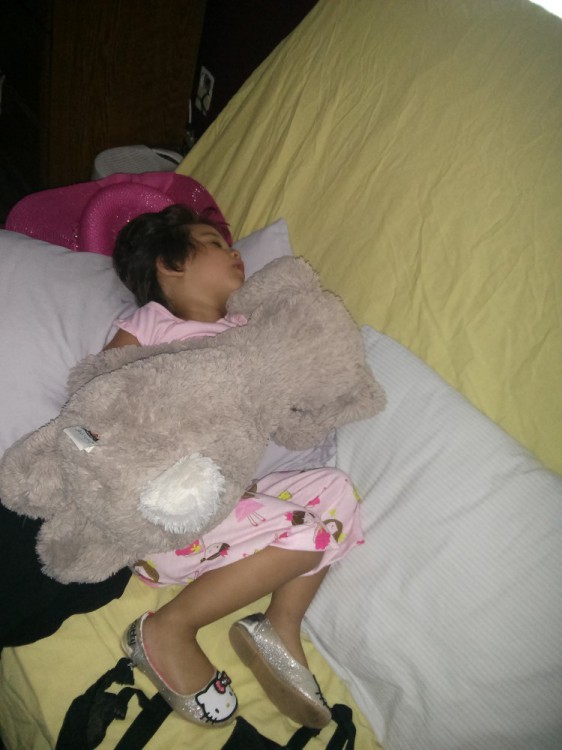 My original plan was to have Little Monkey spend a few nights with my parents so I could test out Baby Boy's sleeping pattern in the new space but at the last minute she decided she didn't want to go away. So be it! It has now been over a month and both kids slept through the night from day one. Must be the toddler years as Little Monkey goes to bed at 10 p.m. and is up by 8 a.m. Luckily most days she comes into our room and then sleeps on the futon ( I've placed a Hello Kitty pillow and pink blanket on it) so that the hubs and I can snooze in till 9:30 (we're late risers) if we give her a cup of milk. Don't worry she squeezes into our bed on some days, pushing me to get out of bed earlier than I'd like. As for Baby Boy, he sleeps from 9 p.m. to 8 a.m. when he wakes up for a quick two minute feed before going back into his crib until 11 a.m.
So here's some tips to help you with the big move
Start conversations about how fun it is going to be when they share a room. Little Monkey was all excited once she realized that she was still going to sleep in her Dora Bed and that she didn't need to share.
Get the baby to bed earlier so that there's minimal distractions. A nice quiet room with some white noise works well ( we have a noisy fan in there to cut out any additional noises)
Move the bedtime routine to another room  and teach the toddler to go to bed quietly. The hubs now reads with Little Monkey in our room and then brushes her teeth before he tucks her in. Before he opens the door he reminds her to " be quiet". It works. Most days. MOST.
Keep the room empty of dangerous items and have some toys in another room. The kids room is small and filled for the most part with toys, book and clothes. I have done my best to remove anything harmful. Last thing we need is the toddler dropping things in the baby's crib! We also have toys in the living room.
A few minutes of crying is okay…I let Baby Boy cry himself to sleep for his two naps. He cries for 3 minutes before crashing as he knows that I won't come in and that he should sleep.
This new way arrangement works for us as it enables Baby Boy to get his sleep with minimal disturbances and Little Monkey, who barely sleeps or eats these days, gets to explore all rooms in the condo except for her own. We have toys in the living room and so there's never a need for her to go into their room when he's sleeping. On the rare occasion that she needs something (like her favourite doll or race car!) then I sneak in and grab it for her. Then there are days she runs in with me and yells…luckily those days are far and few between. At the end of the day, you just got to do it and hope for the best! Take the plunge. Kick the kids out of your room!