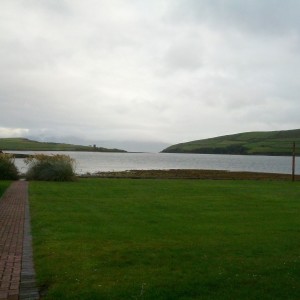 Think seaside European town and Dingle is what you have. The Dingle Peninsula has been called "The Most Beautiful Place on Earth" by National Geographic so perhaps there's something there! Don't expect crazy warm weathers and beaches for sunbathing. Nopes, we got the typical European weather I had expected from coastal towns, though many had told me that it would be warm in Dingle in July. No luck but plenty of fun when travelling with a baby in tow! We started our Ireland tour in Dublin (click here for our Dublin with baby series) and then started our week long road trip. In this post I shared our first two days in Blarney, Kilkenny and Kinsale so we're on day three and four of our seven day road trip!
Where to Stay
I've already done a dedicated post on the Dingle Skellig Hotel as we had such a fabulous time! Check out the video for a full review of the property if you're looking for a
very kid friendly spot with really good food and good views! It's also the perfect spot from which to explore the area. We got in late and had dinner the first night which meant we had a whole day to explore the area and enjoy a swim the next day. Like I said, everything we wanted was either at the Dingle Skellig Hotel or near by! And no we were not compensated in any way by the hotel! This is just a rave on it's own!
What to See
Slea Head Drive – This coastal drive is what we'd heard most about so we planned a leisurely drive around the loop with stops for plenty of photos! The Little Monkey slept for the most part which worked out well for us as we didn't have to take her in and out of her carseat every five minutes or so. You're doing this for the scenery so you'll have plenty of photos at the end of it – be warned! We didn't see much that we wanted to stop and linger at, except maybe some bee hives/caves that looked interesting but given that the Little Monkey was asleep we didn't stop for too long. All in all it took us about 2 hours though we were told we'd need about 4 to do it! Mind you we kept driving and didn't get caught behind any tour buses, so we may have struck some luck there!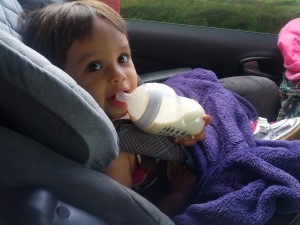 Dingle Dolphin Tours – We were planning on going out to sea to meet Fungie the Dolphin but unfortunately by the time we were done with Slea Head it was cutting close to the last boat out. Fungie has apparently been there since 1983 so that's quite the story! If you don't see Fungie, you don't have to pay for the boat ride… talk about a deal!
Dingle Ocean Aquarium – If it's a dreary day this may be a stop for you. We lucked out with weather, a bit foggy but nothing too bad so we explored the outdoors. Mind you as you can see from our photos, it was no sunny day. I was told by a local that highlights include a Shark Tank, a chance to hold a starfish and stroke the friendly stingrays. It reminded me a lot of the one I visited in Singapore as a kid, so I'm sure it's definitely fun for kids of all ages.
This post is part of the #IGTravelThursday an initiative started with Skimbaco Lifestyle to connect travel and Instagram enthusiasts across borders. Join in the fun if you're an Instagram fiend like the rest of us!