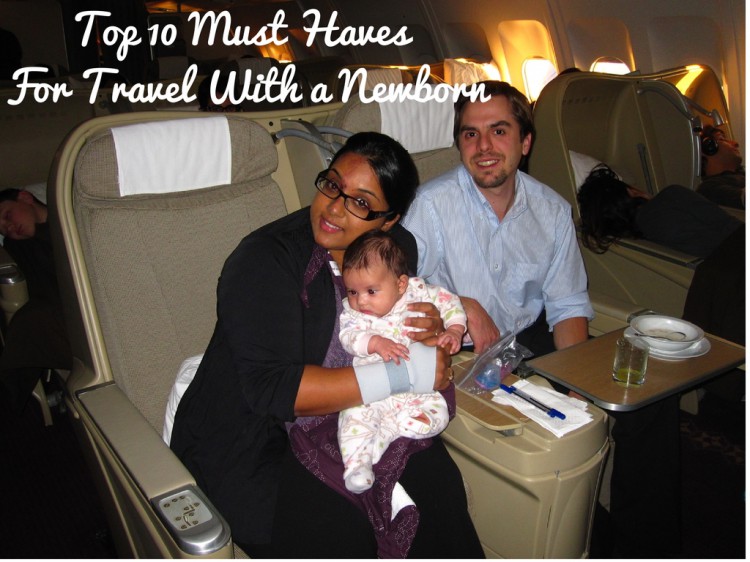 Yes I already have 10 must haves for travel with a newborn baby! We've been travelling for nearly a month and have been quite adventurous with our travel itineraries. England was a walkable city for the  most part, India chaotic with lots of road trips (but never any space for a car seat!) and next up we're off to France before heading back home. So here's a quick run down of items I will never be able to leave home without now that two has become three.
Travel bed

– the best thing ever! Especially when hotels do not have a baby cot available or if you are visiting family/friends. This contraption fits comfortably between the parents (we always had queen or king beds and never had any space issues) and there's no danger of rolling over the baby.

Baby carrier

– we didn't take a car seat with us because we knew that travelling in India  (where most of our trip was going to be spent) it would be almost impossible to have a car seat due to the fact that we had many family members who would be joining us on our trips. The baby carrier was used not only for our city tours  by foot in  London but also on planes that did not provide a bassinet or baby seat belt and on our road trips in India  (I strapped myself to the seatbelt as per usual, the bottom belt tucked under the baby's legs and the top belt secured under the two top buttons on the carrier). I know it's not the safest method but it was the best we could do – I was well secured by the seatbelt and the Little Monkey was strapped onto me (no danger of any belts choking her).

Breast Pump

–  I totally  couldn't have travelled without the pump. It's hard to breastfeed in very public places at times and a hungry baby is not what you want to deal with when surrounded by chaos. Pumped milk to the rescue! Also lets not forget those fancy dinners that MUST have a glass of wine accompanying it or that tawny port 31,000  ft above homeland.  If you're concerned about the 110volts vs. 220 don't be, most hotels have a shaver outlet which works just as well for the  pump. Ladies it DOES NOT work for your hair dryers or curling irons though! Be warned! If you are worried about sterilizing the bottles, nozzles e.t.c, don't be. I always keep a small bottle of washing liquid in the diaper bag, I use this to wash all the items (at the hotel) and then because I'm sceptical about tap water in certain countries, I always boil water in the kettle and then rinse out the ice bucket. Next up toss all the washed items into the ice bucket and pour boiling water to sterilize the items. Toss the dried items into a larger zip lock (also brought from Toronto).

Nursing cover

– oh boy! We've fed the Little Monkey at Westminster Abbey, a monastic ruin from 1 B.C, 31,000 ft above ground, at the Churchill war museum and countless restaurants and stores, all thanks to the discretion allowed by the nursing cover.

Baby wipes and diapers

– I actually took these from Toronto because I did not want to deal with experimenting with the wrong kind of diapers and wipes. We go through about 9 diaper changes a day and for a month's travels all we really needed is 3 large packs of wipes (to keep at the hotel), 3 small travel sized packs (for the diaper bag), about 200 diapers.

Pacifiers

– from now on I refuse to travel without 5 pacifiers. We used them arduously on the plane for take off and landing (much easier than trying to force a feeding randomly) and ofcourse to soothe her to sleep when  we went out to eat. Given that I tend to drop things or rather people tend to randomly make sudden movements, we seem to "lose" quite a few for the day. Even if I drop it for a second, I refuse to re-use it until it has been sterilized. I must admit that on occasion I have asked restaurants for boiling water to do a quick sterilization, but only in desperate cases.

Blankets

– I always take two blankets wherever I go. I use these mainly at restaurants when we put the Little Monkey to sleep while we enjoy our meal. One blanket is to lay on the chair (for this I prefer each side to be differently coloured so that I always know which side is the "dirty" side touching the seat), the other is to drape over her as it tends to be chilly at times.

Disposable change pads

– I have my change pad that accompanies my diaper bag but we' ve been in certain places (at desperate times) when there has been no change station in the washroom or worse,  an absolutely filthy one. I like to lay the disposable change pad (or a whole bunch of tissues) first and then the change pad. Yes I'm a bit of a germaphobe. Most times I either changed her in the car or tucked away in a corner in a restaurant/pub (only if it isn't a fancy place that has a clean washroom).

Hand sanitizer

– Oh boy did I use this! We used this after dealing with street vendors in India, taking the subway in London and pretty much any interaction we had with "foreign" objects.  Next time I also want to carry some sanitizing wipes.

Camera and laptop

– hey I got to update my blog and the Little Monkey's facebook page right!?! Yes she has her own. No need to flood my friends with details about her burps, farts and 1sts of everything.
It's true I've had to sacrifice my mandatory 7 pairs of shoes, extra jewellery, hair accessories and purses to fit these items, but truth be told, I didn't really  miss them much! Best part is that we are planning to donate some of the baby clothes and extra diapers (we have been very fortunate to receive a lot of baby items that are still waiting for us at home) to those kids who are less fortunate here in Mumbai. This also makes room for the shopping I've done 😉 All in all we fit all of these and our clothes into one suitcase each (two in total), not bad eh!