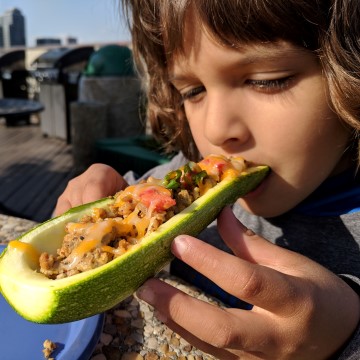 Summer has finally arrive in Toronto, or at least we're pretending it has since our condo's rooftop has opened for the season. If you follow our Instastories you know that I absolutely LOVE hanging up on our rooftop because I get to entertain friends without having to clean my house, Chris does the actual cooking and the kids are happy to run around and play with their friends (leaving us to our own antics). Last Friday we had some friends pop by for an impromptu gathering and I whipped up some delicious ground turkey stuffed zucchini 'boats' and it was a hit. I was surprised when some of my non veggie eating friends devoured these and not only did Baby Boy help me make this easy gluten free BBQ friendly dish, but he also gave it a thumbs up!
Disclosure : This post is in partnership with YMC and Turkey Farmers of Ontario and have received compensation for this post. As always opinions are TOTALLY ours!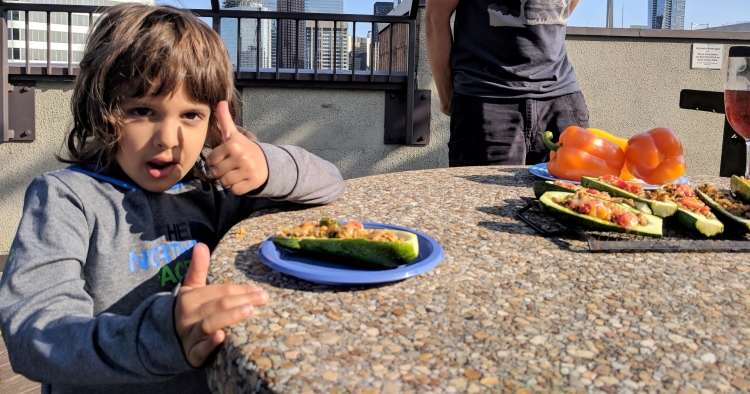 When it comes to our BBQ hangouts I'm always looking for easy recipes that I can prep quickly and this one is a winner. We love our hamburgers and hot dogs but my naturopathic doctor and my dietitian have all been encouraging me to eat more veggies and to cut down on my red meat so I know they're going to be impressed with this gluten free recipe! We eat a lot of red meat at our place out of habit but based on their encouragement we've been incorporating more turkey and fish into our diet. Turkey is packed with vitamins and nutrients, low in cholesterol and sodium, and free of added hormones and steroids, so it's a healthy red meat alternative for any meal. It's also quite easy to cook and absorbs the flavour of spices easily, making it a great source of protein on busy nights or when you're looking for a quick meal.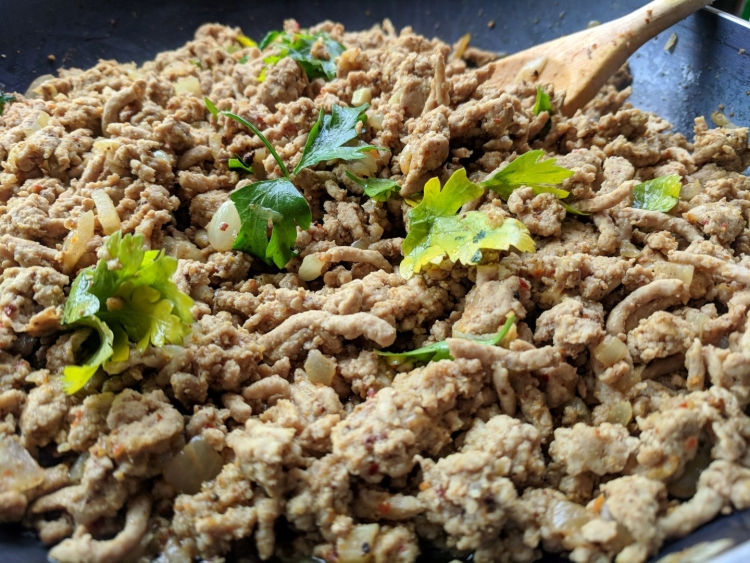 The New York Times has labeled turkey to be a superfood because it is packed full of essential nutrients and minerals, with none of the excessive fat and calories that can negatively impact health. This lean protein is a source of essential nutrients such as niacin, zinc, and vitamins B6 and B12, which helps boost heart health while lowering the risk of cancer.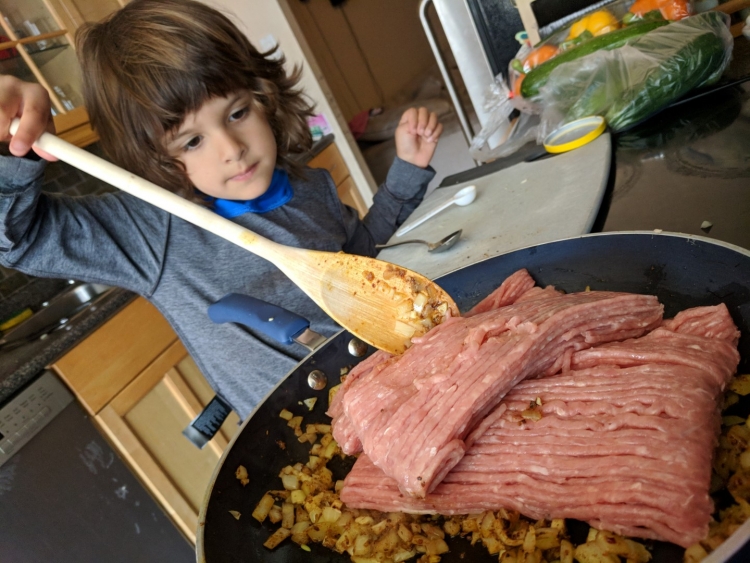 Today I'm going to share something a bit different. It involves about 20 minutes of prep time and you can definitely cook the meat ahead of any events so that all you have to do on the day is scoop out your zucchinis and grill! I've made this with various spices but the Moroccan Ras el Hanout is my favourite. You can easily purchase pre-mixed spices at most grocery stores or mix it up yourself (1 teaspoon ground cumin, 1 teaspoon ground ginger, 1 teaspoon salt, 3/4 teaspoon freshly ground black pepper, 1/2 teaspoon ground cinnamon, 1/2 teaspoon ground coriander seeds, 1/2 teaspoon cayenne, 1/2 teaspoon ground allspice and 1/4 teaspoon ground cloves). After our travels through Morocco last year Ras El Hanout is a staple in our spice cabinet and I think you'll enjoy the flavours as well.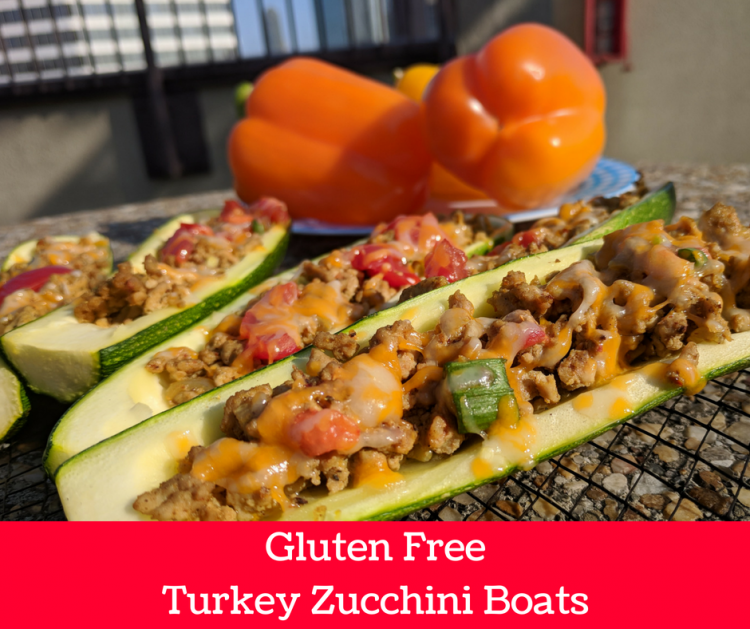 INGREDIENTS
6 medium zucchinis (about 6-8 inches)

800 grams of ground turkey

1 small onion, chopped

4 small gloves of garlic, chopped

4 tablespoons of Ras El Hanout

handful of fresh parsley spring, chopped

1 cup shredded cheddar cheese (or dairy free cheese)

1 cup tomatoes, chopped
Trim the ends off zucchini and cut the zucchini in half lengthwise. Using a melon baller or a small spoon scoop out the pulp, leaving shells in tact (you can use the pulp for a pasta sauce or if you're baking muffins). In a skillet saute garlic and onion with a splash of coconut or olive oil over medium heat for 3 minutes and then stir in the Ras El Hanout spice and mix well. Crumble in the ground turkey (ensure you crumble it in and not just plop it in like Baby Boy did in that picture above- I had to get in and mix it with my hands!) and cook until the meat is no longer pink. Toss in the chopped parsley and remove from the heat. Spoon into the zucchini shells and sprinkle with cheese and tomatoes. Bake, uncovered, at 350° for 15 minutes or until zucchini is tender but firm. The meat is pre-cooked so you just want the cheese to melt and the zucchini to soften slightly.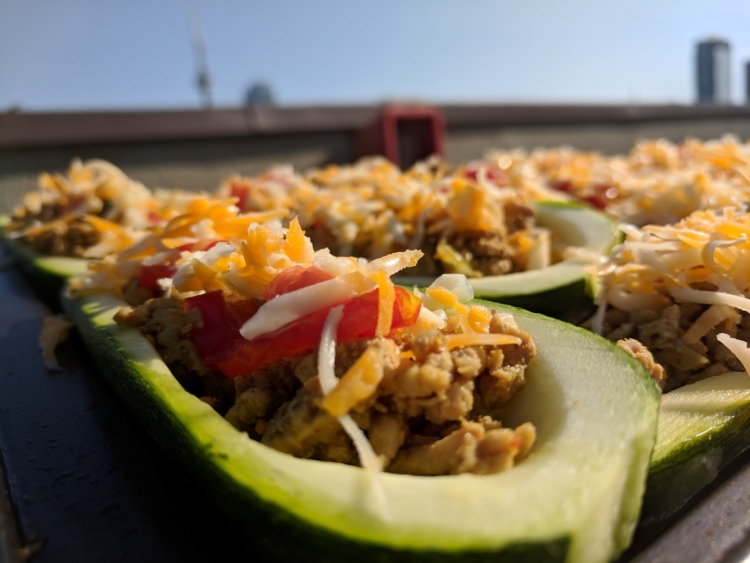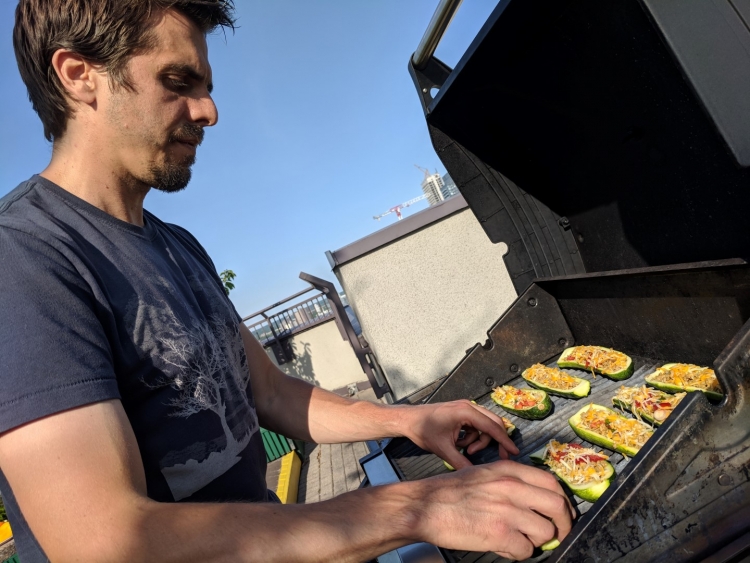 During the summer months you can toss these on the grill and it is the perfect appetizer if you're hosting guests. I like this recipe because it's so versatile and you can mix up the toppings and spices. Curry powder instead of Ras El Hanout works just as well as does a jerk spice. Yes with turkey! If you have extra turkey leftover after filling the zucchini boats, you can always toss them into peppers or mix in some quinoa or beans for a meal next day! Baby Boy loved this dish but Little Monkey was not a fan – what can you say, you win some and with others you need to keep trying! 
If you're looking for more inspiration check this out for other turkey recipes.