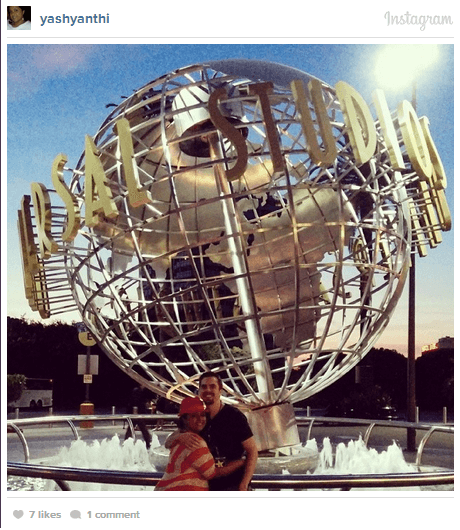 We travel a lot with the kids but the hubs and I never forget the child stuck inside of us! We were very excited to visit Universal Studios Hollywood with our toddler and newborn but also cautious. I love love LOVE Universal Studios and no trip to Los Angeles would be complete without a visit here, but since this more of a a theme park for adults and older kids than for tots, I wasn't sure what to expect. I didn't want to chicken out of going here just because of the kids, and so I ensured that we visited at the very start of our trip to California, just so that we wouldn't chicken out later!
My initial plan was to hire a nanny so the hubs and  I could navigate the park without worrying about the kids, but my brother volunteered to help us watch them at the park, so I enlisted his help. Luckily too, because the hubs had to work and spent that morning at a Wifi-enabled Sushi spot on CityWalk! As part of IGTravelThursday, I've also included some of our Instagram shares!
Disclaimer : We received complimentary tickets but as always opinions are totally mine!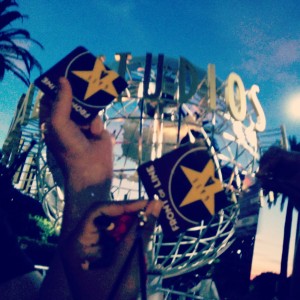 We only got to Universal Studios around noon, and since the park was closing at 5 p.m. (winter hours), I was a bit concerned that we wouldn't get through most of the rides. However, we did have the front of the line pass and it was extremely useful. Even though the park wasn't busy, we were still able to get through more rides than we would have without them. I highly recommend these passes if it fits your budget!
As I mentioned, I knew that the entertainment capital of the world was more about us than the kids but there was plenty for the little ones to do. Several recognizable kids characters were walking throughout the park, and we lucked out by finding Spongebob as soon as we walked in ( I didn't even know our daughter KNEW who that was! SURPRISE!!). There are also quite a few kid friendly rides but we didn't get to most of them. Hello! I told you… it was more about me at Universal!
We started off with Shrek 4-D. The theatre was a bit dark but our Little Monkey was absolutely fine. The only thing that bothered her was the glasses, which were a bit too big for her. I had Baby Boy in the Baby Bjorn and I must admit that I was worried about the jerky movements and the loud noises, but I was holding him tight and he didn't seem mind too much. There were stationary seats that the ushers recommended for us, but we braved the regular seats!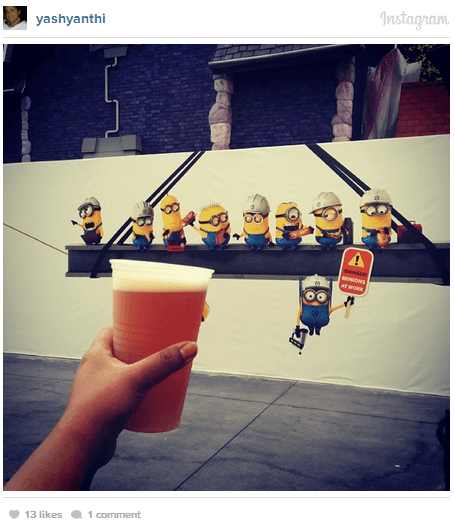 We popped by the pub and picked up a pint of beer, and learned that you can also walk around the park with a pint in hand! The staff were busy preparing for the Minions ride that opens this spring, so having a beer with the minions was as close as we got to that ride ;). There is plenty to eat and drink at Universal Studios, but we also had some snacks in our bag (granola bar) and that's what we ate since we were pressed for time.
Next up were all the rides that were adults only. Luckily there was a fantastic child swap area and truth be told we didn't even need our 'nanny'. Parents can take turns staying with the kids while one of them rides, and then swap without having to stand in line again. This is a brilliant idea and really well executed. I was impressed! The Revenge of the Mummy ride even had a change table in the child swap area (tables are also available in the bathrooms throughout the park). We did this for Jurassic Park, Transformers and Revenge of the Mummy. I have always been a fan of Jurassic Park and to this day I love it! I also now have a new favourite ride – Transformers 3D. It's a must try if you are visiting the park! Revenge of the Mummy was also very good. Seriously I am a Universal Studios junkie!!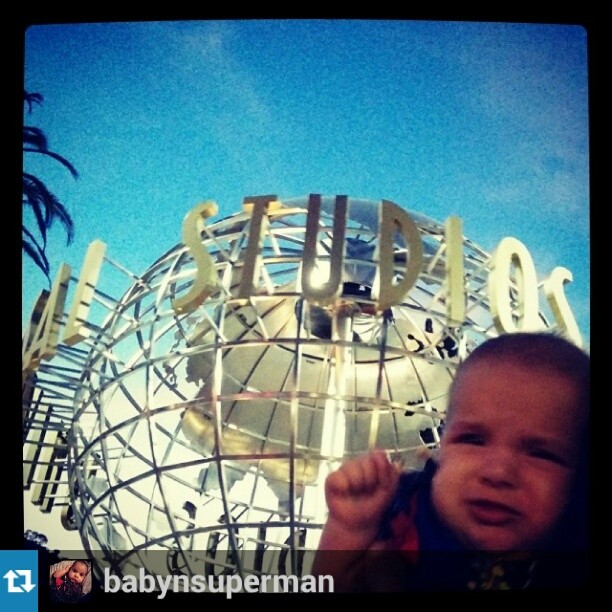 The space is extremely stroller friendly. Despite the many escalators to get from one area to the next, there are plenty of elevators, though the wait times can be long. So long, in fact, that a few times we emptied the kids and took the double stroller on the escalator. No issues! I do recommend a baby carrier if possible because of the constant in and out for rides. Sleeping babies can easily sleep the ride away in the carrier. There is plenty of stroller parking but I suggest finding one spot and parking there for each level. For example, park by the Transformers ride and then hop around to the Revenge of the Mummy and Jurassic Park.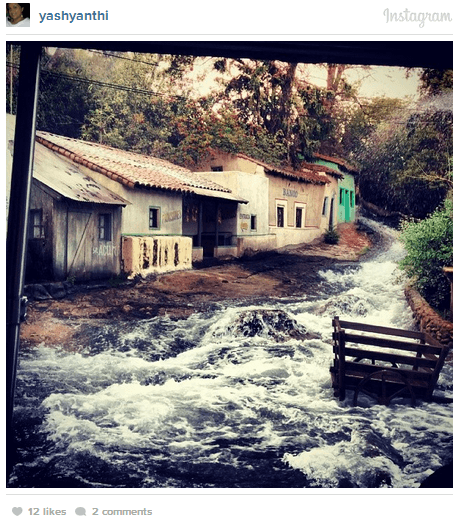 Universal Studios has some fabulous interactive shows. I have watched Waterworld numerous times but didn't try that one this time. Instead, we watched the Special Effects stage and it was a good opportunity for the Little Monkey to unwind as she sat on our laps to watch the show. We also did the Studio tram tour (again… I've done this soooo many times but still love it!). I wasn't sure if they'd even allow kids on board but they did!
The King Kong ride on the  tour is what was the scariest but leading up to the ride I joked around with the Little Monkey and got her ready for King Kong. I did the same for the train station and airplane crash exhibits. She was absolutely fine with a quick hug as we went through dark spaces. Baby Boy in the Bjorn was clueless and the loud sounds didn't affect him one bit. This is a 45 minute tour so if your little one has a short attention span, it may be tricky but we didn't hear any protests from her as there was plenty to see. Try and sit towards the middle of the tram (away from the sides) to ensure the kids stay securely and safely seated.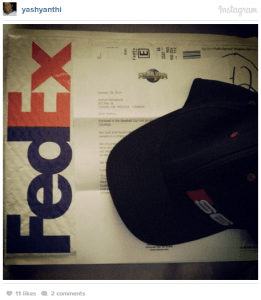 Walking through CityWalk at the end of the evening is a great way to unwind and process the fun filled day. There's everything from candy to flip flops that can be purchased here and… an entire Hello Kitty store! We managed to sneak by that very quickly! I can't end this article without mentioning how amazed we are with the customer service at Universal Studios. My brother lost his hat on the Jurassic Park ride and we were shocked to receive his hat in the mail this week! He made a note at the lost and found desk by the entrance/exit and they mailed it to us free of charge. They round up all the lost items and bring them to the lost and found centre each night and we could have easily waited half an hour or so for them to sweep through the rides but the free mailing throughout North America was a wonderful perk! Bring a jacket as it can get cold in the evenings! 
Have you been to Universal Studios? Do you love it as much as I do?
---