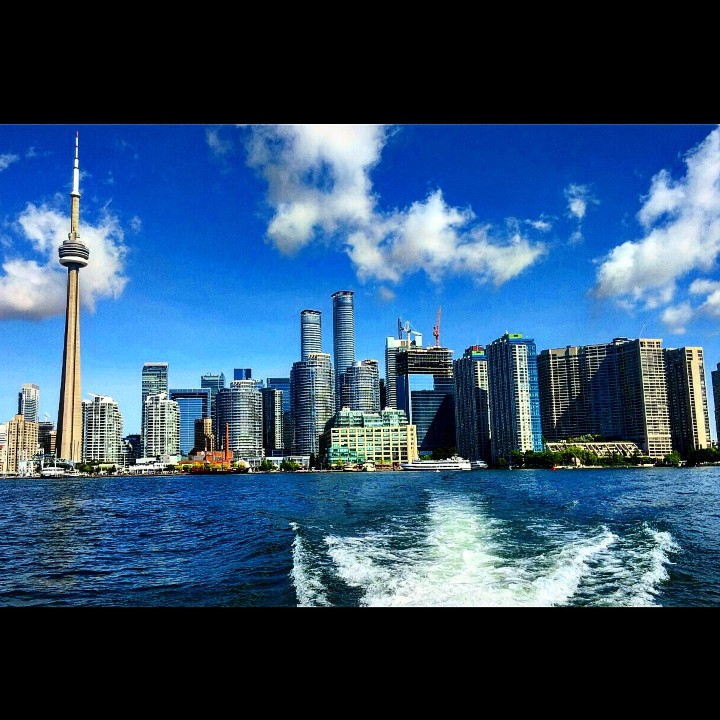 A couple weekends ago we were invited by the Chelsea Hotel to explore Toronto's Centre Island. Just a short ferry ride from downtown, Centre Island is nestled between Ward's Island and Hanlan's Point and given that Centreville is Little Monkey's happy place, we knew we had to join them! As many of you know, we love the family friendly vibe at the Chelsea Hotel and can often be found walking through their lobby when Little Monkey likes to pretend that she's "on holiday". So this chance to experience the Island as their guests do, was simply an opportunity we couldn't say no to.
Guests of the hotel have an awesome offer available to them during the summer months! They get the VIP treatment and don't need to battle the busy ferry lines to get to the Island. Instead,  for $15 per adult and $5 for kids aged 4 to 12 (below 4 are free),  they get escorted in a private shuttle from the Chelsea Hotel to the docks and then ferried over in a personal speedboat. The shuttle departs the hotel twice daily (until Labour Day) at 10:30 am and 11:15 am and returns (at the dock on island) twice daily at 4 and 5 pm.  I wonder if they'll let me sneak in again next year!! Battling the long lines for the ferry is always cumbersome and this seems like a more civilized way to get to the islands. That said ferry tickets can now be purchased online and so you don't need to deal with those lines if you do venture out to the Islands.
Things to do on Centre Island with Kids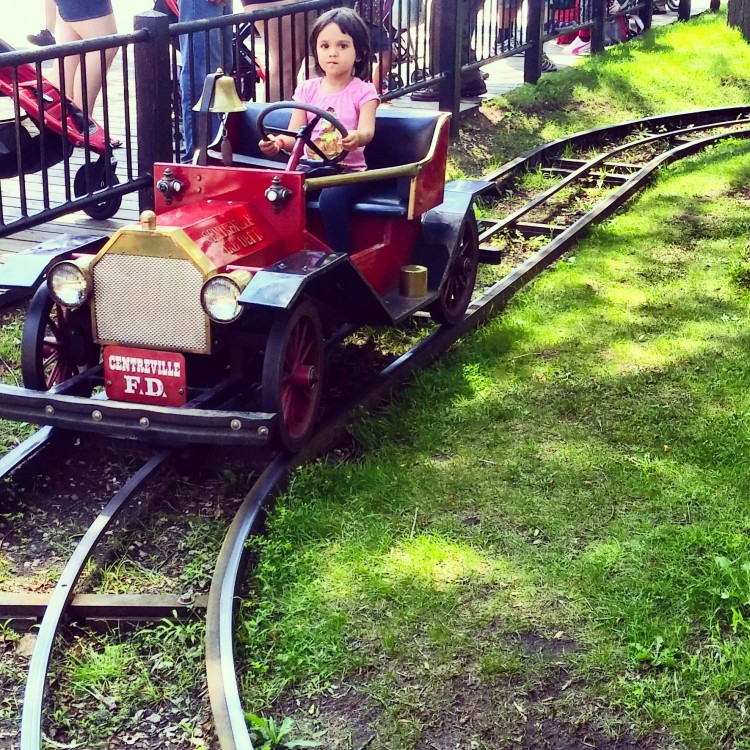 A couple years ago we explored Far Enough Farm but in recent years we've spent every visit at Centreville and then returned without exploring anything else. On this visit, we were challenged to explore the other parts of the Island and I was absolutely shocked! There's plenty on offer besides Centreville! I mean, don't get me wrong, we still spent three hours battling the line ups at Centreville but I am a firm believer that August is NOT the time to hit up the theme parks. It's way too hot for me and the crowds are insane.
So what else is there to do on Centre Island? Why plenty, my dear!
Playground and Splash Pad : There's a full on playground and a lovely splash pad if you'd much rather BBQ or picnic and hang out. The washroom in this area is a bit messy, so that's definitely something to keep in mind for when nature calls.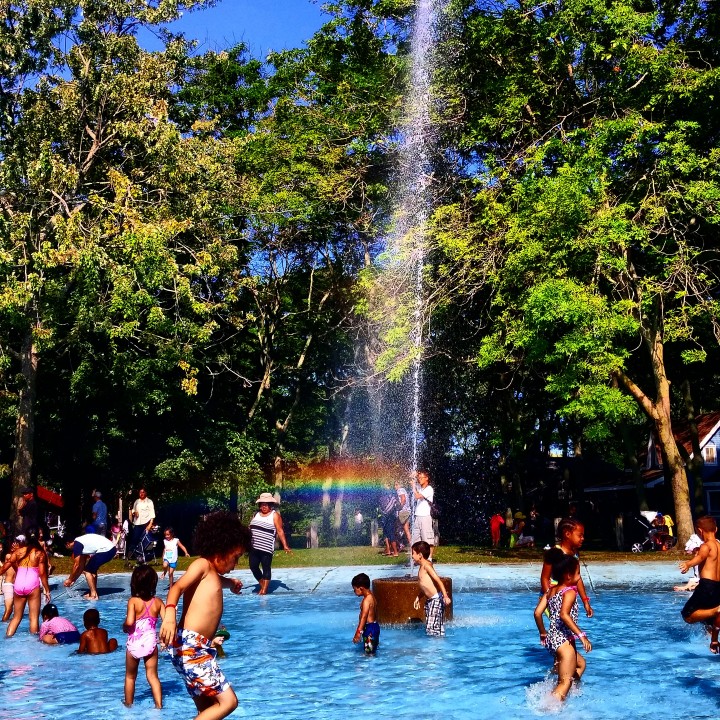 Franklin Children's Garden : An entire space inspired by the book series, this garden is a great spot to let little ones run COMPLETELY wild. I am surprised we hadn't ventured out here before! The garden is divided into seven sections where children can enjoy gardening, storytelling, exploring wildlife and visiting seven child-accessible sculptures from the Franklin the Turtle series. Baby Boy loved speaking with the sculptures! Also if you visit on a Wednesday (available at the Garden) or a Saturday (available at the  Island Information Booth at the Ferry Dock) be sure to grab a FREE Discovery Backpack! Inside you will find a self-guided nature guide, field guide, nature walk scavenger hunt, junior binoculars and more.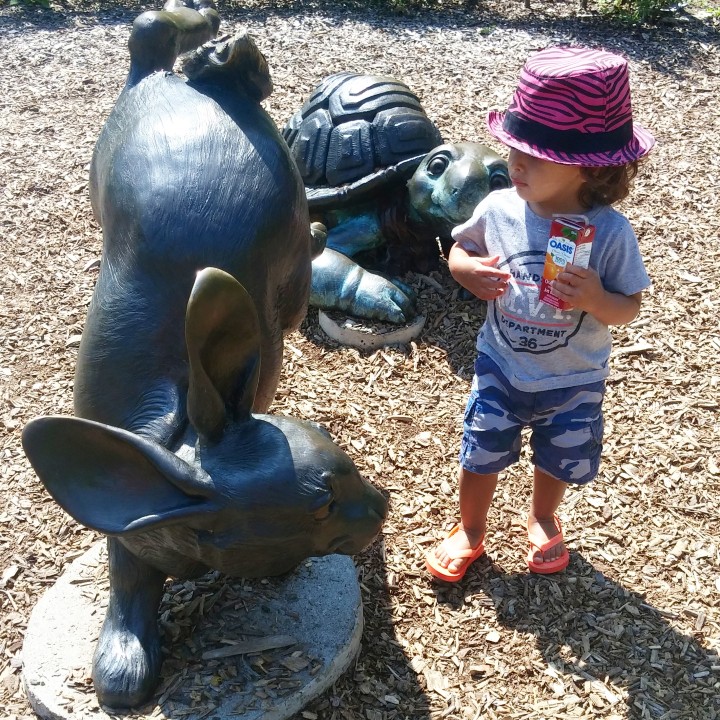 William Meany Maze : Luckily for us the maze has been restored!! Originally created in 1967 for Canada's 100th birthday, the maze was shut down in 2011 due to maintenance issues. On our recent visit we got to explore the maze that re-opened earlier this year and despite it being a hot sticky day, we made it through the entire thing…with a double stroller!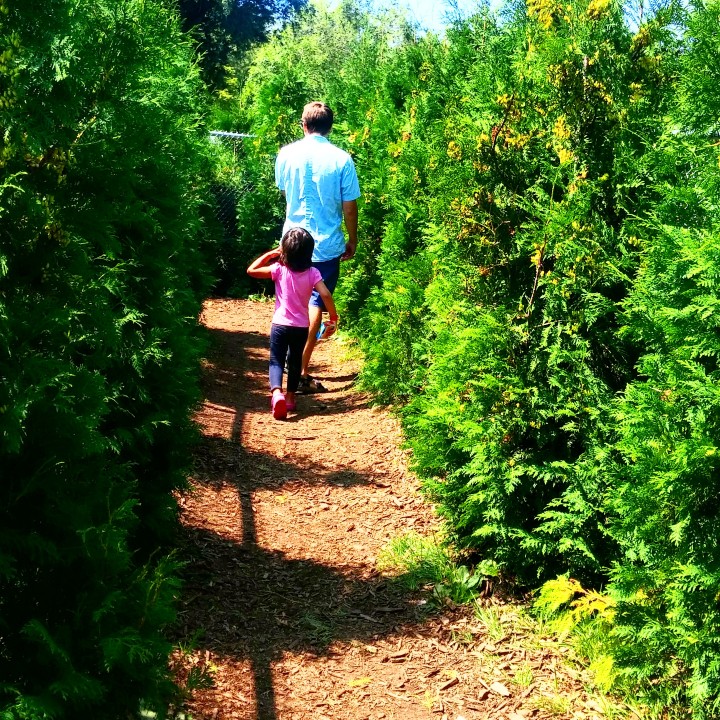 Chelsea Beach : There are a couple beaches on the Toronto Islands and Centre Island has its own one close by to Centreville and Far Enough Farm. We've enjoyed a picnic here on a couple occasions and while the water is always too cold for me, it is a Blue Flag beach  (one of 14 in all of Ontario!) which means it's safe for swimming.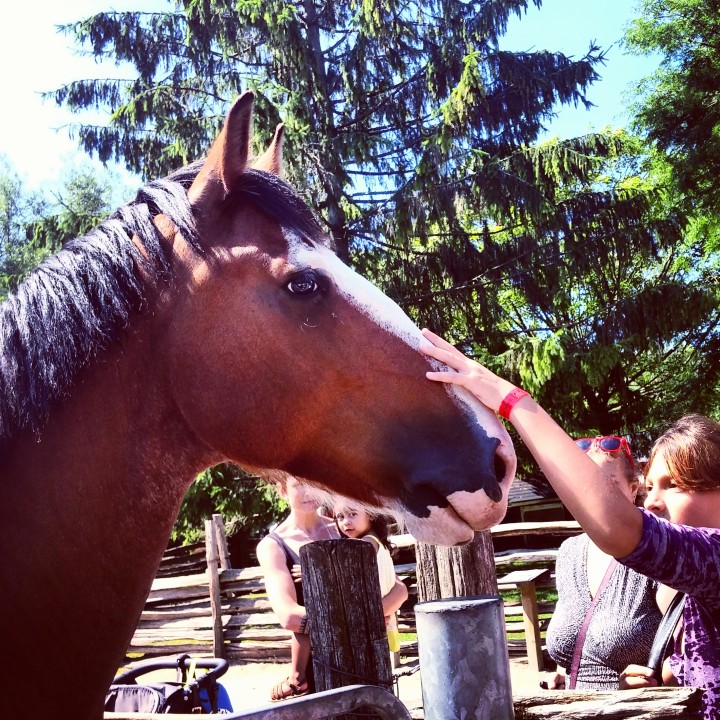 Far Enough Farm : A couple years ago we did a full recap of Far Enough Farm but forgot about this spot with the lure of Centreville next door. However, our recent visit reminded me why we loved it. With all our adventures we somehow missed taking Baby Boy to a farm and so he was thrilled when he actually saw a "COOOOOUWWW" and Peacock. The farm is small but has plenty of animals to see, is completely free and is open all year round. Any questions kids have can be answered by the local farmers tending to the animals!
While Centreville will always be a focal point for us (at least for the next couple of years), I was glad to discover that the Toronto Islands offer so much more for families. Given that most of the other facilities and attractions on offer are free to access, it makes for a very reasonably priced visit! Do you have a favourite Centre Island activity?