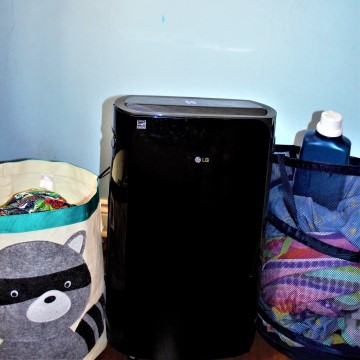 Living in a downtown Toronto condo, one of our issues was dealing with the dry air and we equipped our house with humidifiers. However, at the same time we've been struggling with mold caused by excess moisture in our laundry room and our bathrooms. The ventilation system in our condo (one of the oldest condos on Bay Street) is archaic and nothing we have done in the past has helped. A friend recently recommended that we try using a DEhumidifier in the laundry room and that has helped immensely! I don't think it would be safe to use a dehumidifier in our bathrooms given the splashing of water that takes place in there but the LG PuriCare dehumidifier worked wonders for our laundry room and I think we may have discovered the best dehumidifier for our home.
Disclosure: This post is in partnership with LG Electronics Canada Inc. but, as always, opinions are TOTALLY ours! 
I had a few questions when my friend suggested that we look into a dehumidifier and when our friends at LG asked if we'd like to test the PuriCare Dehumidifier, we of course said "SURE!" I thought I'd share some of my learnings with you, so you can see if your home might benefit from one as well. I know many homeowners use them in their basements and during the summer, especially if it's a humid one and they don't have A.C (how people live without A.C is beyond me but that's a rant for another day), but I recently discovered that many of our condo dwelling friends could use one as well!
What Does a Dehumidifier Do and Why is it Important?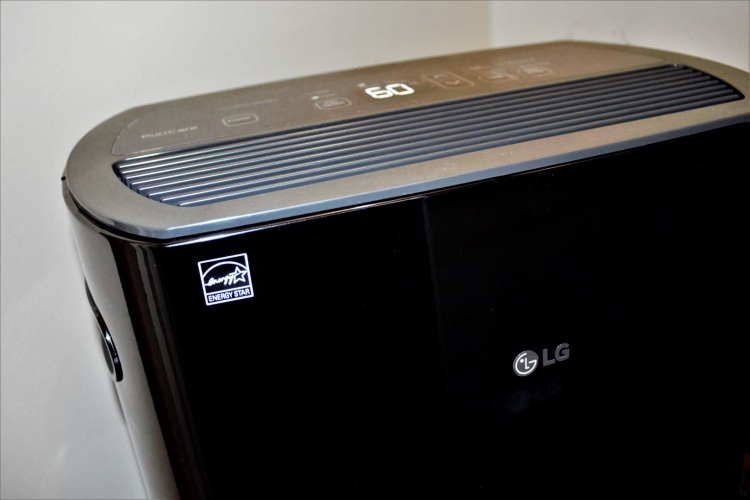 A dehumidifier takes away excess moisture from the air by collecting the moisture in its canister and re-release the heated air. Excess moisture can trigger allergies like dust mites, mold and mildew which tend to thrive in humid environments. Small living spaces with limited ventilation, such as condo bathrooms or kitchens and basement apartments, are common areas where moisture can build up, even in dry climates. If you or your kids have stuffy noses, itchy and watery eyes or experience difficulty breathing (sneezing, wheezing, coughing), it could be due to allergies. Mold allergies are also a significant contributor to childhood asthma, and that's what we were most afraid of as Chris tends to do laundry a couple times a week and our laundry room ceiling was covered in mold. We got rid of the popcorn ceiling mold and painted over it, but we wanted to prevent it from coming back permanently and the dehumidifier is our current solution. Here's a great article on the benefits of dehumidifiers if you'd like to read more about the benefits of using one.
What's So Great About the LG PuriCare Dehumidifier?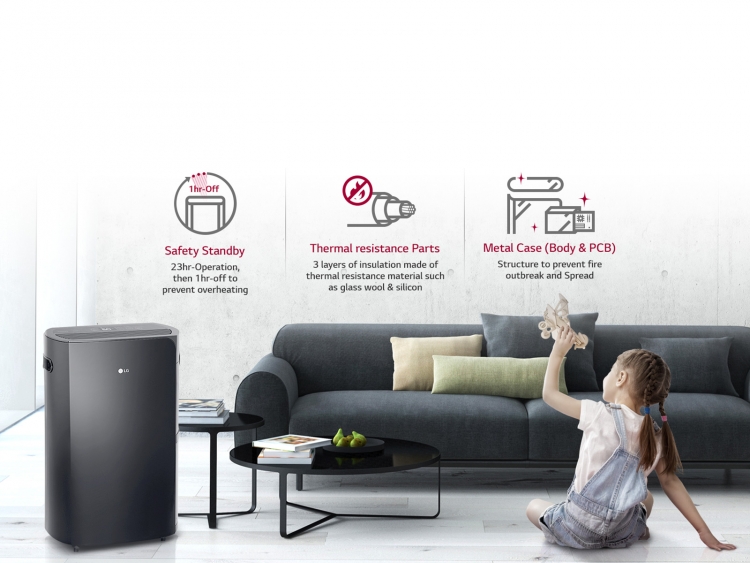 As you know, I am a huge LG fan and am still lusting after the Instaview Fridge. The main reason I am a fan is not because of the super sleek design their products have (serious bonus points for that), but because the products are made with families in mind. They are durable, reliable and easy to use.
The LG PuriCare Dehumidifier features large, clear displays to easily check and control humidity levels. You choose the levels you want and it automatically ensures that the air in that room meets your requirements. There is a Safety Standby Mode that prevents overheating and it will automatically turn itself off when the water bucket is full. You can control the humidity, activate a timer or monitor the amount of water that is collected in the container without pulling out the tray.
Maintenance is a no fuss affair with a convenient water bucket and tray handle. The water bucket holds over 13 pints and we can do a week's worth of laundry before having to empty it. You could have it auto drain and avoid changing the bucket but, living in a condo there are no additional draining options available to us, so the water bucket is a great feature. My favourite feature is the washable and reusable air filter (living in downtown Toronto we have a LOT of dust and our laundry room is filled with lint and dust).
It really is quite simple to use the dehumidifier and while it's not a small appliance, it's not overly large either. I mean, it does fit in our closet of a laundry room, after all! This product is available in two sizes based on the size of your space as well: 55 and 70 pints.
Things to be Aware of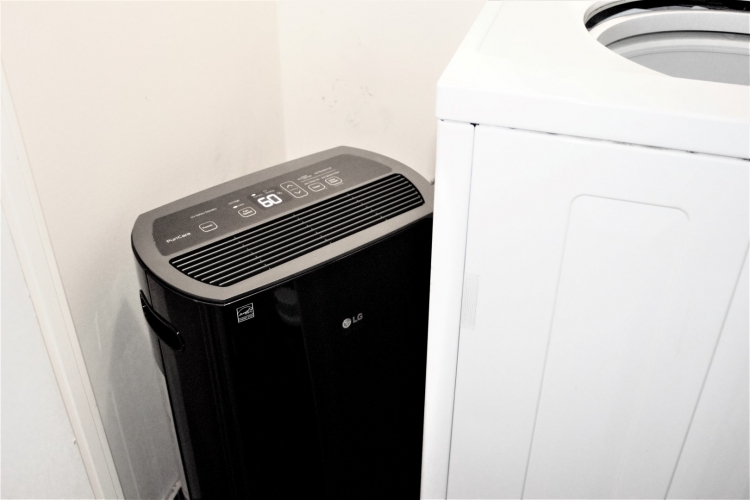 Of course there are a couple things you should be mindful of as you decide on which dehumidifier is best for your home. There are a number of dehumidifiers in the market but ensure that you read the reviews to determine longevity and the warranty that comes with it because, as we all know, not all units are created equal.
Think about the space you need to cover and find a unit that will help cover the entire area. Living in a large condo (and using it in a tiny laundry room) the LG PuriCare is perfect for us as it covers up to 2000 sq ft.
The LG PuriCare Dehumidifier can run up to 23 hours straight before needing an hour to reset but we've just been using it for a couple hours during our laundry cycles. It also does emit heat so ensure you place it at least 13 cm away from the wall or closest item.
One thing I'd like to highlight is that you need to ensure that you are maintaining a normal amount of humidity within your home because if you dry the air too much, you will end up with cracked and damaged skin. Powerful dehumidifiers can pull out a lot of moisture from the air so there is no need to keep it at the maximum at all times and this is where the LG PuriCare humidity control levels are super useful.
So, what do you think? Do you need a dehumidifier?
To learn more about LG products, visit LG.ca.