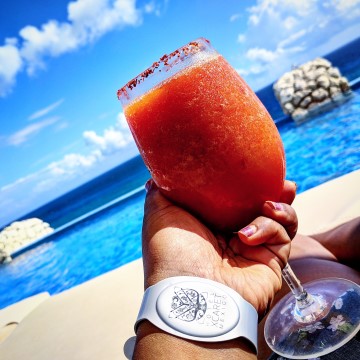 Many of you who read our little blog have young ones but we also know that there are few of you who are still in the kid-free stage and so today, we wanted to share some of the fun things we did at Hotel Xcaret Mexico WITHOUT our kids! We recently shared a very detailed review of Hotel Xcaret Mexico after spending a week there with Air Transat and we received a few questions pertaining to things parents (and adults in general) can to do while the kids are having fun at the Kids Club. So we came up with a list of 7 kid free things to do at Hotel Xcaret Mexico. We managed to explore most of the romantic things to do at Hotel Xcaret Mexico but definitely had to save a few for our next trip there!
Disclosure : Our visit was in partnership with Air Transat but, as always, opinions are TOTALLY ours! 
Adults Only Section at Hotel Xcaret Mexico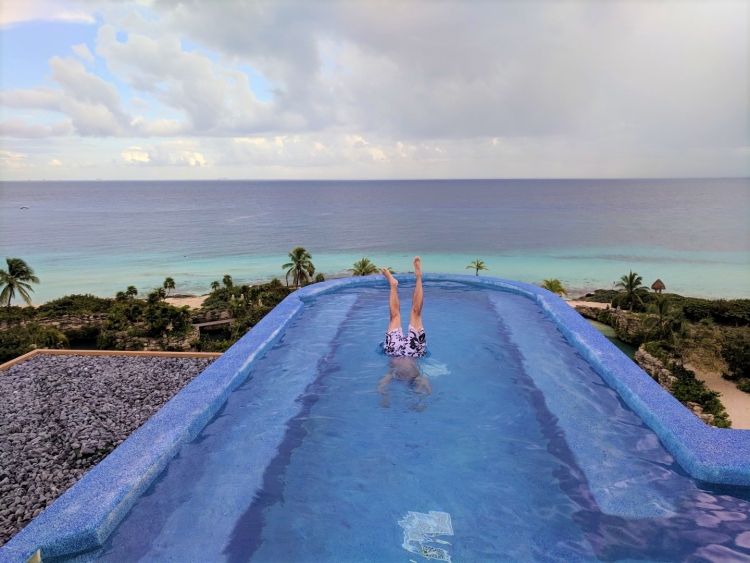 If you'd like to enjoy a truly kid free vacation, checking into the gorgeous Casa Fuego section is the way to go. Chris and I received a tour (with complimentary access to their pool) of this adults only wing  and I loved the bright fuscia (growing up my bedroom walls were the same colour) designs and the king bedroom suites. Staying here guarantees you access to adults-only restaurants and the adults-only pool but you do need to remember that you also have access to the rest of the resort and all the activities we mentioned here.  However, if you're staying at the family friendly side, you do not have access to the amenities and offerings at Casa Fuego, not even that pool. Sorry! That said, by all means do chat with the receptionist and see if they might provide you with access or a tour, because it never hurts to try!
Things to do at Hotel Xcaret Mexico without Kids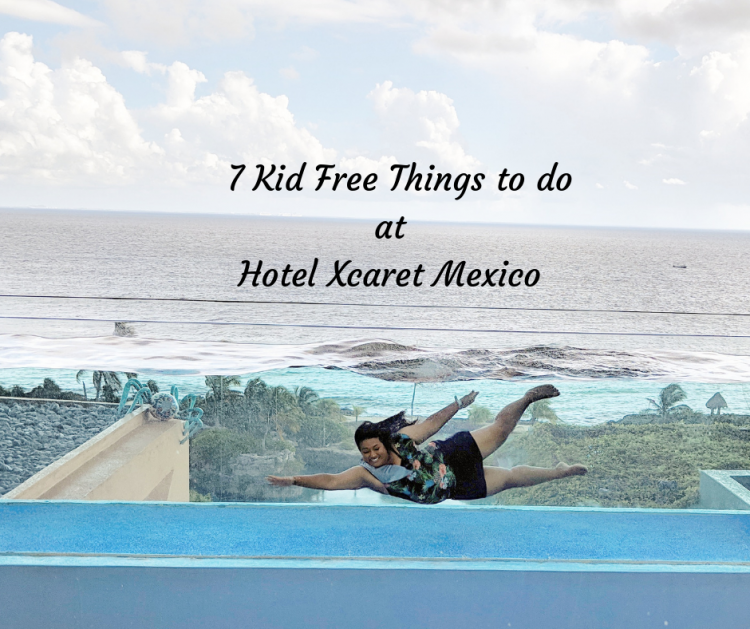 The beauty of staying at an All-Inclusive resort is having access to childcare at no additional cost and at Hotel Xcaret Mexico, the  Kids Club is open from 9 a.m. to 10 p.m. so there are PLENTY of opportunities to enjoy some kid-free time even if you aren't staying at  Casa Fuego! While I'm sure you'd be thrilled to just sit in your room and enjoy a luxurious bubble bath in the outdoor or indoor Jacuzzi (which is in your room), there are some fun things you may want to explore during your kid free hours.
Muluk Spa : This place is absolutely serene and the perfect spot to relax at, even if you have a partner who doesn't like massages (yes, I'm serious – see this post). Chris and I spent two hours here and wish we had known to give ourselves enough time here for a nap! There entire spa is nestled in natural rock and there is a floating bed that will rock you to a deep sleep. Please enjoy it for me as I had to leave 15 minutes after lying down on that bed and was very sad about that! The hydrotherapy ritual took us through a hot-cold experience as we went from a steam room, to a cold shower, a sauna, a cold water tub and a Jacuzzi. We then spent most of our time in a pool with various jets and a gorgeous view.
[themify_hr color="gray" width="100%" border_width="1″ ]
[themify_hr color="gray" width="100%" border_width="1″ ]
HA' Restaurant : While you could definitely dine at one of the many restaurants on site that's included in your all-FUNclusive package, I think paying for a meal at adults only HA' is absolutely worth it. Carlos Gaytán, the first Mexican Chef to receive a Michelin Star, presents a unique 7-course tasting menu paired with Mexican wines. If you're ready to trust the chef, everything will be done to perfection. During our visit the cost was about 75USD per person and based on our experience, we would have spent far more if we were anywhere else. This meal will be remembered as one of top dining experiences because of the unique flavours, exquisite presentation and for the immaculate service. Trust me, you want to dine here!
Kayak : Sure you could be swimming or lounging by the pool as you read that book that's been in your purse for months, but how about taking a two person kayak and exploring the river that weaves through the resort? There's paddle boarding too and you can find these free activities near the Caves and Bio Restaurant. The resort is gorgeous and you can make pit stops to enjoy one of the many hammocks available in the caves by the river.
Gym : With the kids away you can get to the gym and enjoy the fancy machines and punching bags. The gym near the Muluk Spa was our favourite one as it was rarely busy and had some great machines.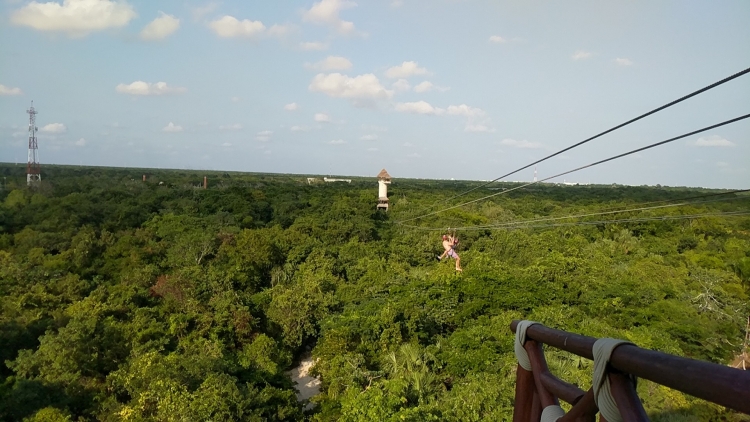 Xplor Fuego Park : We visited Xplor during the day time with the kids but heard that it really comes alive at nighttime from 5:30 to 11:30 p.m. Some of those Ziplines would be so cool at sunset and in the nightime, that's for sure. They also offer a BBQ ribs buffet at dinner time and of course, all of that is available at no additional charge as it's all included when you book an Air Transat stay at Hotel Xcaret Mexico. Kids are allowed for the evening portions based on the website but this would be a romantic night out for sure!
Xoximilco Cancun : When I first saw this, I REALLY wanted to make this one happen as it was another excursion that was included in the package. I was planning on taking the kids as well. However, we soon learned that it is pretty much a booze cruise and that kids may not enjoy the late night outing. Our kids are party animals and would have enjoyed themselves but they were also extremely tired and were passing out by 10 p.m. so the long drive back would have been torturous, which is why I think this would be perfect for a date night! The gondolas set sail between 8 and 8:30 p.m. and you're onboard for about 3 hours. Remember that it's about a 45 minute drive from the resort and transportation is also included. Get ready for a floating fiesta in Cancun! Keep in mind that you will need additional babysitters for this one as the kids club closes at 10 p.m.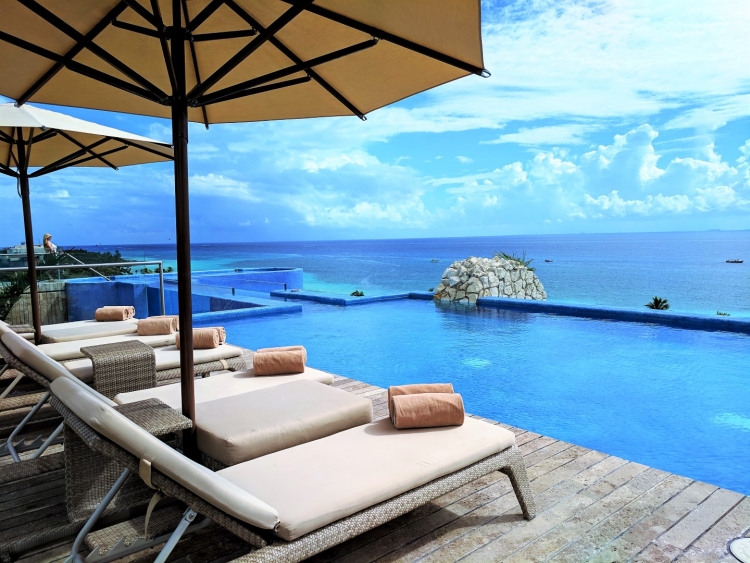 Xenotes : While there are a couple tours that are offered as part of your Hotel Xcaret Mexico stay, the Xenotes one looked the most interesting to us. Kids under 6 aren't allowed on this one, making it a great kid free excursion. We had to save this for our next trip but the bartender at HA' told me that this is his favourite park/tour of them all! The Xenotes Tour includes transportation to four cenotes, a certified guide, photographer, food and beverages.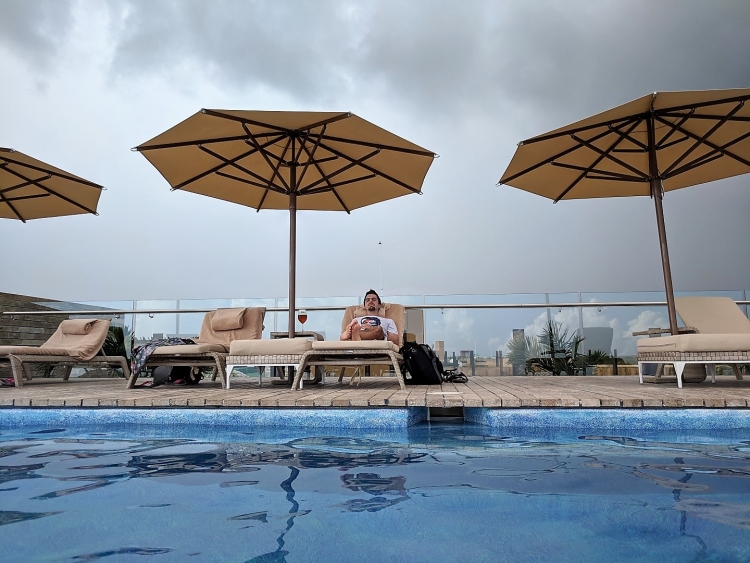 There you go, seven kid free things to do at Hotel Xcaret Mexico!! The resort is stunning and if you can sneak in a sunrise from Xpiral Pyramid, make it happen. Chris would never wake up early for that but I know it would be super romantic! Let us know if you have any other questions for us.