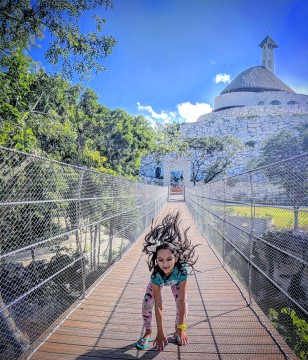 We recently spent a glorious week at Hotel Xcaret Mexico with our young kids thanks to Air Transat. During past visits to all-inclusive resorts, we have learned that we are not the kind who can sit around, bask in the sun, and enjoy the stillness. Our family needs adventure. In the past, we've split many vacations between all-inclusives and apartment rentals, giving ourselves a chance to enjoy both worlds. Our last all-inclusive vacation with the kids was just a 4 day affair, since we knew that we would get bored if we stayed the week.
It turns out, we just hadn't discovered the right all-inclusive. We're TOTALLY able to spend a week at Hotel Xcaret Mexico, and we have the Air Transat all inclusive vacation package to thank for that. Our family discovered so many things to do that it is going to take me a couple months to share all the details. During our one week long stay, we still didn't get around to doing even half the things we could have! It's pretty much the dream spot for families who like to explore during the day before eating and relaxing in the evening. This ALL-FUN INCLUSIVE vacation package provided us with access to theme parks, attractions, excursions, tours, food experiences and SO MUCH MORE!
Disclosure : This post is in partnership with Air Transat but, as always, opinions are TOTALLY ours!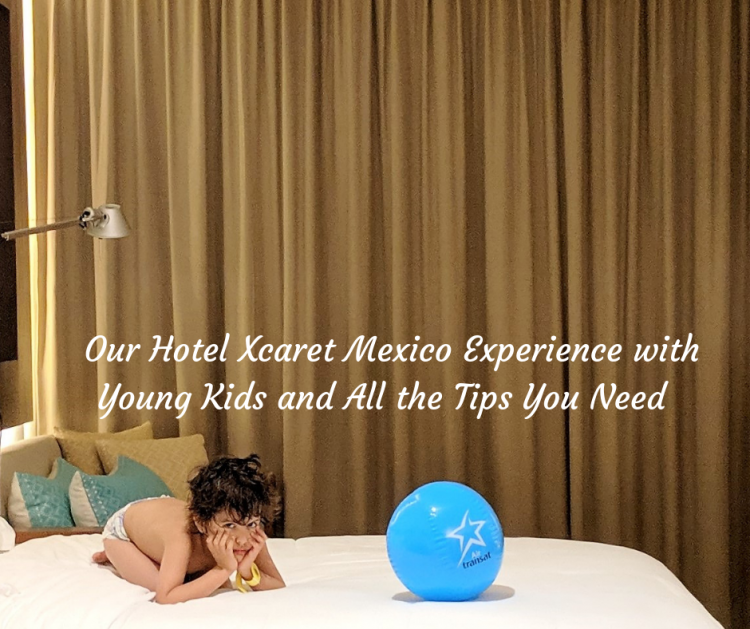 General Overview of Hotel Xcaret Mexico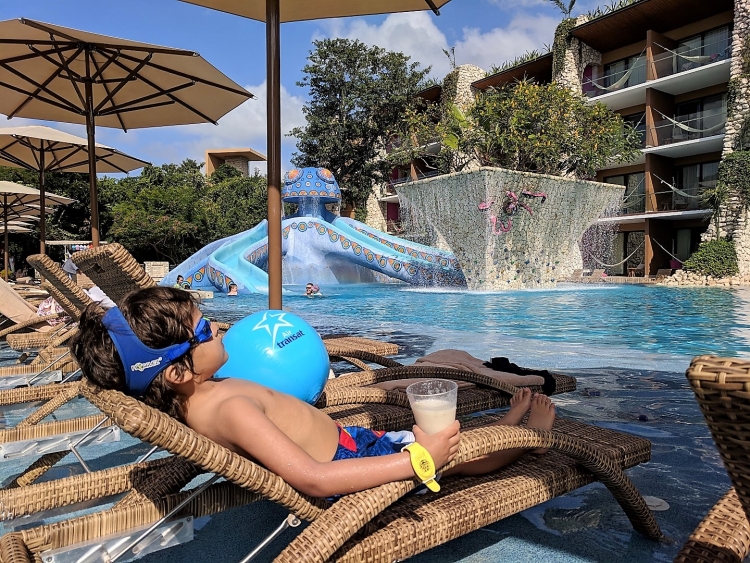 Chris and I are extremely picky when it comes to all inclusive resorts, but we set a pretty high bar after our last trip, a Gourmet Inclusive experience near Cancun. To our delight, we loved the Hotel Xcaret Mexico stay. Our expectations were high before the trip, and the resort delivered. It's filled with coves, rivers, inlets, caves and forests. Plus, Hotel Xcaret Mexico is the first hotel in America to receive the EarthCheck Building Planning and Design Standard certification, which recognizes properties promoting sustainable architecture, construction and projects.
The resort is quite large (ask for a map at check-in), but not so massive to require golf carts to shuffle visitors around. Its intimate feel and first rate, personalized service made us feel pretty special. From the moment we stepped into Hotel Xcaret Mexico to the day we left, we were fully taken care of by the hotel's friendly and informed staff. At every corner, someone is saying "hola" and asking if we needed anything. At check in, we were given bracelets and we pretty much kissed our wallets goodbye (well, except for tips we were happy to hand out). Throughout the resort, we found these amazing picture stations where we flashed our bracelets on a scanner and snapped a picturesque photo. On their website, we were able go see the various pictures we posed for, with the option to buy a photo package of the family in action.
The suites at Hotel Xcaret Mexico are located across various buildings called "Casas". Each one represents a natural element, symbols of great importance to the Mayan culture. We were in Casa Tierra (earth). Every room is a suite at Hotel Xcaret Mexico. We chose a corner suite with two double beds and 300 thread count sheets! Our room also had a pull out couch, a balcony (with two hammocks) and a massive patio with a hot tub. One thing to note is that there is no baby concierge at this hotel and if you're travelling to Mexico with an infant and in need of renting baby gear, this may not be your best bet. Large families looking for interconnecting rooms or 2 and 3 bedroom offerings keep in mind that while there are a few multi-room offerings, there aren't many and they do tend to book up quickly. Unfortunately no interconnecting rooms are available and they only allow 3 adults or 2 adults and 2 or 3 kids in each room.
You have the option of choosing your view (ocean, pool, garden or river), and they also have swim up suites and an adults only section. We were lucky that we secured the corner room that gave us the extra patio, but to be honest, I peeked into the other rooms and they seemed to have a similar layout minus the patio. I loved that our room not only had a stand-in shower but also a hot tub INSIDE the room as well. Don't bother packing basic toiletries because their shampoos, conditioners and soaps were amazing! They even replenished the mouth wash and creams daily and we had a basic vanity kit (toothbrush, sewing kit, cotton buds) on the first day. There was also a beach bag and umbrella for you to use, and we needed those one night. Oh, you will also find beach towel carts near each of the pools so no need to pack those either.
[themify_hr color="gray" width="100%" border_width="1″ ]
[themify_hr color="gray" width="100%" border_width="1″ ]
Every room had plenty of water (mix of sparkling and still) and a Nespresso machine, with recyclable pods made of corn. Chris seemed to be brewing a new cup every couple hours. Our mini bar was stocked daily with two packs of orange juice, Corona, Corona Lite, and pop. Chris and I saw the snack drawer on our first day and quickly closed it before the the kids noticed. I totally forgot about it until right now!!! We were too busy eating everything else, hah!
Each night there was a candy treat waiting after turn down service and of course, room service was available if we needed anything else. What Chris loved the most was how the room was designed with functionality in mind. We had outlets where we needed them and there were many light switches placed in the right places (they even have a night light function so you don't stumble on your way to the loo in the middle of the night). The details are endless, like a safe WITH an outlet so you can charge your laptop while you're not in the room and the cleaning crew will call security if they notice that the safe has items and it wasn't locked properly! Make note of that because security remotely locks the safe and you will then need them to come and unlock it for you as no one knows the code when that happens. Happened to us twice before we realized what was going on!
When choosing your room, it might be good to think about where you plan to hang the most. We were by the main pool and it was fairly central to most things for us but the kids club (also where the gym and spa is) was a bit further away and given that I'm directionally challenged, I kept getting lost! Don't worry, I eventually figured out all the shortcuts on my last day. I'm good like that.
I loved that most elements like the decor, furniture, toiletries and most ingredients were locally sourced. The family that owns Hotel Xcaret Mexico takes pride in supporting their local communities and that local touch is apparent everywhere you look. The hotel celebrated their one year anniversary on the day we arrived (December 1st 2018) and I definitely appreciated the newness and cleanliness of the resort.
Things to do at Hotel Xcaret Mexico with Young Kids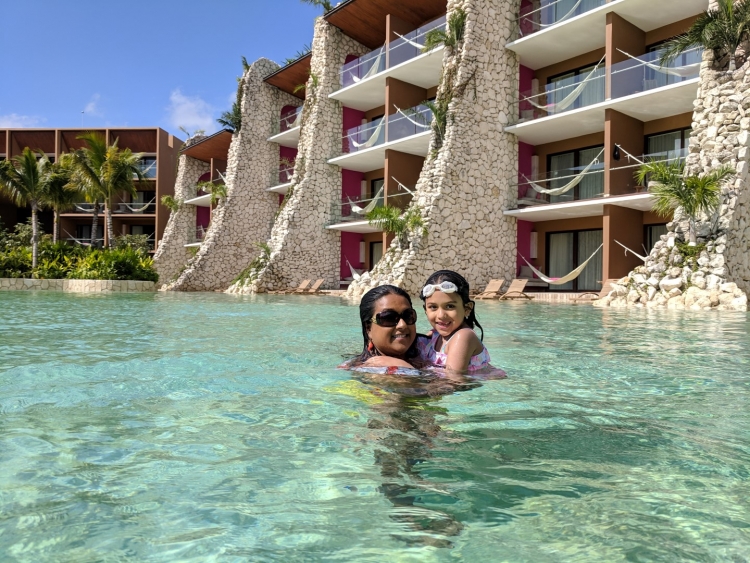 Our kids love splashing in pools and at the beach but they're still too young for us to relax when we're by a stunning pool (despite life jackets being available for us to use). There's no sipping margaritas and reading a book for us, yet (unless they're at the kids club), which is why we enjoyed the many activities that were INCLUDED in our hotel stay. When you book a Hotel Xcaret Mexico package with Air Transat, not only does it include your transportation to and from the airport, meals, drinks and access to the hotel amenities, it also gives you access to the Xcaret Experiencias Group attractions, which includes Xplor Park, Xel-Ha Park, Xcaret and Xenses Park; as well as the Xichen, Xenotes, and Xoximilco tours and activities.
New ones are still being added and I was so sad that Xavage wasn't open to the public when we were there. In addition to attraction and tour access, you also have transportation, food and drinks included during your visit to these spots (no food included at Xenses which is a half day visit) so that's a huge saving when you think about it. I had some friends from the U.S visit Xcaret Park this summer and I know they were disappointed that the additional expenses were not part of their hotel package. For us, knowing that everything is included when you book a stay at the Hotel Xcaret Mexico is a huge draw. We basically didn't need to pull out our wallet for anything beyond tips and gifts we wanted to purchase! If you followed my Instastories you know how much we ate, drank and explored so it was a crazy good deal! One thing I want to mention is that this resort is quite spacious. Even though it was at 85% capacity when we arrived and up to 95% capacity by the time we left, not once did we feel crowded or without a lounge chair! In fact, we had entire areas to ourselves on a few occasions.
If you're a beach bum who likes to splash in the Ocean, keep in mind that there's quite a bit of rock on the shoreline but once you swim out, the water is gorgeous (though it won't work well for toddlers and young kids). The east side (from the Chapel) is slightly better. Just keep in mind that at the end of the day, there are few sandy entry points into the ocean. We're pool people and loved the sandy river areas so we didn't miss the beach vibes but it is worth noting.
I will share a detailed blog post about navigating the attractions with young kids ( we didn't do any of the tours as we ran out of time!) but here's a list of things you can do during your stay at Hotel Xcaret with kids.
Swim at one of the 3+ pools (our favourites were the Kid's Pool by the Chibali restaurant, which had an amazing Octopus slide, and the heated pool by Trajinera restaurant)
Lounge in one of the caves
Kayak (they have 2 person Kayaks so an adult and child can go together and if your kids are interested they also have stand-up paddleboards)
Visit one of the 7+ parks we mentioned above
Play games at the Family Club
Catch the live entertainment that popped up throughout the resort (we never asked for a schedule but kept randomly seeing live music and performances during the day and night)
Dine at one of the many first-rate restaurants
Enjoy drinks at the two main swim up bars (Baby Boy was LOVING his Pina Coladas and said the swim up bars had the best ones on the resort)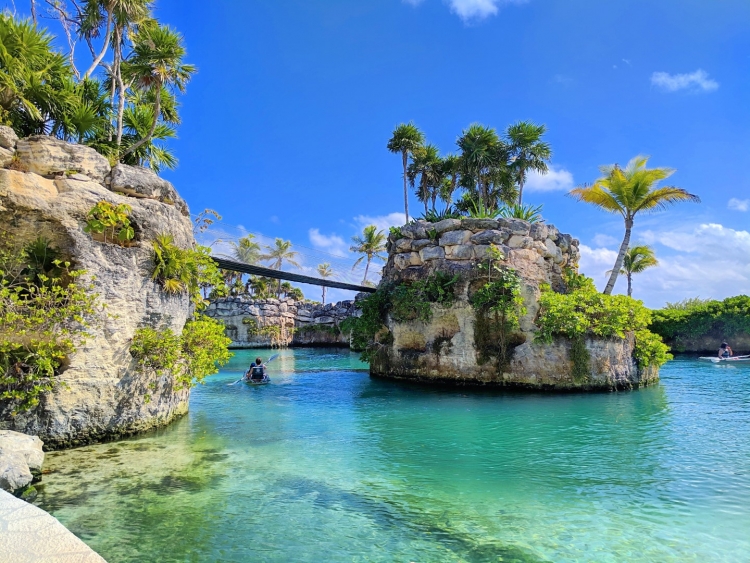 Xiquillos Kids Club Experience at Hotel Xcaret Mexico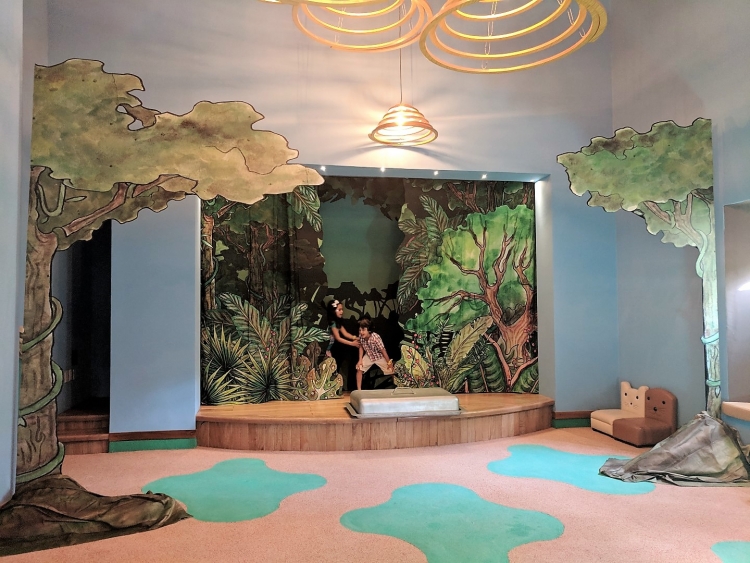 The Xiquillos Kids Club at Hotel Xcaret Mexico is absolutely fantastic. Even after a full day of exploring, our kids would beg us to take them over even if it was for just a few minutes. The staff are not only well trained but they're genuine and have a magic touch when it comes to handling kids aged 4 to 12. Parents aren't allowed beyond the reception area but we did get a tour on our first day. Our 5 and 7 year olds popped by quite a few times and I loved that the Kids Club is open all day long from 9 a.m. to 10:00 p.m. We were even able to enjoy a kid-free dinner one night!
The Kids Club has a weekly schedule. Don't rely on the one in your room as it may not have full details. The club itself is the best place to pick one up. Each day, they have hourly activities that include arts & crafts, swimming (they were great an ensuring that the kids wore life vests), cooking (this was my favourite thing they did because they brought back treats for me!), sports and nightly movies. They even have parties in the evening and Baby Boy and Little Monkey attended a Mexican Fiesta one evening and came back with a bag of goodies that made for great souvenirs.
Even if you have cautious kids who don't usually enjoy the kids club, I think they'll love this one. With a mix of free play and scheduled activities, the extra staff on hand allows for one on one activities if your kids don't want to partake in what's going on during that hour. We heard nothing but rave reviews from our kids and the friends they made at the Kid Club. One tip we have for you is to pack a bathing suit, cap and sunscreen if your kids are there during the morning. We also packed a diaper for 5 year old Baby Boy and the staff were kind enough to help him change him back into one after a swim.
Food Experiences at Hotel Xcaret Mexico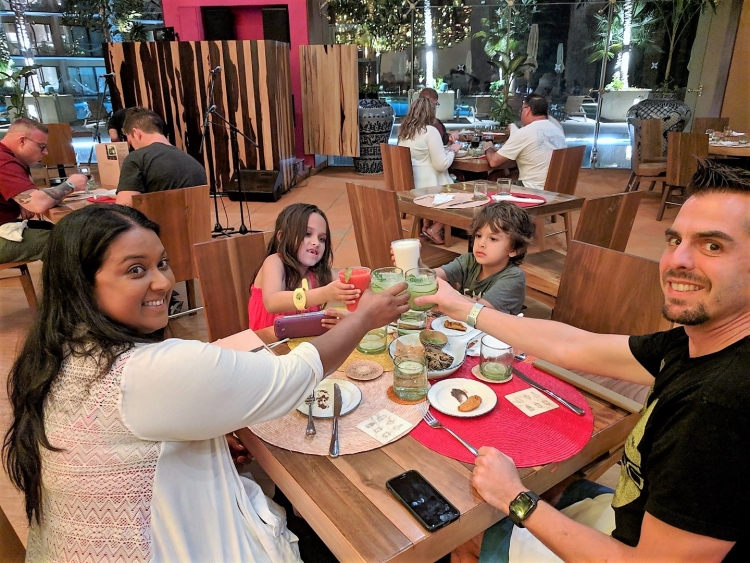 There are over ten restaurants and eight bars at Hotel Xcaret Mexico. On my last day, I think I even discovered a 11th restaurant! HAH! Chris wrote this juicy post about all the dishes we enjoyed and how we fared on my mission to eat at each of the Hotel Xcaret Mexico restaurants but for today, we'll tell you what you can expect to find. If you're looking to ONLY eat and drink (and not explore), Hotel Xcaret may not meet all your gourmet needs, but it comes pretty close. I had some of the most unique food experience of my life at Hotel Xcaret, so it definitely has something for everyone.
If you're a family with young kids and are looking for a good food experience, this is definitely THE resort for your family. The food options were better than most all-inclusives we've been to. They always ensured to ask about allergies the moment we entered each restaurant. Each place offered a selection of fresh juices and no matter where we went, we each found what we were in the mood for. Given that I'm ALWAYS in the mood for something a bit unusual, this was a treat. Those with picky eaters will be pleased to know that the buffets always had fresh fruit (strawberries, melons of all sorts, kiwis, grapes….e.t.c) and we spotted cereal and yogurt brands we see at home. You also can get freshly squeezed juices and smoothies at every restaurant and that will be another delight for those with picky eaters.
Mercado de la Merced : This was our breakfast destination of choice because the ten theme stations took us on a sensory trip through a traditional Mexican market. They had the usual continental offerings and many fruit, veggie and baked good stations but there was also a taco cart, a crepe station, plenty of local Mexican dishes  (including guacamole, soups, fresh quesadillas, Mexican hot chocolate and so much more) and we were able to squeeze our own OJ too. Oh and yes, there's a self-serve mimosa bar!
Chibali : Our kids ALWAYS wanted to dine here because of its proximity to the Kids Club and because they have a crazy candy bar. While Chris and I weren't fans of the breakfast here, we did like the fresh made to order burgers at the lunch buffet.
Las Cuevas : Be warned, go here hungry! I know everyone (including the brochure in the room) said we didn't need a reservation here, but on arrival we were informed that you DO indeed need a reservation. Luckily, there was a cancellation and we were able to enjoy this Brazilian style meal. We first enjoyed a salad buffet (the sushi here was quite good) and then came the 14 rounds of meats and seafood. Oh boy… we were stuffed silly and could barely manage to try the desserts. You're dining in caves and I recommend that you arrive just before sunset so you can truly appreciate the views. You could easily visit this area in the daytime as the white sandy beaches with river waters (and fish) flowing by are absolutely stunning.
Xin-Gao : Be sure to the book the Teppenyaki or Sushi experience here. While we weren't blown away by the menu, they were both great experiences and how can you say no to gourmet all you can eat sushi? The kids LOVED the Teppenyaki show and our chef was a delight to watch. With the Sushi experience, the kids weren't too keen to watch as there wasn't much of a show but having the chefs provide an Omakase experience was very cool.
Cantina Los Faroles : Ensure you have dinner here because it was a fabulous experience and the service here was great. It's also the only restaurant where we found live music (The Lobby Bar was the other live music spot). Children are allowed here until midnight and there's also an adults only upstairs lounge that stays open until 4 a.m. I was informed that the dinner menu switches over to a snack menu around 10ish and I regret not returning for that because the menu was fantastic. Definitely get the steak and I also loved their cocktail list. This restaurant presented us with a great cocktail list and you know how big a fan I am of solid cocktail lists!
La Trajinera : This is the restaurant by the main pool and one night after a late swim (pool closes at 8:30), we dined here. The kids were tired and passed out on the couch but the seafood here was really good. Get the grilled Octopus! I was sad Little Monkey missed her favourite dish but I did enjoy it on her behalf. The cocktail menu is small but has great cocktails, as it's the same bartenders as the ones at the pool (you can always order anything you want but having worked in the industry for so long, I love cocktail lists).
Ha' : For a truly unique experience, this adults only restaurant is worth adding on to your experience. This is the only restaurant on-site that has an additional charge. A 5 course meal with wine pairings and surprises comes to about 75 USD per person (if you order cocktails, there would be an additional charge) and worth every penny. Carlos Gaytan, the first Mexican to receive a Michelin Star brings the concept of the Mexican gastronomy to a whole new level here and we'll definitely be dining here on our next visit!
Teatro Del Rio :  A reservation is required for this dinner and you will have the chance to enjoy a Mexican or Caribbean themed show with your dinner. The service was fabulous here and the set-menu dinner was good. They even had a special menu for kids. Little Monkey was riveted but Baby Boy soon got bored and started falling asleep as we dined here after a full day of travelling. We heard that Xcaret park has a similar dinner and dance show that's quite popular and worth checking out on our next visit.
Las Playas : We were told by locals that we had to dine here for the cheesecake but sadly this is the one restaurant we missed. We did enjoy the swings by the bar as we waited on a cocktail one afternoon. We weren't fans of the cocktails here but the ability to relax by the beach while our feet were in sand, was very appealing.
Bio Restaurant : I had heard that there was a vegan and vegetarian restaurant on-site and knew I had to check it out. On our last morning, while the rest of the family was asleep, I snuck out for a solo breakfast and had this "cave restaurant" to myself. It's hidden away near Las Cuevas and not many people know about this spot that opens around 9 a.m and closes at sunset. If you're not a vegan or vegetarian, there are other dishes here as I ordered a Salmon option in addition to a dairy free one. Here you will find plenty of gluten free options as well, just let your serve know about what you're after as the menu was only in Spanish during my December 2018 visit.
Sunday Brunch at the Chapil Restaurant : If there's one thing you do, plan to have brunch here. It's only open on Sundays (unless you're staying at the adults only section, in which case this is your go-to option) and the breakfast was magnificent. They had a kids section with staff available to babysit so parents can enjoy a relaxing brunch, which was a nice touch. Be sure to ask the sashmi station to make a custom platter for you – it was divine!
Surprise and Delights : In addition to the restaurants you will find pop-ups throughout the resort. You just have to keep an eye out for the fruit carts, evening taco cart (our favourite taco spot on the resort), afternoon corn cart and the coffee and water stands. These were nice touches when we stumbled upon them.
Room Service : I will also mention that room service is included as part of your Air Transat vacation package and so, if you feel like staying in, you can easily do that. I know it sounds weird but get the Cold Avocado Shrimp soup and just keep in mind that it might take up to 45 minutes before your food arrives.
Drink Brands : Since I'm picky with my alcoholic beverage brands, I'll mention that when it comes to spirits you will find your usual suspects, no matter which spirit you drink. For example, when having a vodka based drink, I spotted Absolut, Svedka, Grey Goose, Smirnoff, Ciroc, Kettle One…and the list went on. Tequilla and Mezcal lovers will be thrilled at most of the bars and in general, you can call your spirit of choice when you order drinks because most spots don't have cocktail lists. I fell in love with a blended mango tamarind drink with rum! Craft beer lovers will not be overly happy as it's mainly Corona on the resort, but there is a local brand called Victoria that goes by the nickname "Vicky" and that Vienna-style larger was the only beer Chris ordered the few times he had beer (he brought his own craft beer with him to the resort!).
The Lobby bar and the Cantina were the only spots for live music nightly and it wasn't a "party vibe" but was perfect for those looking for a casual night and a few drinks. I do know that the Cantina has an adults only section which goes on until 4 a.m so that might be a bit more high energy or you could take a taxi to downtown Playa del Carmen.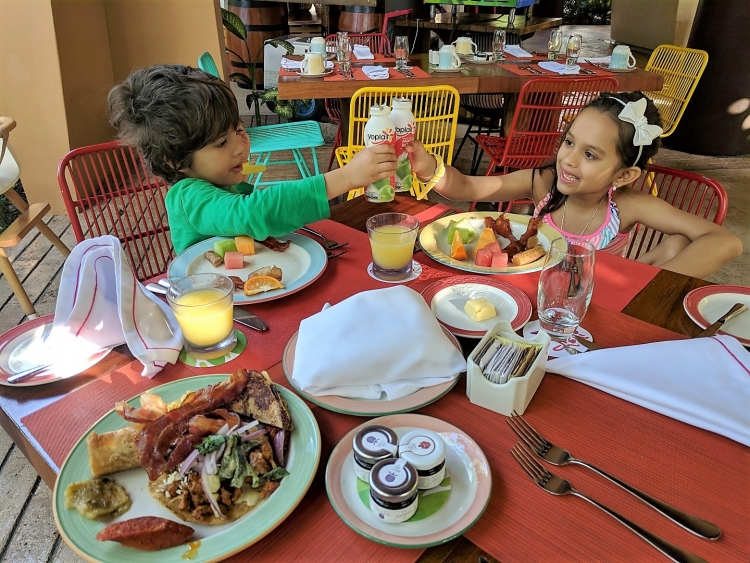 Tips to Make the Most of your Air Transat Stay at Hotel Xcaret Mexico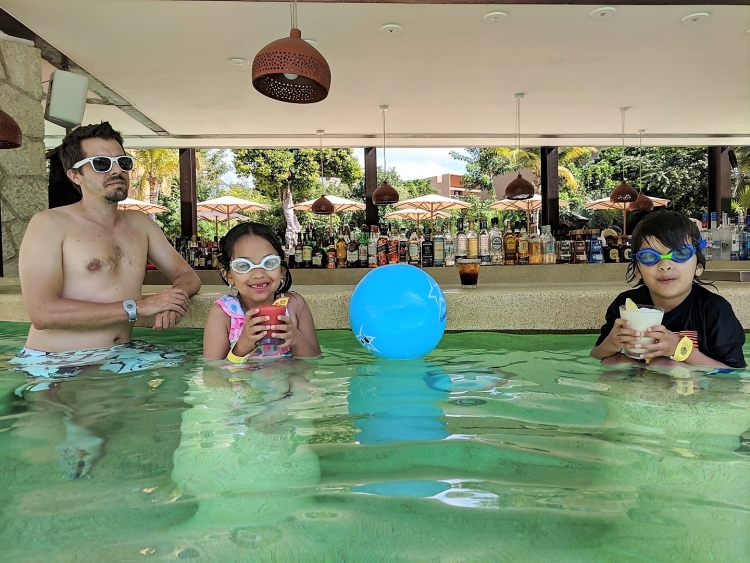 In keeping with the sustainability practices, you won't find straws on the resort so if you have young kids you may want to bring your own recyclable straw. Failing which, the juice boxes in the room do have straws so you can save some of those!
If you plan to explore the parks and don't have a waterproof camera, bring a waterpoof case for your phones because you will want to capture the amazing things you do. They do sell them at the parks but they're cheaper here in Canada.
You will find life vests at the parks and by the kids pool at the resort BUT if you're like Chris and picky, you may want to bring your own one for the kids because only life vest and not life jackets are available (certified life jackets have a head rest flap). When Baby Boy and Little Monkey got tired at Xcaret Park's river swim,  having a life jacket would have been a useful feature. We took ours from Toronto but didn't take them to the parks. In hindsight, we would have brought them with us.
Please ensure you take reef safe sunscreen that is biodegradable. This type of sunblock is environmentally friendly and lacks the harmful ingredients that are destroying the world's coral reefs. Most of the generic brand ones we use are not reef safe and while they are fine to use in the pools on the resort, keep in mind that most parks will ask you to not use them. They do provide you with a small pack of reef safe sunscreen but we were glad we took our own.
Every trip to Mexico has required the use of water shoes and this one was no different. I didn't need them on the resort (though they would be helpful with the rocky areas on the beach), but needed them for the parks as you're in and out of the water and then walking around everywhere while your shoes/slippers are in your locker.
Strollers can be rented through the guest services and we saw them throughout the resort. These are hard plastic options but I spotted a few kids fast asleep in them, so they must be comfy!
Transportation is provided to all the parks but know that Xcaret Park can be visited via boat as well. We only learned of this boat that departs from near the spa, on our last evening or we would have done that for sure!
We highly encourage you to take a look at Air Transat's Hotel Xcaret Mexico packages if you're looking for a family vacation. We truly had an amazing time and the grandmothers have already asked us to book a multi-generational trip there for both sides of the family! We'll definitely be heading back to Hotel Xcaret Mexico and Little Monkey is most excited for that!