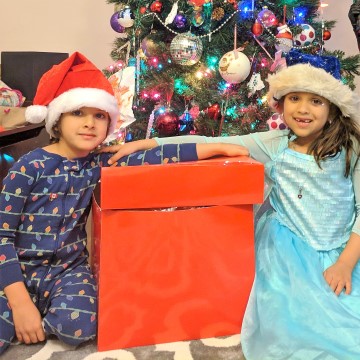 Today's gift guide feature is all about YOU! Yes, YOU! As you're trying to buy things for everyone one your list, we want you to also buy something nice for yourself and we've enlisted the help of our friends at Rogers. As you may know, we're huge fans of Rogers and we love the brand so much that Chris actually works at Rogers now! It has been a couple weeks since he started his new job and we've all been adjusting to the changes that come after having him at home for over seven years. More on that topic another day! Let's talk about holiday shopping today and how we're all getting along! Read on and you'll discover how you could win a $100 Amazon gift card or a $50 Today's Shopping Choice gift card.
Disclosure : This post is in partnership with Rogers but, as always, opinions are TOTALLY  ours!
Our tree is up but there are no presents under the tree because we haven't really figured out our plans. This is the year we spend Christmas with Chris' side of the family but we waited a bit too long and flights are a bit insane for a 3 day visit to Sydney, Nova Scotia. Perhaps this is the year we start a new Christmas tradition of being home by ourselves (gulp, neither Little Monkey nor I are happy about this idea) but I'm hoping for a Christmas miracle and a crazy seat sale. Since plans are up in the air, I haven't figured out our matching Christmas PJs or what sort of gifts to buy (ones that travel easily or big ones to brighten up their faces on Christmas day). Last afternoon the kids wrote their letters to Santa (phew at least I know where to get MOST of those toys from!) and I've already told Chris that I NEED some mini exercise balls and a Google Pixel 3. Well, I also want a Go Pro but I haven't been THAT GOOD this year. None of us know what Chris wants this year but he'll probably be happy with beer and movie passes. As for the extended family of grandparents, cousins, aunts and uncles….I have a feeling they'll be last minute online orders. I can't believe I'm so unprepared this year.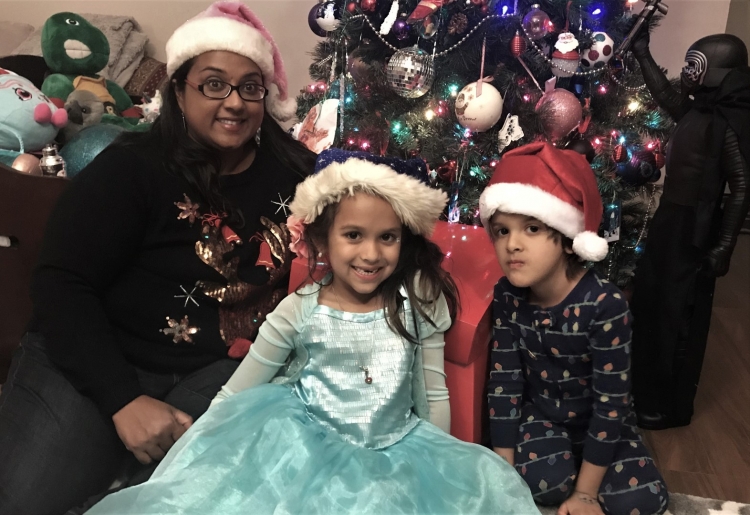 Last week while we were in Mexico our friends at Rogers had sent us an Advent-ure box and given my love for all things Christmas ( we have 3 advent calendars going on now!!), I was stoked about opening these! The fun part is that we get to share some things with you and also gift some to our charitable partners. We played catch up last evening and opened a few presents with a sugar high Baby Boy, just watch and see what I mean!
You may recall that the kids have been enjoying our Rogers IgniteTV remote a fair bit, especially on weekends.
Now they have something else to keep them busy, the Santa Trackers! From games to Karaoke and keeping tabs on Santa, this portal is fun for the entire family.
Get in the Holiday spirit with the Santa Tracker App on Ignite TV! From Christmas karaoke and read-a-longs to your favourite holiday movies, check out all the fun features Ignite TV has to entertain the whole family. Learn more at https://t.co/xil5FCUn7g #IgniteEveryday pic.twitter.com/8V7umhrURy

— Rogers (@Rogers) November 28, 2018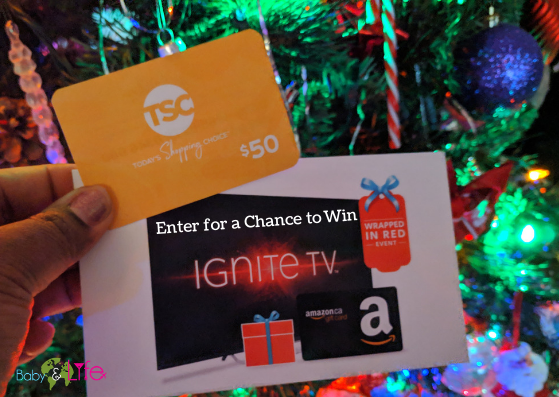 Sharing is caring and 'tis the season for that. I'm trying to ignore my shopping as I cozy up next to our twinkly tree and curl up to watch my favourite Christmas movies (Love Actually reigns supreme!!). However, it's a task that's high on my to-do list this week and I know you probably could use some extra help to get some things off your shopping list, so enter below for a chance to win one of two gift cards! Be sure to check out our other Gift Guide Giveaways!