Last weekend we spent an entire day in Brampton and found many things to do in Brampton with kids. You don't hear of downtown Toronto folk planning a day trip to Brampton but that's exactly what we did once we got into our Communauto Flex car share on Saturday. We enjoyed some winter activities, found great eats and came home with tired kids. What a winning combo, huh?
Disclosure : This post is in partnership with Communauto but, as always, opinions are TOTALLY ours! Use promo code "YASHY20″, to receive a $20 driving credit when you sign up as a new customer!
A Day Trip from Toronto to Brampton with Communauto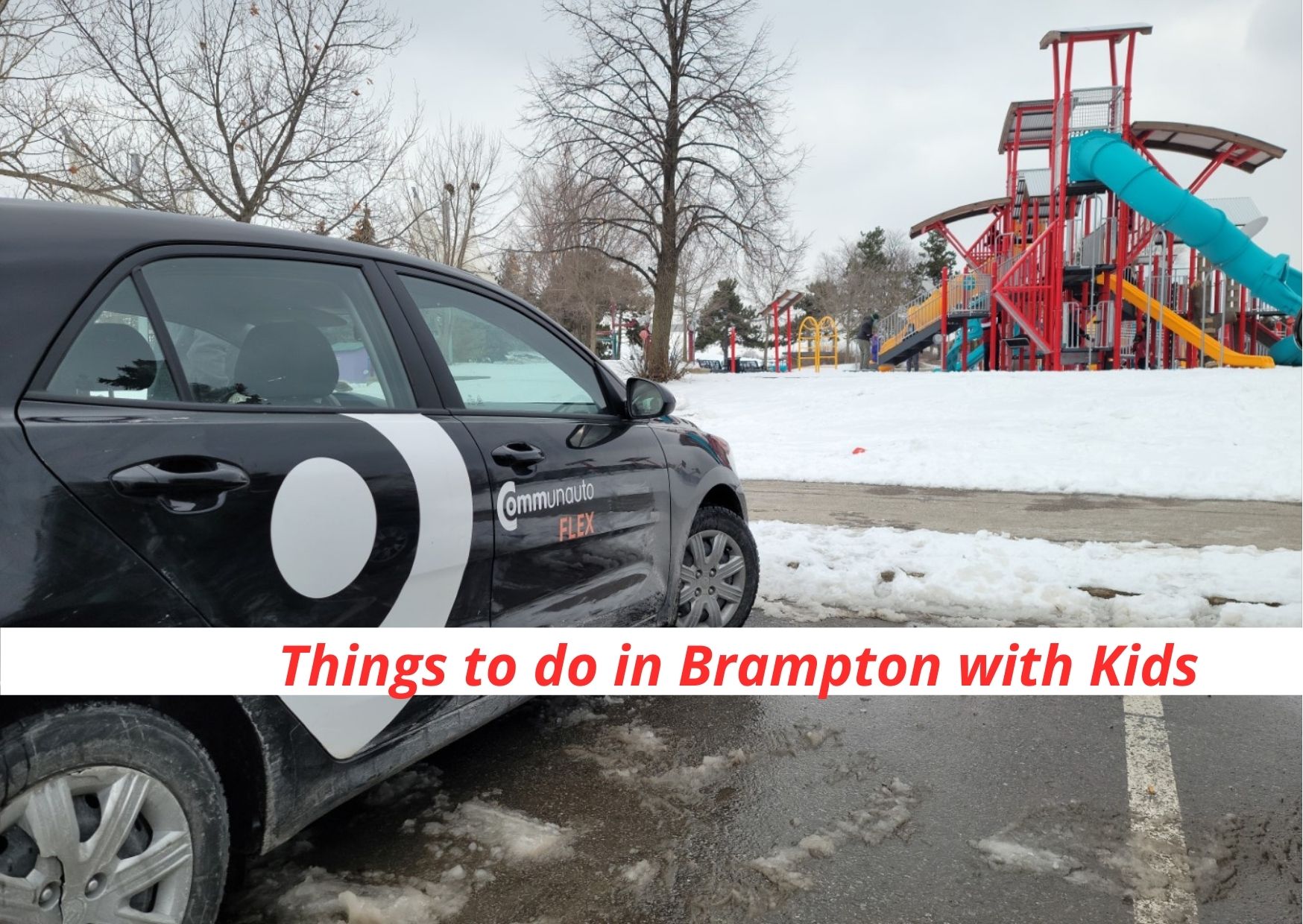 Last summer we discovered the Communauto car sharing app and told you all about our day in the Toronto Beaches. We've been using their service for day trips and have got comfortable using the FLEX option. With the FLEX Communauto option you can pick up a car in one zone and drop it off at another. For example, for our Brampton day trip, we grabbed the car near Spadina station and at the end of the trip we dropped it off near our home. Yes you're at the mercy of finding a car at the moment you need it, but we found a couple on Friday evening. Another tip we've learned is that even with the FLEX option, it's only $50 a day to use the car. So we picked it up on Friday evening around 8 p.m. and dropped it off on Saturday by 8 p.m. Given the cost of gas these days we honestly thought this to be a fantastic deal! In addition, during winter, a credit of up to 15 minutes is applied to your trip for snow removal so that's a bonus 15 minutes!
The Communauto Toronto car share rates are INSANELY well priced starting at $15 per hour or $50 per day on the free plan (150 km included per trip + 25¢/km after 150 km) and go as low as $2.95 and $20.65 per day on the most premium plans. Keep in mind that all Communauto prices include gas, maintenance and insurance! Since many asked me this question, I'll reiterate, Communauto vehicles are covered by insurance, including collision and third-party liability.
If your city has the Communauto car sharing service, you should look into it. It has been a better (and cheaper) option for our family versus renting a car for day trips under 150km.
Things to do in Brampton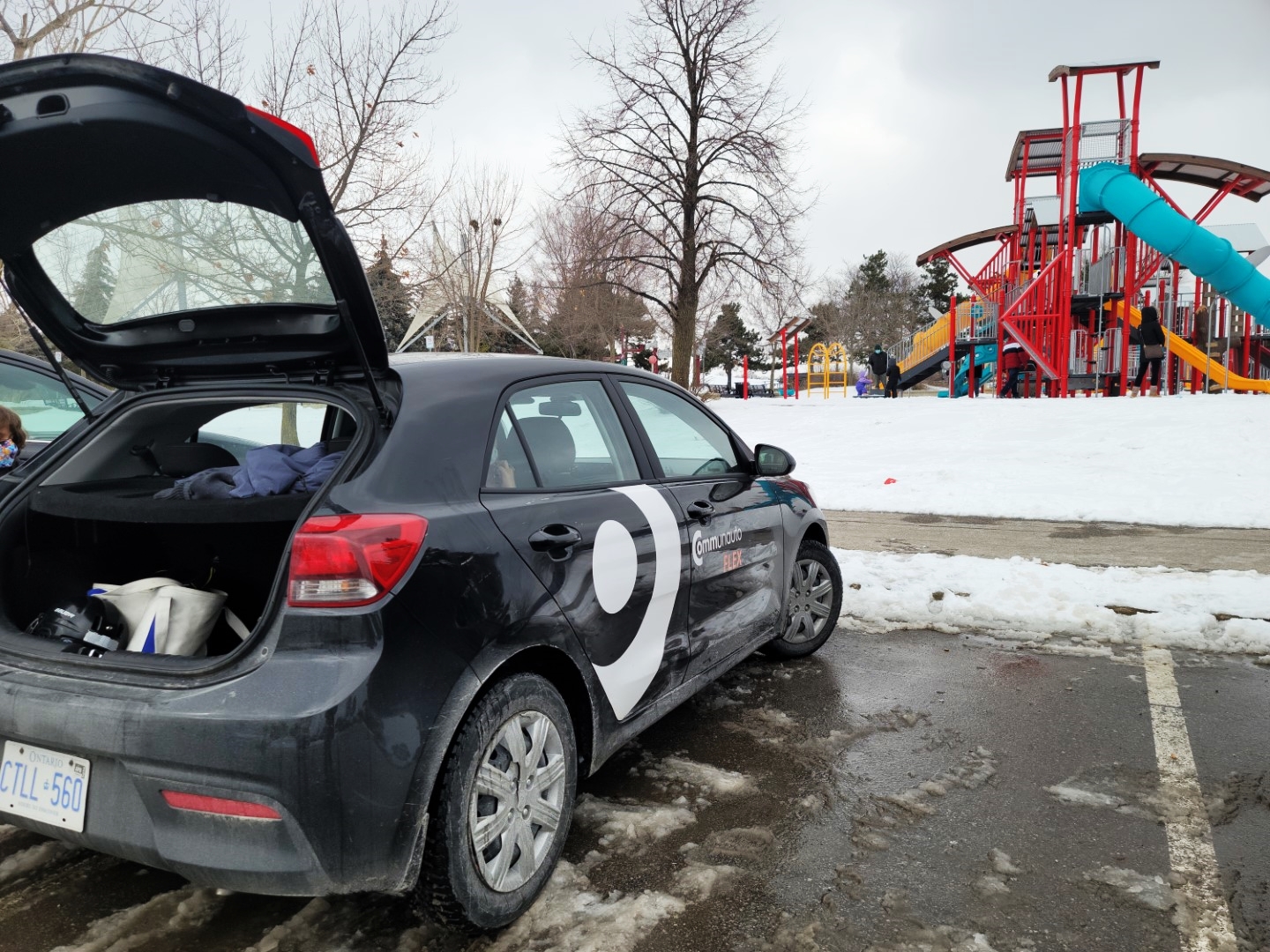 We've only been to Brampton a couple times and it was always to visit a friend. I kept hearing about the good eats and fun to be had in this city that's an hour drive from downtown Toronto (with traffic) so I thought it would be a great day trip for our family. We're on a mission to not hibernate this winter and having Communauto access certainly helps!
Eat Spicy Caribbean Food!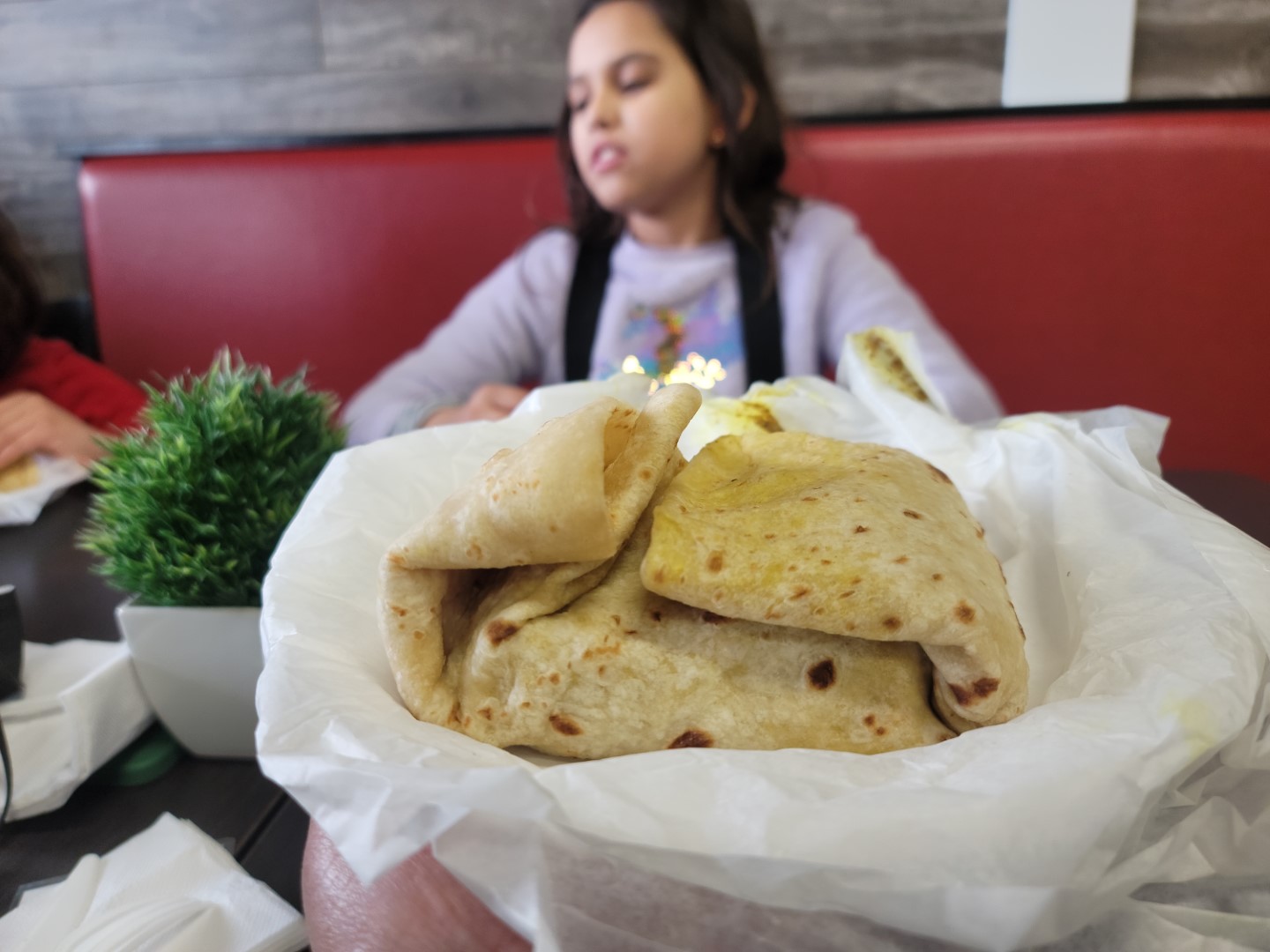 We're late risers so we only left home around noon and decided to start our Brampton road trip with lunch. Pepper on the Side, a family run business serving up dishes from Trinidad, was a great way to start our Ontario day trip. The food was spicy and warmed us right up. I obviously got the Goat Roti and the kids got the Doubles while Chris opted for the Jerk Chicken Roti. Although we said no spice for the Doubles, they were a bit spicy but the kids continued to eat them, which was a solid sign! Portions were large and we even had some for leftover the next day.
Go Tubing at Ching Park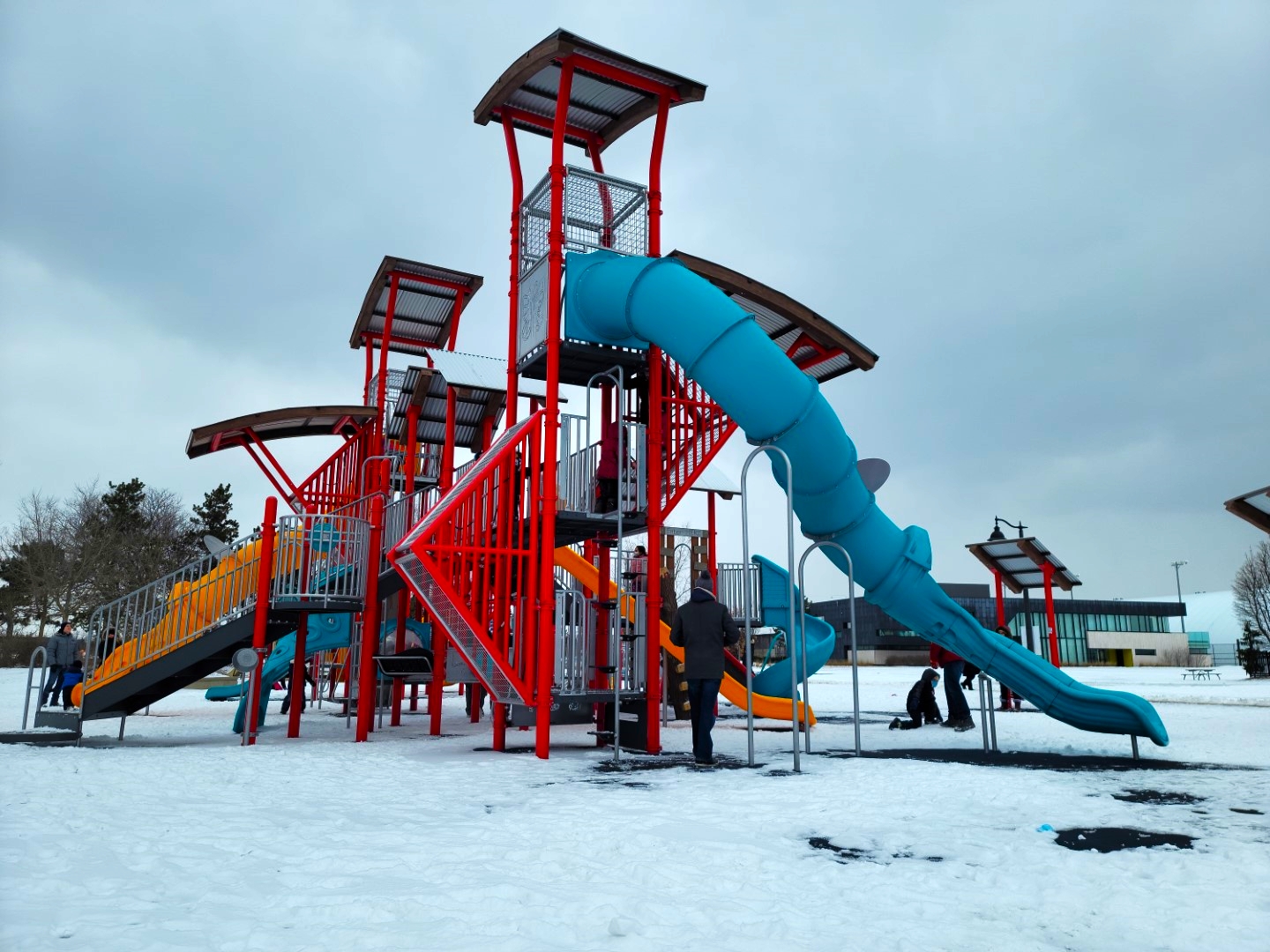 With full and warm bellies we got back in our Communauto and headed to Chinguacousy Park. To be honest, this was the main reason I decided to come to Brampton with our kids. Ching Park (as the locals call it), is a park you could easily spend an entire day at and I highly recommend this family friendly activity in Brampton. As soon as we parked our Flex vehicle, the kids spotted a brightly coloured playground with epic slides and ran towards it. We had to drag them away from the slides but finally made our way to the ski hill. You can snowboard, ski , skate and go tubing here even if you don't have your own gear.
The Ski Challet has rentals on a first come first served basis and we decided to go tubing that day. A 6 ride pass was $15 and we were able to share it as a family. Our original plan was to allow each child the chance to go on 3 rides but given that we arrived at peak time (3 p.m), we decided to omit standing in line for 20 mins and all four of us went down the tube hill. That was fun! I was so glad they had the magic carpet to get us to the top of the tube hill too! Please note that there is a minimum height requirement of 42″ and maximum weight of 250 lbs for the tube hill.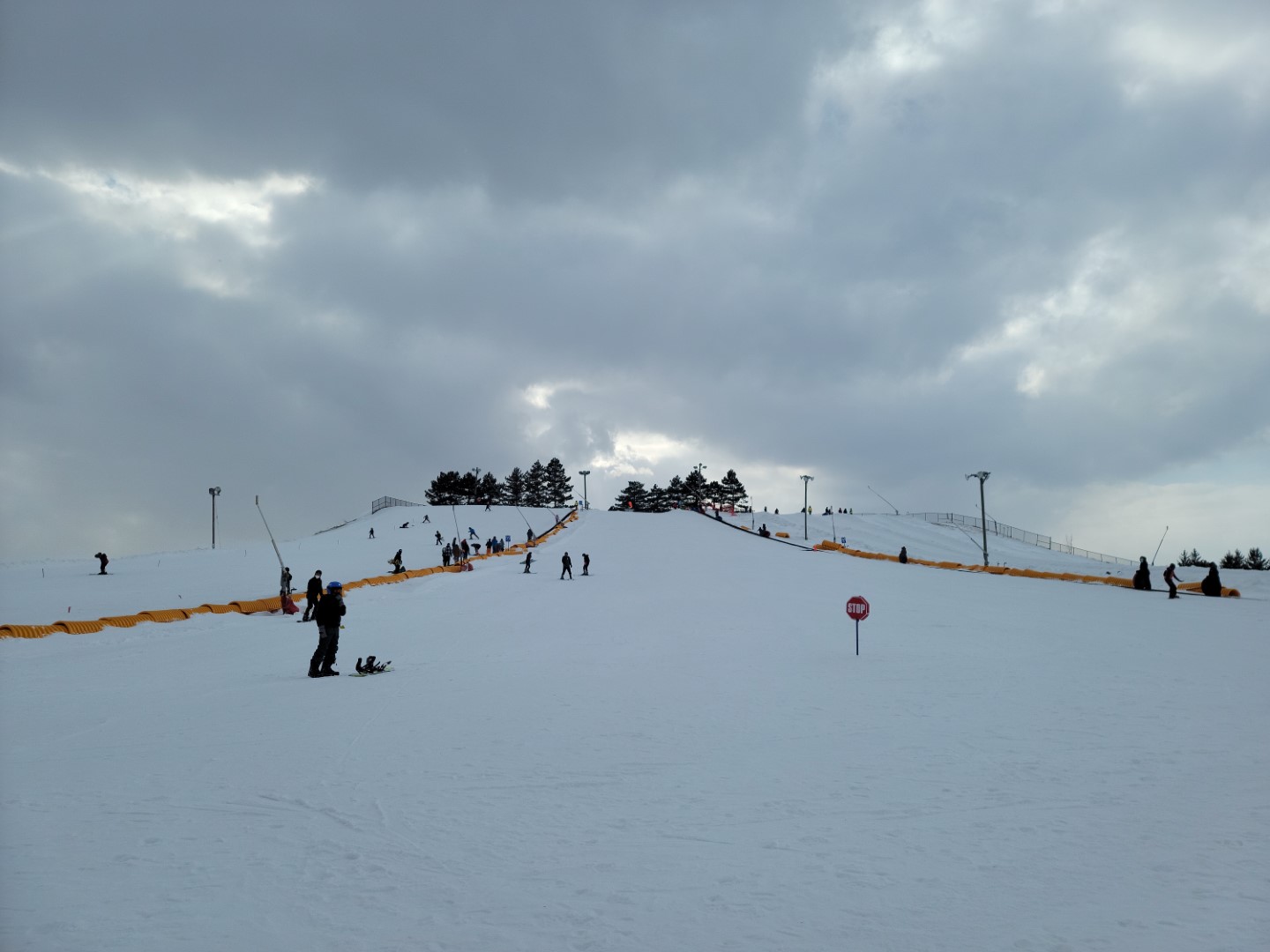 Unfortunately the Mini Moo Farm, Petting Zoo and Pony rides were closed due to COVID but the trackless train was operating. I was informed that it runs on weekends and holidays between noon to 5 p.m. and is $4 per person. In the summer time there's splash pads, paddle boats, wading pools and so much more, so we'll have to come back.
Visit Canada's First Churro House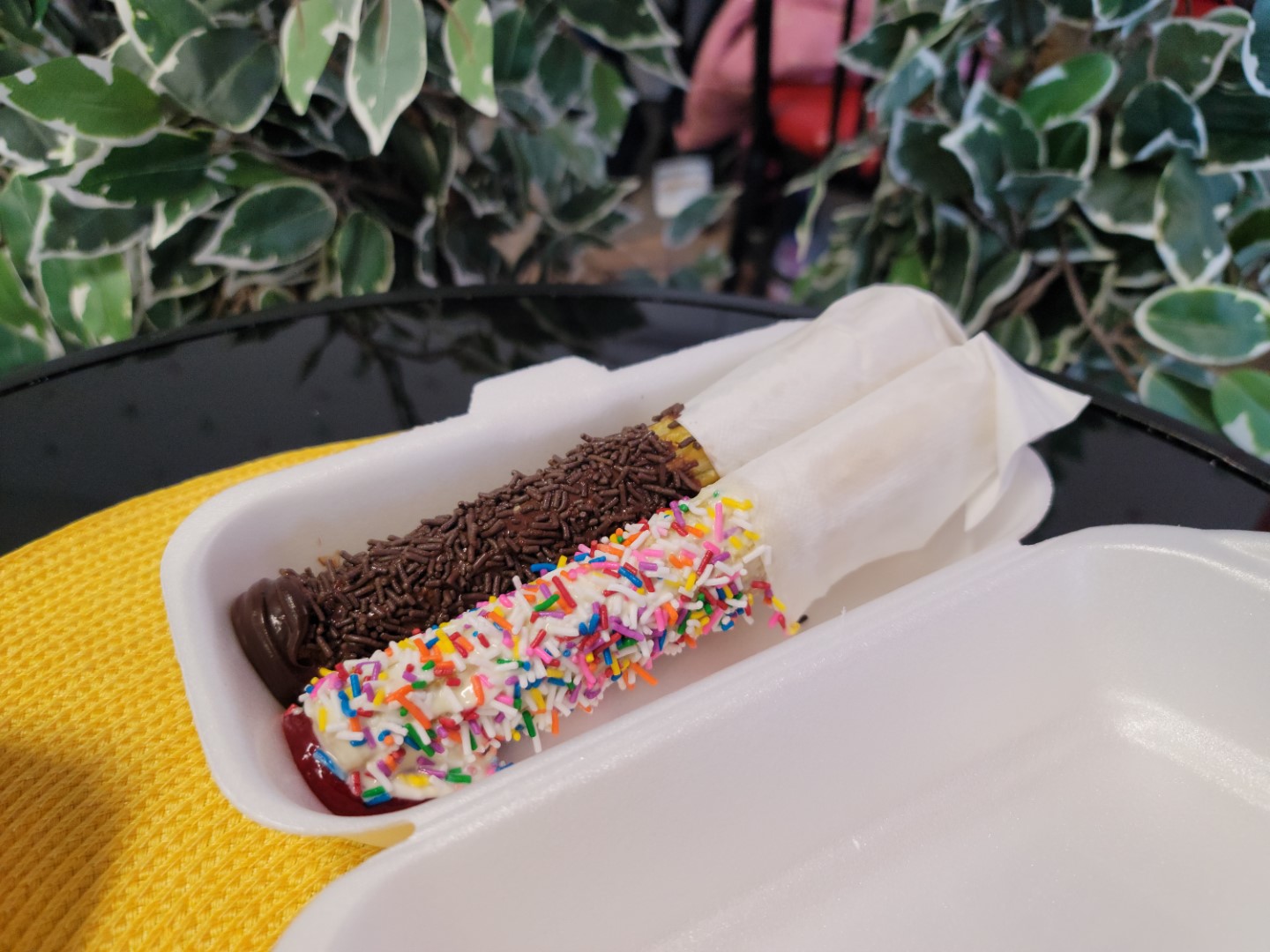 Nearby our next activity we discovered Mi Churros. This Spanish café in Brampton was a great spot for a quick nibble and they served up fun treats.
Sadly I wasn't able to try the savoury items beyond the Empanadas (beef is always my favourite) so I will be returning! When we were in Madrid we learned about the history of the Churro and the fun flavours on offer here definitely brought back some sweet memories.
Go Skating at Gage Park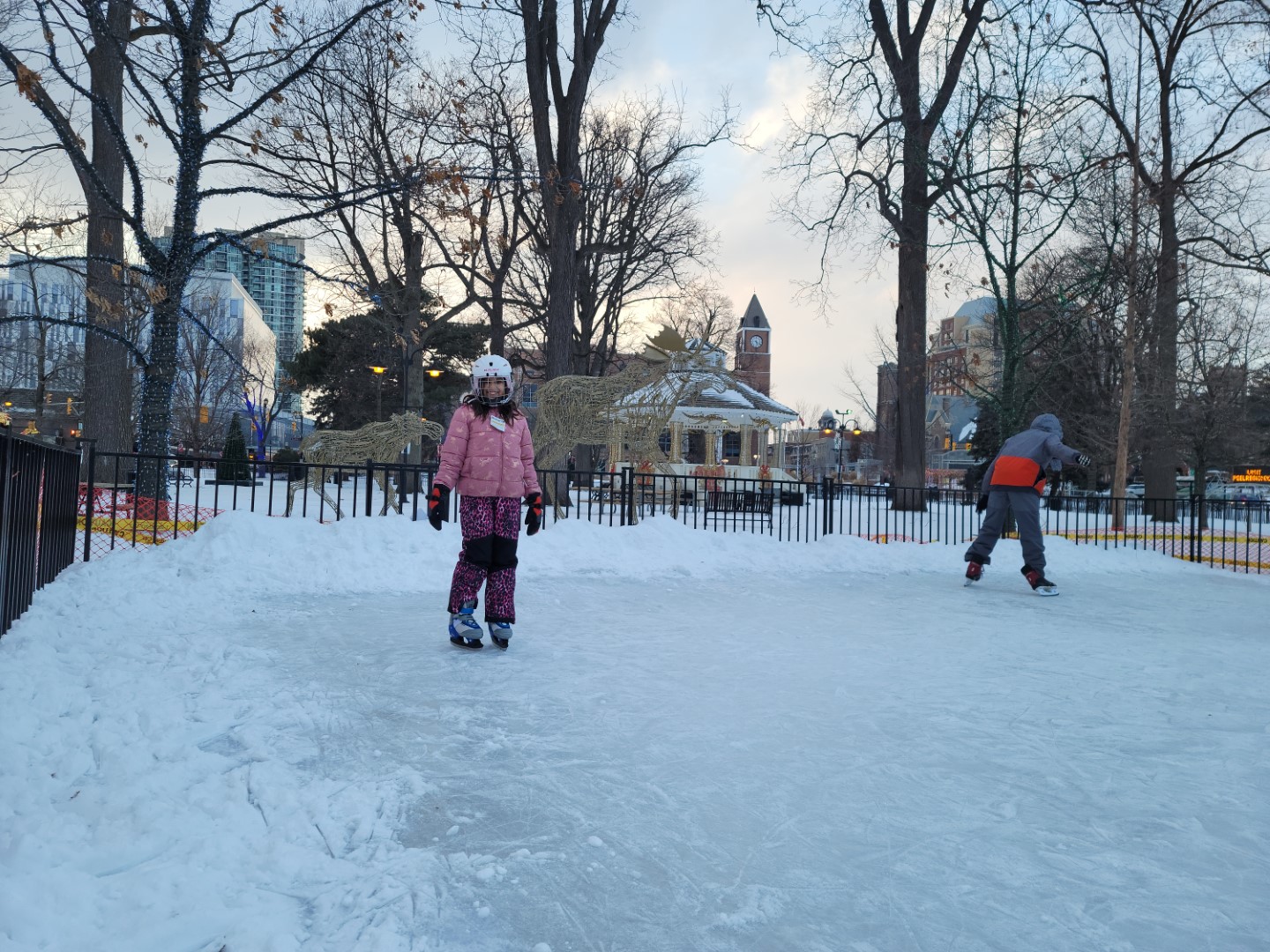 We didn't go skating earlier at Ching Park because we wanted to take in downtown Brampton with a skate at Gage Park. This spot is super cute (especially come sunset) with light up decorations and a gazebo. The skating trail loops around and there's a playground nearby with benches for those looking to rest the weary legs.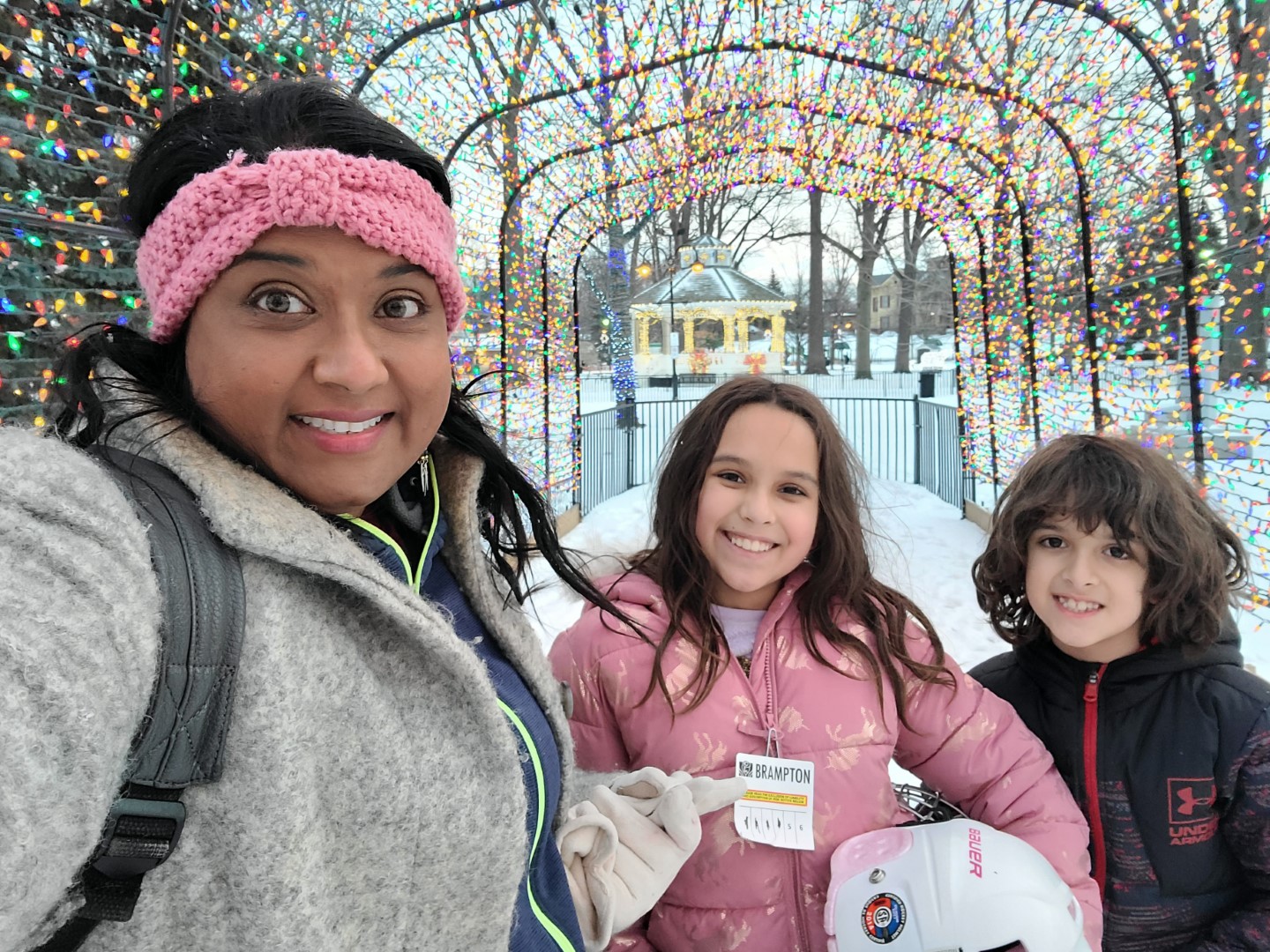 We had our own skates but the skate rental shop was also open and there were skate aids for kids and beginners. Bring your coffee from Mi Churros and enjoy it here. Oh, I should also mention that there is a parking garage nearby and parking was free when we visited on a Saturday (street parking near Mi Churros was also free).
Get Indian Food and Treats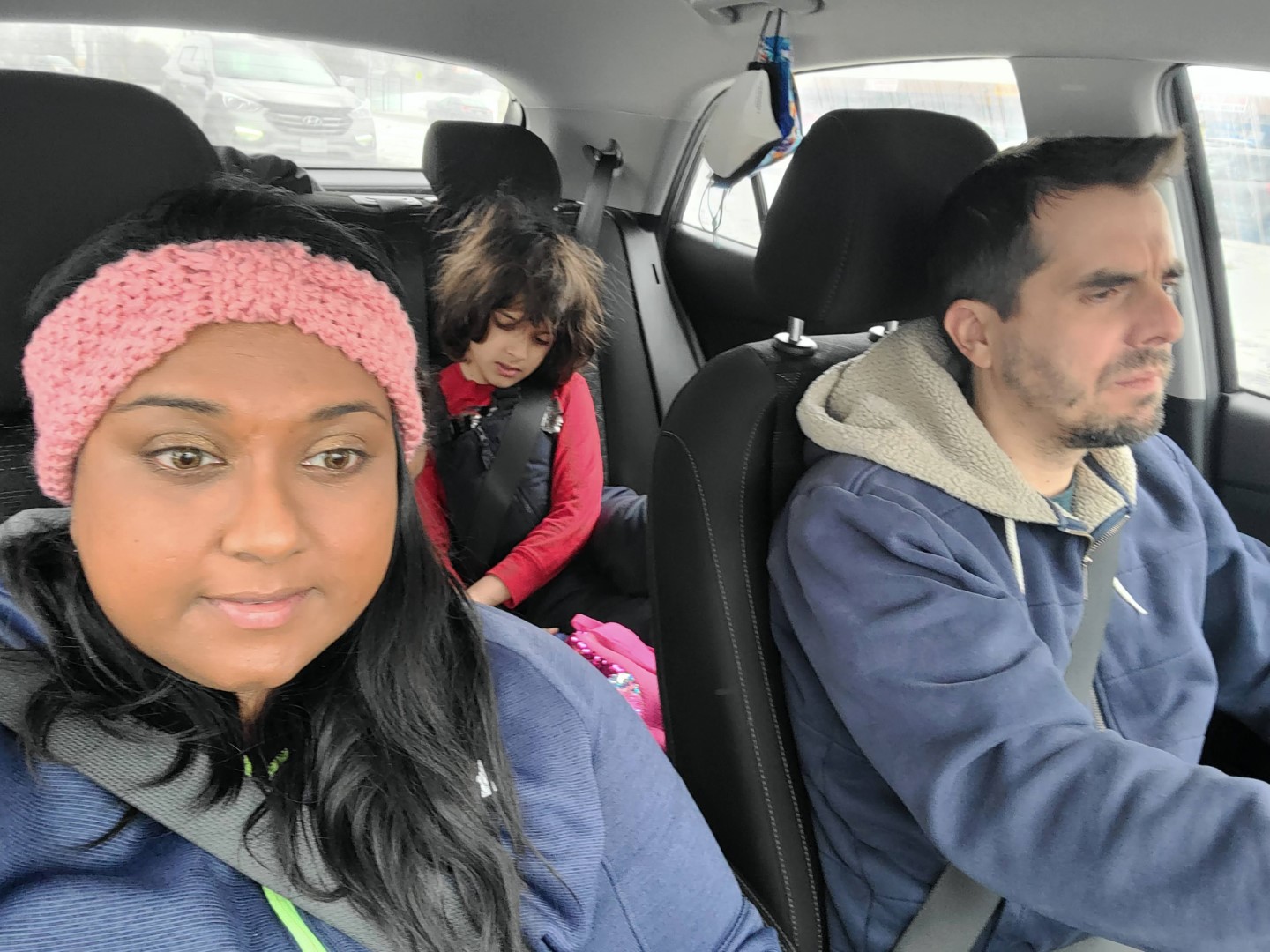 Unofficially dubbed Brown Town, Brampton has a solid South Asian food scene. I ran out of time so I didn't get to any of the Indian grocery stores I wanted to but I did swing by Kwality Sweets for Mithai and Falooda before grabbing dinner from Tandoori Flame. The Kwality logo brought back so many memories of an ice cream I used to eat in Dubai growing up. It was individually sized and came housed in a tennis ball shaped white plastic container. Anyone else recall this? Anyways, Kwality Sweets has been serving the Canadian community since 1996 so it's pretty much an institution!
When I walked in to Tandoori Flame I quickly realized that I wasn't ready for the buffet life just yet so we grabbed some takeout from the counter next door and got back in our Communauto, refueled the car and brought the food back home to enjoy with the Jalebis and Burfi we bought at Kwality Sweets. I will have to return to North America's largest Indian buffet (according to their website) because the food is good here.
Eating is most certainly one of the fun activities in Brampton, that's for sure!
Refueling and Dropping off the Toronto Car Share Rental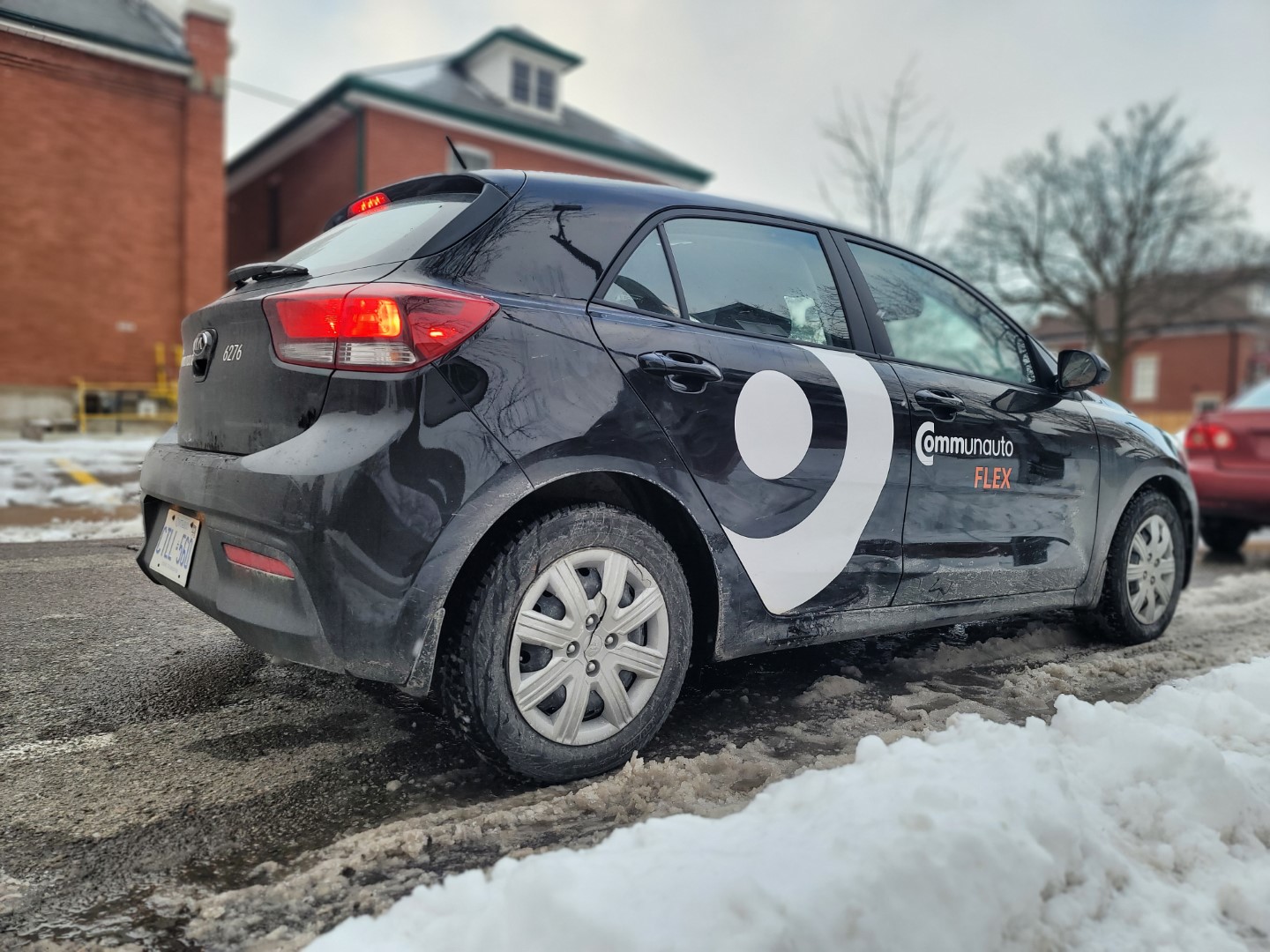 We spent our day discovering some fun things to do in Brampton thanks to the Communauto Flex car option. Of course our return trip was under the 150km limit (if you go over you are charged a nominal amount per KM) but we did use a fair bit of gas. The glove box holds a credit card which has to be activated through the Communauto app on our phone and we were able to easily refuel the car with no additional costs on our end. Given than we rented the car for $50 and Communauto spent $30 on gas, you can see what a great Toronto car share program this is. It's the best Toronto car rental service we've found to date!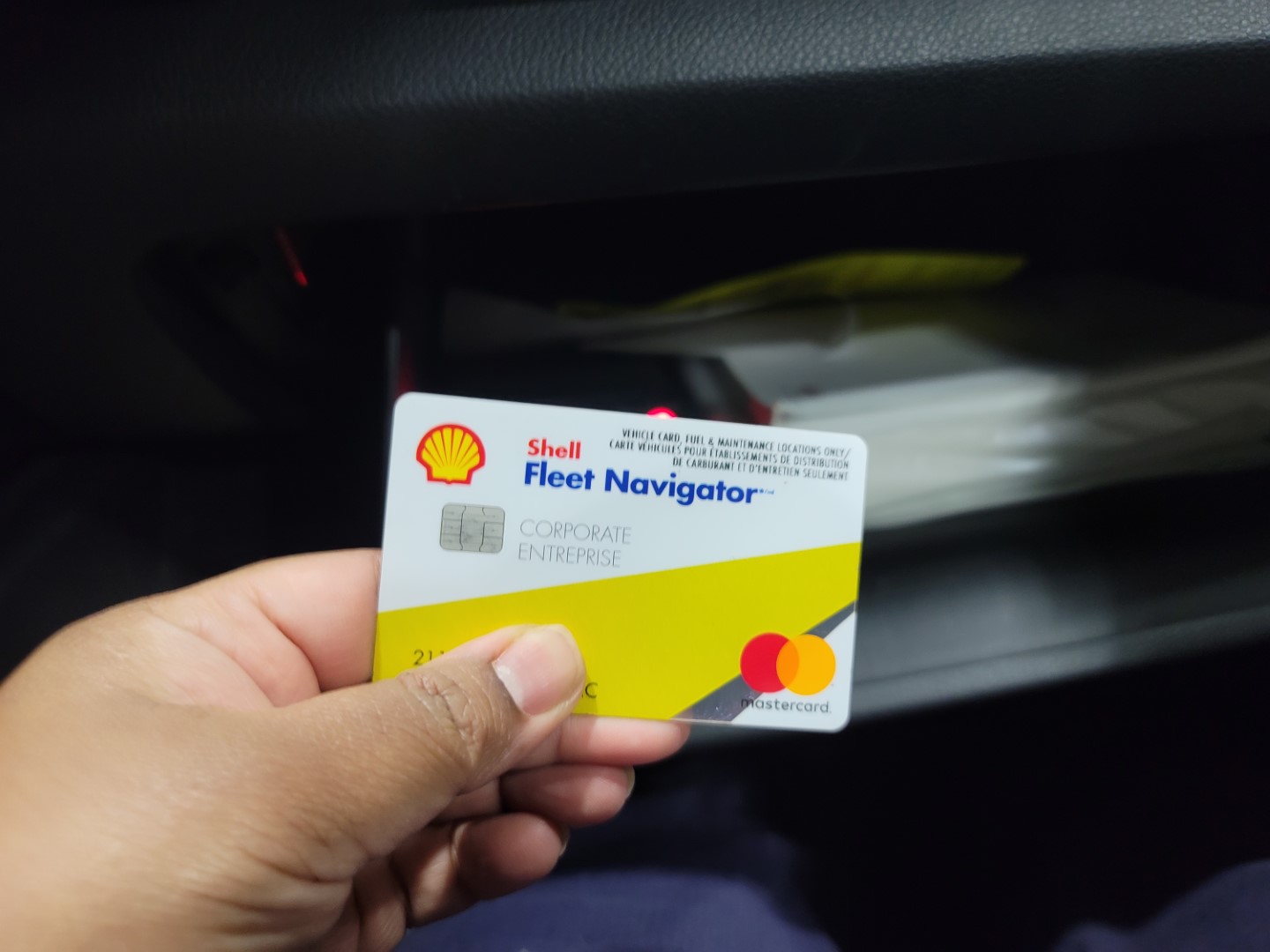 Chris picked up the car near Yorkville but after he brought us home he was able to go park the FLEX car a few streets from our house. Communauto FLEX vehicles don't need to be returned to the same spot it was picked up at, which is very convenient. This is why you should check the app a couple times before your planned outing… wait too long and you may miss a car you're eyeing but you could also luck out and find a car closer to you! There are detailed instructions on where to park within the city and what to look for when determining the best place to park so it was easy for Chris to choose a return spot.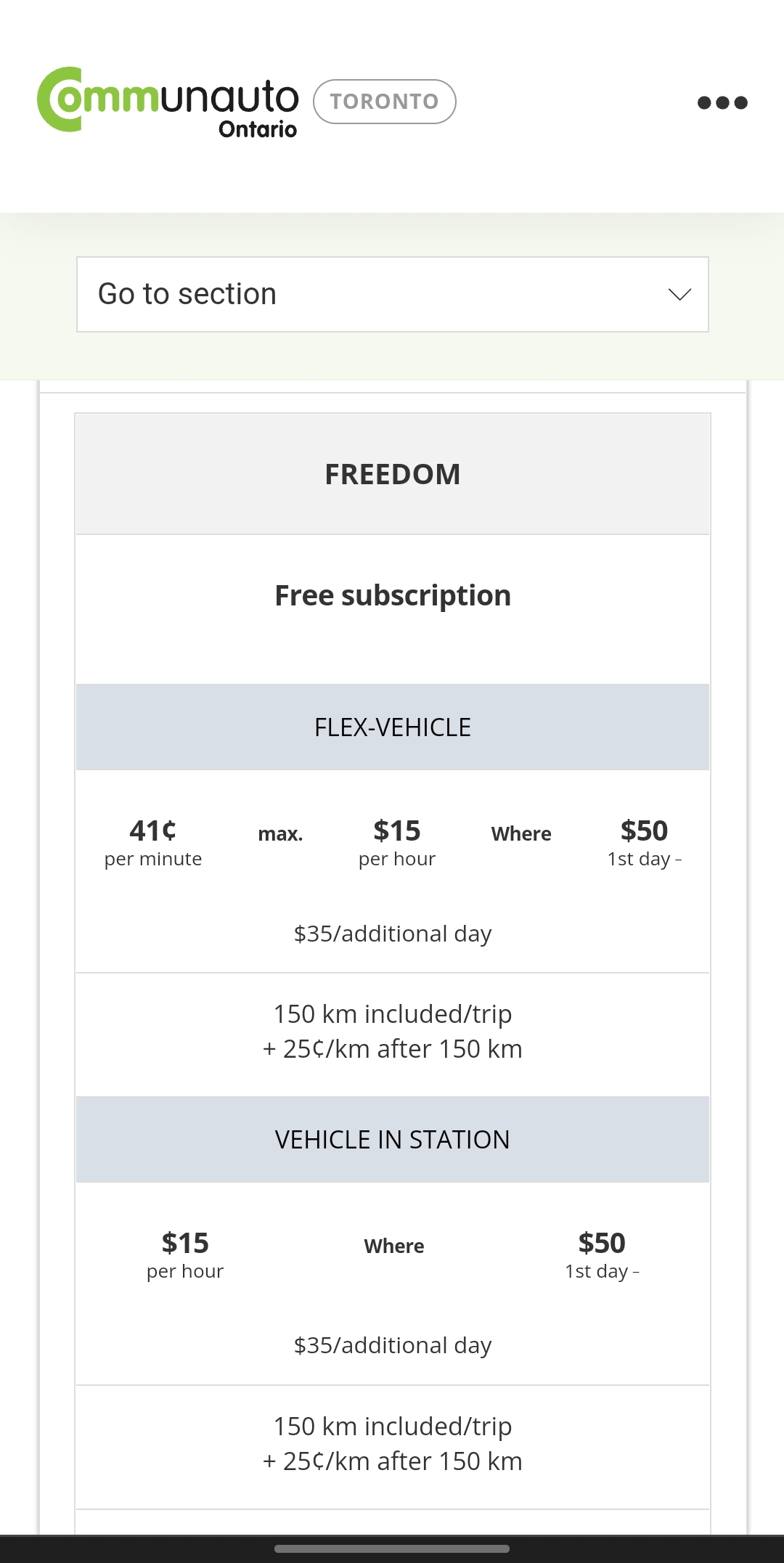 We continue to use Communauto for our day trips and even for overnight stays because if we pick a car up at noon on Saturday we have until noon on Sunday to return it! That means we can have many adventures and still sleep in, because you KNOW we're not early risers here! If you're looking for more ideas on what to do in Brampton, check out our friends at Exploring Family.