We recently pretended that we were on a beachy holiday as we explored Toronto's Beaches neighbourhood with Toronto car share service Communauto. And we loved every single minute of our unplanned day. The beauty of this entire day was that we were on our own schedule and was able to go with the flow whilst ticking off various things to do in Toronto with kids that had been on my list for ages. If you're visiting Toronto with kids, we're going to share one of the easier ways to get around the city and tell you how to spend a day in the Beaches.
Disclosure : This post is in partnership with Communauto but, as always, opinions are TOTALLY ours! Use promo code "YASHY20″, to receive a $20 driving credit when you sign up as a new customer!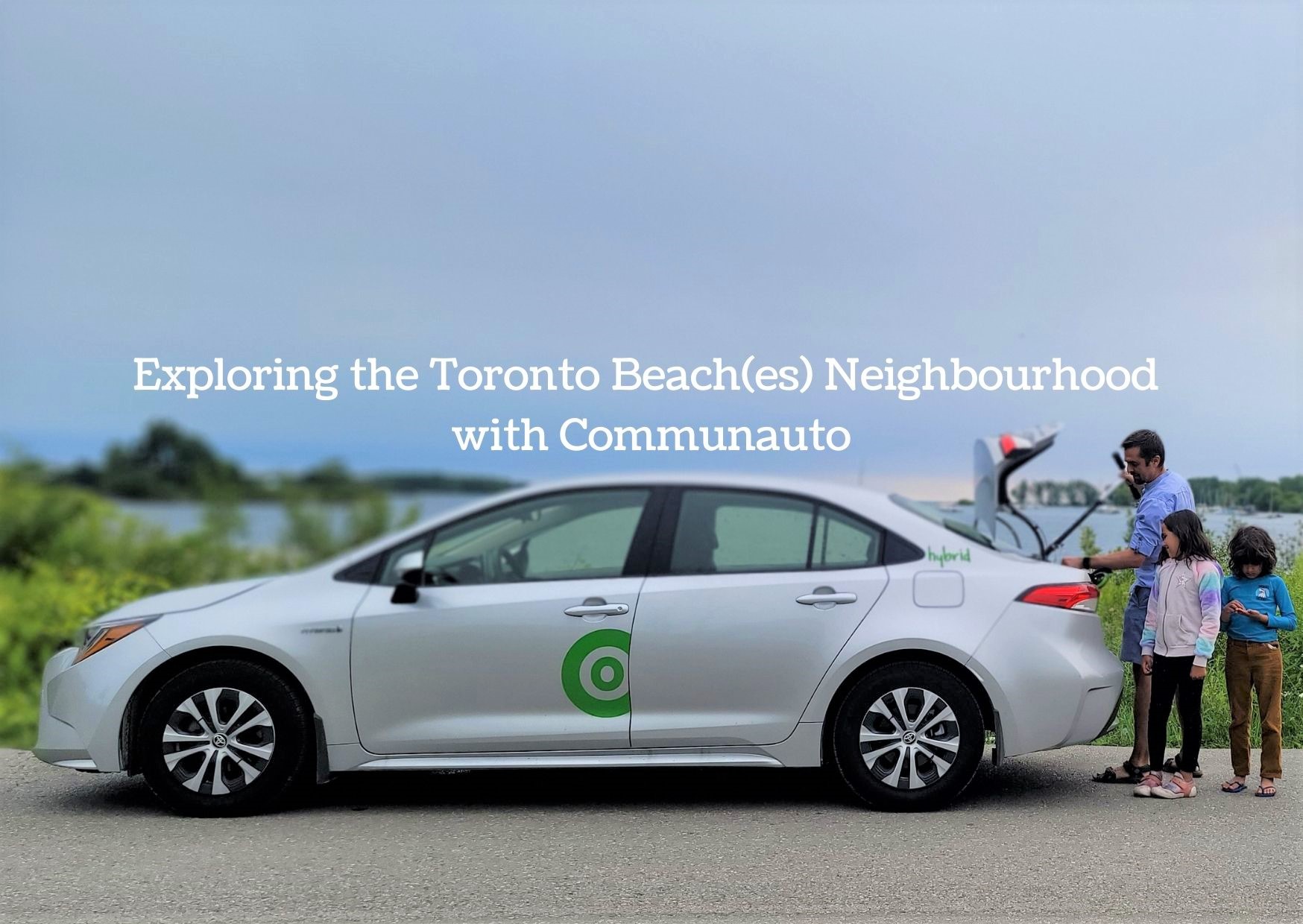 Toronto Car Share Program | Communauto
We're relatively new to using Communauto despite them being around for quite some time. Although Communauto's Southwestern Ontario branch began in 1998 as a small group of people in Kitchener-Waterloo came together to save money and reduce car usage by sharing a donated car, the company officially got it's start in 1994 in Quebec City. Today the Canadian company offers carsharing options in fourteen Canadian cities (Waterloo, Hamilton, London, Halifax, Guelph, Kingston, Ottawa and Toronto to name a few) and Paris, France.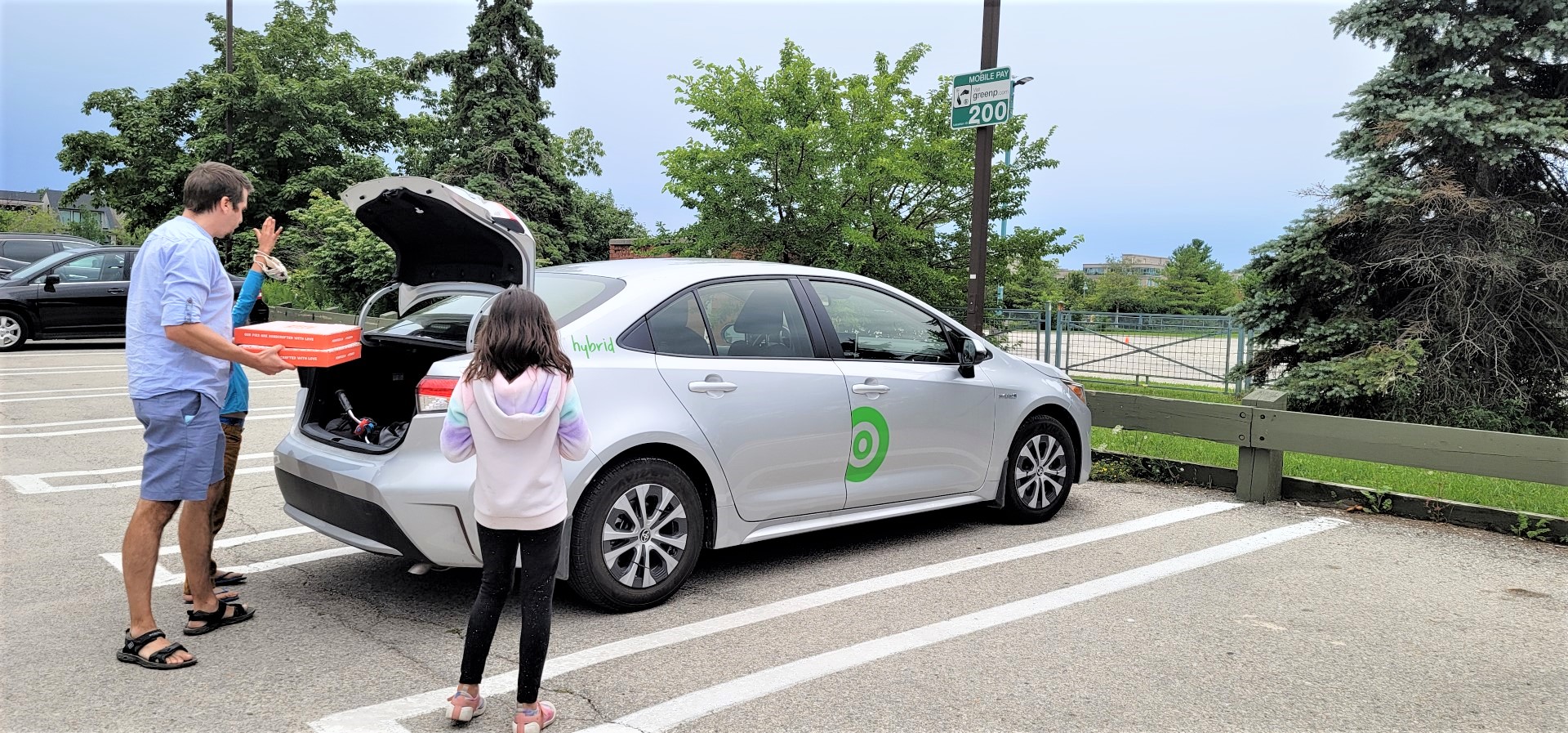 In Ontario their fleet is made up of 21% hybrid vehicles and 79% gas vehicles. As you can see, for our day trip to the Beaches (yes I know it's officially called THE BEACH but I'm stuck in my ways okay?) we were using a hybrid vehicle. At the moment there's a free and super convenient membership plan offered to sign up with Communauto-which is what Chris did a few months ago. They are also offering 30 minutes of free daily usage for new members which is quite the deal!
Now that we're Toronto car sharing members we can easily open the app and choose a car for our needs. What's most convenient with Communauto is how they offer two options. You can pre-book a vehicle up to a month in advance if you plan to pick and return the vehicle to the same station. Or, if you're looking for one way rentals (how awesome is that!!), then you open the app when you want, book a FLEX vehicle and release the car at your destination within the FLEX Zone that's shown in your app. The Toronto car share rates are very reasonable starting at $15 per hour or $50 per day on the free plan (150 km included per trip + 25¢/km after 150 km) and go as low as $2.95 and $20.65 per day on the most premium plan for return trips. Keep in mind that all Communauto prices include gas, maintenance and insurance! Oh and yes, Communauto vehicles are covered by insurance, including collision and third-party liability.
Our Communauto Review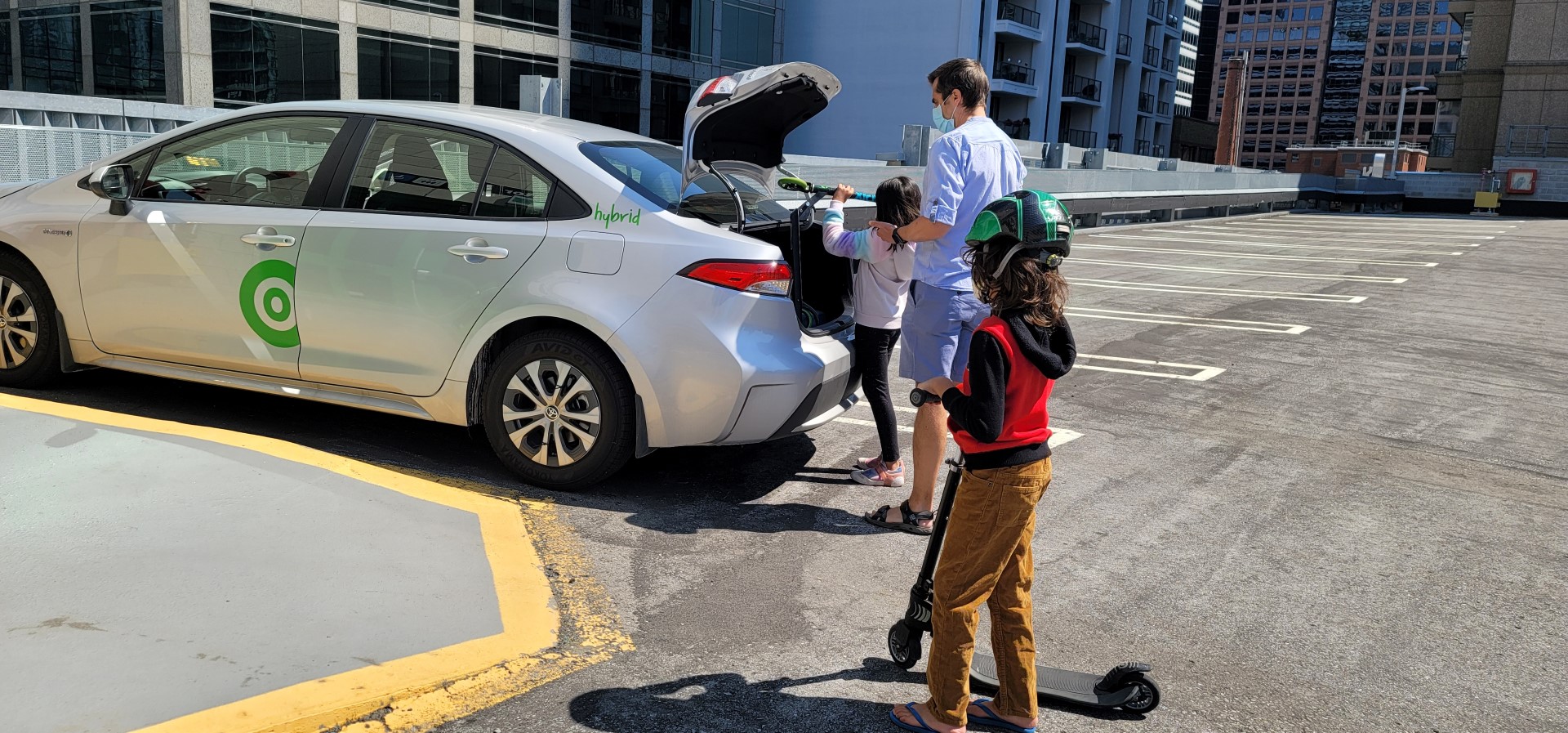 Living in the heart of downtown Toronto we're in a bit of a dead zone (understandably) as parking is hard to come by at Yonge and Dundas. What this means is that the closest FLEX location to us is about a 15 minute walk away and it's a busy spot so our best bet for FLEX vehicles is week day evenings and later in the night on weekends. This is why we prefer the round trip options for our Toronto day trips.
Booking and using the app is quite easy and intuitive, which I truly appreciate. Their customer service is also quite fabulous as someone has always replied to my emails or picked up our calls when I reach out to customer service. As a family who has been making use of Toronto car share plans for over a decade, we're truly loving our Communauto experience and have found them to be the least expensive option for our lifestyle. I mean $50 for a 10 hour trip is crazy good, right? We've already referred our close car-free friends to sign up with Communauto so needless to say, we truly love the offering.
Don't forget to Use p

romo code "

YASHY20″, to receive a $20 driving credit when you sign up as a new customer!
How We Spent a Day in the Toronto Beaches with Kids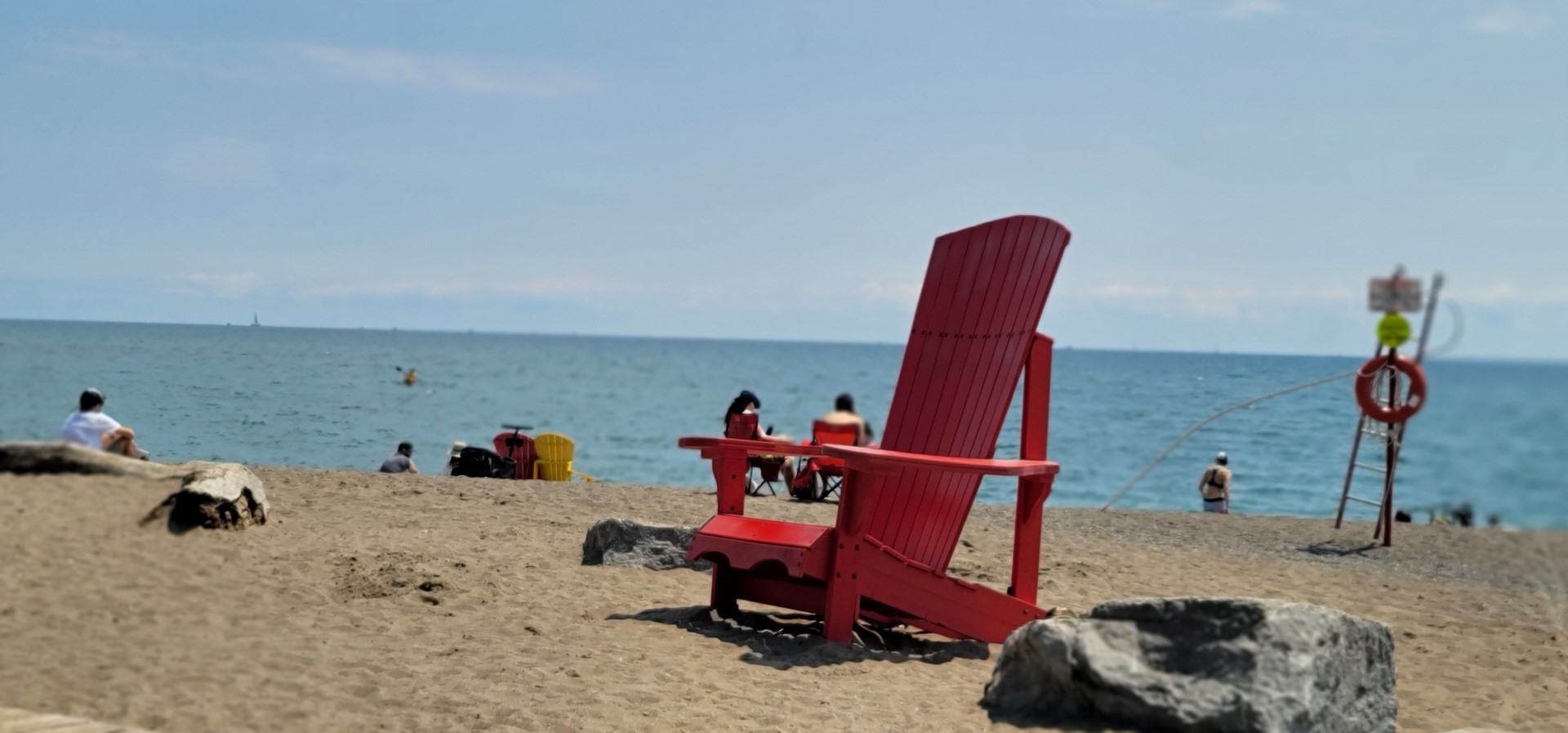 We had booked a Communauto return trip earlier in the week knowing that we wanted to spend our holiday Monday exploring the Beaches neighbourhood as a family. The Beaches is an east end neighbourhood in Toronto that is about a 20 minute drive from the city and while we could have taken the 501 Queen Street car, we wanted to pack for a full day of exploring the Toronto beaches, restaurants and playgrounds so we had a lot of stuff with us. Hence the Toronto car share route! We turned up at the parking garage and easily gained entry to our car share by unlocking the vehicle via the app (once you unlock the car you can grab the actual keys, parking pass and gas card from the glove box). Once we sanitized the high touch surfaces and the kids buckled into their car seats, we were good to go explore the Beach(es).
Beaches Toronto Restaurant |Brunch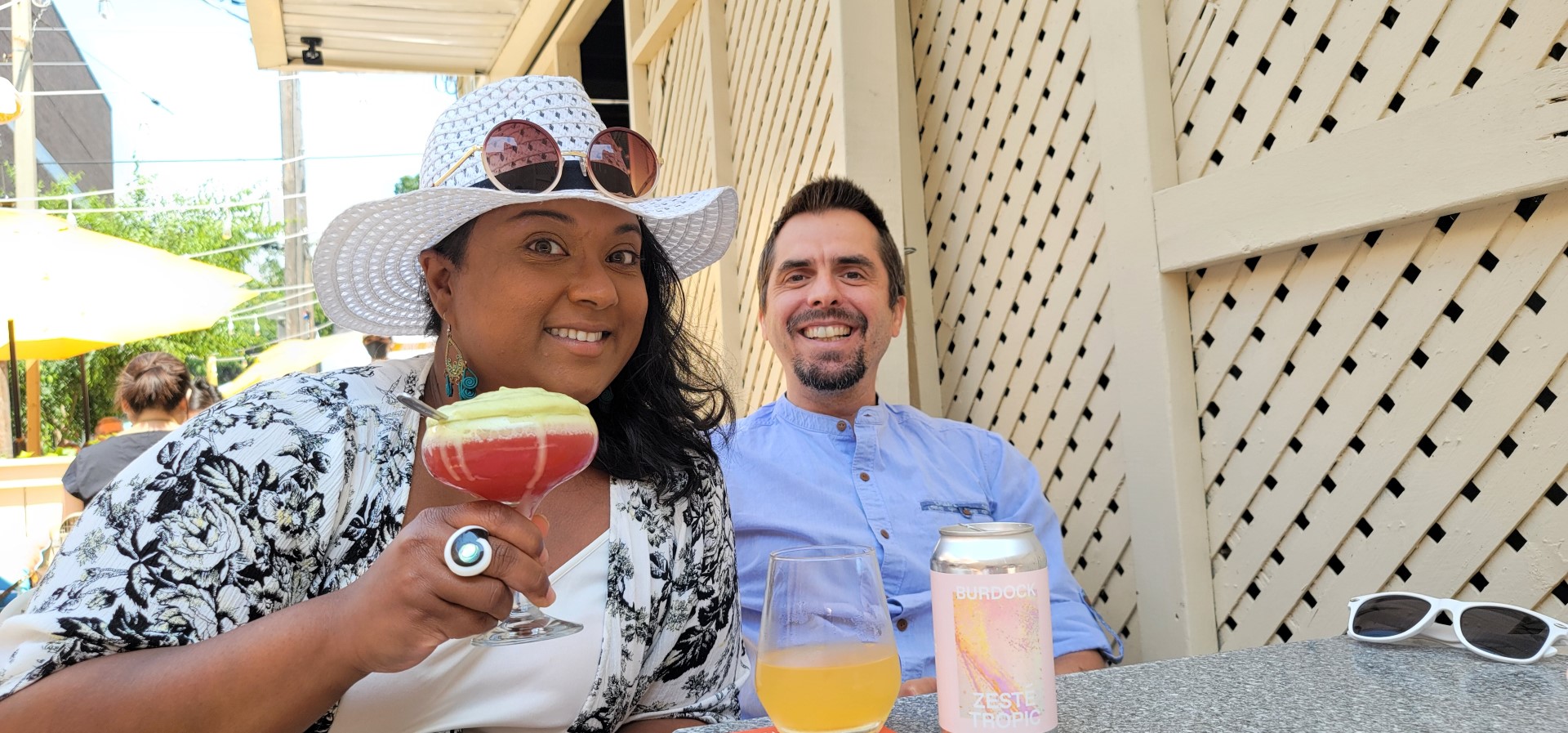 On our way over we quickly made a reservation at Mira Mira since Chris was starving (quel surprise) and I was delighted at how family friendly this restaurant in the Beach was. We conveniently found parking nearby the restaurant (since it was a return vehicle, we paid for parking ourselves). We ordered oysters (yes Apollo totally stole most of them) and I sipped on a fun Passionfruit Mimosa that had a matcha foam and discovered a delicious Burdock sour beer (as always please drink responsibly). Since they had kids menu items, both kids pounced on those whilst Chris and I ordered an East Coast donairwich (not a traditional one but still very good) and the Chicken Katsu sandwich. Whatever you do, don't forget to order the buttermilk fried truffle oyster mushrooms which come with a side of gochujang truffle aioli! SO GOOD! We played a game of crazy 8s and enjoyed our leisurely brunch on the sunny Beaches restaurant patio.
Beach Time in Toronto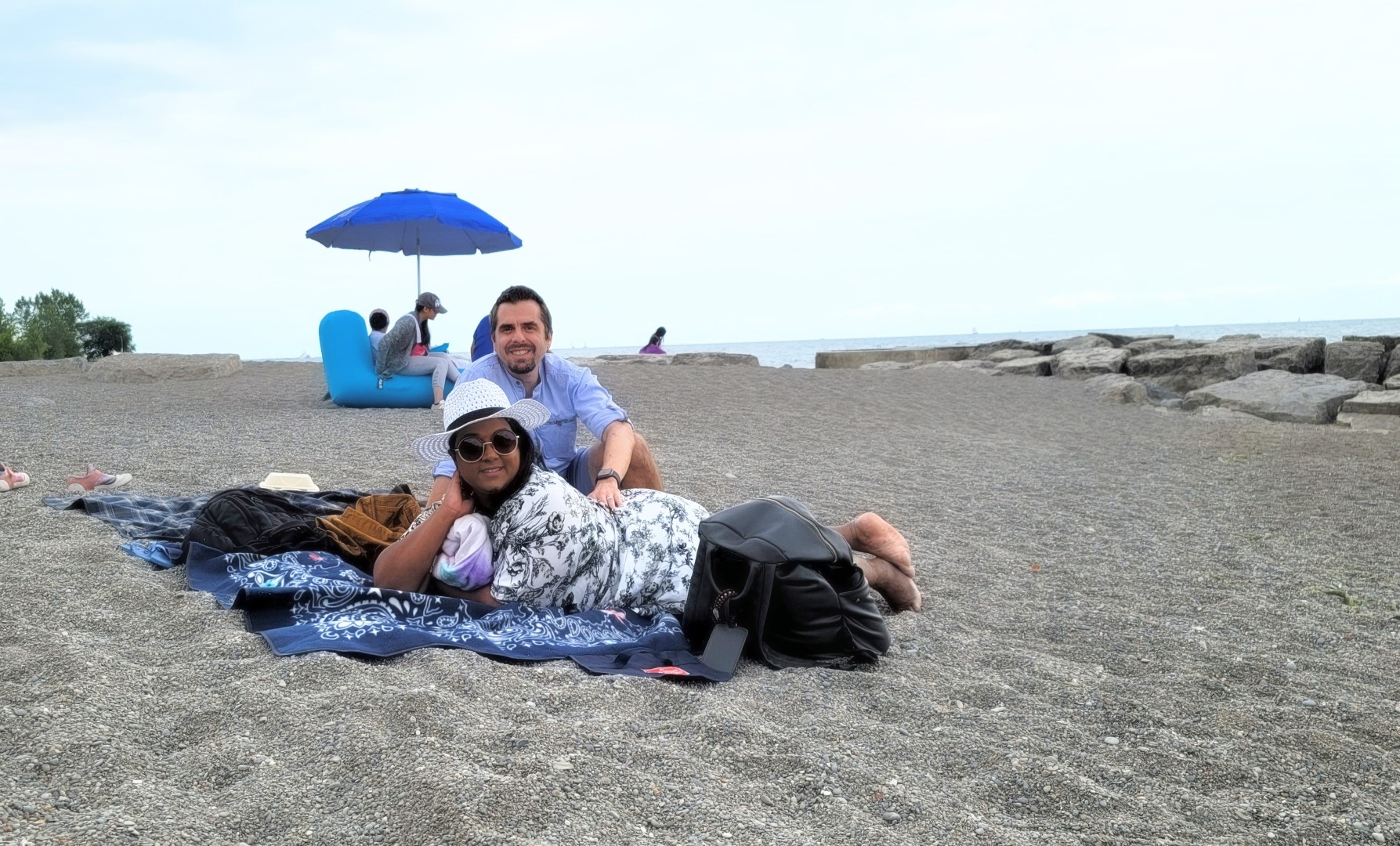 You know I love my beach time! There are a few ways to enjoy a sunny week day holiday in the city and hanging at the Beaches neighbourhood is one of them. In the past we've swung by Woodbine Beach and this time since our car was parked next to KEW Gardens already, we decided to step on the boardwalk and see where we'd end up. We very quickly found ourselves at KEW beach where it was easy to distance and be lazy whilst the kids played in the water (under our watchful eye).
After an hour we figured we should continue down the board walk and that's where we spotted the famous rock snake and I was amazed by how much it has grown. The young boy who started this project at the start of the pandemic should be very proud of himself! KEW Gardens is a very cute spot that has tennis courts, lush gardens and a splash pad, so if you're looking for ways to explore Toronto with kids, this is a good one! It's also connected to the various beaches ( Woodbine, KEW, Balmy and Scarborough beach are all connected via the boardwalk) so an entire day can easily be spent here.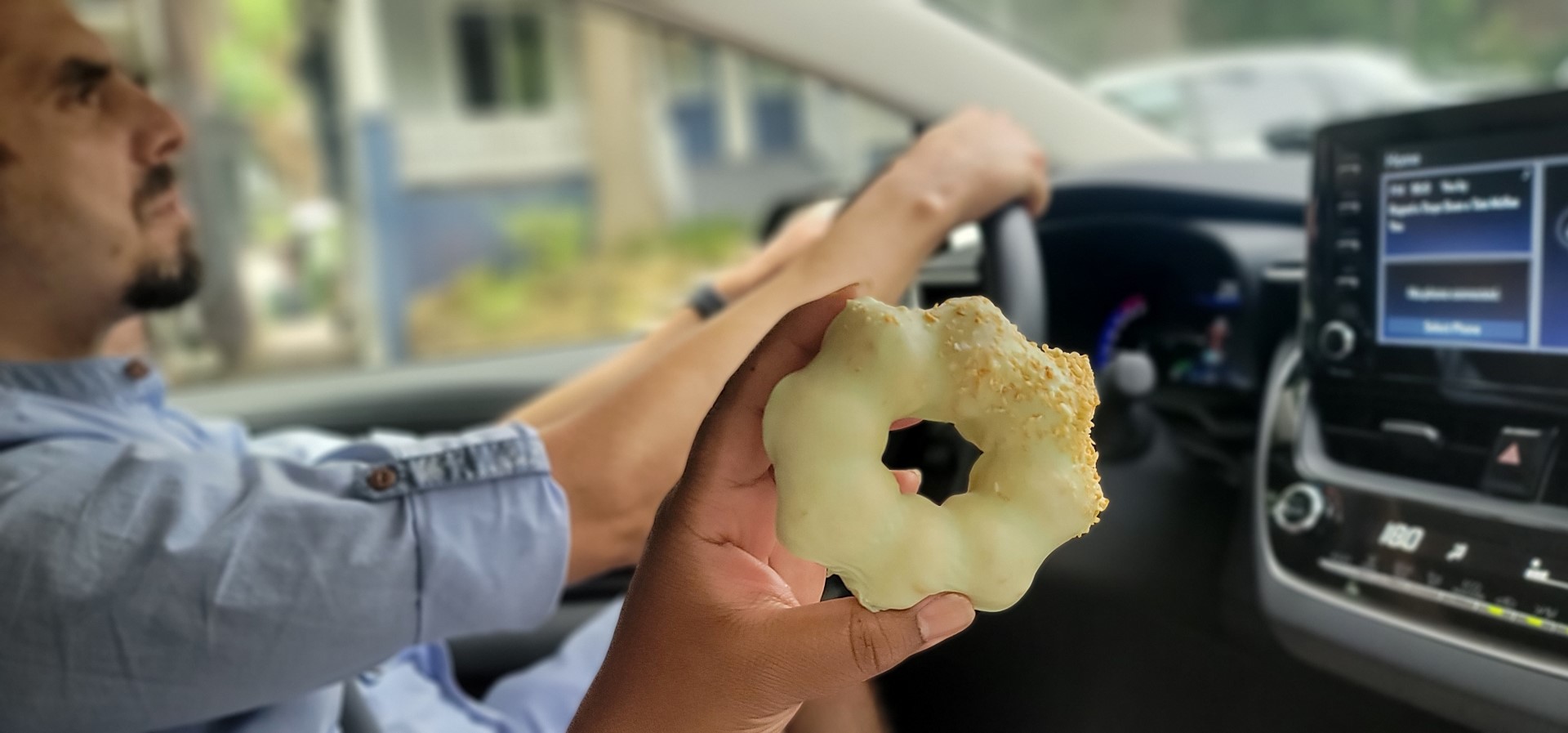 Before heading back to the Communauto car we decided to grab some Mochi Donuts from Isabella's (which I paired with a delicious Passionfruit tea) and swung by the Nutty Chocolatier so Apollo could grab a dairy free treat. As you can see, there were smiles all around!
Ashbridge's Bay Playgrounds and Skateparks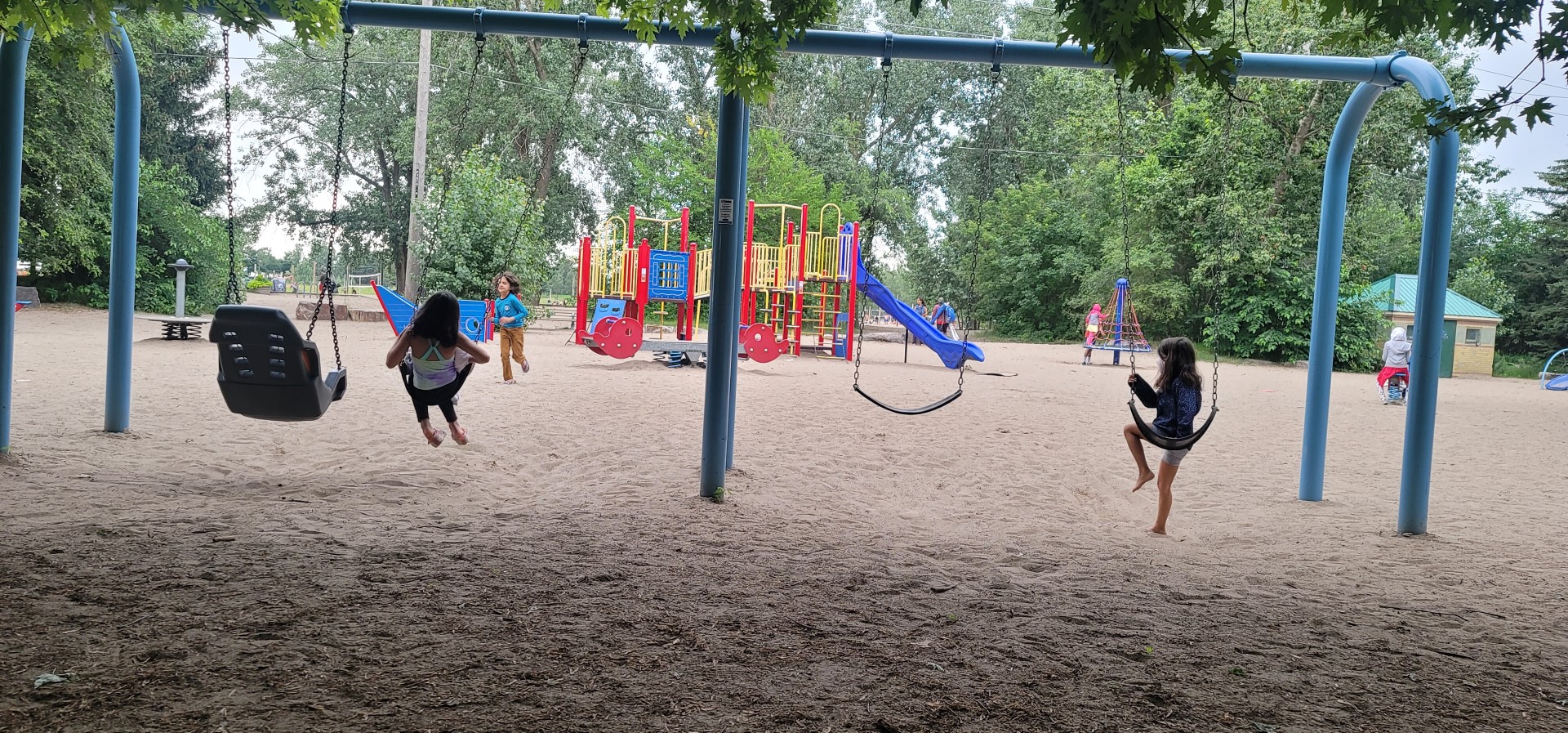 Next up on our tour of the Beaches neighbourhood was a visit to Ashbridge's Bay. The kids decided that they wanted to hangout at the playground and since there were some trees to protect us from the rain that had started to drizzle, we obliged. Parking at Ashbridge's Bay was busy but we found a spot and so we spent an hour here giving in to the kids' demands. They had their scooters with them and the plan was to hit up the fun skatepark at the Beaches but our bellies were starting to grumble and we needed to re-energize ourselves!
Beer and Dinner in The Beaches, Toronto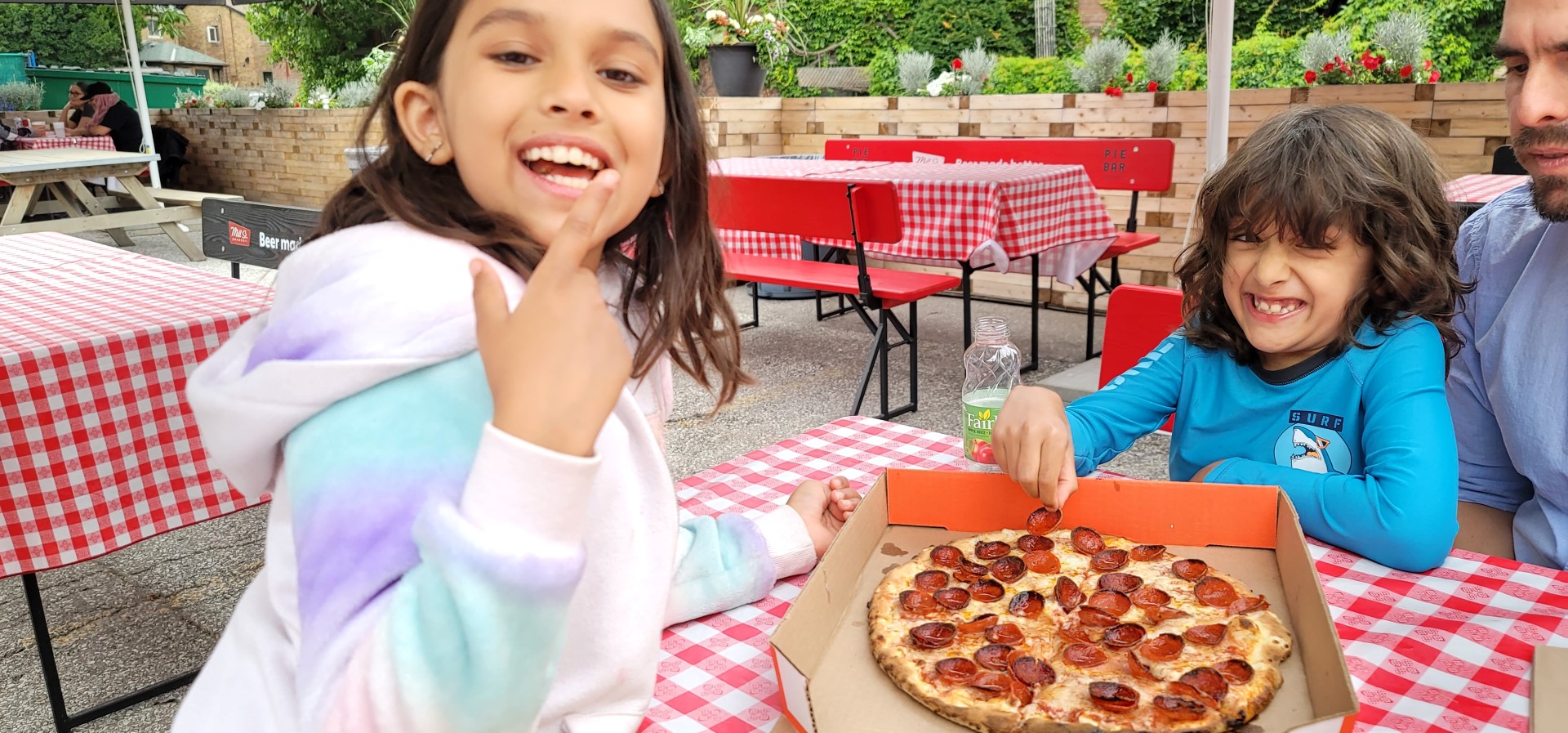 After a day of exploring the Beaches we were looking a little tired and definitely had some sand in our shoes so we kept it low key for dinner by checking out the newly opened Pizza Garden. Once again, we found parking in the Beaches easily (right next to Measurement Park – yes I kid you not, MEASUREMENT PARK). Pie Bar (yes the same one we love on the Harboufront area) has a summer pop up next to Murphy's Law Pub in the Beaches that's not only cute, but also delicious. We ordered a few 'Zas and enjoyed them as we reflected on our day and decided what to do next.
Chris and I weren't ready to head home and neither were the kids, so we got back in our Communauto car share and went back towards KEW Gardens because the Beaches Brewing bar was calling our name. A quick pint here whilst playing cornhole was a lovely way to end the night before hopping across the street to buy some treats from the Toronto Popcorn Company.
Since it was getting close to 8:30 p.m. and our Toronto car share was due back by 9 p.m. we headed back downtown. The kids and I were tired and so Chris graciously dropped us at home before returning the Communauto to the place we picked it up from in the morning. And this time, we truly listened to the goodbye message that was delivered each time we turned the ignition off, and returned the keys and cards to the glove box before locking the car with the app and releasing it so that others could use it after us.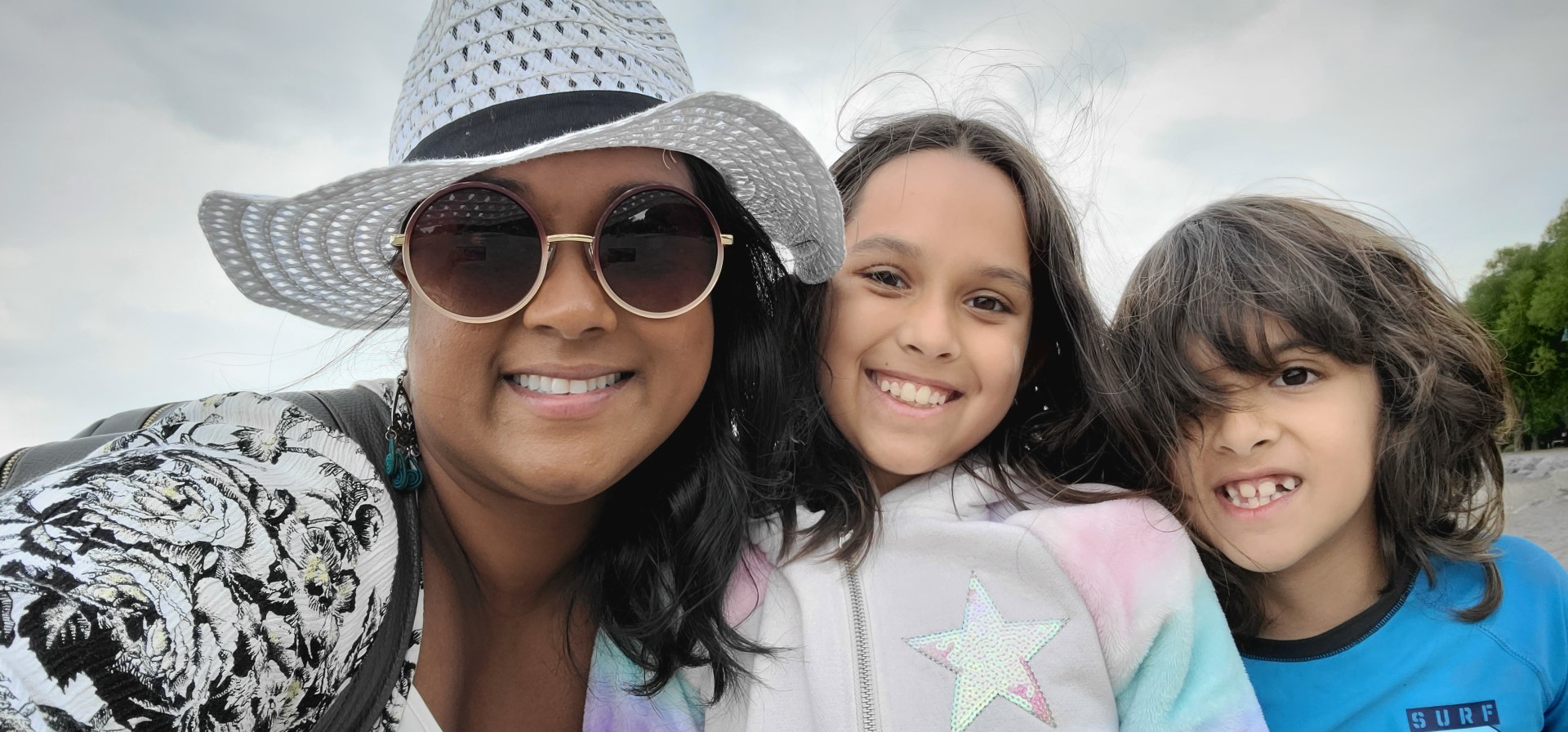 Toronto Car Share Tips
Remember to take your car seats/boosters (we still use the super travel friendly Mifold booster seats for Akira and Apollo)
During these COVID 19 times we take sanitizing wipes with us and clean the car (as we do with rentals) for peace of mind
Ensure that you return the car in the clean condition you received it to avoid any penalties (we have had no issues to date)
Keep an eye on the gas as you should ensure there's at least a quarter tank of gas as a courtesy to the next customer. Given that there's a gas card in the car, it should be quite easy to do
Parking in the city with FLEX vehicles can be a bit daunting so pay close attention to the guidelines (or call customer service if you're in a bind)
A day in the Beaches was absolutely soul nourishing and we're already planning more Communauto adventures for go-with-the-flow outings!