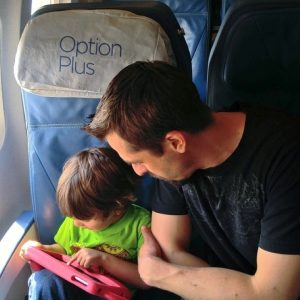 Last week we told you all about the Air Transat Kids Club and this week, we get to share with you our first hand experience! Would you believe me if I said that the kids were really quite awesome on both flights? Honestly, our best trip to date!! Of course there were a few issues (watch the video and you'll see!) but nothing that wasn't solved within a minute – you know that's a win!
Disclosure : Our travels were in partnership with Air Transat but, as always, opinions are totally mine! 
Our Air Transat flight to Cancun departed close to 4 p.m. on Sunday, which gave us plenty of time to enjoy a lazy morning and take the UP Express train from downtown Toronto to Pearson. Twenty four hours before departure, we checked-in online and because we had opted for the Option Plus program for the hubs and I, while the kids were part of the Air Transat Kids Club. We had already selected our seats when we made our booking, deciding to divide and conquer as we find it best when the kids don't sit next to each other on flights. The hubs sat between Baby Boy and Little Monkey while I sat behind them, ensuring NO fights between the kids!
When we arrived to the airport, we spotted the dedicated check-in area for families travelling with kids and so we opted for that. Option Plus members also had their own line. I love that Air Transat knows that families with young kids need to be dealt with promptly and that's why one of the many Kids Club perks is that your luggage also receives priority status on landing! All things considered, everything went smoothly, minus Baby Boy running between the lines as we waited at the security point, but luckily no one seemed to  mind so we let him do as he pleased.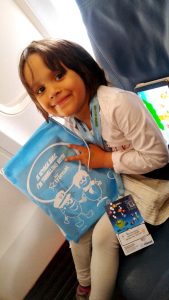 Once on board everything was near perfection. The kids received a bag filled with things to keep them entertained – stickers, activity books, playing cards and headsets (which fit Baby Boy perfectly but Little Monkey struggled with them for a bit-probably my fault since I didn't adjust it properly!! Oops!). Only certain seats were marked with the Option Plus head rests and because the kids were seated in our seats, we sat in theirs!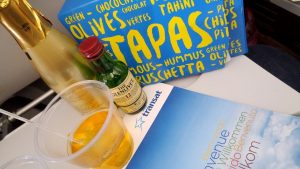 Option Plus members also receive numerous perks – a dedicated check-in line and priority boarding, a welcome kit with blanket, ear bud headsets, a pillow, a snack and two alcoholic beverages. One thing you have to remember is that you don't get the welcome kit on the return and so we were reminded to hold on to the blanket, ear bud headsets and inflatable pillow. However, we did snacks and beverages again on the return flight! Option Plus also gives you an extra 10kgs baggage allowance, which was an awesome perk for us as it enabled us to fly with two suitcases, without the need for a third. Standard seat upgrades for Option Plus are under $100 for a return trip to a south destination and I loved the special feeling on board when my bubbly arrived. A couple neighbours asked me how I scored the special perks and many were hoping to opt in for their return flight once they saw Option Plus in action.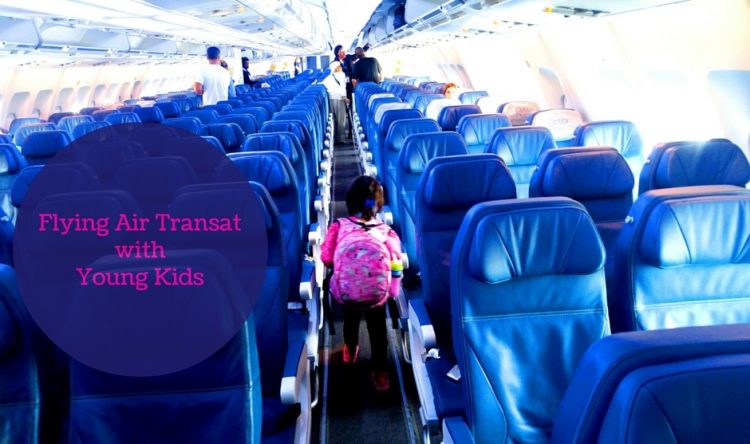 The kids not only stole our pillows and blankets but they also dug into our snacks of hummus and chips. Luckily, the bag of olives were all ours! If the kids are wearing the Kids Club lanyards, the stewardess will allow them to choose a snack as well. Most of the snacks were cookie and chocolate based so we chose the Pringles to keep things a bit less sugary. Door to door the journey to Mexico took us 9 hours and so I knew I should fill up on the milk and juice as much as possible. Our stewardess was so lovely that she refilled our bottles for us on numerous occasions with a smile on her face. The kids conked out on our way there and on the way back, allowing the hubs and I to enjoy our drinks in peace. On the way back I even watched 1.5 movies! I ran out of time for the second movie only because I took a quick nap as well. While we didn't have an entertainment system on the way to Mexico, our return flight was a bigger aircraft with individual TVs and Little Monkey watched some of her favourite shows peacefully.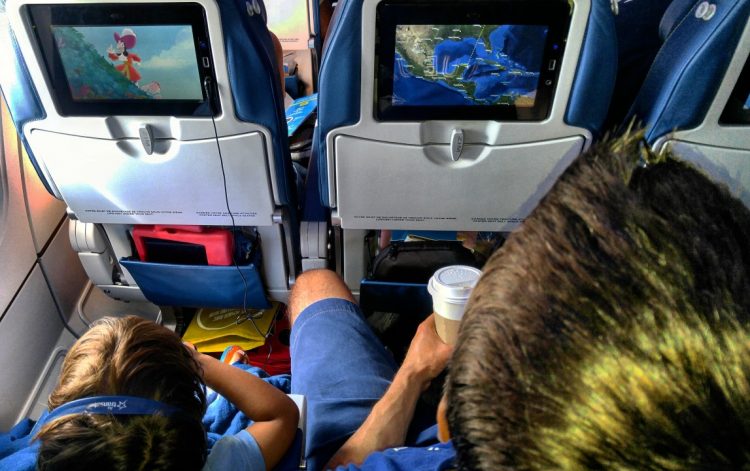 Air Transat employees really take care of you and even when we arrived into Cancun, they were happy to direct us to our bus. Once on the bus, our rep was not only funny, he also had plenty of advice for us and cervezas for purchase (bring cash!!). Our stay at Azul Fives was nothing short of amazing and we both thought it was the best all-inclusive resort we had ever stayed. On the return, our bus picked us up at 6:45 a.m. for our 10:00 a.m. flight (the bus ride is about 40 minutes between Azul Fives and the Cancun International Airport) so we were all tired, which worked out well because the kids slept for a fair portion of that return journey. All parents love sleeping kids, right?
Little Monkey's first EVER flight was with Air Transat and while she slept most of the way from Toronto to London at 11 weeks old, she'll be the first to tell you that Air Transat and Mexico were totally fun and she wants to return again VERY SOON! For parents travelling with young kids, Air Transat is one of the friendliest North American airlines I've had the fortune to travel with and I wouldn't hesitate to book with them. There's so many awesome deals on right now to sun destinations and fabulous European cities so go on…what are you waiting for?