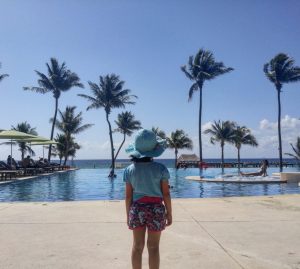 We spent three glorious days at the Azul Fives Resort in Playa Del Carmen, Mexico with Air Transat and have been dreaming of our vacation ever since. Thinking about the memories we made puts a smile on my face instantly! Until this vacation, it's safe to say that we weren't all inclusive vacation types…we usually aren't fans of the food or drinks on the resorts. Having heard many fabulous things about the Karisma properties, I knew that if we were going to do an all inclusive vacation, it would have to be with them. Which is why I was thrilled when Air Transat invited us to explore Azul Fives and see if it met our expectations. The answer is… it EXCEEDED our expectations. For food loving young families, Azul Fives is definitely the way to go.
The resort is relatively large but definitely walk able. The golf cart (Little Monkey was thrilled to ride them!) can be hard to find at times and so we walked more often than not. The resort has 480 suites, 5 pools, 9 restaurants, 6 bars and 1 spa, oh and an AWESOME kids club! As part of our package we had access to a personal concierge who was able to help us navigate any issues and questions we had but since we were only there for three days, we didn't need him  too often. Though, he did save us when we locked all our gear in the safety box and forgot the combination!
When it comes to the food and drink, we were more than overjoyed by our experiences. We shared some of our top eats here but I can  tell you that every meal was fabulous. Both adventurous and picky eaters will be pleased by the Gourmet Inclusive experience. What I loved most was that room service was not only available 24-7 BUT that they delivered amazing dishes and was included as part of the Air Transat experience. After tired days or cranky mornings, dining in the room was amazing!! When it comes to food and drink, you can have at it to your heart's content. Be sure to email the resort prior to your trip so you can book the restaurants you REALLY want to dine at.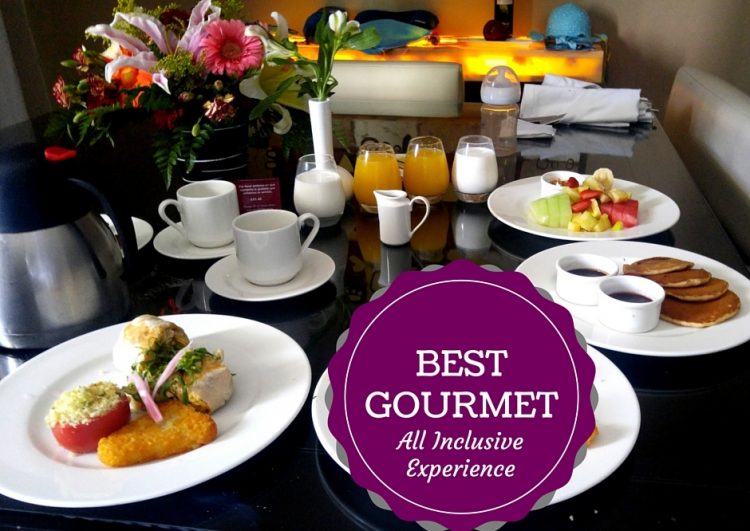 When you send that email, also be sure to request all the baby gear you want. They offer everything from strollers to baby monitors and it comes at no extra charge. I do have to tell you that the strollers are basic and 4 year old Little Monkey and 2 year old Baby Boy did find them a bit annoying at times (not the comfort they're used in the SUV sized strollers we have at home) but they both took naps in them despite not fully reclining, so  I'm not complaining.
We stayed in one of the older Jacuzzi suites which gave us plenty of room to spread out but having taken a tour of the newer wing, I may opt to stay there the next time we visit. For safety reasons, those with kids aren't placed in swim up rooms and I can totally agree with that. Safety first! Keep in mind that most suites are owned by different people so each suite will be slightly different. Yes you can totally own a suite at the Azul Fives Hotel and then have them rent it out when you're not there!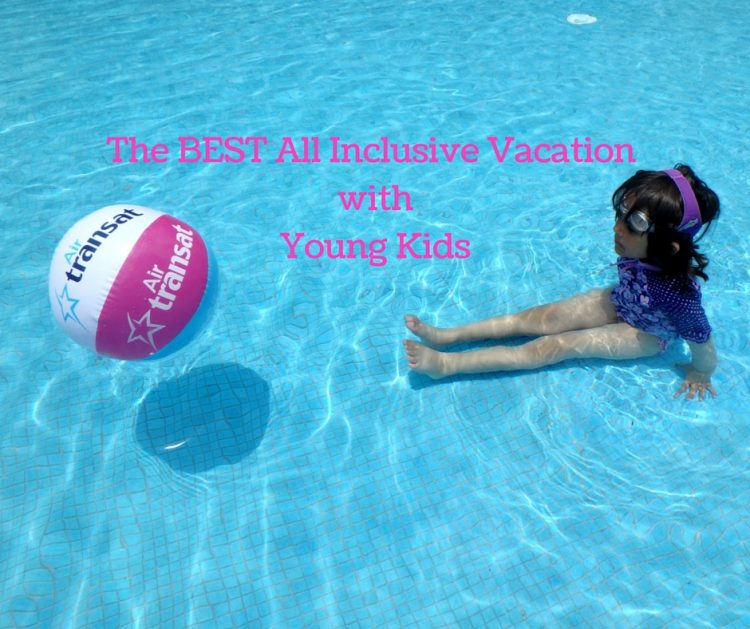 There were enough pools to keep us all happy and the swim up bars were most popular with our kids (and us!). We visited during the shoulder season in May and the resort was only at 60% capacity. What this meant was that we had certain pools all to ourselves at times and it was easy to snag one of the beach side cabanas. BOY did I love those! They were luxurious and Baby Boy would nap in those beds oh so comfortably! The beach was great with a shallow entry for kids but you did have to deal with some grit before you got to the blue blue waters, it was still relatively shallow mid way too, which Little Monkey liked. The towel huts not only hand out fresh towels but they also had cold bottles of water and sunscreen available (for free), which was such a nice touch. Some of them even blow up the toys and air rafts if you ask them nicely!! Also remember, Azulitos kids club will loan you all the sand toys you need, so don't over pack!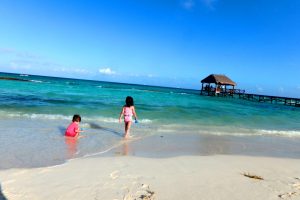 The hubs and I escaped for an afternoon at the spa thanks to the fact that Azulitos keeps kids entertained from 9 a.m to 9 p.m. (they do take a small dinner break). There's no extra charge for those 4 years and over but we did pay a small fee to keep Baby Boy there with one of their nannies. You can read all about it here. Parents get to actually RELAX at Azul Fives and that's what makes this an awesome resort for young families. If little ones fancy a visit to the spa, there's a special room for mommy/daddy and me packages as well. We never got to that because Azulitos kept the kids busy!
If you're contemplating an all inclusive vacation with young ones, take a look at the many fabulous Air Transat packages on offer down south and keep a close eye on the Karisma options. We can't recommend Azul Fives enough and hope to explore the other kid friendly properties under the Karisma umbrella. As you saw at the end of the video, neither kid wanted to leave! We're counting down to our next Air Transat trip!