Summer in Toronto is in full swing and this year we didn't enroll the kids in any summer camps. It's Camp Yashy here peeps!! GULP! To kick it all off we came up with a list of things to do in downtown Toronto and enlisted the help of Attractions Ontario to play tourist in our city. As much as we love exploring the hidden gems in Toronto with our kids, it's always nice to hit up the popular Toronto attractions and remind ourselves of what it feels like to be a visitor in Toronto. Read on because we have an awesome giveaway for you!
Disclosure : This post is in partnership with Attractions Ontario but, as always, opinions are TOTALLY ours! 
One Leisurely Attraction Filled Day in Toronto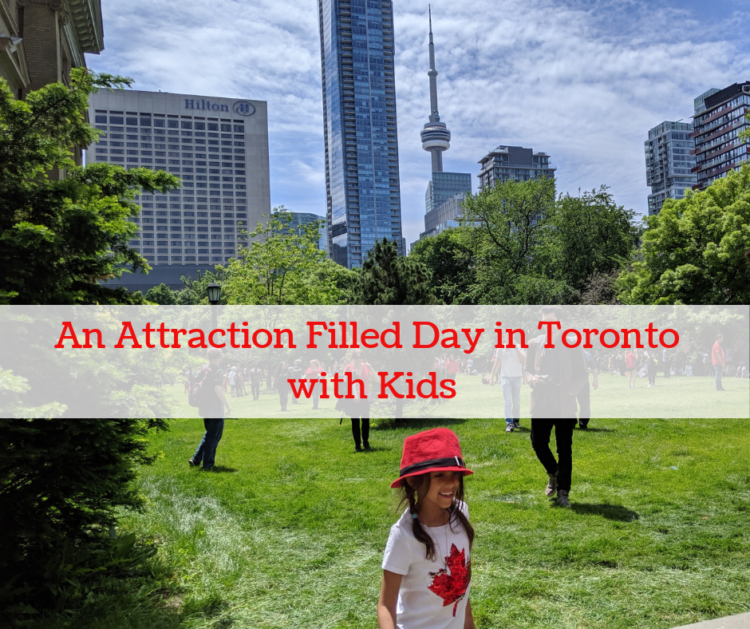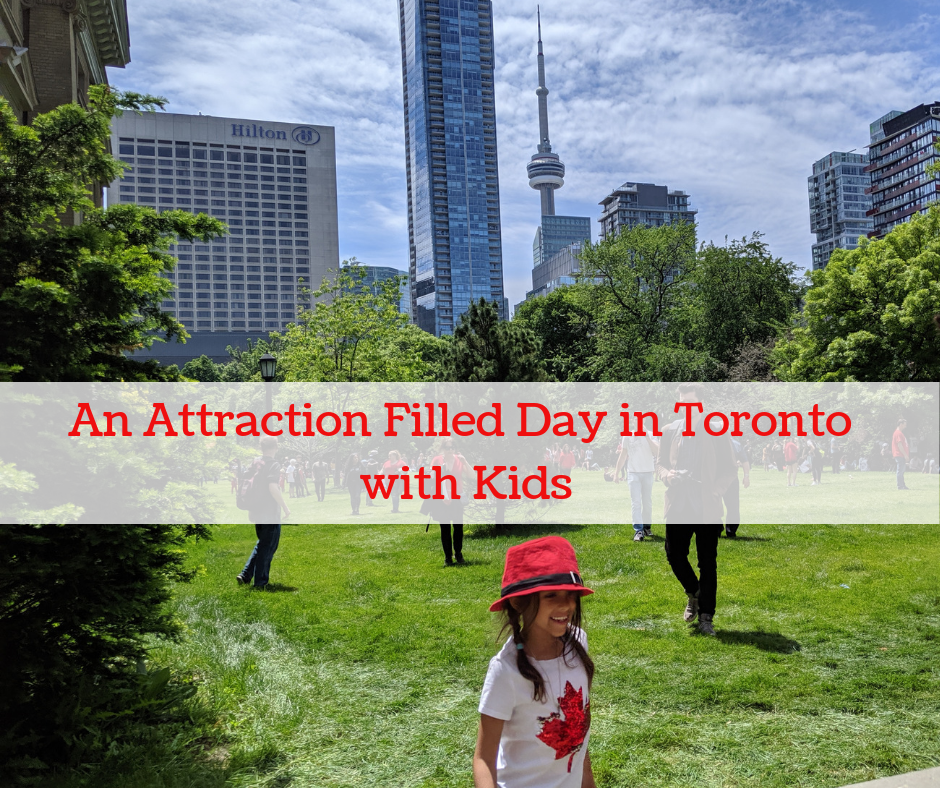 If you're visiting Toronto and only have one day to explore the city with your kids, today's post is about some of the key attractions in the city that won't exhaust you. Of course, in the past we've suggested a whack load of things to keep you busy in Toronto because there are many neighbourhoods to explore and authentic cuisines to try, so do check those out if you want a mix of culture and attractions. However, if you're looking for a less busier version for your Toronto layover, these ideas are perfect for you and some of them are close by to each other so you won't have to navigate the subway system too much!
A Scenic View from the CN Tower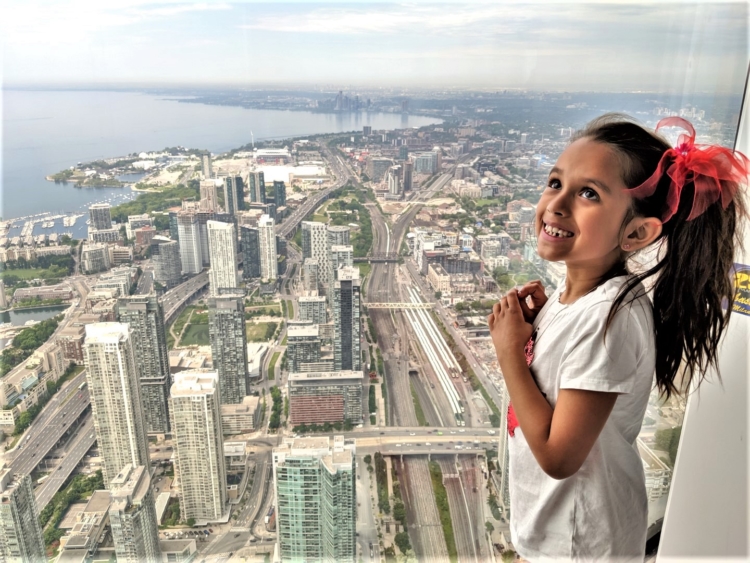 Start your morning by grabbing breakfast at your Toronto hotel or check out our suggestions for places to eat in downtown Toronto. We started our day at the CN Tower knowing that it's less busier during earlier in the day. Attractions Ontario has CN Tower coupons for 15% off so be sure to grab those before your visit. While there is a security check up prior to entering the building, they do allow you to bring food and drink in. I like to ride the elevator (ensure the kids stand towards the front of the elevator doors) to the LookOut first. While I definitely tell people to dine at 360 to enjoy the views and a meal, I must admit that the views form the LookOut level are amazing. I got some awesome pics of the kids there over our Canada Day weekend visit. We spent about 35 minutes taking in the views from the LookOut level and the Outdoor Viewing Gallery (LookOut level is where we spent most of our time).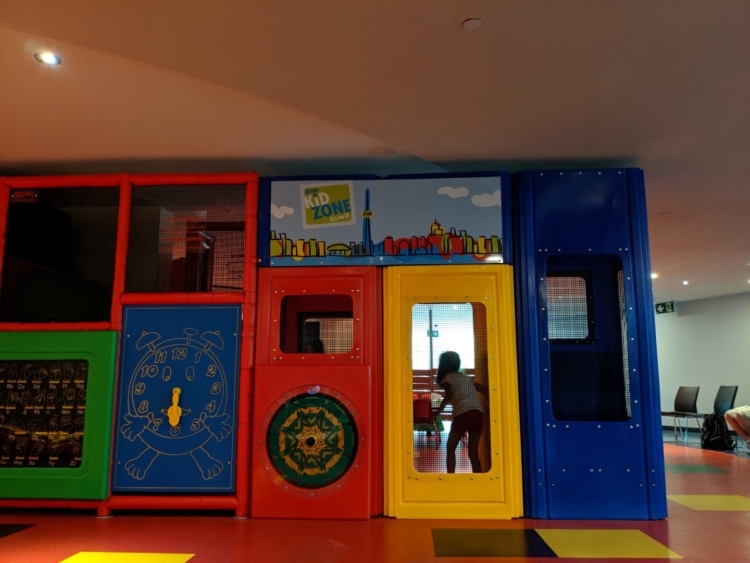 There is  the new SkyPod level as level but it was closed for repairs during our visit (and you do need a separate ticket to enter that level). To end our visit, we swung by the play area near the gift shop. This play area is perfect if you're looking to escape the summer heat or cold winter because it's free to enter and you do not need CN Tower tickets either! I had packed snacks and a sandwich but there are plenty of cafes at the CN Tower so it's easy to grab a bite WHEN the kids whine about being hungry and thirsty. There are family washrooms at the CN Tower with change tables and yes, you can bring your stroller to the CN Tower.
Under the Sea at the Ripley's Aquarium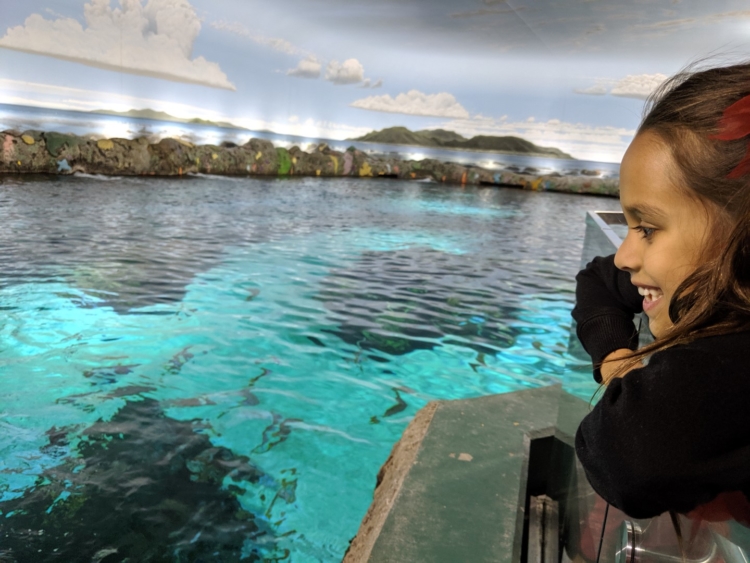 While Ripley's Aquarium of Canada may easily be one the busiest Toronto attractions, it's also one that Little Monkey and Baby Boy LOVE! In fact, most kids in our building have yearly passes for here. Since this Toronto Aquarium is next to the CN Tower, it was next on our list of places to explore in the city of Toronto that day. Around noon there were no line ups to enter but the play area was very busy. It always is the most popular section I find. We took our time exploring the many displays, learning about the various sea creatures and spotting sharks. Ripley's Aquarium offers a couple stations where kids can touch various creatures and learn about them, making the hands-on experience a great one. If you are planning to visit Ripley's Aquarium be sure to download the Attractions Ontario coupon for 10% off your general admission. 
We've visited the Aquarium before and have shared a couple tips in this post but I will mention that there are change tables in the washrooms and plenty of seating along the way, if it's busy you may want to avoid the stroller and baby wear instead. It's what I did when Baby Boy was an infant. In the past we've spent about 3 to 4 hours here but on this visit, I managed to get them out after 2 hours.  The play area in the Discovery Centre is where they usually spend an hour at so keep that in mind. You still have exhibits to see after that play area!
I really enjoy the area around the CN Tower and Ripley's Aquarium of Canada because there is outdoor seating if you want to sit and enjoy the weather. There's also a grassy area across the street where Steam Whistle Brewery is (and parents can tell the kids that it's time for a Toronto Brewery Tour!). We opted to go back home so that we could all relax and take a nap before our evening excursions.
Have Your Mind Blown at Museum of Illusions
We've visited the Museum of Illusions in Zagreb and so when the Toronto Museum of Illusions  one opened, we swung by on opening week but hadn't been back since. This was a great opportunity to continue the learning after the end of school. Museum of Illusions may not be the best option for kids younger than 5 years of age as they wouldn't fully appreciate the lessons behind the illusions, but Baby Boy and Little Monkey are curious and have enjoyed spending an hour here trying to figure things out. Baby Boy's favourite section is the puzzle one while Little Monkey likes anything that she can physically touch and climb on. As for me, the Vortex Tunnel always gets me. I enjoy watching Chris cross this one because it's as if he's had a few beers too many!
If you're looking for unique gift ideas for the kids in your life, the gift shop here carries some neat ones that will boggle minds for hours at a time. There are change tables here and the space is quite stroller friendly but I'd recommend baby wearing if possible (they have a coat room where you can park your stroller if needed). If you're planning to head to the Museum of Illusions from the CN Tower area, it's probably easier to walk the 25 minutes than hopping on the King street car.
Cheer On Your Knight at Medieval Times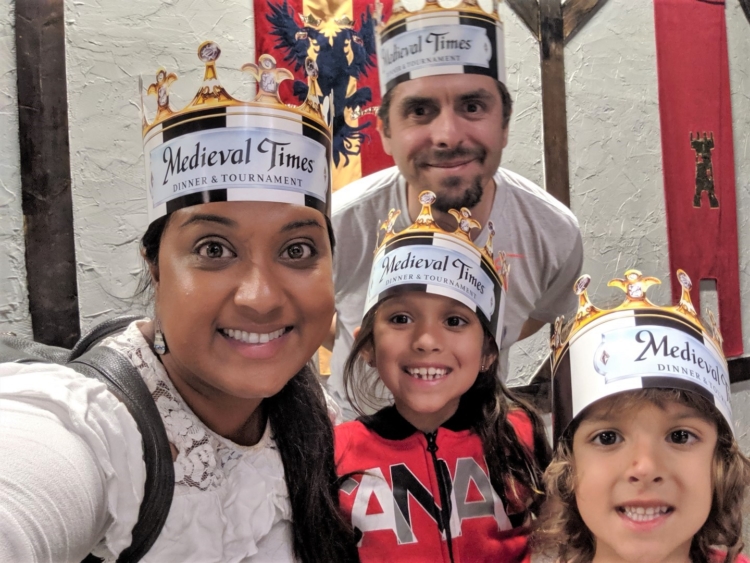 We had visited Medieval Times quite a few years ago when Baby Boy was a newborn and Little Monkey was two and truth be told, it was my dad who loved that visit. He still speaks of it to this day. On this visit with a 5 and 7 year old, the kids were the perfect age to appreciate it all. They loved cheering our Black knight and while they didn't really understand some of the 'old English' language being used, they were in for the 11th Century experience. You not only get to walk through a castle but you get to experience spectacular pageantry, dramatic horsemanship, breathtaking swordplay, falconry, sorcery, and romance while feasting on a four-course medieval banquet served by your very own serf or wench.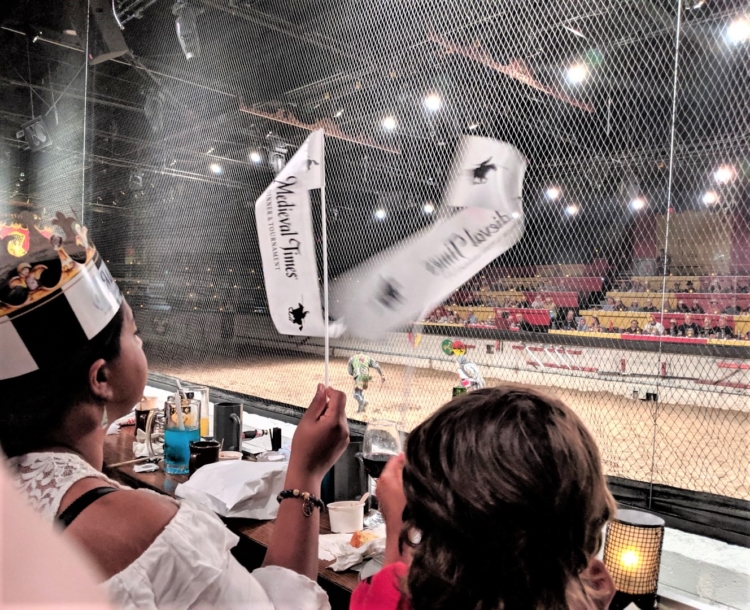 At Medieval Times Toronto, you get to enjoy a dinner and a show. The meal was actually quite massive and I was glad they offered a takeout container because the kids had loads of leftovers. I love the spiced potatoes, the chicken (full leg and a breast) was moist and cooked to perfection and the corn was one of the best I've had. I wasn't a huge fan of the bland ice cream but the kids OBVIOUSLY enjoyed it. You do get unlimited pop and water but anything additional comes at an extra charge. I ordered a very reasonably priced bottle of wine to accompany the show and it was a nice hands-off way to end the day we'd had. Remember that there is no cutlery and so you will be eating with your hands. Luckily I had read my own advice and taken a straw with us so the kids were able to drink the tomato soup that way. I however did NOT remember to take some hot sauce and didn't even think to ask our friendly server for some. Be sure to visit Attractions Ontario for Medieval Times Toronto coupons. We caught the 7:30 p.m. show and the kids were ready for bed by the time the show ended at 9:30. PERFECTION! This attraction isn't the easiest to get to, so taking a taxi or Uber/Lyft is highly recommended.
As you can see, we had a fun-filled day in downtown Toronto with Attractions Ontario and while we did have a full day, it wasn't overly strenuous as most of the attractions were close by and the kids were happy to amuse themselves while I hung back and took it all in. Of course we had two meltdowns but luckily they were mini ones! Playing tourist in our own city was a good way to remind ourselves how there's plenty of things to do in Toronto with kids. This epic day for the kids set the bar high as I kicked off "Camp Yash" for my kids.
Scroll below for a chance to win one of 3 prizes!! Each prize includes a family pass ( 4 tickets) to either the CN Tower, Ripley's Aquarium of Canada or Museum of Illusions!