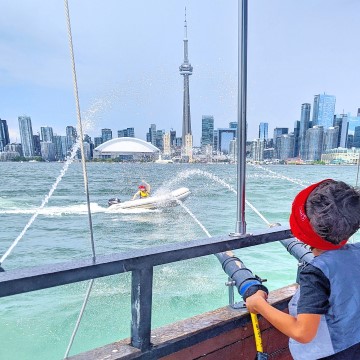 When looking for a Toronto day trip idea, I am quick to suggest a visit to the Toronto Islands but often forget to share about all the other amazing things you can do at the Waterfront in downtown Toronto. I'm going to right that wrong by sharing some of our favourite things to do in Toronto with kids, right on the Waterfront. With easy access to Union Station, Toronto's Waterfront community welcomes those who live in the city and tourists. If you're looking for a day by the water, but with a good mix of fun activities, treats and relaxing vibes, I got you! Toronto's Waterfront spans 46 kilometres between the mouth of Etobicoke Creek in the west and the Rouge River in the East but I'll be focusing on the core downtown area as that's where we hang the most with our kids in Toronto. Read on and I'll even share a Toronto Waterfront itinerary if you're having a hard time narrowing down your options.
Disclosure : While we have paid for most of the activities on our own (and many are free), we were hosted at some locations but, as always, opinions are TOTALLY ours! 
A Day Trip to Downtown Toronto with Young Kids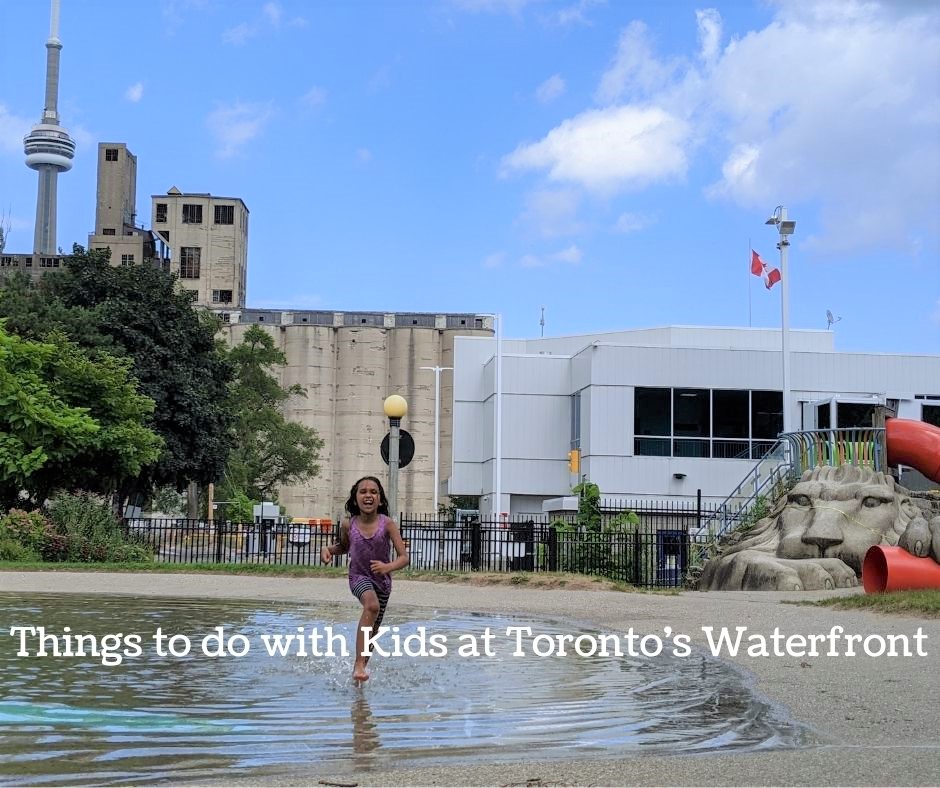 One of the reasons we visit the Waterfront area is because there's plenty to do (even if you're on a budget). There are many parks to picnic at (just grab items from the grocery store nearby if you don't want to visit a restaurant), trails to scooter through and water activities to partake in. I know we've shared about our love for the Harbourfront Centre since the kids were mere babies, but as they grow older, we're discovering more spots to roam and chill at. A view of the water, whilst the kids amuse themselves isn't a bad way to spend a day in Toronto with kids, right? If you're coming into the city, Union station is probably the best subway (though you can also take the Bay bus or the Harbourfront street cars). For those who drive, Merchant's Wharf parking lot near Sherbourne Common and the Radisson Hotel parking is only $16 for the day. Alternatively there are plenty of options in the $25 per day range throughout the Waterfront area and you'll find the costs for each parking option here.
Things to Do at Toronto's Waterfront with Kids
Sailing with Pirates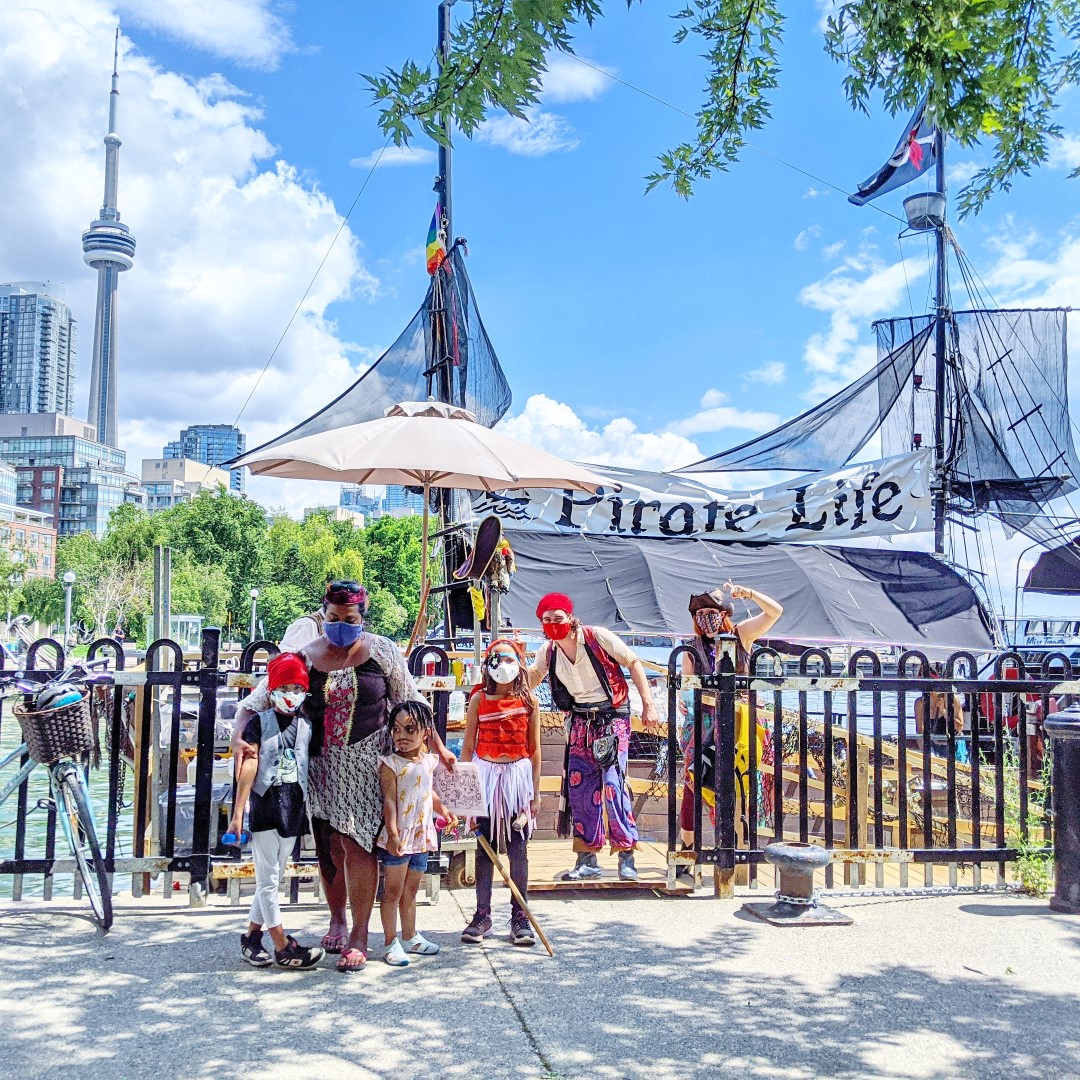 When I heard that it was an open air ship with safety measures on board, I thought Pirate Life would be a great place for a distanced play date. Everyone has to wear masks onboard, touch points are sanitized between crews (I even watched them clean the ship), kids are given distancing swords and families are designated  to different parts of the ship. This is a fun 1 hour activity for the under 8 crowd as they get to splash the pirate and partake in a scavenger hunt as well. It's also a great play date during these times! Tickets are priced at $27 per person or you can get an unlimited season pass for $39 per person. Nice way to stay cool during the hot days in the city and yes, please dress up with your kids! Since 2015 they have donated over 3000 tickets and subsidized 15 000 tickets, totaling over $336,000 in contributions to the community, so please donate if you can.
Take a Break at the Music Garden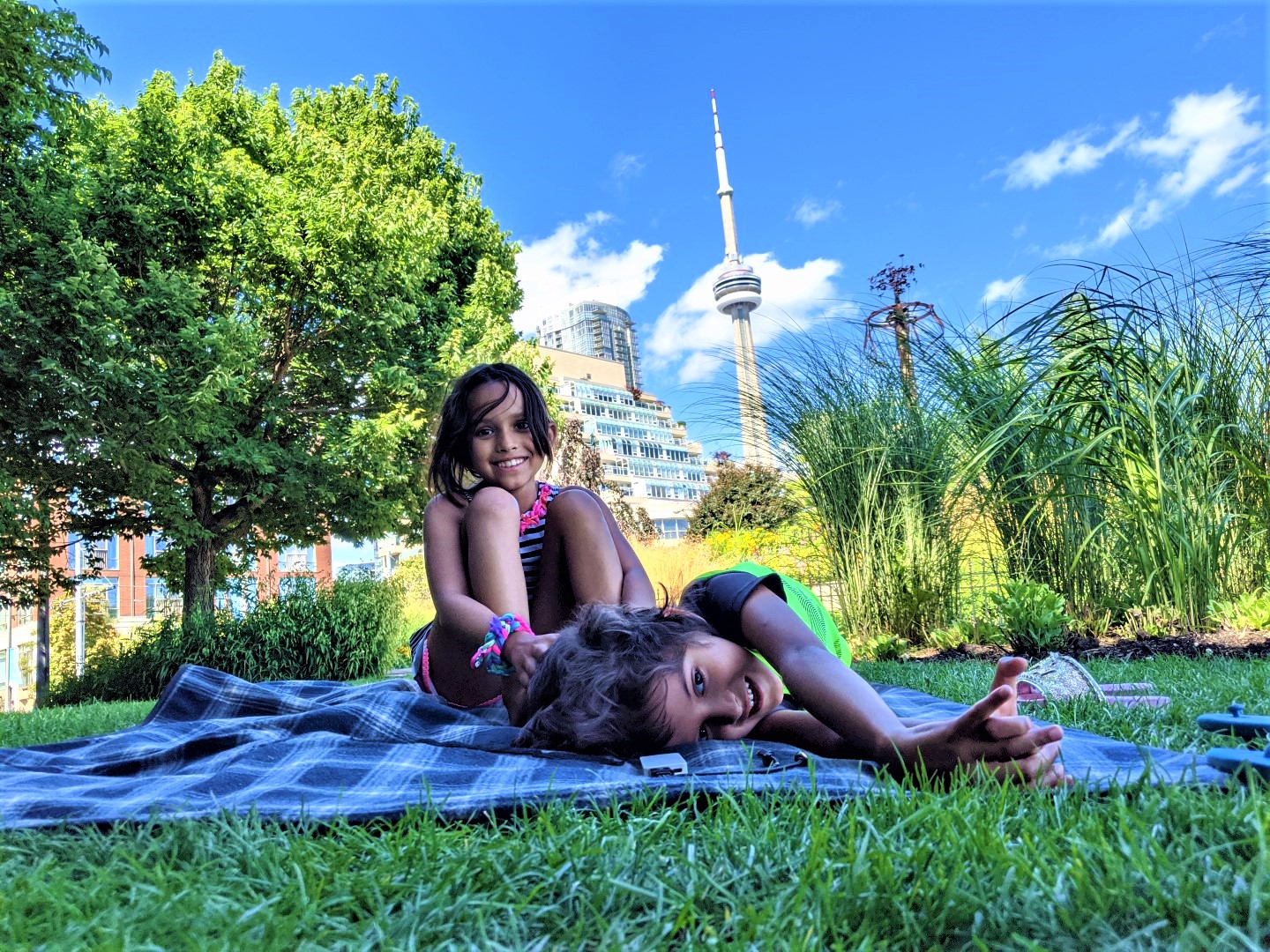 One of the hidden spots in the city, located at Queens Quay West & Lower Spadina Ave, this is a true oasis. The three-acre public garden is inspired by Bach's First Suite for Unaccompanied Cello. Each dance movement within the suite corresponds to a different section of the garden. We love to grab some ice cream and picnic here. I always get some stellar pictures of the kids here (great for photo shoots). It's amazing to think that this spot is hidden right in plain sight!! During the summer you can also enjoy free classical performances from around the world.
Sandbox Time at HT0 Park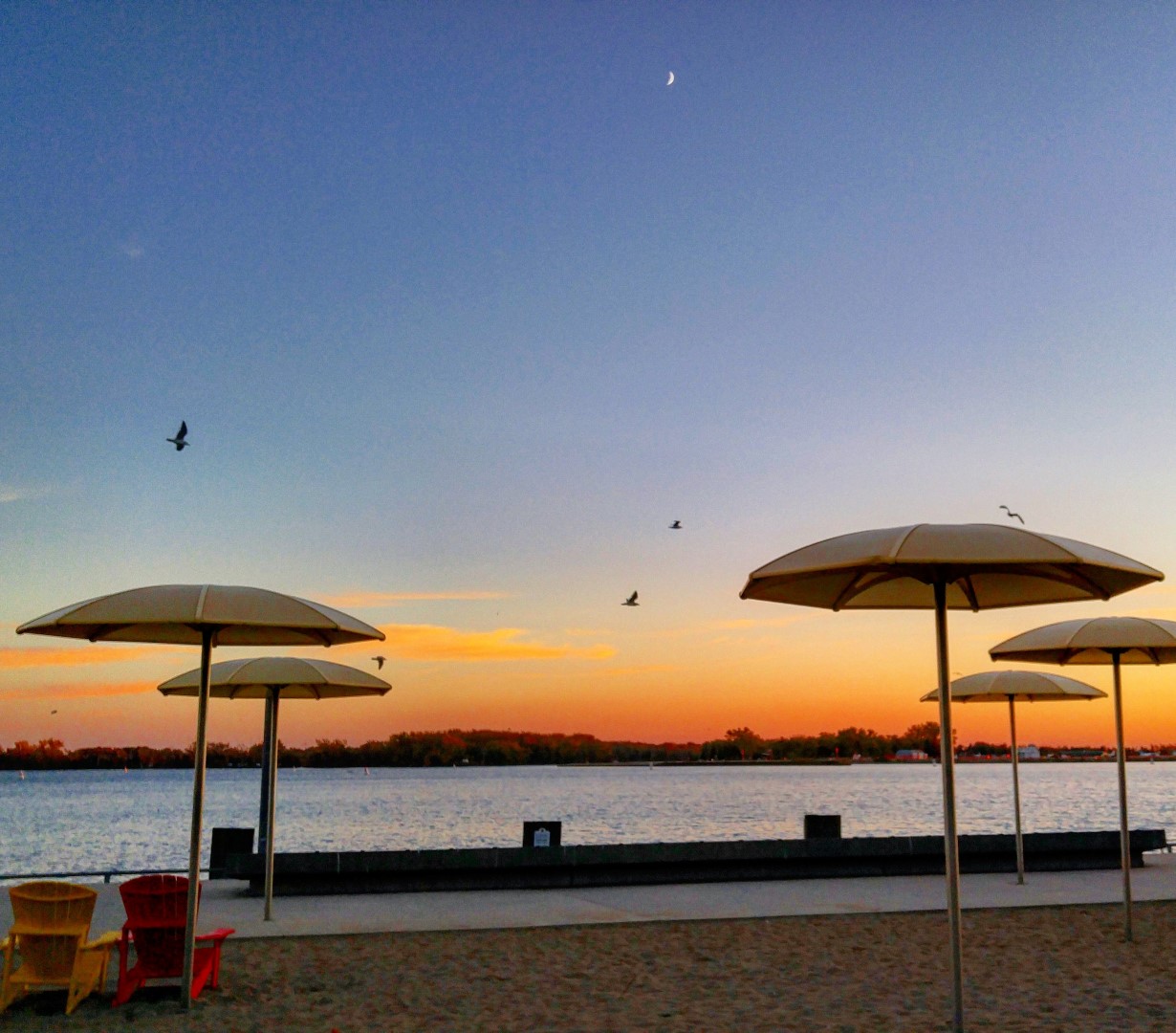 Muskoka chairs, beach views and beach umbrellas can be found at this park that's accessible 24-7 at no cost to you. When Akira was a baby we'd visit often as she loved playing in the sand-it was better than the beach in someways because there's no wet sand here! At this sprawling park you can find shady trees and green pastures in addition to the sandbox. Young kids will also love scootering around here.
Splash at the Little Norway Wading Pool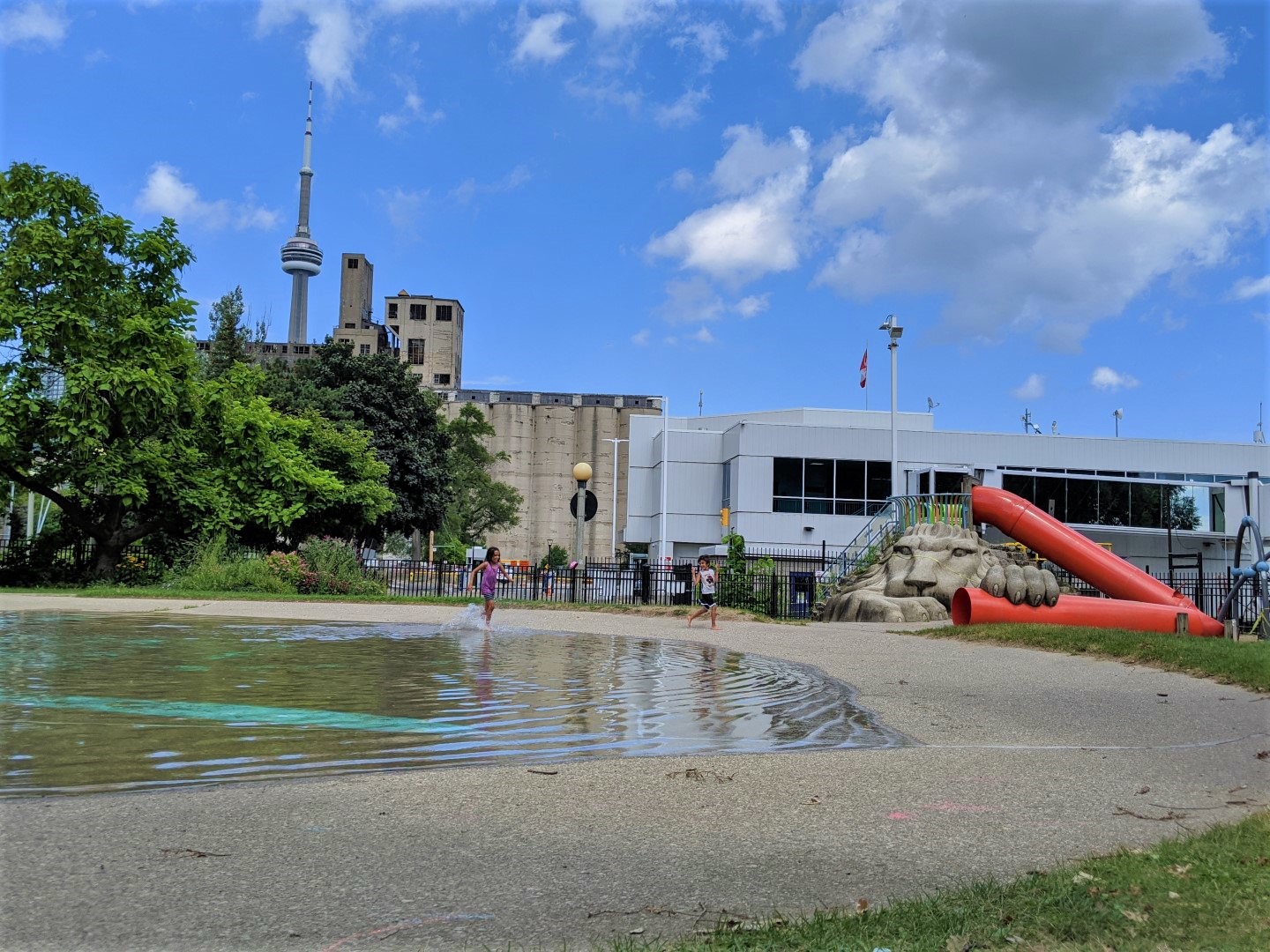 If your kid wants to get wet, I suggest wandering towards this 2.4 hectare park at Bathurst Street and Queens Quay West. There's a ball diamond, a wading pool, a children's playground and many walking paths through gardens. Its name commemorates the World War II training base, used by the Norwegian Air Force, that once existed on the site. This area is accessible at all hours of the day and is another fabulous free thing to do in Toronto.
Sugar Beach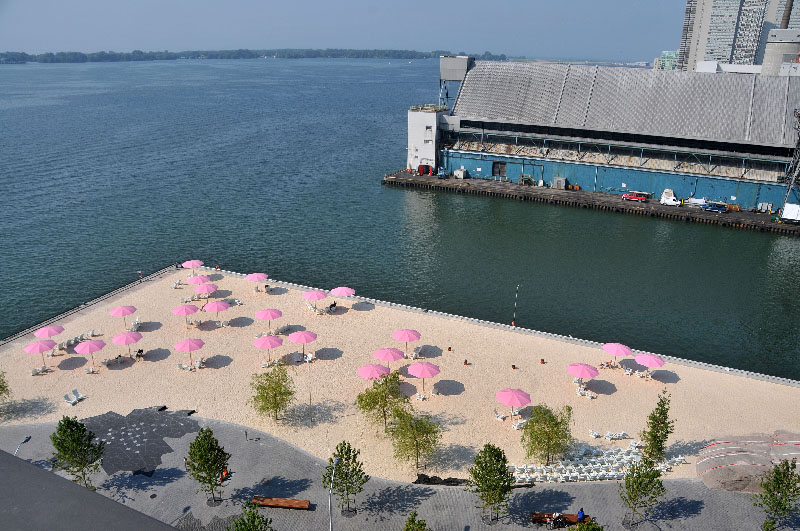 Technically speaking, this is another sandbox because you cannot swim at Sugar Beach. However, it's a lovely escape for the afternoon and you can pretend that you're in the South of France or an equally exotic location. There's a splash pad nearby at Sherbourne Common that's usually quite empty and fun for the under 12 crowd. Public drinking is not allowed in Toronto but I will mention that one of the city's largest LCBO stores is just across the street if you want to find something for your hotel room!
Roam and Scooter the Boardwalk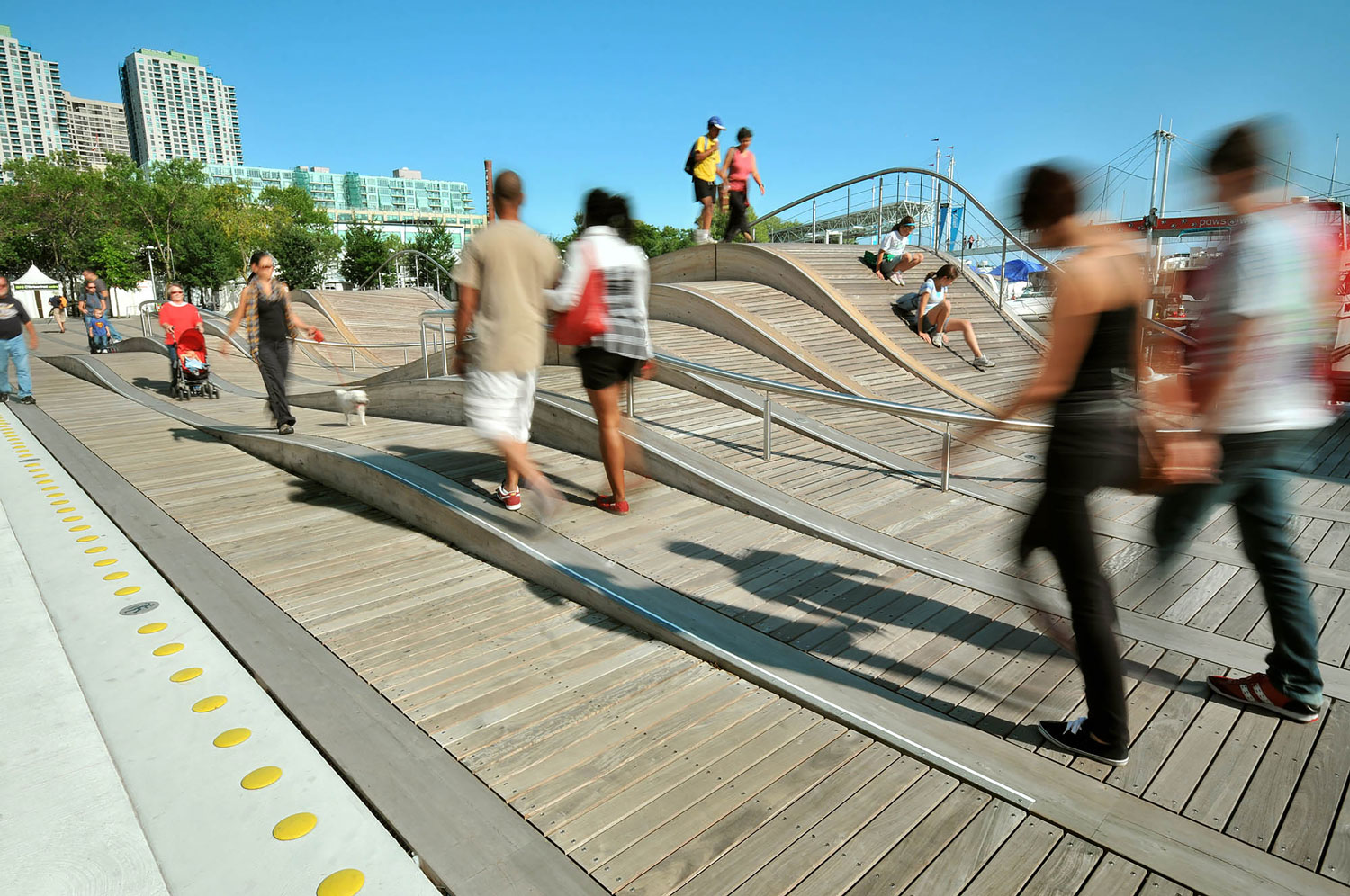 One of my favourite features of the Waterfront area is that families can let the kids run wild (within reason). There are numerous pathways away from the busy roads and my kids love the "waves bridges" that can be found on Queens Quay. All of this is free to enjoy and during these times, I suggest wearing a mask because occasionally the foot traffic can be too busy for my comfort during the Covid era.
Explore Pop Up Activities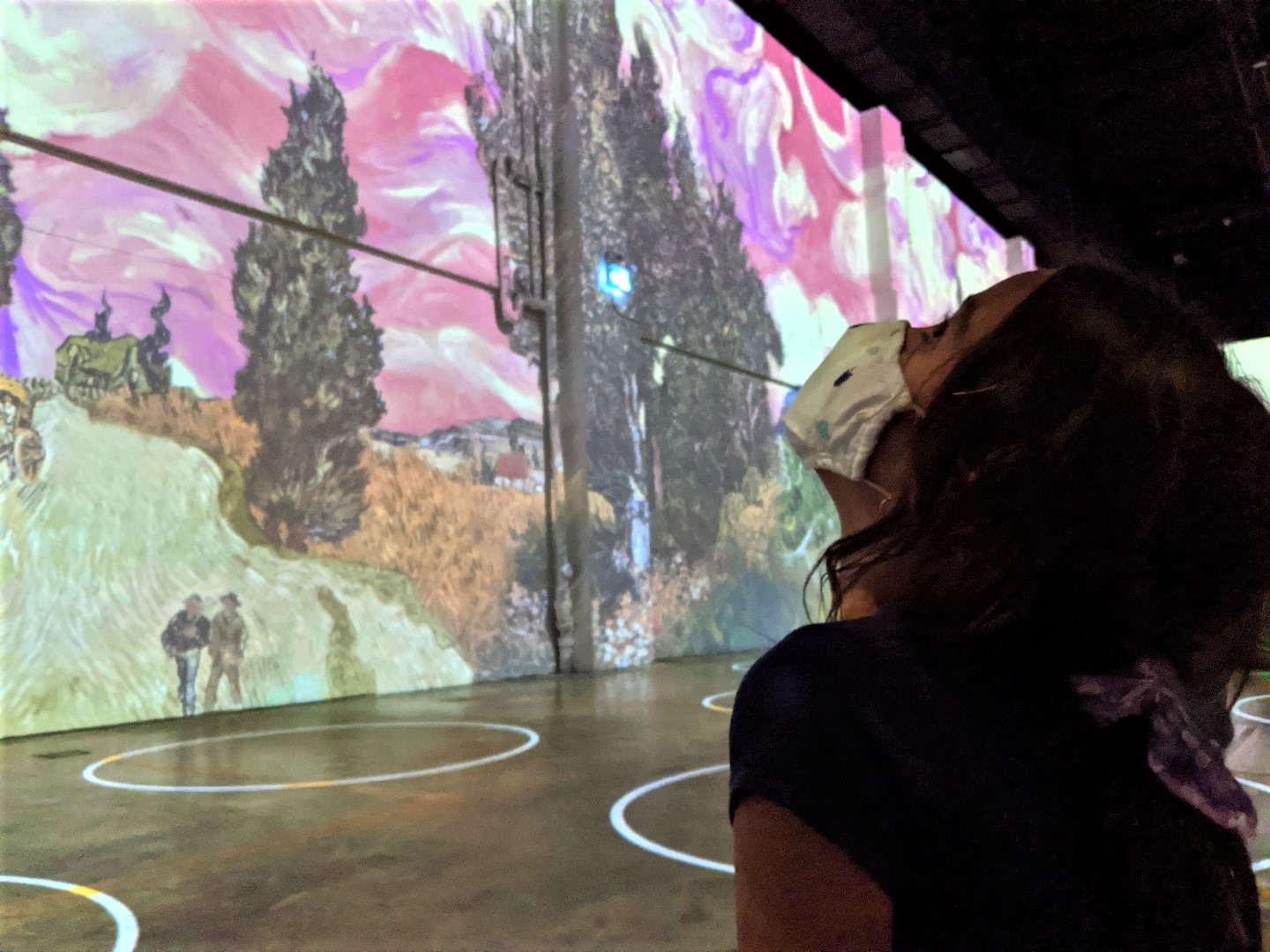 This summer we've had the Van Gogh exhibit in town at 1 Yonge Street but at any given time, there's something else that's new and exciting (remember Happy Place?). We visited the Van Gogh exhibit with our kids and it was a fun evening. During these times, they're doing a great job at distancing people and still allowing our masked selves to take as many selfies as we want! We spent an hour immersing ourselves in the interactive digital displays and were fondly reminded of our days in Amsterdam.
Partake in Water Activities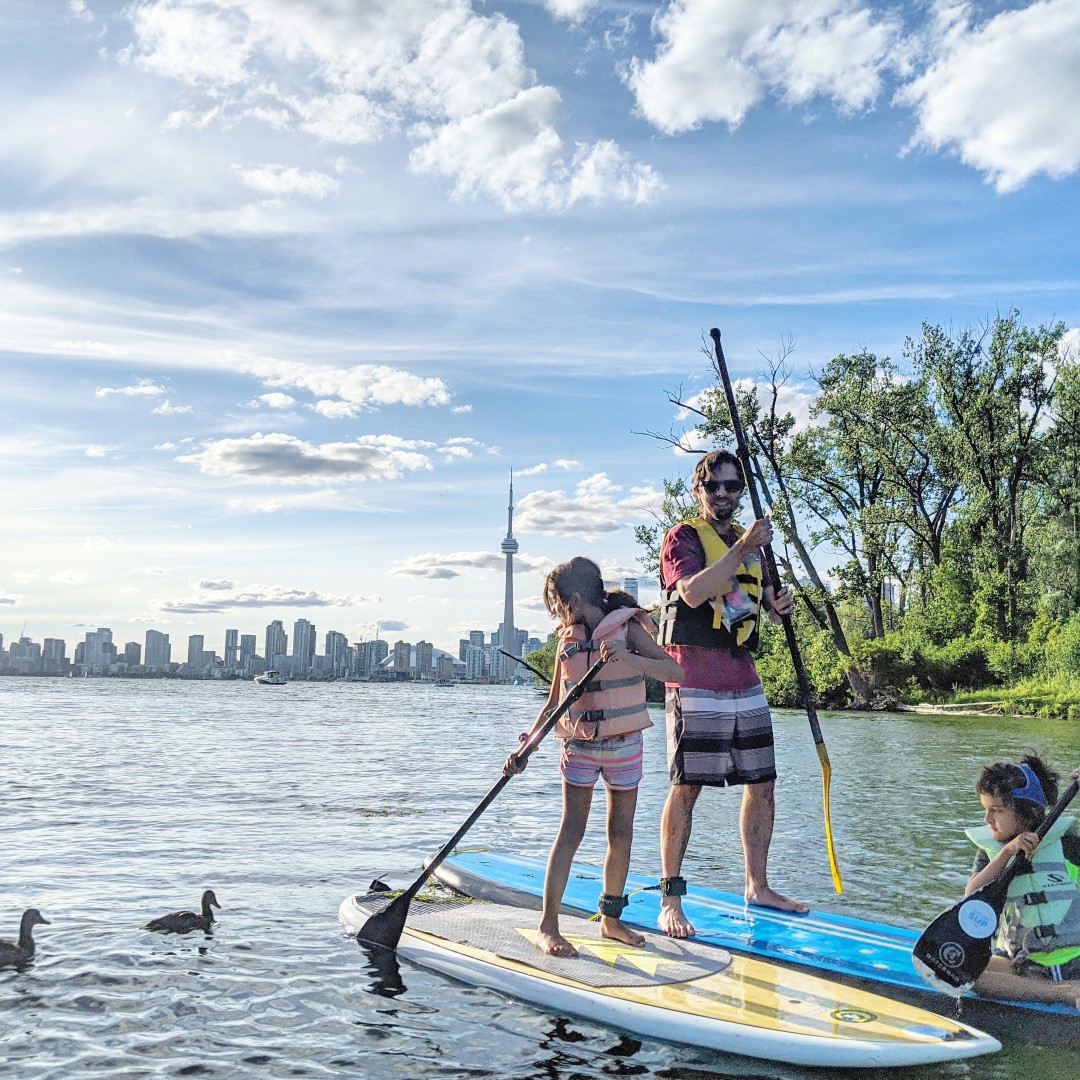 You are by the water and there are various ways to enjoy some water activities in downtown Toronto! There are a couple operators who will help facilitate kayak, canoe and SUP rentals. You can also get on a water taxi or book one of the many cruises (we did a Mother's Day Cruise in Toronto couple years ago).
A Day on the Toronto Islands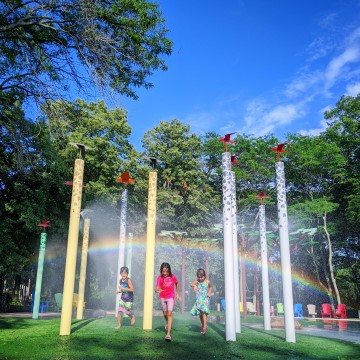 I know I said I wouldn't mention the Toronto Islands but I HAD to! You can go over for a couple hours but there are SO MANY things to do on the Toronto Islands with kids that you probably want to spend an entire day. In August alone we visit the islands three times, and discovered some great gems we hadn't during previous summers. Be sure to read our post about our pandemic visits to the Islands!
Explore Harbourfront Centre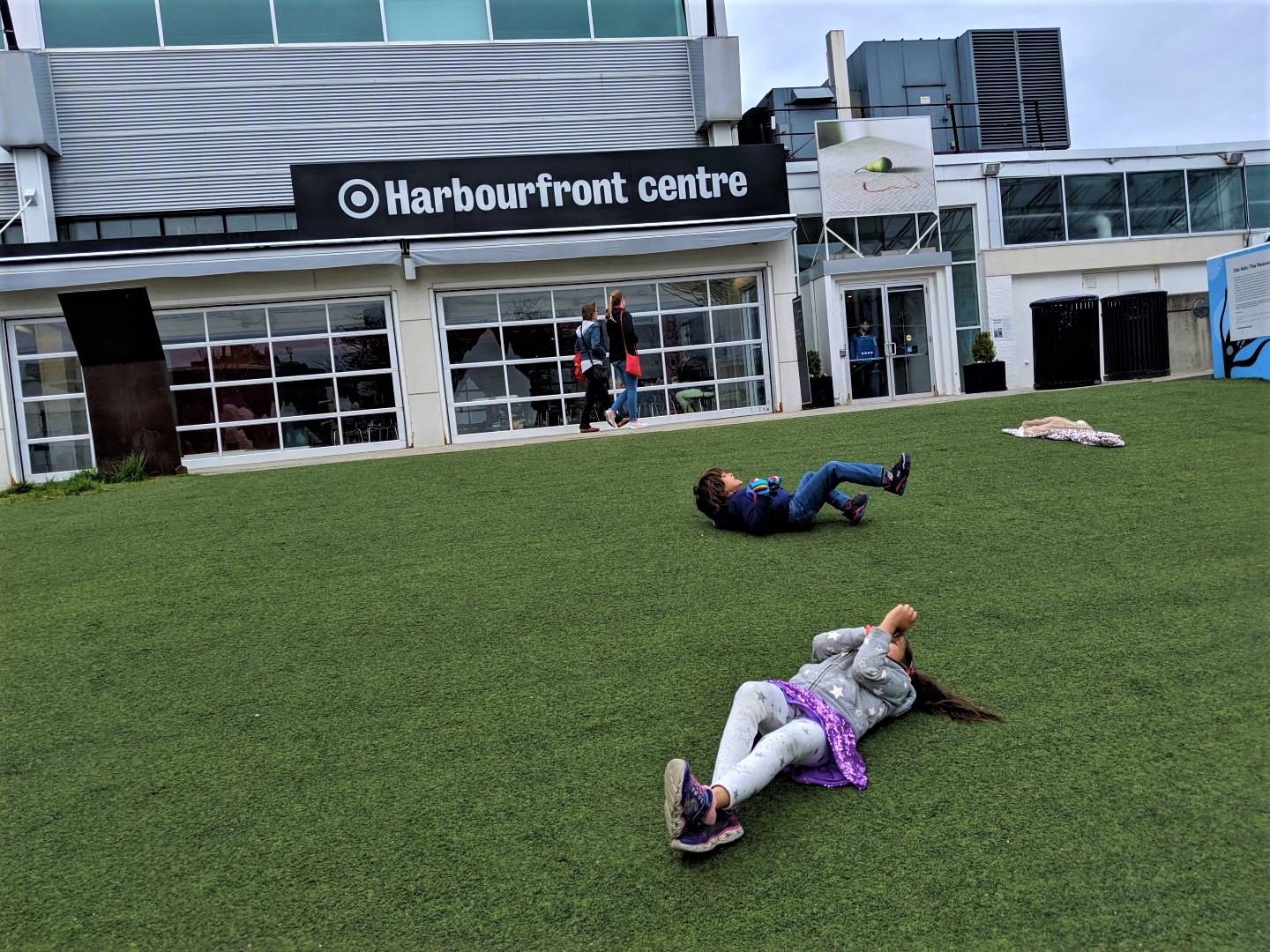 During the pandemic this great art hub is no longer offering fun pop ups and free activities BUT you can still enjoy some virtual programming. In the past we've shared about our love for this family friendly space in Toronto and during these time we visit to enjoy their green spaces and reminisce about past events. The above picture was taken last year, pre COVID, as it's always funny watching the kids roll around on the green hills there.
Explore Corktown Common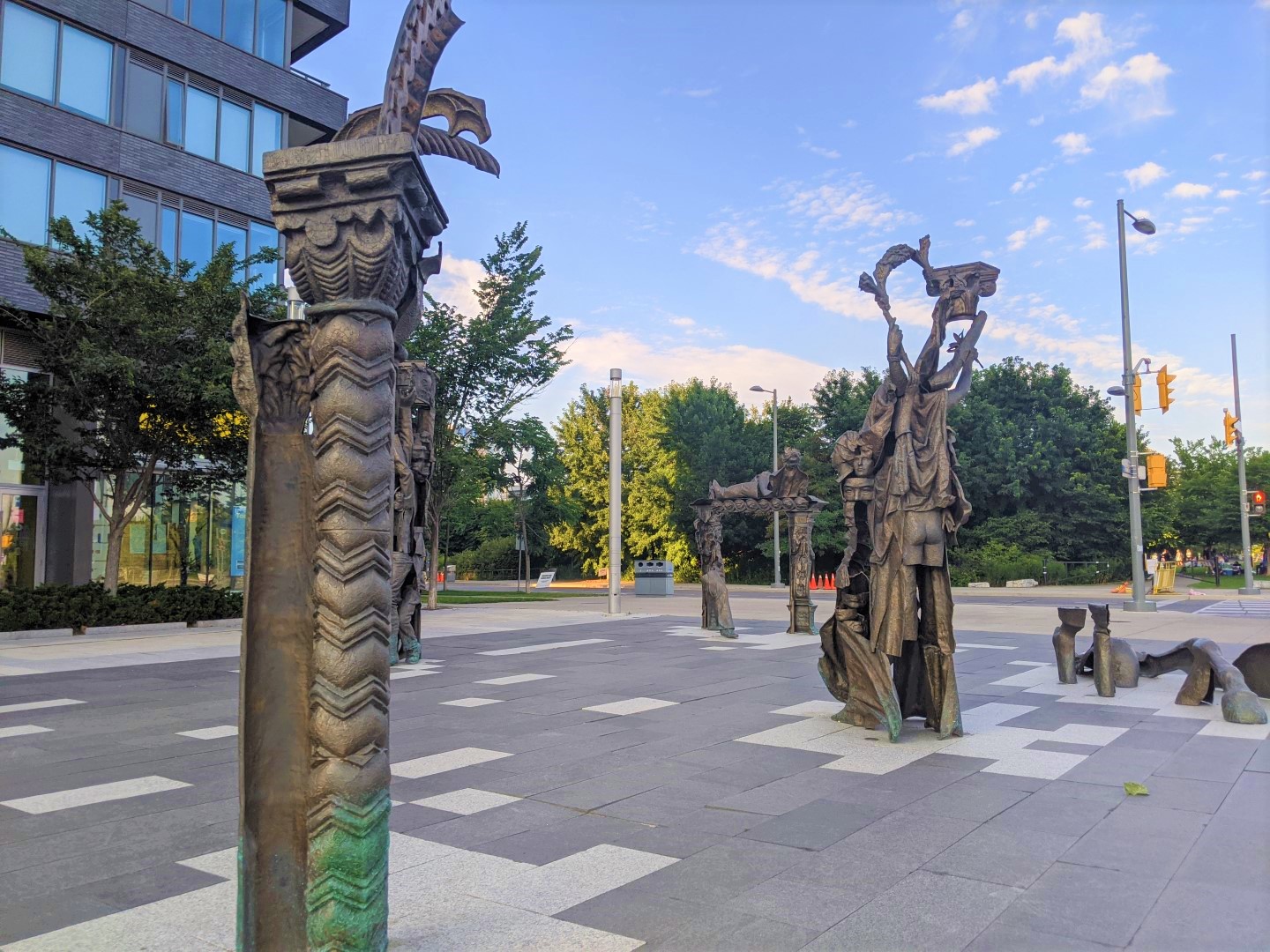 We don't get out here enough mainly because it's a bit further from the core Waterfront area. Corktown Common is a park located at the foot of Lower River Street and Bayview Avenue. Here you will find a splash pad, art sculptures, gardens, BBQ areas and playgrounds. Situated on former industrial lands, the park has transformed an underutilized brownfield into a spectacular park and community meeting place. The nearby area also has some decent looking restaurants (I'm yet to try any of them though) enabling you to easily spend a full afternoon here.
Winter Activities on the Waterfront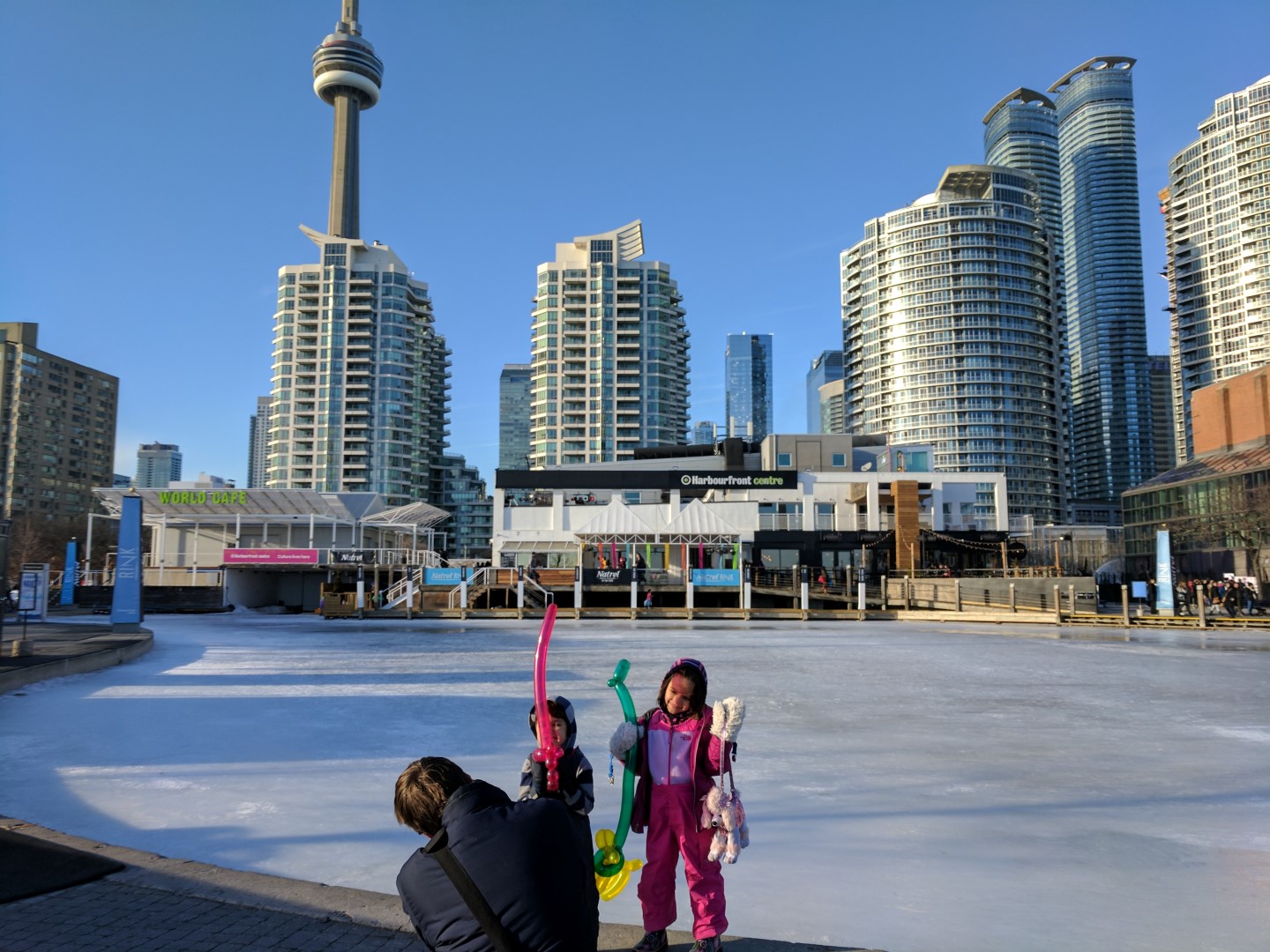 We know that winter will soon be here. The white stuff doesn't keep us away from the waterfront area because there's still plenty of ways to enjoy Toronto in the winter with kids in tow. Most of the above activities can be enjoyed in the winter but you will want to swap the water activities with a skate on the Natrel rink. Mind you, the Toronto Islands are still open during the winter too. Layer up, wear those snow pants, mitts, hats etc etc and then use the Waterfront as a giant play area because you can often find piles of CLEAN snow in the hidden alleyways you discovered during spring, summer and autumn.
Places to Eat by the Waterfront with Kids in Toronto
Impact Kitchen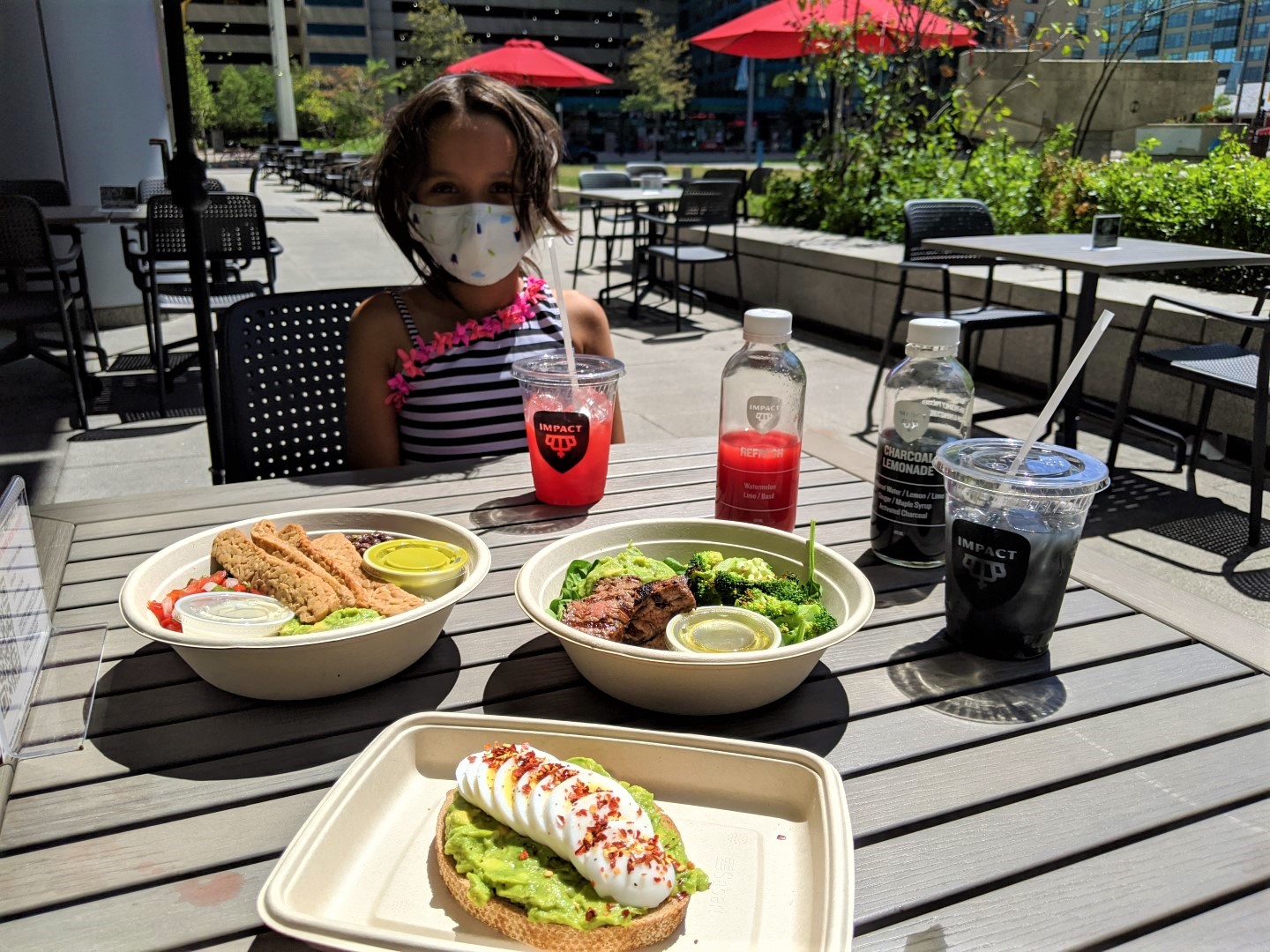 We recently visited Impact Kitchen for the first time and their Queens Quay location is the best patio on the Waterfront! Well spaced out and nearby to a grassy area, kids can run around while parents enjoy some healthy eats. If you're looking for vegan, paleo or keto options, this IS your spot. I loved the Zesty Mexican bowl here and the kids obviously enjoyed the burger (yes they have meat options as well). It's also very stroller friendly and even indoors I noticed that the aisles are well spaced apart so you can easily park a stroller.
Cuppa Tea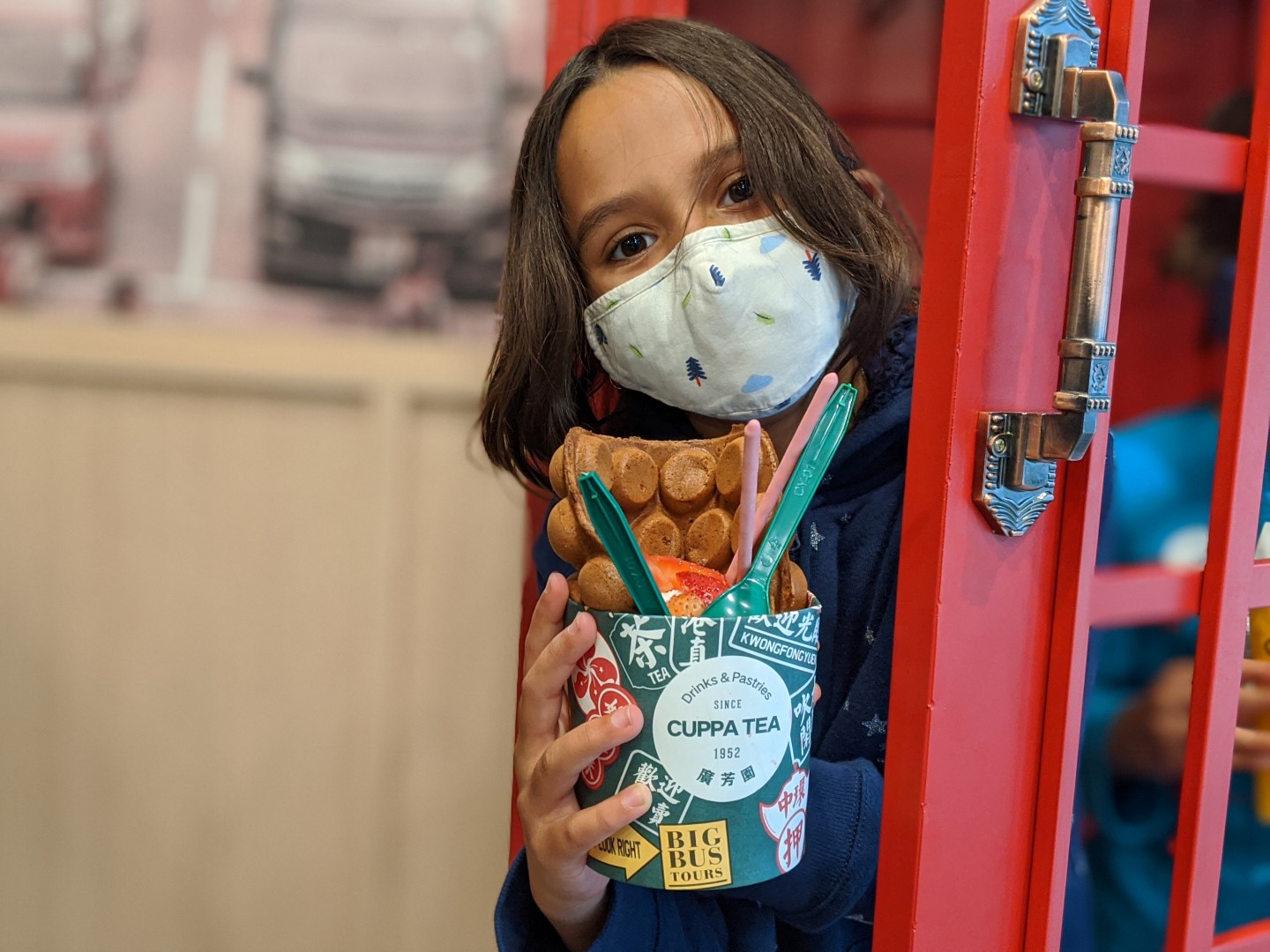 Newly opened (during the pandemic) this cute tea house is a fabulous spot to grab a Hong-Kong style drink (cold or warm) for your strolls around Toronto's Waterfront. Apollo enjoyed their Mango Passion fruit Tea and they made it without tea for him (such a nice touch). Akira and I were very jealous of his drink because it was absolutely delicious, brightly coloured and made with fresh mangoes. While many of us may opt for the Taro bubble tea, they also offer drinks like a Ferraro Roche with purple rice! Yes rice! Kids will also enjoy their waffle cones and buttered pineapple buns. Be sure to take a picture with their telephone booth! P.s – they have a change table here and the owners have young kids of their own!
Pie Bar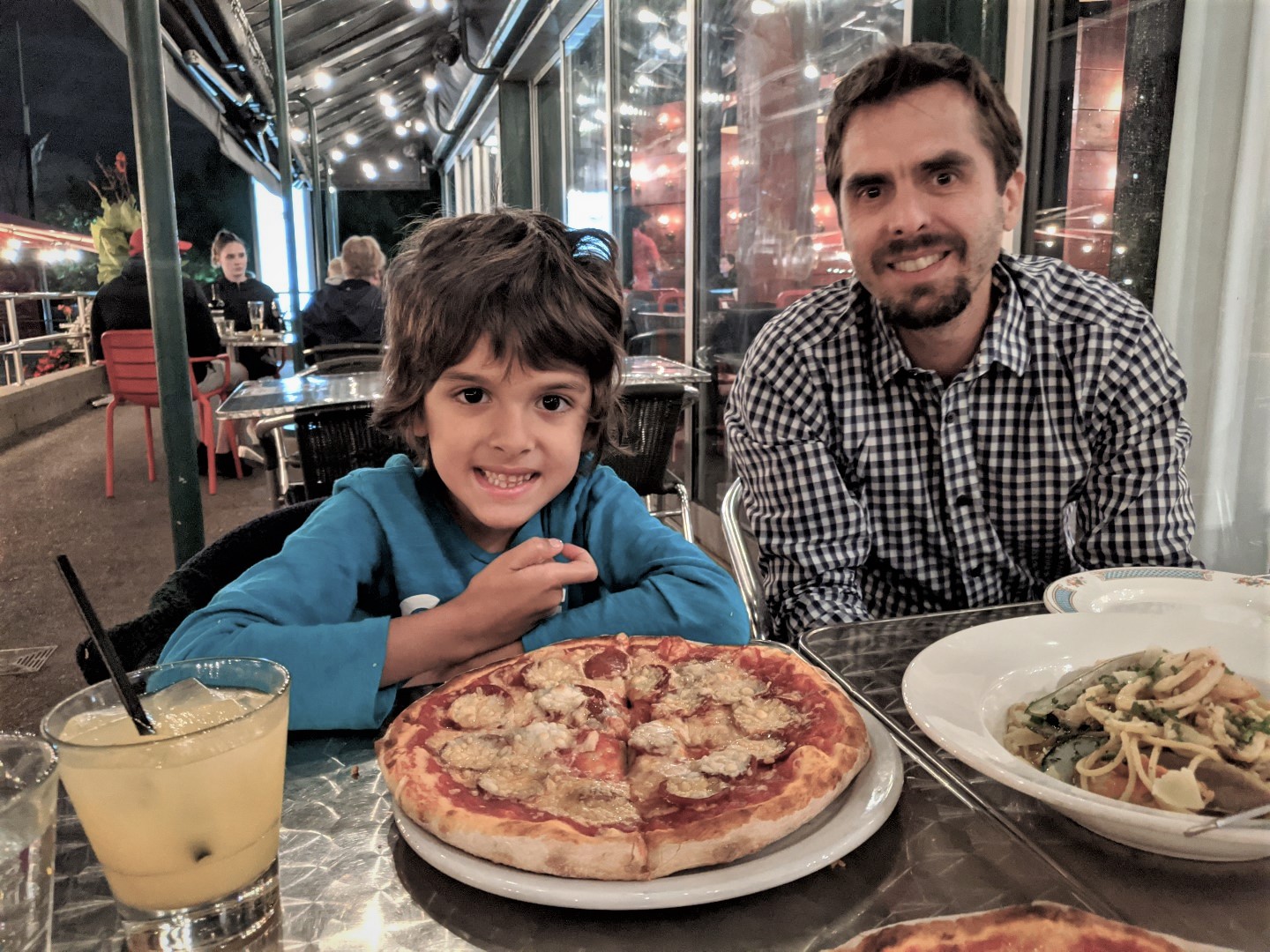 We once enjoyed a relaxing dinner on the patio here. Kids will enjoy the front row views of the ships and adults like myself will enjoy the tunes they play here! In addition to Neapolitan style wood fired pizza, they also have gelato here. If you're looking for kids meals in Toronto, they have a pretty epic one. Two kids can easily share one $13 meal which comes with a fairly large pizza, drink and dessert. They're very good at offering gluten free dough and dairy free cheese options so if you're craving pizza at the Waterfront, I highly recommend a visit here. Also, be sure to order the Fritto Misto if you're a calamari and seafood fan. Their Brussels sprout salad was also really good (right… I rarely say that!). If you dine here during the month of September 2020, mention the code YPB2020 and you'll receive a free appetizer when you order an entree!
Amsterdam Brew House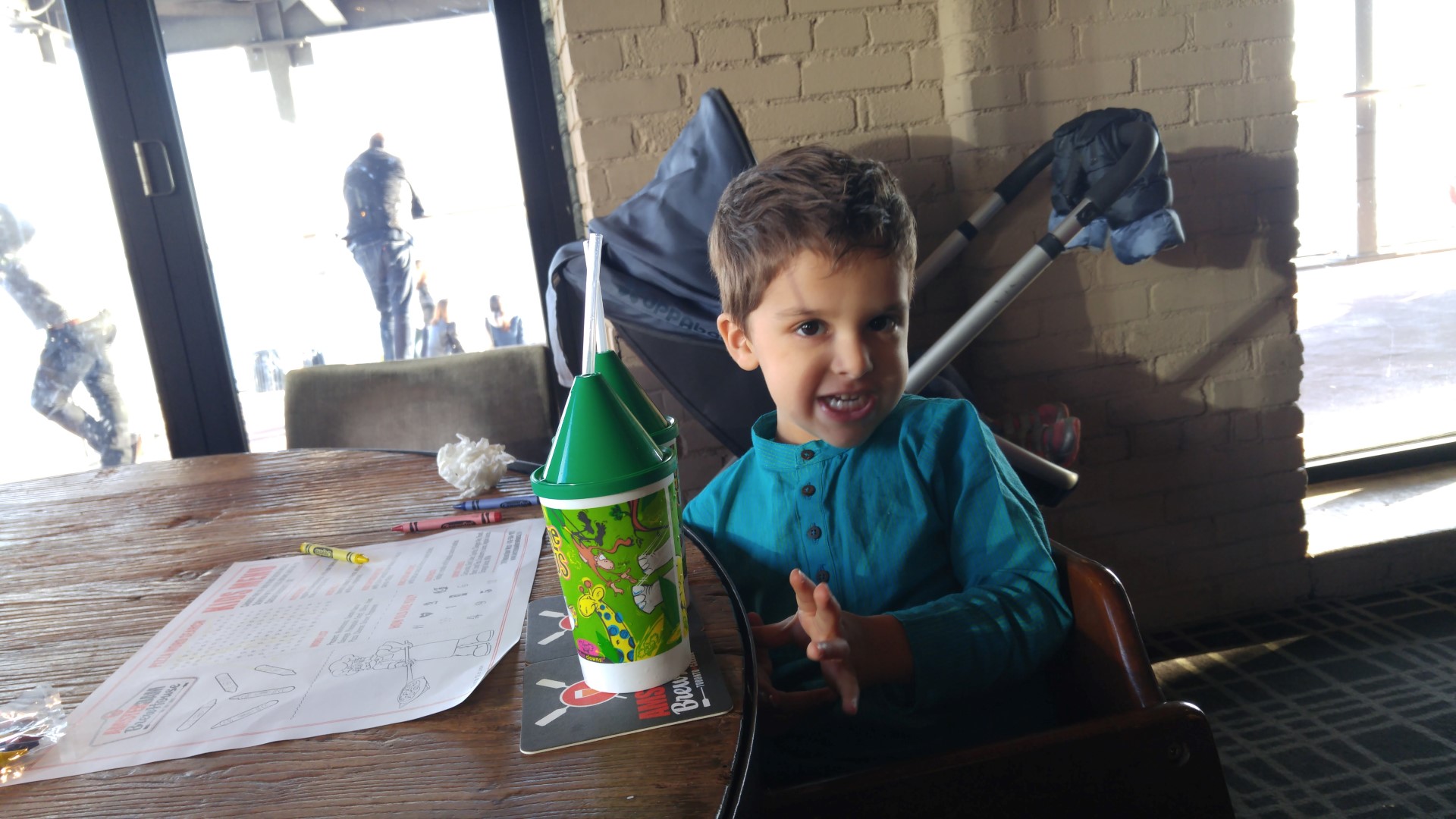 We'e been visiting Amsterdam Brew House on Queens Quay since the kids were babies. They've always been family friendly and offer a great selection of upscale pub eats. They have high chairs and change tables here for those with young ones looking to enjoy a few beers. Their retail store is also open later than some LCBOs so if you're looking to take home some brews (or for your picnic), this is an easy spot to keep in mind.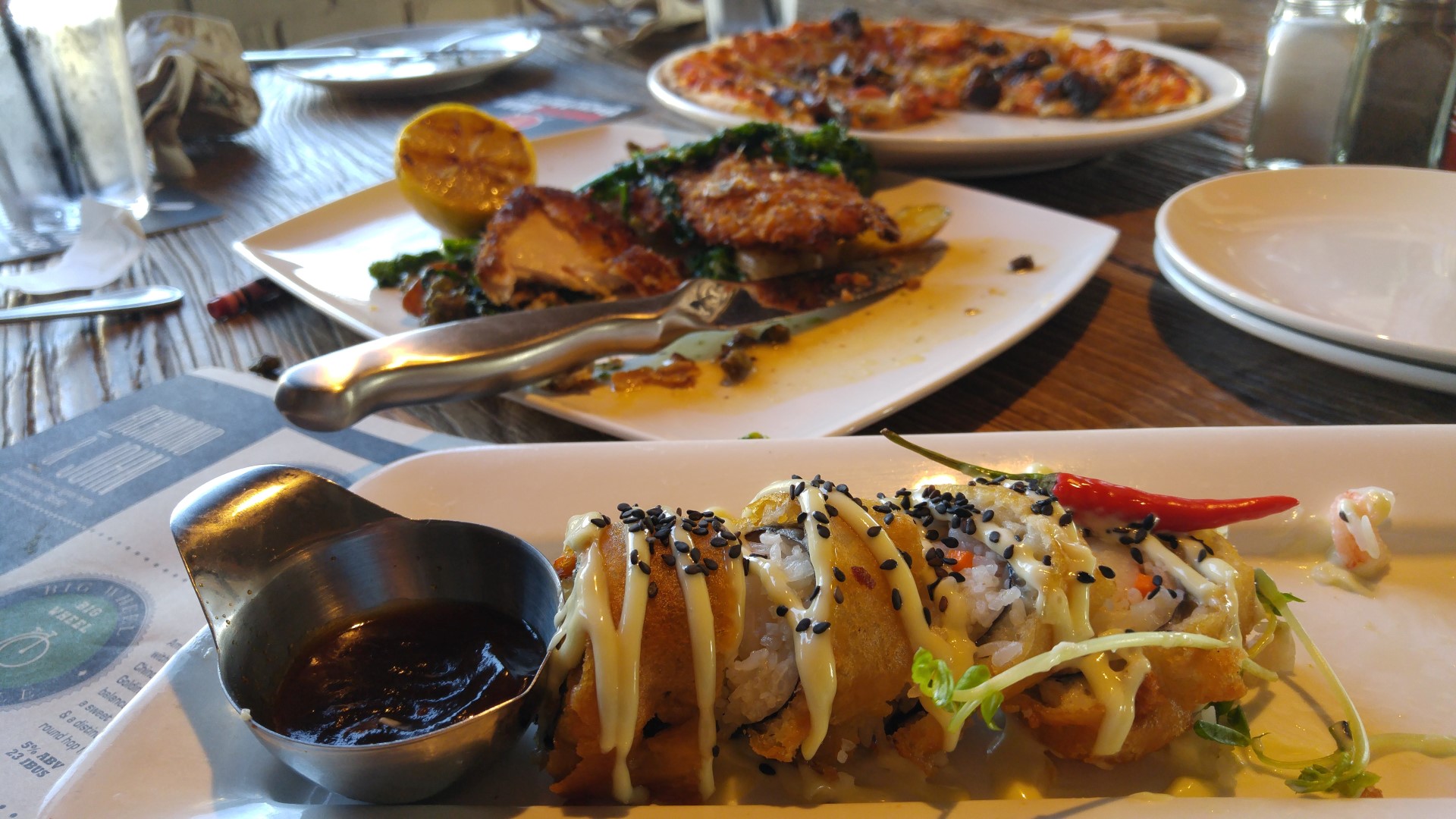 Touti Cafe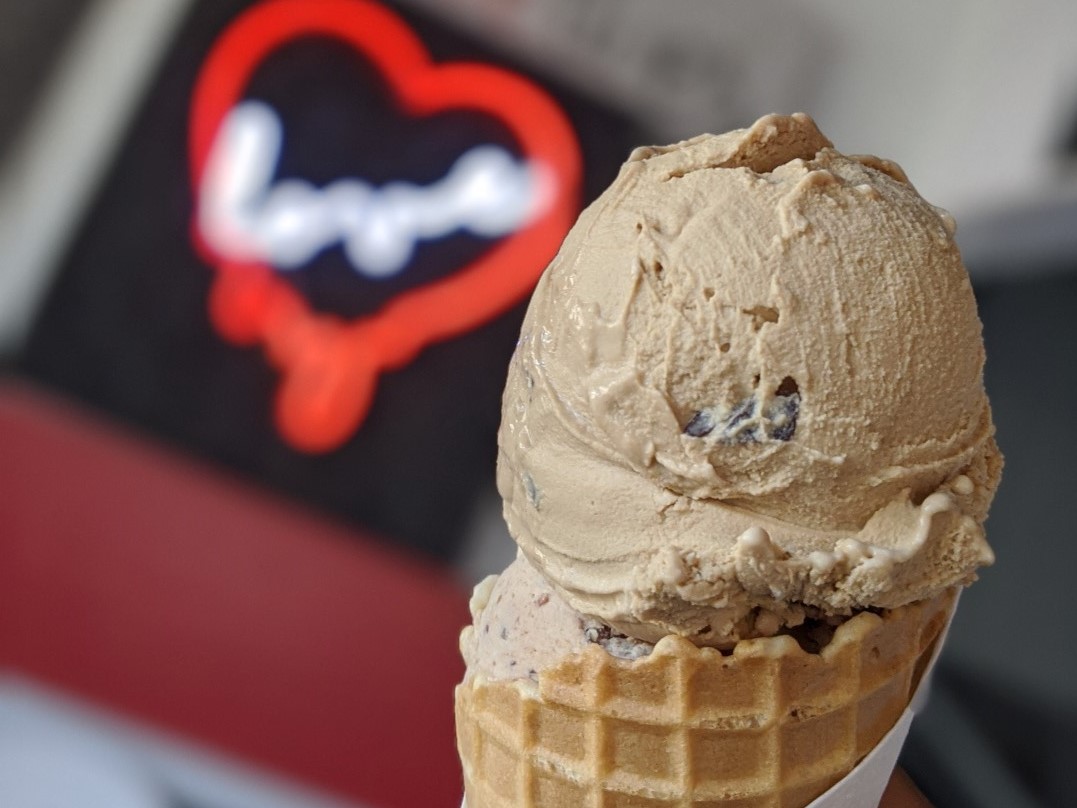 No summer outing is complete without a treat! Right? We enjoy visiting this Italian gelato shop that's located across the street from the Music Gardens. They have a variety of flavours – most of which are pretty awesome, and all are made in-house. Apollo even finds dairy free sorbet options and we often grab our treats and enjoy it on the Waterfront. They are a full service cafe with coffee/tea, sandwiches and more but we usually pop in for the gelato.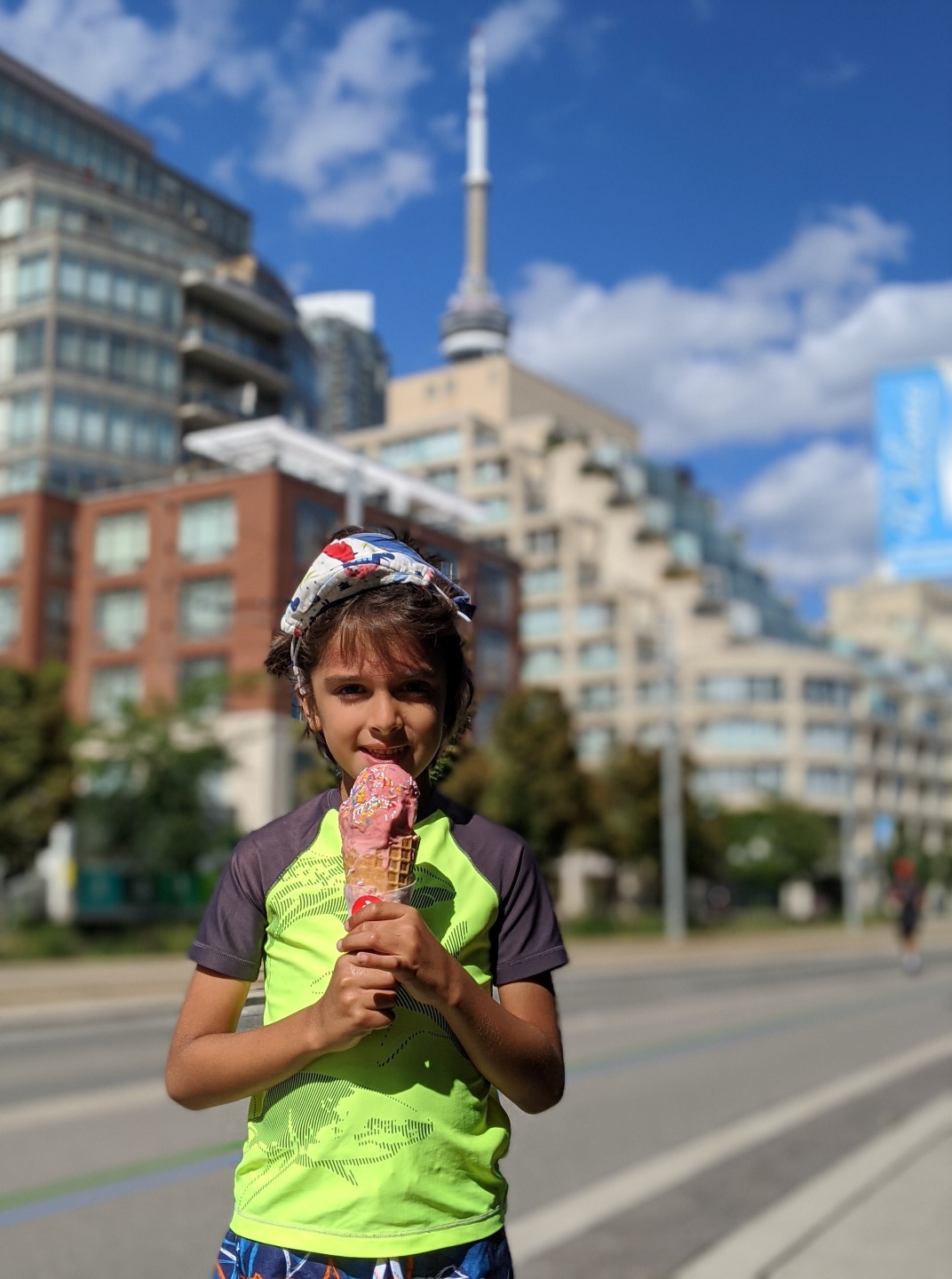 My Roti Place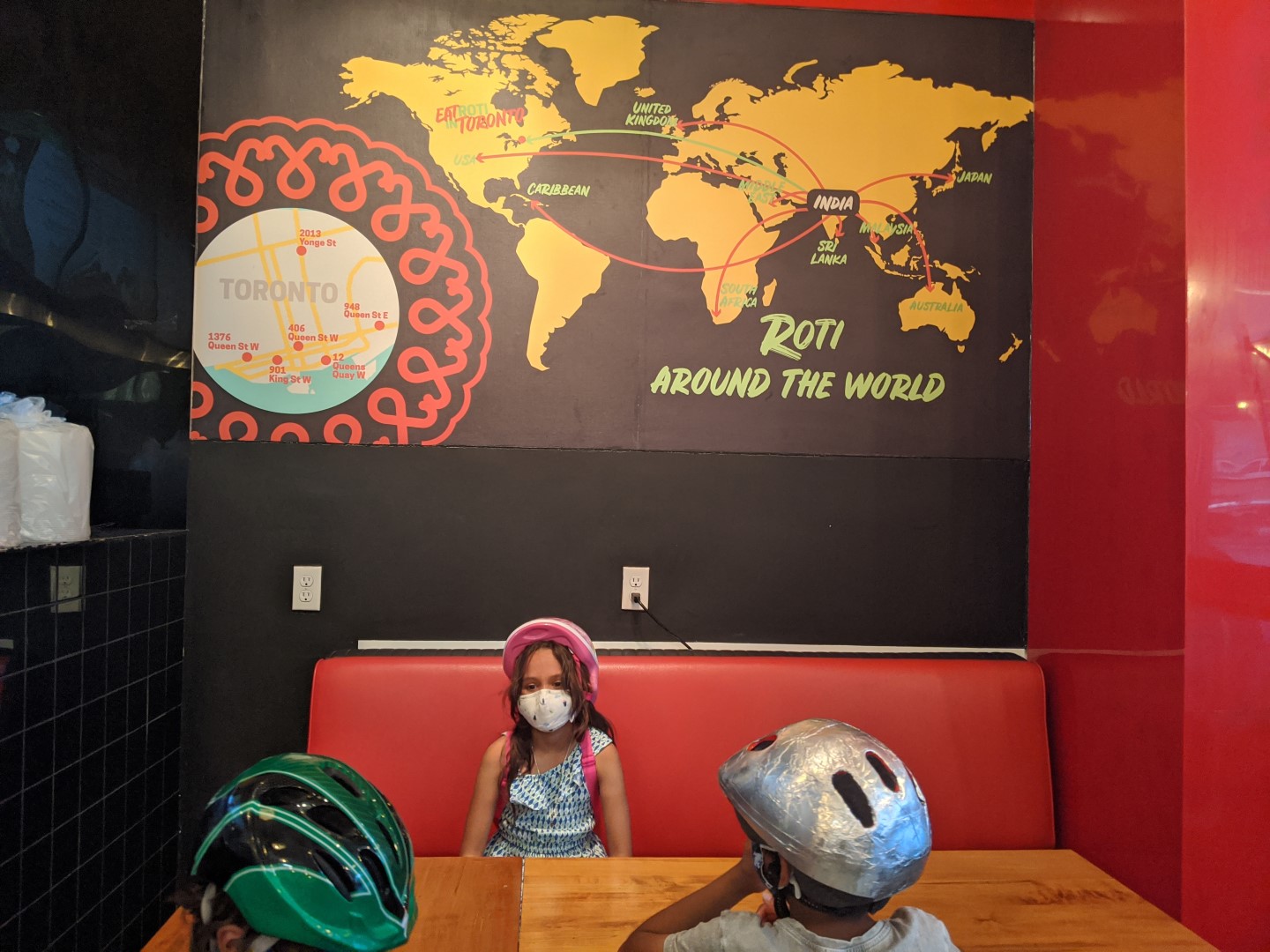 Craving some spicy food? I mean like proper spice, not just mild stuff. Their rotis are pretty good here. Think Indian food, dosas and biriyanis as well but it's their Roti that gets a nod from me. You can dine in or just take food to go (there's the green pastures right by the ferry terminal across the street from the restaurant). Each of their dishes also comes with a mini gulab jamun so you can enjoy a mini treat along with your meal.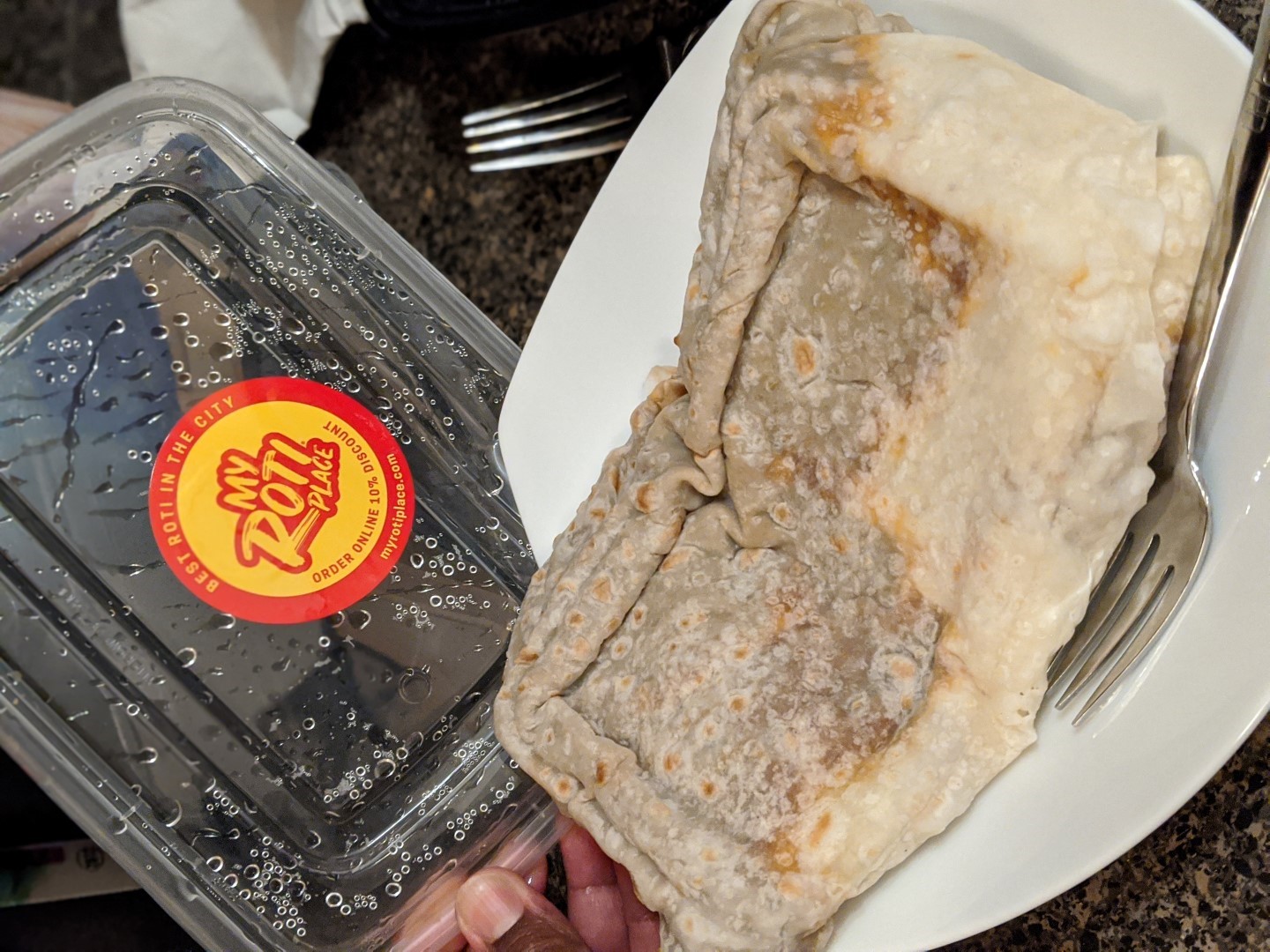 Box Car Social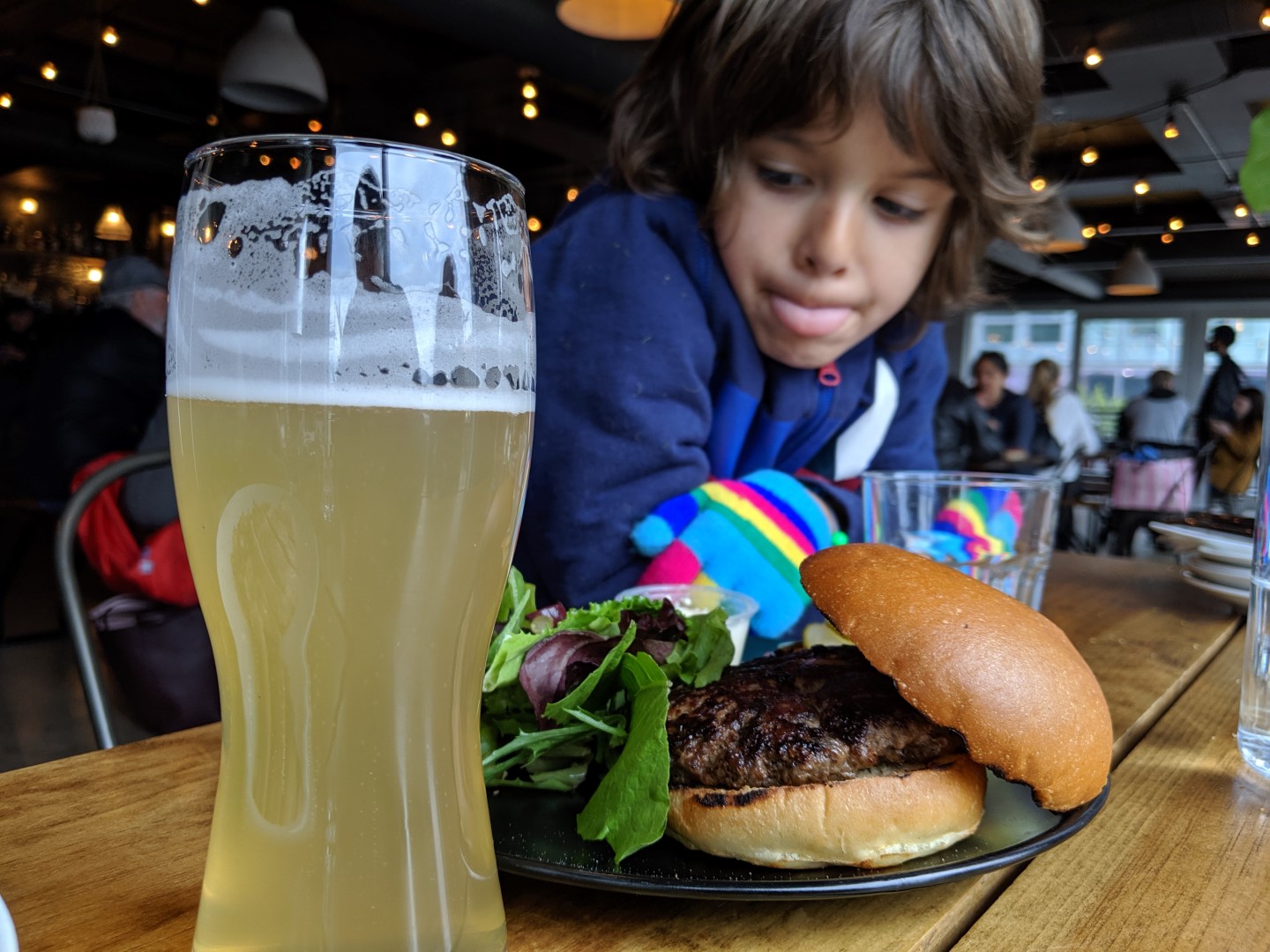 I used to love grabbing coffee from here but they do have a great patio as well. In the past we've also enjoyed mid afternoon snacks here and they carry a variety of options for those on vegan and vegetarian diets. If you're looking to soak in the views of Lake Ontario as you enjoy a cocktail and lunch, I highly recommend this spot.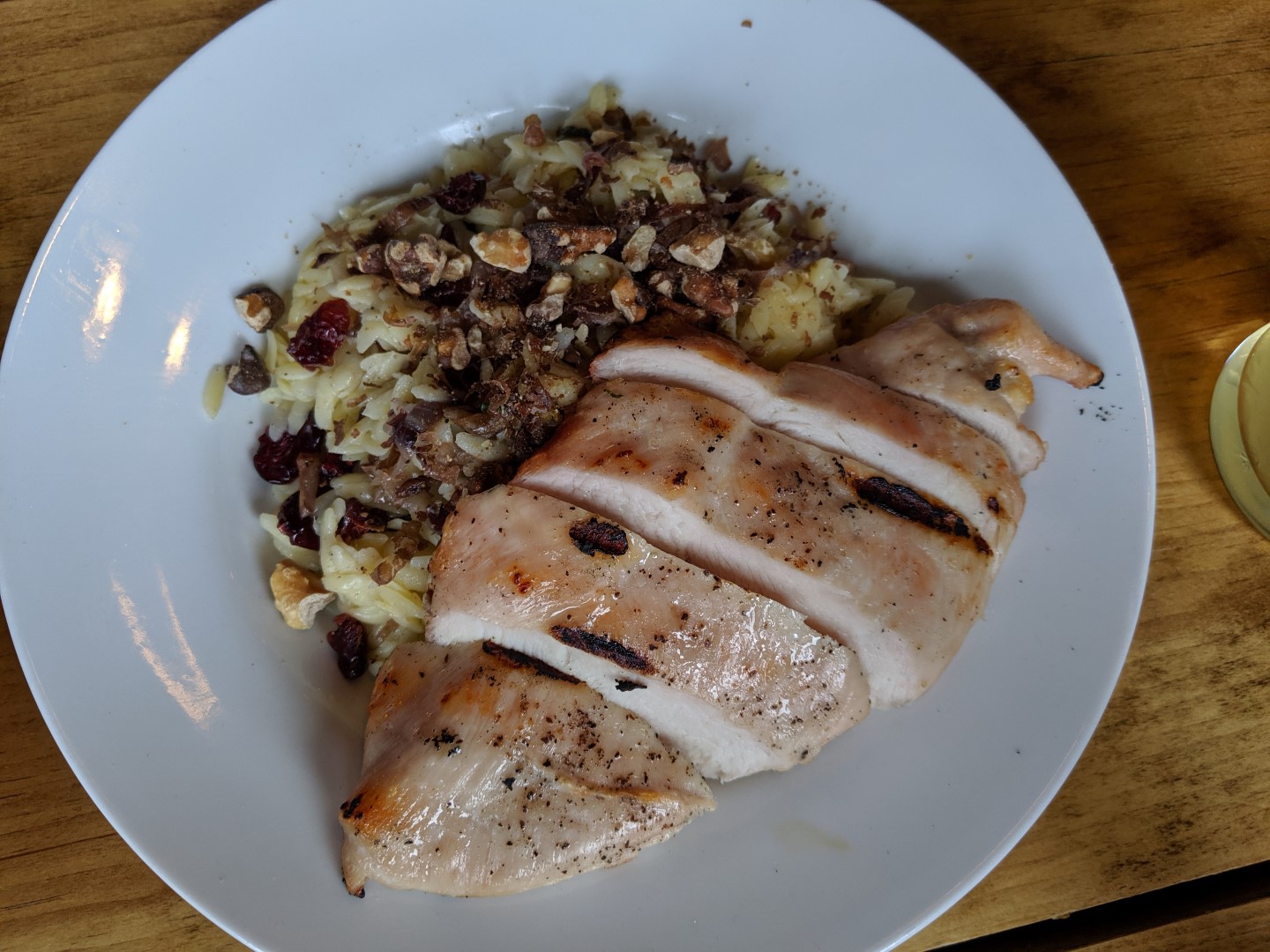 Pearl Harbourfront Chinese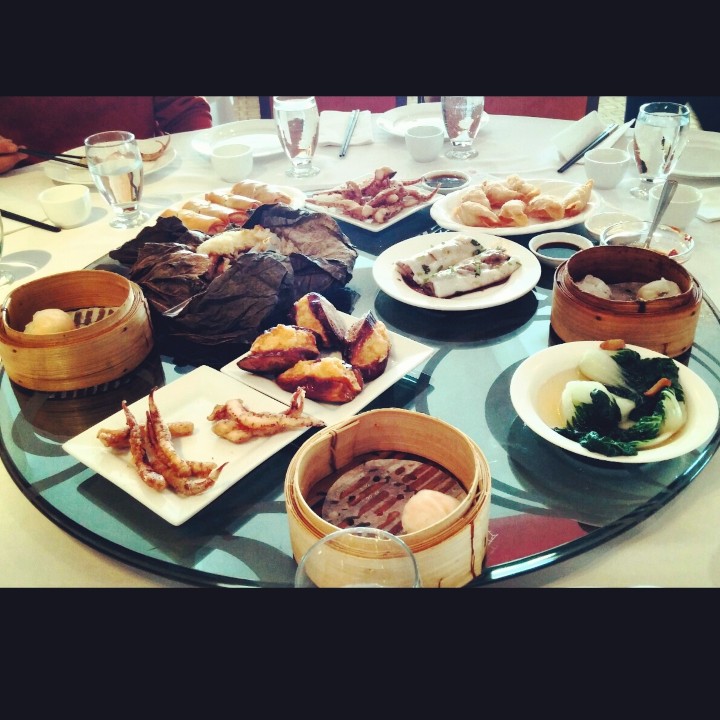 This is one of my favourite dim sum restaurants in Toronto as they also have the ladies with the carts! However, I will mention that I haven't dined indoors since the pandemic so I am not too sure how things are right now. The food will still be awesome and you will be able to enjoy some epic views of the waterfront as you dine indoors here. They do offer take out but I'm not one for take out dim sum…you know what I mean?
Toronto Waterfront Itinerary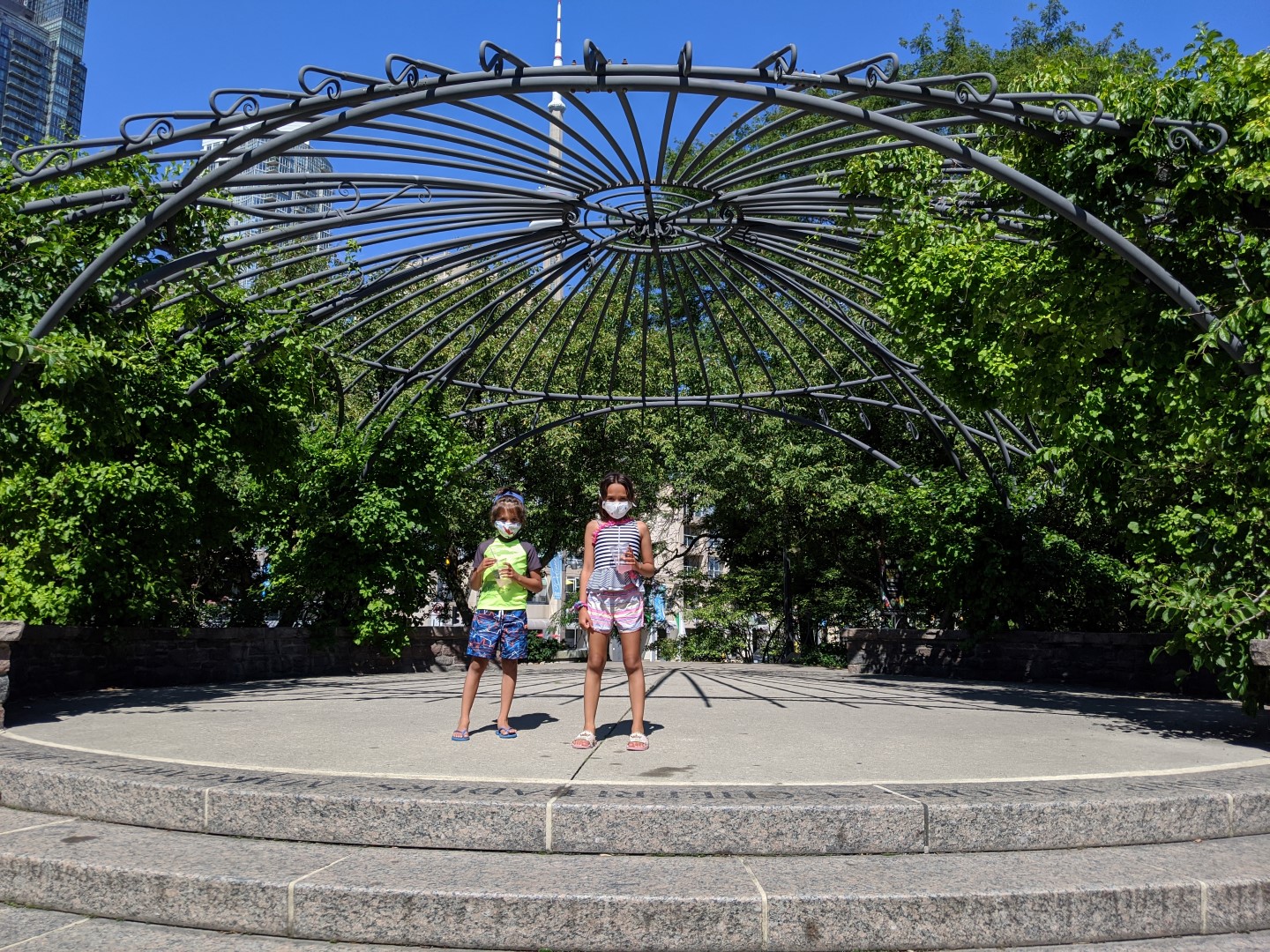 I know I've listed quite a few things to do in Toronto when visiting the Waterfront area so I'm going to help you. How? By suggesting a Toronto Waterfront itinerary with kids in tow if you have a full day here.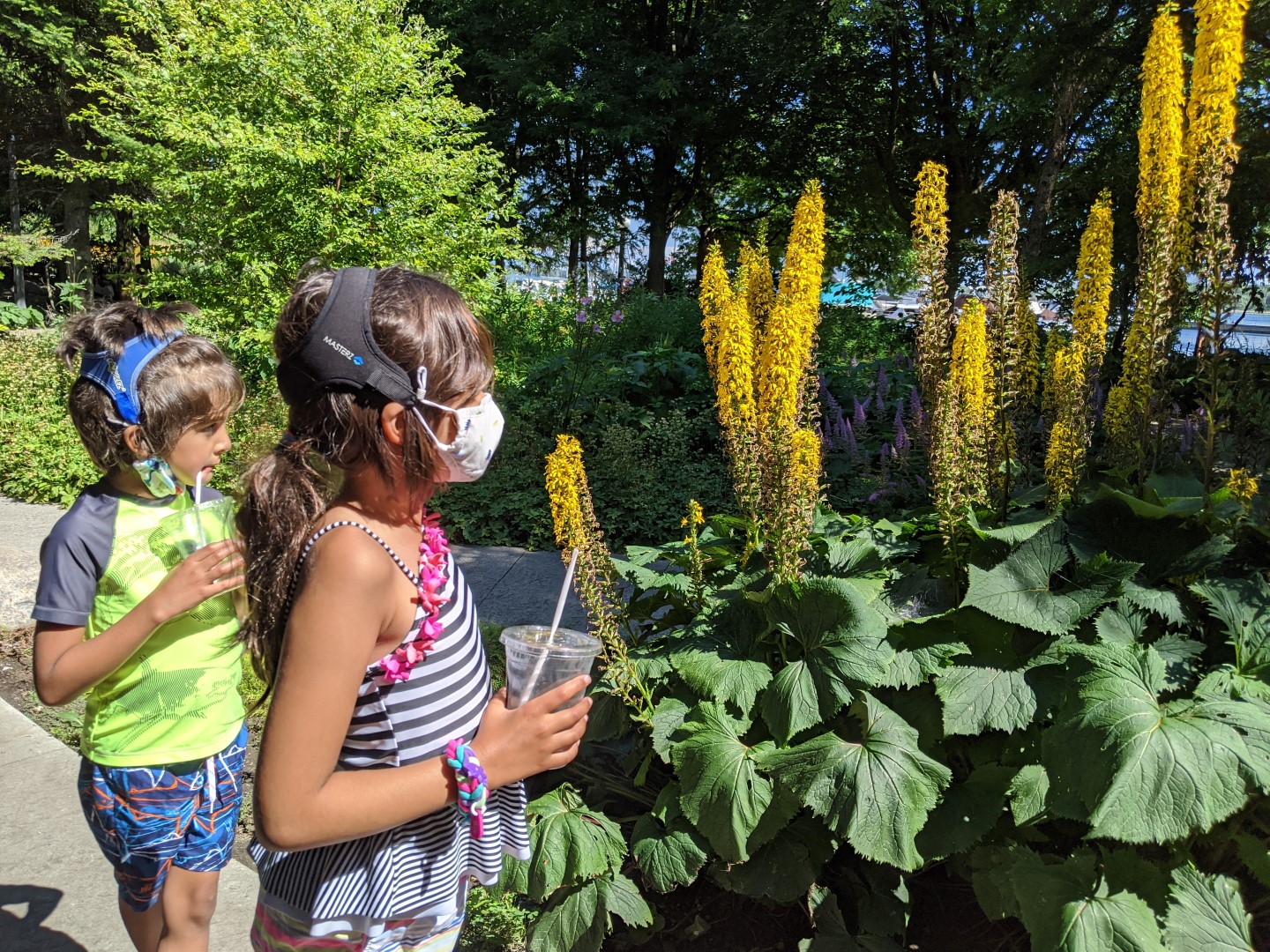 Start your morning by taking the kids on cruise with Pirates at Pirate Life. Since you're on holiday mode grab some gelato from Touti Cafe or drinks and pastries from Cuppa Tea and roam around the Music Gardens or hit up the wading pool at Little Norway. Make your way towards Impact Kitchen or Amsterdam Brewhouse for lunch (Pearl Harbourfront would also be a solid option) and be sure to enjoy the views and allow the kids to run/scooter along the wave bridges/paths. Then either spend the afternoon on the Toronto Islands or try one of the water activities (you could easily play at HTO park too). For dinner, I suggest a leisurely one at Pie Bar or grab something from My Roti Place and take it to Sugar Beach where you can watch the sunset (depending on how late your kids can stay up, of course). What I like about the Waterfornt area is that you can enjoy a lazy day here and pretend that you're on vacation by enjoying the slow life of eating and drinking whilst being "lazy" at the many parks and green spaces peppered through the boardwalk area.
If you've never thought of spending a day at Toronto's Waterfront, I hope my tips on things to do in Toronto's Waterfront has sparked your curiousity. Be sure to let me know if you discover some new things in the area that I should add! Also, be sure to check out this resource of all things happening in the Waterfront because they put on many pop up events!