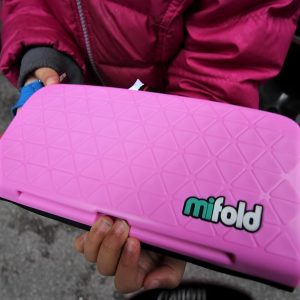 Guys, I think we have finally found the tiniest booster seat for the kids!!! Now when you ask me "do kids need a car seat in a taxi?" I can tell you "legally no but practically yes!" All these years we lamented about the weight of the car seats and booster seats for kids and would often take taxis (because as you may recall, we don't own a car living in downtown Toronto) with kids and no car or booster seat. NO MORE! mifold – the grab and go car booster seat has come to our rescue! It's perfect for when we rent a car, take a taxi, grab a Zipcar or take public transit to meet friends at a GO station only to be driven to their house – with kids in tow. For this year's gift guide, this is our gift feature for the family bitten by the travel bug and you can enter to win a mifold! We've been using this for a couple years now and it's still very sturdy and we love it so much that we're getting one for Baby Boy too!
Disclosure : This post is in partnership with mifold but, as always, opinions are TOTALLY ours! 
If your child is between 4 and 12 years old, weighs between 40- 100 lbs, and is 40"-57 " – this one is for you. I was so thrilled when I read about the mifold on my friend Aneta's parenting blog a few years ago. It was the solution to quite a few problems we had on our long list of challenges as we packed for our 5 months away. Lugging car seats with a 3 and 5 year old is the absolute worst thing – I tell you this from experience! Many a time the hubs has had to lug our Diono (which is actually quite light relatively) up and down Yonge Street, through airport terminals (even in Sri Lanka!) and has plenty of curse words to share with you.
The mifold is the tiniest booster seat and not only is it 10 times smaller than a regular booster seat, this baby fits in your purse! Can you believe it? It's so tiny that it came in our suitcase with us to Spain. Little Monkey (who is now 7) has been using this since she was 5 and now that Baby Boy is 5, we're moving him to this one as well! We've tried quite a few options and honestly, the mifold is the BEST travel car seat (booster) for us. I have heard other complaining about it but it's so much better for my kids who are on the smaller spectrum, than others. This is the smallest car seat solution we've found that has been approved for use in Canada. There's also a European version and is sold in the States too. Is it safe? ABSOLUTELY! Mind you – we haven't been in an accident to confirm this and I hope to God we never have to report back after a real life experience in this case! It was invented by a dad and he has tested it out and our very strict Canadian regulatory authorities have also approved it. You can purchase them at Canadian Tire and directly from their online store .
We've been using the mifold for a good 2.5 YEARS now and have had plenty of practice with it. Best part is that Little Monkey likes it too. While a regular booster lifts a child to be in a position of an adult, the mifold does the exact opposite… instead of lifting the child up, it holds the seatbelt down. I love the fact that it's so light weight and that we can now fit three people in a row when we rent a car or when we steal my dad's car for a joyride!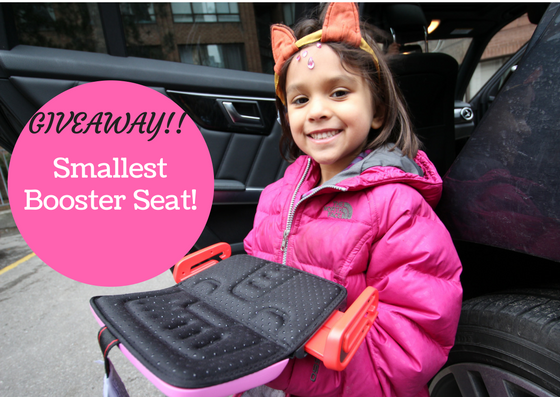 If there's one thing to caution you about switching from a 5 point harness to a booster seats is that if your kid naps in the car often, it will take some adjusting. Little Monkey wasn't able to fall asleep like she could in her car seat (she had the same issues in a regular booster seat too). We've now started place her in the middle seat so she can lean against Baby Boy's seat if she needs. As long as she's comfortable and securely seated on her mifold, I'm good with it! By the way, there's a new designer carry case and I'm yet to test it out, but it would make tossing it in my purse, so much easier!
You can find the Mifold here on the US Amazon
 or the Canadian website (clicking that link will give us a small commission at no extra cost to you). 
Watch the video above for more details as the hubs shares his thoughts and be sure to enter the giveaway below to win yourself one of the best car seats to travel with! You'll get to choose your favourite colour as well! Good luck!