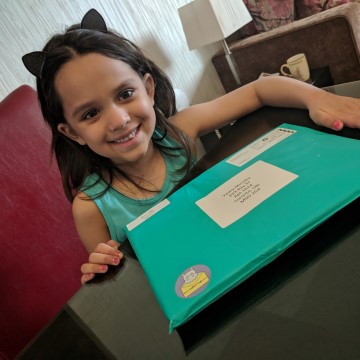 My kids love engaging in arts and crafts activities but short of throwing a box of crayons and a couple colouring books their way, I don't do much. Of course we have PlayDOH and art supplies at home which Little Monkey grabs on a near daily basis but I am not the type of parent who comes up with Pinterest worthy activities.  I had heard about craft subscription boxes but most of which I saw were upwards of $50 a month and I didn't think it was worth the cost when I could have gone to the dollar store and picked up a few items myself. So when  Kyla from MyFUNvelope reached out asking if we'd like to test out her monthly Canadian craft subscription box for kids aged 3 to 9 years, I initially was about to say "no thanks". However I saw that the reason this  Saskatchewan based Canadian mom of six started her own craft subscription box which is delivered to the homes in North America was because she couldn't find any reasonably priced options for her own kids. Curious, I agreed to test out MyFUNvelope and after bringing it with us to Dubai on our trip this month, I'm totally HOOKED! As are my kids! Read on to see why I think this craft subscription box is worth the $18 you'll be spending per month and if you're a Canadian, enter for a chance to win a 3 month subscription!!
Disclosure : This post is in partnership with MyFUNvelope but, as always, opinions are TOTALLY ours! 
Myfunvelope is a Canadian craft subscription for children and each month your child  will discover and have fun with FOUR unique craft projects that follow a fun monthly theme. They will also receive a STEM (Science, Technology, Engineering, Math) activity for hands on building that will make you feel good about your craft subscription choice!  FUNvelopes promote learning, play, and creativity and in addition to the STEM activity they will receive a learn-to-draw card and a paper craft. Markers, scissors and glue dots are also provided. It's a great idea next time you're looking for gifts!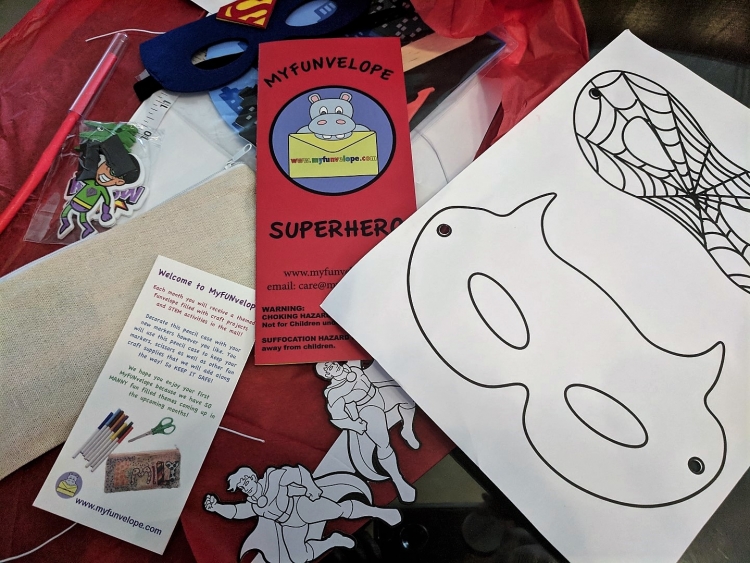 The cut-off  day to sign up is the tenth of each month, so if you signed up for Myfunvelope between the 1st and the tenth your first order will ship the same month. We received our February MyFUNvelope two weeks before our trip and I had forgotten about it but luckily spotted the bright teal coloured enveope on our bookshelf when we were packing. It was a random decision to toss the two FUNvelopes into our suitcase but boy am I glad I did!
As we were all rushing around prepping for my cousin's wedding in Dubai, Little Monkey and Baby Boy found themselves at our rental apartment with not much to do. As adults rushed in and out, taking turns to watch the kids, Little Monkey and Baby Boy were soon bored after the first day. That's when I remembered the MyFUNvelope and pulled it out thinking it would keep them busy for an hour…5 hours later they were still having fun with some of the items!! The theme for February was Superheroes so Little Monkey received a pink Bat Girl themed package while Baby Boy received a blue Superman themed one ( how appropriate given his Instagram account!).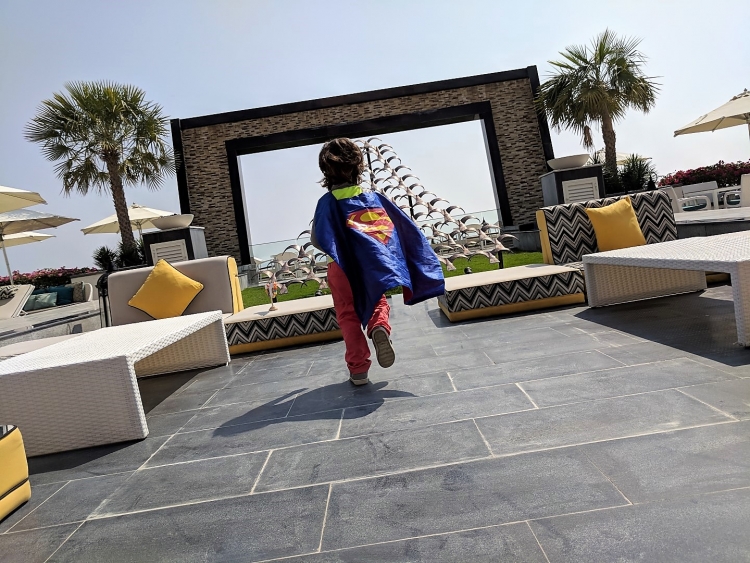 The very  first FUNvelope your child will receive will include a pencil case that the child decorates and uses to store the scissors and markers  they will use for future craft projects each month. Also included is a learn to draw card, a a fun printable as well as other small toys or activities. Each month follows a new and exciting theme and these themes will never include holidays. So there is no risk of the child receiving holiday crafts after that months holiday.
It's no surprise that the cape and eye mask is what the kids loved the most as they continued to wear it around during our holiday in Dubai and Fujairah. I was surprised by the quality of items. For the price point I expected cheap items but Kyla does a really good job at ensuring that her affordable craft subscription box is also filled with quality items. In addition to the colouring and drawing, both kids enjoyed building their airplanes (grandpa did have to help with that task a bit) and I was amazed by the STEM activities. Our kids learned about the pressure one can exert by blowing through a straw, the distance a paper airplane can travel and so much more.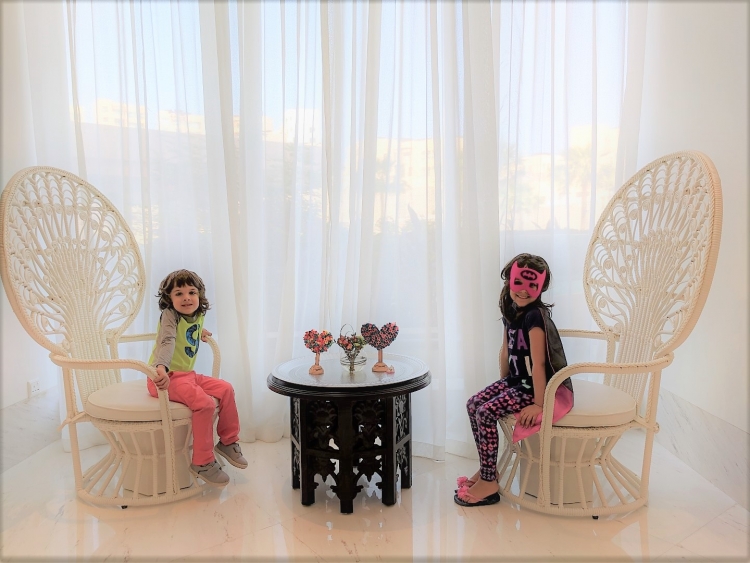 I should also highlight that shipping is FREE anywhere in Canada while shipping to the United States is $8. Also, the very first time you order a subscription there will be a one time $5 charge to cover the initial subscription items. I know I will be inserting MyFUNvelopes into our birthday gifting rotation for Little Monkey and Baby Boy's friends. You can cancel the subscription at any time so it's very easy to just do a month or two, if that's what your usual gifting budget is.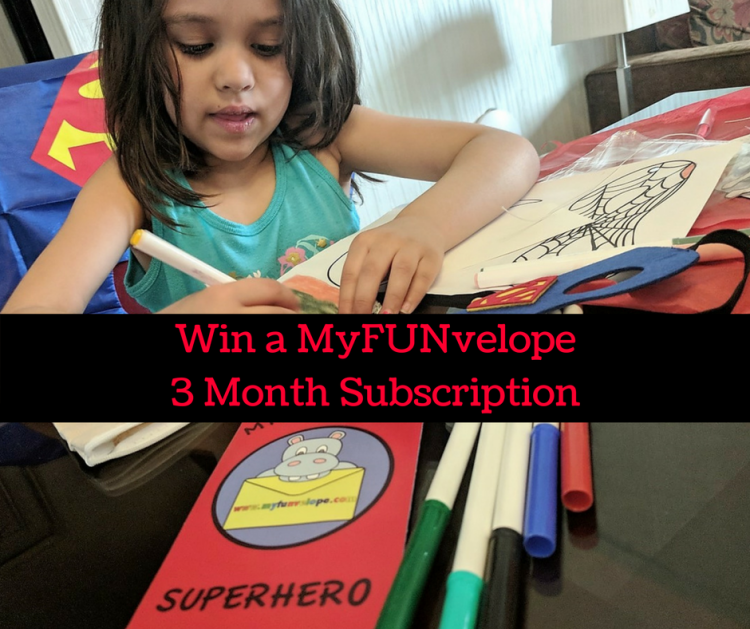 Enter below for a chance to win a 3 month subscription before April 1st 2018 or use the coupon code FUN15 for 15% off the first month! GOOD LUCK!