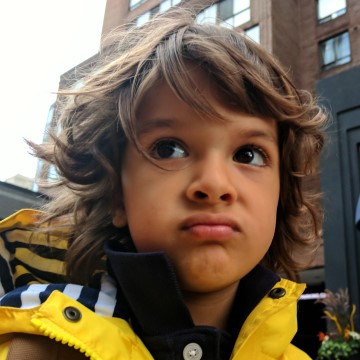 It has been a month since Baby Boy started Kindergarten and as you may recall, we did see signs of him not being ready to start his scholastic journey. In the end, we decided that he was going to school despite not being 4 years old just yet.
No, he doesn't like school at all and no, he isn't adjusting to kindergarten. It has been a challenging and emotional month and I thought I'd share some of what has been going on. I don't have any answers if you've come here for tips on how best to deal with your child struggling in Kindergarten- sorry! I mean, he doesn't like school so much so that he didn't even get a class picture yesterday!! While he is definitely stressed out and upset about attending school and is a completely different child in school vs. home, we continue to send him because that is the advice we're being given and we're starting to see small signs of his adjusting. We take them all around the world and put them in unusual situations and introduce them to new people, but here we are in our own backyard and he's struggling.
Current Situation
Baby Boy whines about going to school and uses the word "hate" a lot. A lot more than I am comfortable with. That said, he does go to school and so things sound okay, right? Sadly they are not. At school, it's always a struggle to get him into the classroom (some days off the bus too!) and once he's in the classroom he sits in a corner by himself (occasionally taking naps despite never doing so at home!) and rarely does anything with the other students. Up until this week he refused to play with others and has never sat in his designated chair. He has taken a liking to his teacher and so he hangs with her mostly. She's very sensitive to his needs and he's pretty much her shadow.  He seems to be a loner and socially awkward refusing to do anything (not even removing his own bag and jacket which is SHOCKING given how independent he is at home). While I do like to prescribe some tough love at times, that isn't his teacher's style and I am very respectful of that. She has been great at keeping us in the loop and we even met her in person during the recent Terry Fox run hosted by the school. She firmly believes that we should allow him to come to school full time and give him a couple more weeks to adjust as she is seeing very small signs of progress (which she considers to be HUGE improvements). We're putting our full trust in her advice. Also, free child care, right?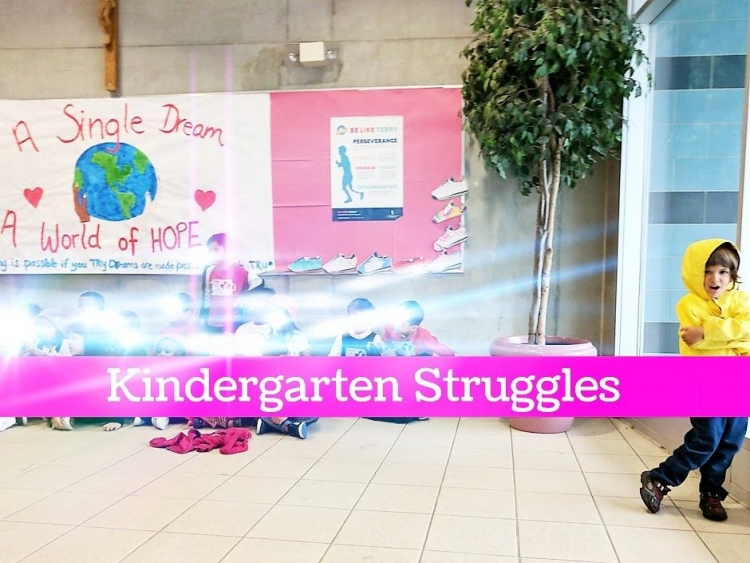 Concerns
Our biggest concern going in was that he was still in diapers. A month later he's still in diapers but not once has he pooped in it. He somehow knows that he has to do his business at home (which mostly happens on the potty). That said, he doesn't go to the bathroom at school and his diaper is wet on his return home. Mind you, we have bigger issues to focus on so this one is on the back burner. Little Monkey rarely goes to the washroom at school either!
Baby Boy may be a bit shy but he has always been a fun loving kid who loves to play with other kids. At school he sits in the corner and refuses to play with anyone and often says that he "hates" his friends. This is something we've been working on as he does enjoy playing with Little Monkey's friends during their daily bus rides. His teacher did give me a call yesterday to mention that he has attempted to play with others and joined them on the carpet once. There's signs of progress!
What We're Doing
I can see that he's stressed out about school and the kid he is at school is very different to the one at home. The good news is that he reverts to the boy I know as soon as he steps off the bus. There's plenty of whining and heart breaking tears and pouts as soon as the bus rolls around but he does get on the bus each morning. We keep talking about making friends and joining the other kids when they have circle time and go outdoors to play. During my school visit last week I made it a point to meet some of his classmates and I quickly befriended a few. One of whom is his designated buddy who is very kind and gentle around Baby Boy. Seeing me interact with them seems to have made a difference as this week he has made his way towards the play centre on his own. Mind you, after my visit he cried a lot. A LOT! So much so that he passed out on the couch for a nap. All I can do is encourage him and remind him how funny, smart and lovable he is and how his friends would love to play with him.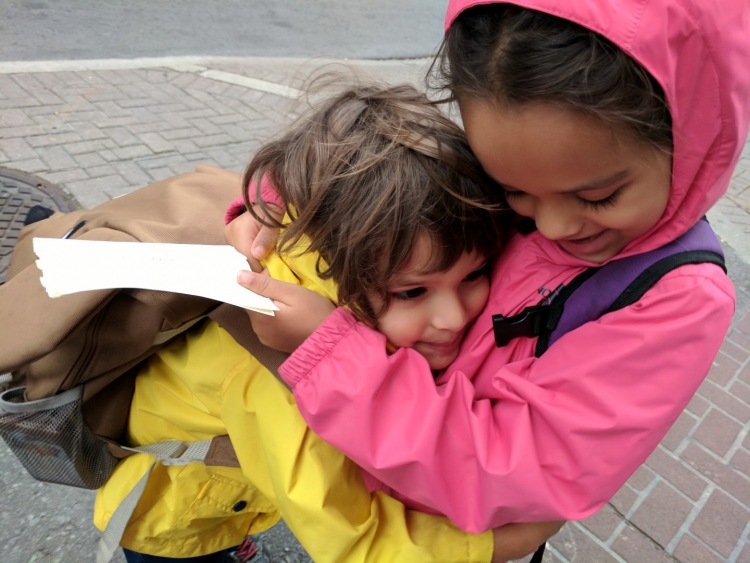 Next Steps
The promise of a 5 day holiday ( PA day coupled with Thanksgiving) has kept his spirits high this week. While hearing his stories and seeing his face makes my heart break, I take solace in the small things. Things like him enjoying packing his school lunch each night and choosing fun socks to wear with his uniform. Having done a fair bit of research, I'm going to give him until Christmas to see how things develop. Something tells me that he is slowly going to act like himself at school. We're fortunate to be in a situation where we can keep him home for the next year but I really don't think that's what he needs to develop socially. His teacher has confided in us that he is very smart and that his vocabulary and language skills are quite advanced and that she was surprised by how well he communicates when he wants to. This is one of the main reasons she believes we should let him stay in school full time. So we are.
Can we hope that the next update I send through is to tell you how well he's doing? That said, if you have tips on how we can continue to encourage him and show him how much fun school is, do let us know.