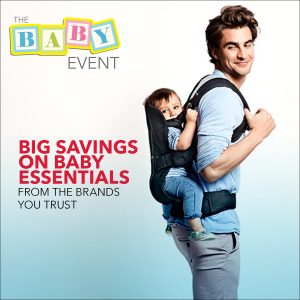 We're a family constantly on the go and I rely on local and online retailers in the downtown Toronto area when it comes to shopping for our travel gear. The hubs can often be found at Best Buy across the street during his lunch breaks and just before our weekend trip, he walked out with some new travel speakers for our trip and he had also found a new baby monitor from a brand we love! We're at our Best Buy numerous times a week and only recently did we hear about the fact that Best Buy also sells baby items!! YES!! From clothing to travel gear, they have it all and right now they even have a sale on Baby and Maternity items. It's on until the 7th of July so you'll want to check them out soon!
Disclosure : This post is in partnership with Best Buy Canada but, as always, opinions are TOTALLY ours!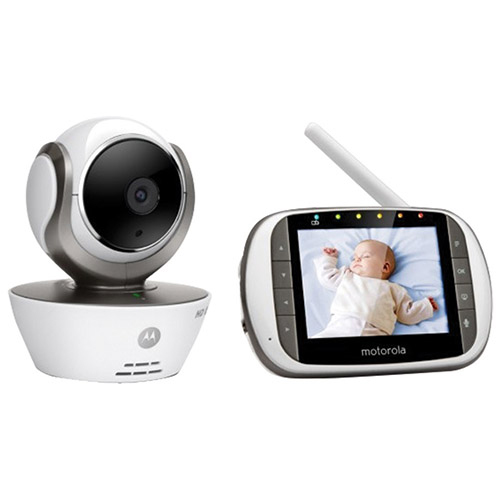 When I am asked about unusual travel items we take with us, the baby monitor is what comes to mind. The habit developed during our infant travel days as it enabled us to keep tabs on the sleeping baby while being in an adjoining room or across at the grandparent's hotel room. Especially handy for those cottage trips and sleepovers where kids are sleeping while you enjoy a drink on your patio. Over the last five years we've gone through four baby monitors and our favourite was the very first one we received from my brother. He's a researcher and so it comes as no surprise that the Motorola Baby Monitor was our fave. The only issue we had with the original version was that it did not allow for us to have WiFi access which would be great so that we didn't have to take the monitor with us into each room. When a family member recently asked us to do some research on the best baby monitors out there, the hubs was surprised to see that Best Buy carried a newer version of that Motorola Baby monitor, one that now has WiFi capabilities! WiFi access is important for this family member as her work involves shift hours and it would be great for her to sneak a peek at her baby at all hours of the day.
During our weekend  travels in Norfolk County we stayed at a Beach House and I always like to know what the kids are up to in their rooms once they're tucked in. Mine have tried to sneak in candy and end up fighting with each other on many an occasions! I know I've also caught some precious moments when they don't realize I'm watching them from our kitchen! I was glad that the Motorola 3.5″ WiFi Video Baby Monitor is still as sturdy as the original version and offers all the great features as before, but with the addition of the WiFi feature.
The other WiFi monitors and cameras we received or bought over the years really didn't work for us for a couple reasons. The main one being ease of use. Honestly, we travel with our baby monitor and we also use it at home, so I've narrowed down a couple must have features when it comes to choosing the best baby monitors.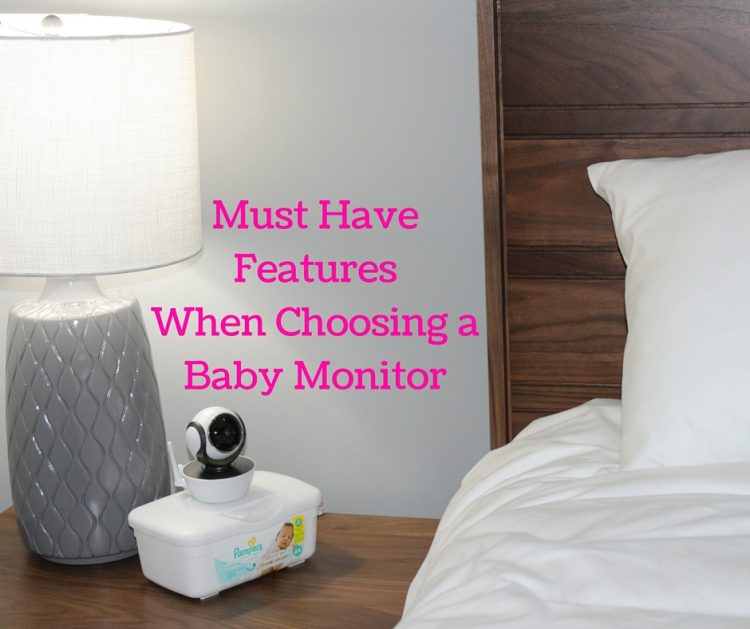 Easy installation

and setup (this one is a breeze – plug into wall and download the app on your phone!)

Light weight and compact

so that it's easy to travel with (the Motorola version can be mounted on the wall or laid on a flat surface and fits in my purse)

Strong night vision capabilities

so you can see what's going on even in the middle of the night (quite possibly my favourite feature). So obviously a sound only monitor is NOT an option for me.

WiFi capabilities

so parents don't always need to have the monitor with them

Remote pan, tilt, and zoom

functions so you can check out all corners of the room (great for older kids)

2 way communication

(with this version you can play 5 different lullabies and speak with your child even if you aren't in the room – great for those 'husssh…husssh' moments)
Additional features included are the room temperature displays and rechargeable niMH battery that is cost-efficient and environmentally friendly. With our older version the unit performed well for two years but by the time the third year rolled around, the monitor battery needed to be replaced (or the monitor had to ALWAYS be plugged in – not an issue with the Hubble app now available for smart devices).  This latest version even has an alarm built in which is so awesome for those afternoon naps which need to be timed. I know I'll be putting this to good use with Baby Boy who loves extra long afternoon naps which lead to super late bedtimes! Note that at home the camera is mounted on a wall but we can easily take it off and when we stay at hotels, I prop it on a box of wipes or stack of books, depending on what's available. As you can see below, the night vision (which is way more important than daytime views in my opinion!!) is quite amazing on this baby monitor.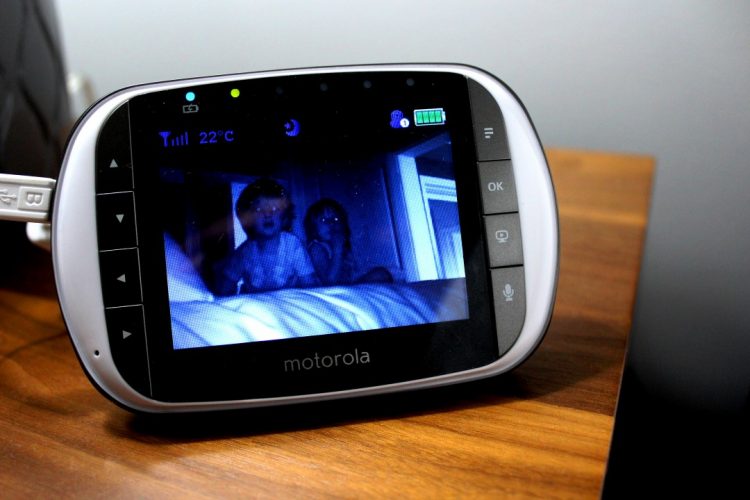 The Best Buy Baby sale is on until the 7th of July and if the WiFi capabilities aren't important to you, you can grab a similar version on sale right now for nearly 50% off. Best Buy has products from reliable brands that parents trust and I'm shocked that I can even find swimwear online through them. We also recently learned about The Baby Samplers Club which allows you to sign up to review baby items FOR FREE!! How amazing is it that parents and parents-to-be can sign up for great perks like testing and reviewing baby products in exchange for writing a review? I know I would have loved to test out some of the gadgets before actually purchasing them, and this program allows you to do just that. Of course you get to keep the items too, so that's just a double win!!
What's one thing you take with you on your travels that most may not?