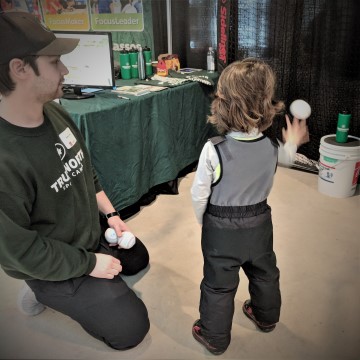 Spring is in the air and summer is just around the corner!! As excited as we are, this also means that summer holidays and having the kids at home EVERY SINGLE DAY of the week is also on its way. Last year we didn't explore summer camps in Toronto for our young kids because we were travelling but you may recall that we shared our thoughts on things to consider when choosing extracurricular activities the summer before. We're finally at the stage where our kids need to be active or else they'll be seated in front of their ipads 24-7. They're also very interested in sports and yes, Little Monkey too. I thought she'd want to do something with an arts focus but Chris taking them to the basketball court has both kids interested in learning about sports and our recent visit to the Kids Expo in Toronto saw them interacting with some True North Sports Camps counselors who totally won them over. Having done my research and read some great True North Sports Camp reviews I think this is where we'll be sending the kids for a couple weeks this summer.
Disclosure : This post is in partnership with True North Sports Camp but, as always, opinions are TOTALLY ours.
The counselors we met very briefly at the expo managed to get the kids to participate in the public activity (and you know by now that our kids are introverts and do not usually like the attention) and this was what was at the back of my mind when I was researching summer camps in Toronto. I was informed at the expo that they have a low camper-to-staff ratio and so this explains the focus and attention they provide to each individual student. True North Sports Camps actually offers year-round sports programming for boys and girls aged 4 to 14 years old in Toronto, Etobicoke, Hamilton, Whitby and Markham. They offer a variety of different sports camps as well as after-school and weekend programs, including: Baseball, Flag Football, Basketball, Soccer and Multi-Sport. The Multi-Sport option is what works best for our kids who like to experiment with various activities. At least, that's what we think. This sports camp will expose campers to a wide variety of sports in order to develop fundamental movement and sport skills with an emphasis on fun, fair play and teamwork. All things our kids could use a healthy dose in!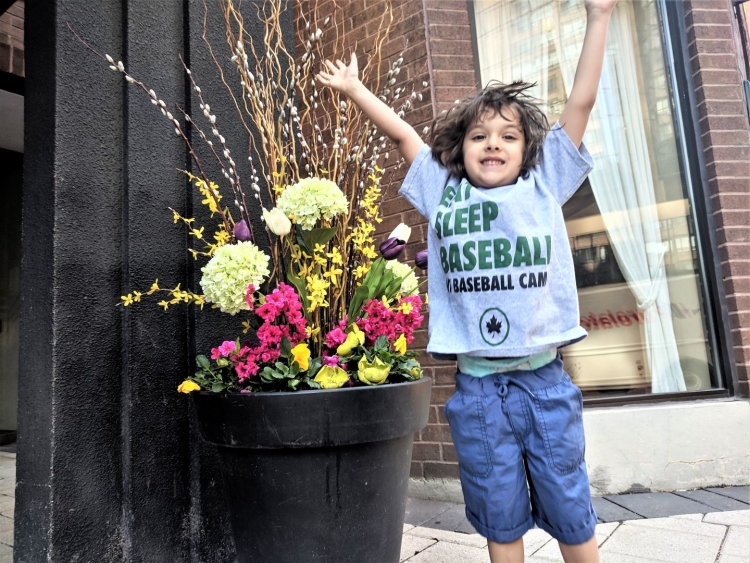 Things To Consider When Choosing Your Toronto Summer Camp
Does the chosen activity excite your child?
Will your child learn new skills or develop current ones further?
Do the hours offered match your work schedule?
Is the transit/travel time reasonable?
Does it fit within your allocated summer care budget?
We said yes to all of the above but I am a bit weary about the travel time of an hour door to door. While there are transportation options available, none of them service the downtown core and so Chris and I plan on taking turns to drop and pick the kids up. It's definitely an added expenses (time and money wise) we have factored into our decision but who knows, maybe we'll get some work done on the TTC and make use of that productive time!
Mindful of not over scheduling the kids we've decided to enroll them for a week in July and then a week in August. In between we plan on hosting a few play dates and maybe finding a swimming class downtown. Of course we're planning a trip to Nova Scotia with the kids to visit the grandparents in August as well!
If you're still exploring summer sport camp options in Toronto, be sure to check out True North Sports Camps because I definitely like what I see and the quick interaction we had back in February was a very positive one. Our friends have also had a great experience and continue to send their kids to this sports camp year after year, so there's definitely positive signs for a great experience where our kids will not only have fun and build some strong memories, but they will also be learning new skills and figuring out the activities they enjoy in life! It also keeps them out of my hair and that's a total win! True North Sports Camps are still accepting summer registrations so swing on by and see if anything will excite your child!
Given the struggle we encountered with Baby Boy entering school I found comfort in knowing that both kids will actually be in the same camp group and so we're going to see how it goes! They promise to provide the highest quality sports instruction in a fun, safe and encouraging environment and I definitely plan on updating this post later this summer once the kids have experienced their time at summer camp.
Update  July 2018 : True North Sports Camp Review
The kids have completed their first week of camp at True North Sports and I thought I'd add a review here. The staff were absolutely fabulous with both kids. Little Monkey was hesitant and nervous each morning (which was surprising) and the camp counselors would warmly welcome them, hold their hands and walk towards the camp. They knew the kids' names after the very first day and the kids came back with glowing reviews.
They were outdoors a lot but with breaks so they could be indoors as well. Baby Boy and Little Monkey loved trying different sports and at the end of the week, they were disappointed that their time at camp had come to an end. That's a good sign, right? At the end of the week we also received a link to a Facebook album where we were able to see some pictures of the kids in action. I LOVED that. Little Monkey received a "Best Big Sister" award on a post-it and Baby Boy go the "Best Socks" award so that was very cute!
I will also add a note that Baby Boy is still in diapers and he attended the camp just fine (as usual he would go to the potty occasionally but mostly pees in his diaper). One day it seems that there was an accident where he poured water all over himself (or so he says) and the counselors helped him change. The counselors also helped all kids lather on the sunscreen half way through the day, which was another nice touch. Overall we're thrilled with the experience and will be returning for another week in August. The only thing I've been whining about is the trek up to Eglington West(which took us an hour each way on the TTC and not door to door as initially expected) and so I have my fingers crossed that there will be more downtown locations opening next year!