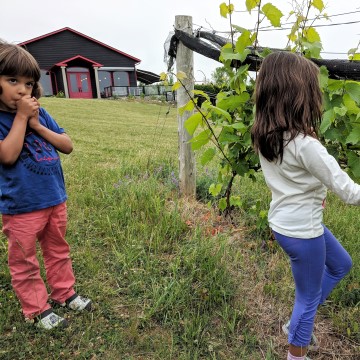 The first hint of summer in Ontario will have you searching for the best cottage in Ontario and if you're looking for a getaway that's an easy drive from Toronto, with winery views and one that can accommodate a large group, Coffin Ridge Winery's housing shout be on your radar. It may not be right by the water but I can guarantee that it's the perfect getaway for parents who love wine, cider and being one with nature. Located about a two and a half hour drive from downtown Toronto, Coffin Ridge Winery in Grey County offers two houses for rent and we recently spent a weekend there.
Disclosure : We were guests of Visit Grey but, as always, opinions are TOTALLY ours!
Coffin Ridge Winery located near Georgian Bay in Ontario's Grey County, is about a 20-minute drive northeast of Owen Sound and a 35-minute drive from Blue Mountain, Ontario's largest ski resort (and a great summer destination as well). We had visited Blue Mountain a few years ago and were eager to explore more of the county which is how we ended up at Coffin Ridge Winery's Resting Place. This house sits right next to the winery and over looks the vineyard. There is another one bedroom suite next door as well. You'll have every comfort you could wish for because the winery's owners, Neil and Gwen Lamont, built this spot as their own home and now that they have moved to another home, they've converted the house into a three room bed and breakfast. During our stay we had the entire place to our selves and brought our own breakfast so it was a true holiday rental house for us.
The Views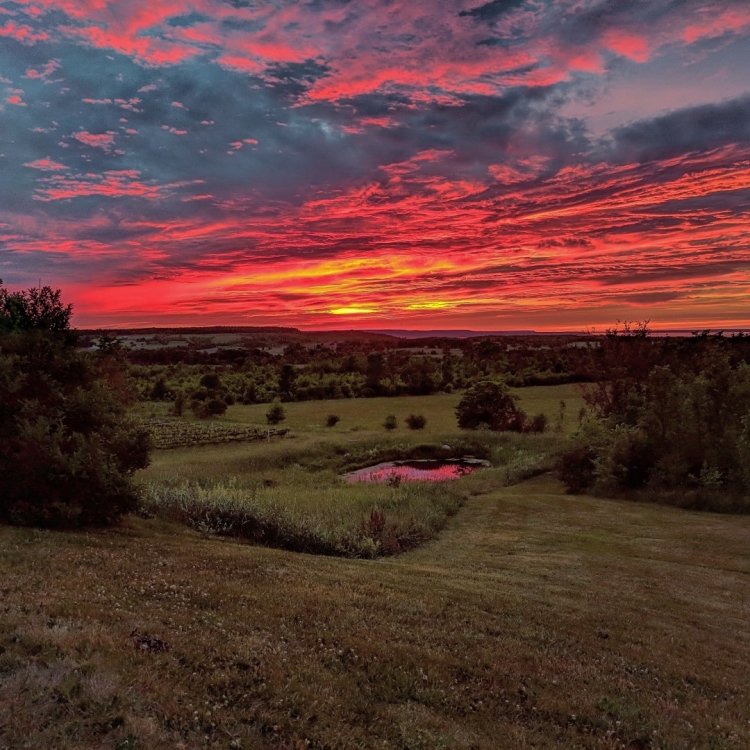 We all escape the city in search of peaceful views and being one with nature. Coffin Ridge Winery's Resting Place most definitely delivers on this. When we pulled in at sunset on a Friday evening we were greeted with the most spectacular sunset which was accompanied by the sounds of birds and loons far away. We all stood still and drank it in, even the 4 year old! During the day time you have the vineyards to look over and taking the time to relax at the winery is definitely recommended. Kids can play in the grassy areas while parents relax and catch up on the patio. When you're overlooking the Coffin Ridge vineyards it's easy to forget the hustle and bustle of the city life you usually crave.
The Accommodations – The Resting Place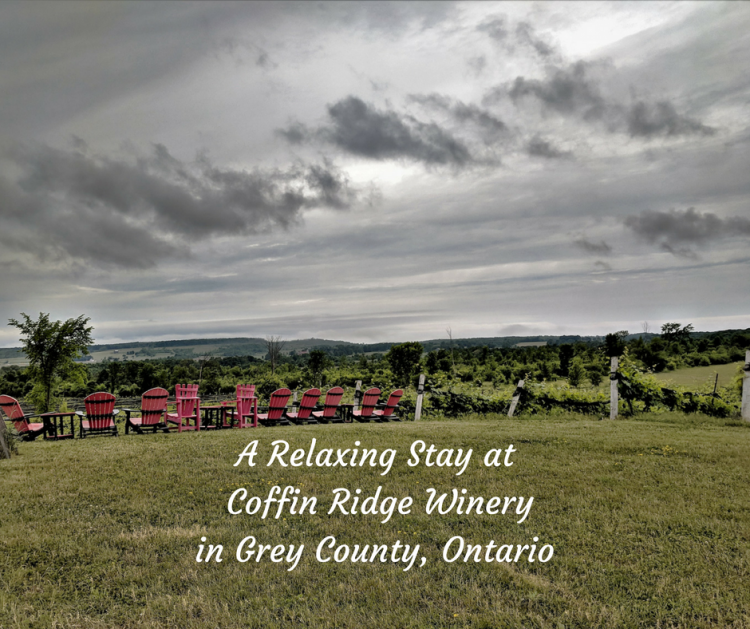 The three bedroom house is absolutely massive and we could have used the company of a few friends, that's for sure. The kitchen, dining room and two additional living rooms are definitely an entertainer's dream. They have a walk-in fridge and that was something none of us had ever seen before! So unique. Upstairs there were two bedrooms (because we wanted to be close to the kids we didn't use the massive king suite downstairs), a theatre room with the comfiest loungers and bookshelves everywhere you looked. There were also a few exercise machines here and so you have no excuse for not working out. We took our time going through the shelves and found some interesting books. The kids even spotted a few VHS tapes – much to their amusement.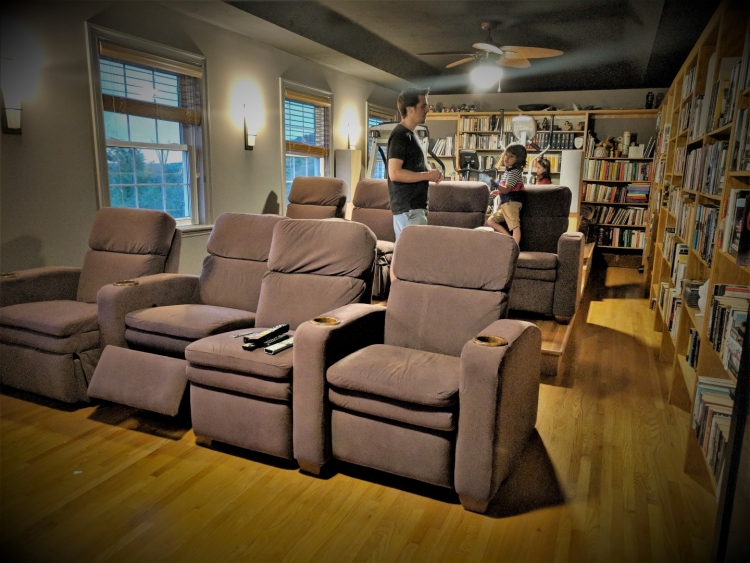 The winery's house came stocked with everything you could want and after all our travels I don't think we've seen a home so well stocked. The kids loved the 'backyard' where they were able to run around in the grass and roll on but most of all they loved the pool and hot tub. It was a tad too cold for the pool during our visit but we took a dip in the hot tub one afternoon after our Owen Sound explorations and it was the perfect way to end our day.
For those looking to escape for a relaxing getaway, Coffin Ridge Winery's B&B can be the perfect spot to unwind but for those looking to bring their kids, the same space is equally great for families looking to create memories. The house isn't baby proofed or anything mind you, but it provides ample space for city kids to really stretch their legs. I would love to head back with another family to keep us company and I know my parents would enjoy a weekend here as well.
The Coffin Ridge Winery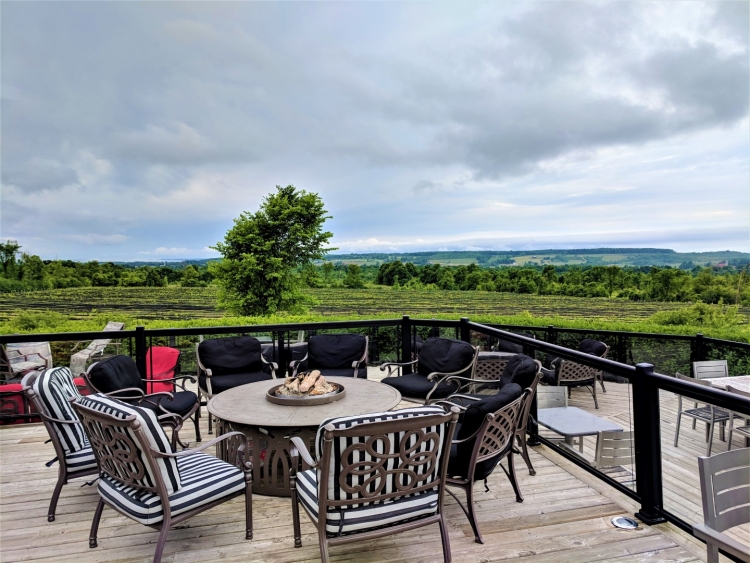 From the Resting Place's veranda you can see the winery and I highly recommend going in and sampling a few of the wines and ciders. We got chatting with the staff and learned a fair bit about the winery and the area. Little Monkey and Baby Boy played in the fields while Chris and I got a tour of the winery and learned about how the "Coffin Ridge" name was chosen for the winery (mainly because the area it sits on is called Coffin Ridge and there are many tales on how that came to be too!). When you stay at the Resting Place you receive a cheese and meat platter so you can enjoy that with a glass of wine or cider. While I'm not a cider fan (I find them too sweet) I was surprised by the offerings at Coffin Ridge, especially the Hopped one!
Things to Do in Grey County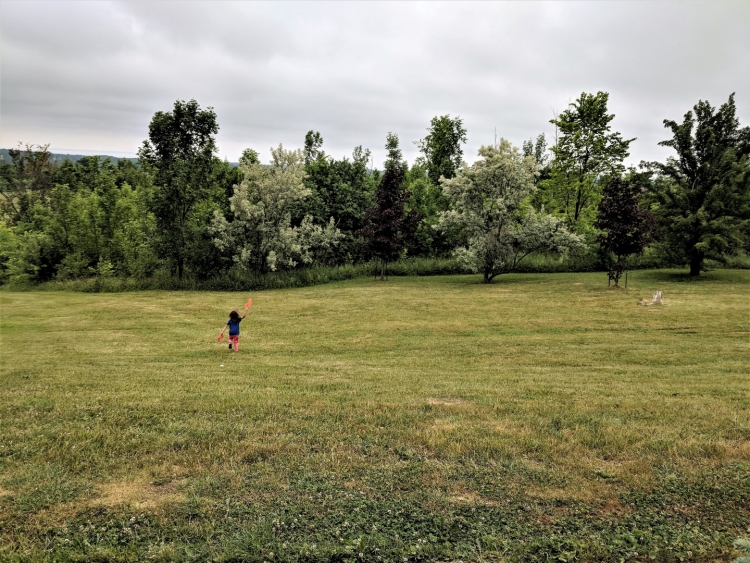 Coffin Ridge Winery does host special events and often have authors in for readings but for the most part, you're there to enjoy the scenery and be outdoors. If you're looking for things to do in Grey County the Resting Place B&B is about a 20 to 30 minute drive from some amazing restaurants and there's no shortage of beaches and parks in Owen Sound to drive to. In the up coming weeks we'll share about the caves we visited, the many waterfalls we spotted and the paddling adventures we embarked on. For now, you can explore the many things to do near Coffin Ridge Winery through this link or check out our Owen Sound Instastories.