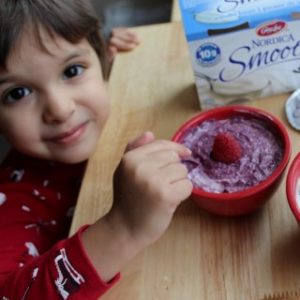 I love a good treat and it's definitely something the kids have inherited from me. The hubs doesn't have a sweet tooth and while he loves ice cream and chocolate, for the most part he saves his calories for his beer. I on the other hand eat everything in sight and dessert at the end of a meal is something I eagerly wait for! We're in Morocco right now and while there's many sweets to be hand as we roam the Medinas, every restaurant has been serving us a plate of fruit for the dessert course. I wasn't too pleased about that as you can imagine but the kids and the hubs seem to love it. Last night the three of them screamed with joy when our server brought over a plate of watermelon, oranges, bananas and cherries – there was so much glee and excitement that even our server was taken aback!  They're crazy I tell you!
I know summer is around the corner and many are attempting to eat healthy and cut back on the sweets so I thought I'd share a healthy treat I enjoy and miss terribly now that we're away from Toronto and my comfy couch. I mean, fruit is delicious and all, but if I'm craving something delicious yet healthy to end my meal, cottage cheese mousse is my go to treat. It's what I serve when friends who are dieting visit us and they're shocked when I tell them it's cottage cheese!
Disclosure : I am part of the PTPA Brand Ambassador Program with Gay Lea and I received compensation as part of my affiliation with this group. The opinions on this blog, as always, are TOTALLY ours! 
As you know, cottage cheese is jam packed with protein and the Gay Lea Nordica Smooth Cottage Cheese cups are delicious on their own. However, if you're looking to sneak in some veggies or looking to impress your guests, my super EASY Cottage Cheese Mousse is going to be your best friend! Gay Lea Nordica Smooth Cottage Cheese is unimaginably creamy and delicious without the lumpy texture!! I love the flavours they come in and despite tasting good, they contain 10 g of protein and 110 calories per serving. Cottage cheese is also naturally low in carbohydrates and is the ultimate guilt and gluten free pre-bedtime snack! Great for after a work out too and it's super quick to put together. All you have to do is mix in your favourite topping to your favourite cottage cheese flavour.
For the healthy version I like to mix in some steamed and pureed carrot but there's some great combinations that we've enjoyed in the last few years. All you have to do is stir in whatever you'd like and voila! You've got a gourmet treat with very little fuss and a brilliant way to sneak in the veggies!
Here's some of my favourite combinations
For something sweet : Gay Lea Nordica Smooth Vanilla and…
Pureéd banana
Steamed and pureéd beetroot
Nut butter
For something tart : Gay Lea Nordina Smooth Lemon and…
Steamed and pureéd carrot
Pureéd raspberries
Melted dark chocolate
My kids keep telling me they don't like cottage cheese and yet, they eat up these desserts I make. They refuse to believe me when I tell them it's cottage cheese, so who am I to argue?
Which combinations would you like to try?