New York City, like Toronto, is a pretty daunting place when your aim is to find the best places in the city for a wide range of craft beer and good eats. Luckily, Yashy and I were visiting friends in Manhattan who shared our appreciation for fine beer, and we were treated with a well planned mini tour of Midtown Manhattan taprooms on my birthday. By the time we reached our first stop, I knew I was in good hands when when I read the motto "No Crap on Tap" above the bar, a mantra I can get behind. As someone who now refuses to walk into a pub displaying a Budweiser sign in the window, I wanted to find places that don't even have Bud Light on the menu, unless it's what they bring patrons who ask for water. For today's #IGTravelThursday post we're sharing all about our craft beer finds in Manhattan.
Taproom #307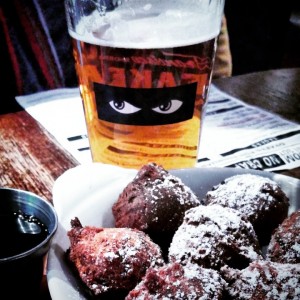 After starting our day at an All You Can Sushi restaurant, we sluggishly strolled up 3rd Avenue to Taproom #307, a very inviting pub with 40 beers on tap and 60 Seasonal bottles available. When I glanced at the menu and saw that one of the beers on tap was the 2014 release of Sacuba, a bourbon barrel aged barley wine from Firestone Brewery, listed as one of the top 50 beers in the world by BeerAdvocate.com users, I discovered what I needed to help digest the copious amounts of Maki in my system. With an inviting atmosphere, a beer list chosen by Beer Sommelier Hayley Jensen, and even a Beer Rewards program (ie free beer), Taproom #307 was a perfect start to our afternoon. Some of us even sampled the maple bacon donuts, but that was an impossible proposition for me. The little ones were passed out by the time we reached the bar, and so we were able to sit on the bar stool type seating at the front window, but several booths line the side walls and so we would have had no problem sitting down with the kids. We had our double stroller with us too and it would have been difficult to find room for it were the bar more crowded, but that's why we decided on a day time pub crawl.
Rattle n Hum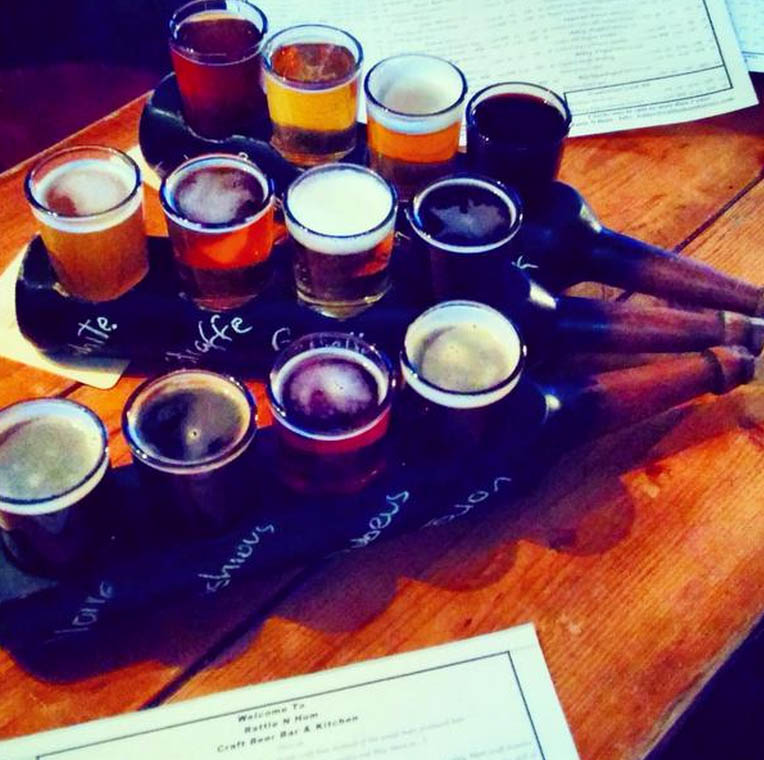 Our next stop was Rattle n Hum, a cavernous den lined with craft beer memorabilia, 40 beers on tap, and close to 100 bottles, including two  beers from the hard to find Bourbon County series from Goose Island. The Bourbon County Stout and its thunderous 13.8% alcohol level is one of my favourite beers. The series is released every year on Black Thursday and sells out quickly, so it was a pleasant surprise to find it available here. However, I skipped this opportunity in favour of a flight of 4 beers I was unfamiliar with and was not disappointed. Rattle n Hum features a great selection of beer from across the US and between the 4 of us, we sampled 16 beers here, exactly what I came to New York City to do. I would be a regular at Rattle n Hum if I lived in Manhattan. The kids were asleep here as well and the double stroller was parked by our table with no issues.
District Tap House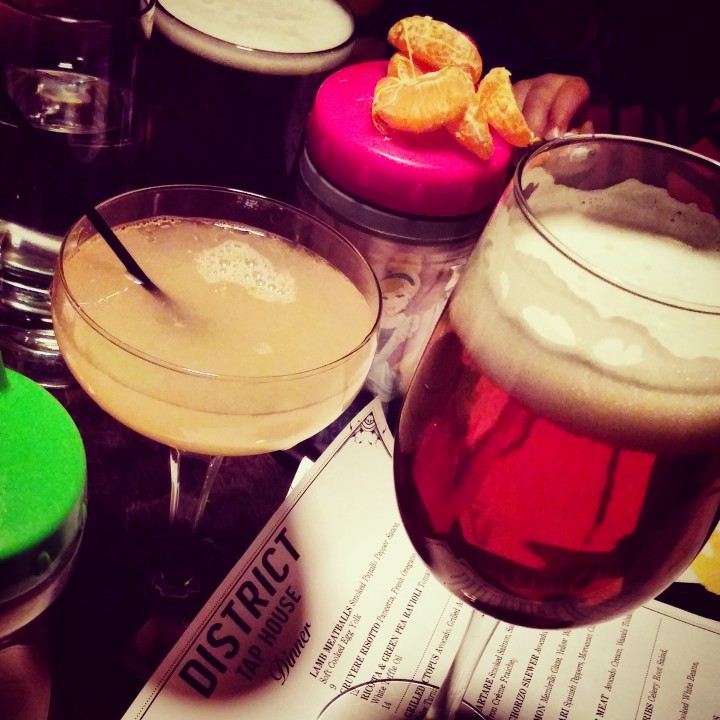 We hit a bit of bad luck on our next planned stop, The Beer Authority, when the apologetic host revealed to us that children were not allowed into the bar. Undeterred, we made our way to the District Tap House on West 38th Street and discovered the biggest beer menu of the day. The Tap House does serve Bud Light but it was too late in the day to hold it against them. Here, a couple of us tried the Old Rasputin Imperial Stout on tap and were very pleased with the choice. This is a large bar located not too far from Times Square and so we had no trouble bringing the double stroller in, though parking it required us to use up space between two tables that fortunaly were not needed. The kids finally woke up by this time and so the booth seating was perfect for our needs.
Sadly, our busy day had reached a conclusion and we made our way back home for a nightcap, but we had discovered some great places that afternoon. The rare seasonal brews I found at Taproom #307 and Rattle n Hum make both bars worthy stops for craft beer lovers, and so, amongst the many adventures one can have in Manhattan, a craft brew tour is certainly a worthy consideration. Check out these great #IGTravelThursday blog posts if you're looking for some travel inspiration!