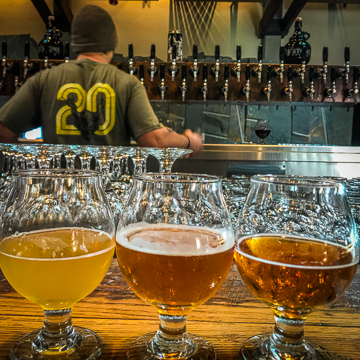 When three friends who love craft beer turn 40, what better way to celebrate than by exploring the San Diego craft beer scene? The region is home to some of America's largest and most renowned craft breweries, and we Canadians rarely get the chance to taste San Diego's craft beer offerings.
Over 5 days in the city, our trio would discover that every neighbourhood is brimming with craft beer makers. The city is large enough to feature multiple distinct neighbourhoods, but not so large that traffic is a major issue. Additionally, the US – Mexico border is a short 45-minute trolley ride South, giving visitors the opportunity to spend an afternoon in Tijuana, which has a burgeoning craft beer scene of its own.
Here is a road map to an ideal 5 day tour through the San Diego and Tijuana craft beer scenes.
[themify_box style="light-blue shadow" ]
Covered in this article
[/themify_box]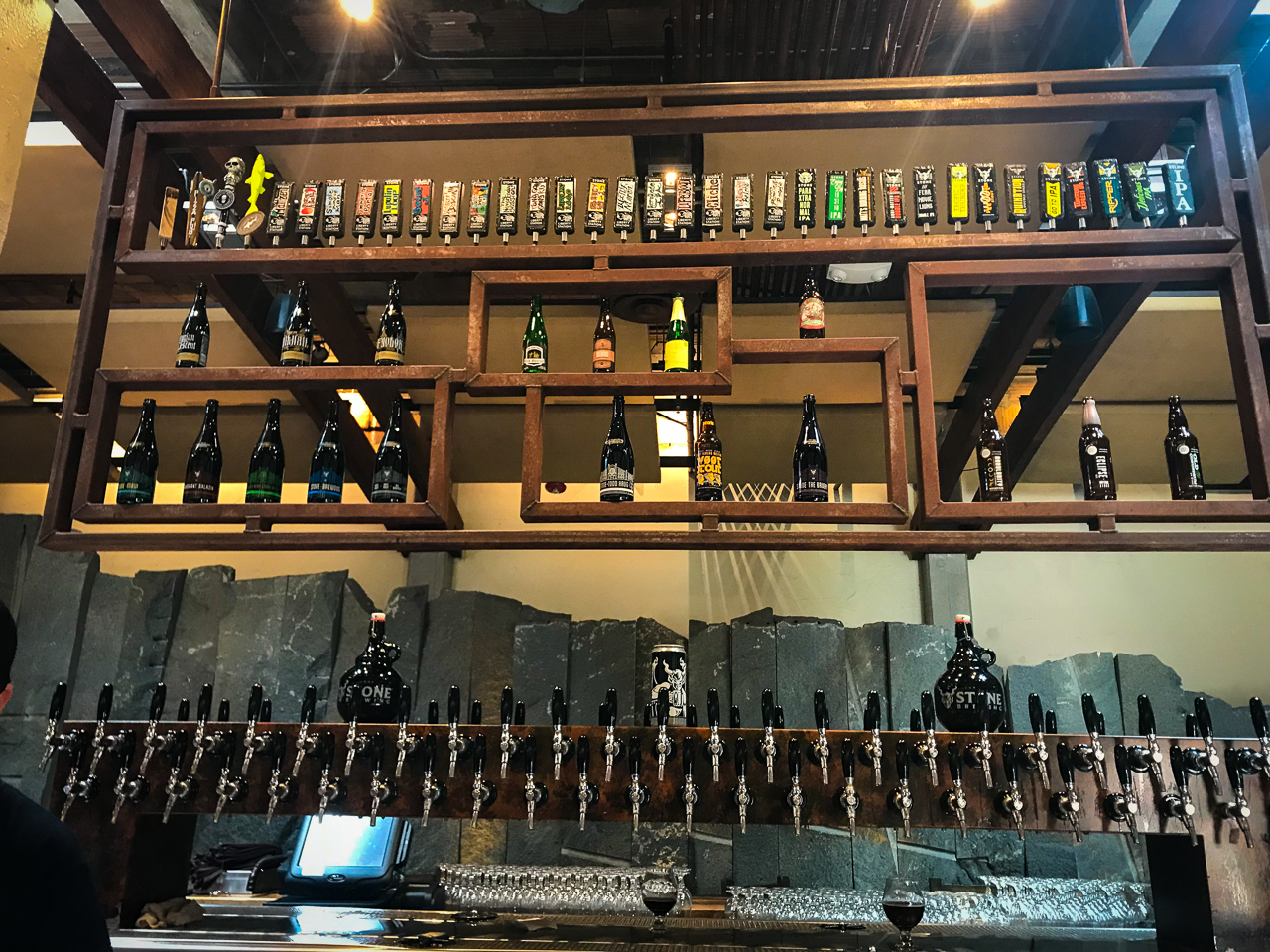 Day One: Landing in San Diego, Discovering Liberty Station Market, and Taking the Brew Hop Beer Tour
Stone Brewing World Bistro & Gardens at Liberty Station Market
Flying in from Toronto on a four and a half hour flight that departed at 8:40 am, my friend and I landed into the San Diego International Airport shortly after 10:30 am Pacific Time, ie just in time to take a short Uber over to the Stone Brewing World Bistro & Gardens in Liberty Public Market. The perfect spot to start our trip, the Bistro featured over 30 choices on tap, a mix of brews produced at the many Stone locations in the region, and even one from its recently opened brewery just outside of Berlin, Germany.
A former U.S. Navy mess hall, this expansive venue can serve hundreds of patrons and even includes an outdoor cinema space. As we waited for the third member of our party to arrive from Calgary, we each sampled a flight of beer and a couple pints to get our trip started. The highlights for me were the Mango A-Salt Gose and the White Geist Berliner Weisse, which was imported from the aforementioned Stone Berlin.
Before leaving the area, we sampled some of the vendor offerings at the Liberty Public Market, starting with the Empanadas at Parana, which I found to be delicious. These Argentinian pastries feature more ingredients than the ones I had greatly enjoyed on my honeymoon in Buenos Aires, but it was nice to see so many flavours available. The Chipotle Chicken and Malbec Beef are fantastic. Still hungry after the long flight, I also enjoyed a well crafted (and tasty) sushi roll from Rakiraki Ramen.
The Liberty Public Market features a great mix of indoor and outdoor spaces. It's ideal for families looking to find a range of international foods and enjoy a few drinks as the kids enjoy the space. Also nearby is Liberty Station NTC Park a large outdoor space on the water that has a pretty cool playground as well .
Riding Electric Scooters to the Best Damn Beer Shop
After settling into our AirBNB in the Gaslamp Quarter, we scootered up to the Best Damn Beer Shop, eager to stock the fridge for our downtime needs at the apartment. A distinguishing feature of San Diego for us was the abundance of electric scooters we found on nearly every street corner. For $1 per ride, plus $0.15 per minute, we were able to rent these scooters for all of our short, sober trips through the downtown area. A number of companies offer the scooters, but I found Lime to be the most reliable. We didn't have helmets unfortunately, and I would suggest wearing one since the scooters are not allowed on sidewalks. Luckily, the streets of San Diego are fairly wide and not heavily trafficked.
After scootering to the beer shop, where we found hundreds of great, though overpriced, craft beers, we each picked up a small selection and explored the downtown streets on foot. Walking down 5th avenue, we noted a few places to check out in the coming days and eventually encountered Petco Park, where the San Diego Padres baseball team plays its home games. By this point, it was time to head back to get ready for our first beer tour.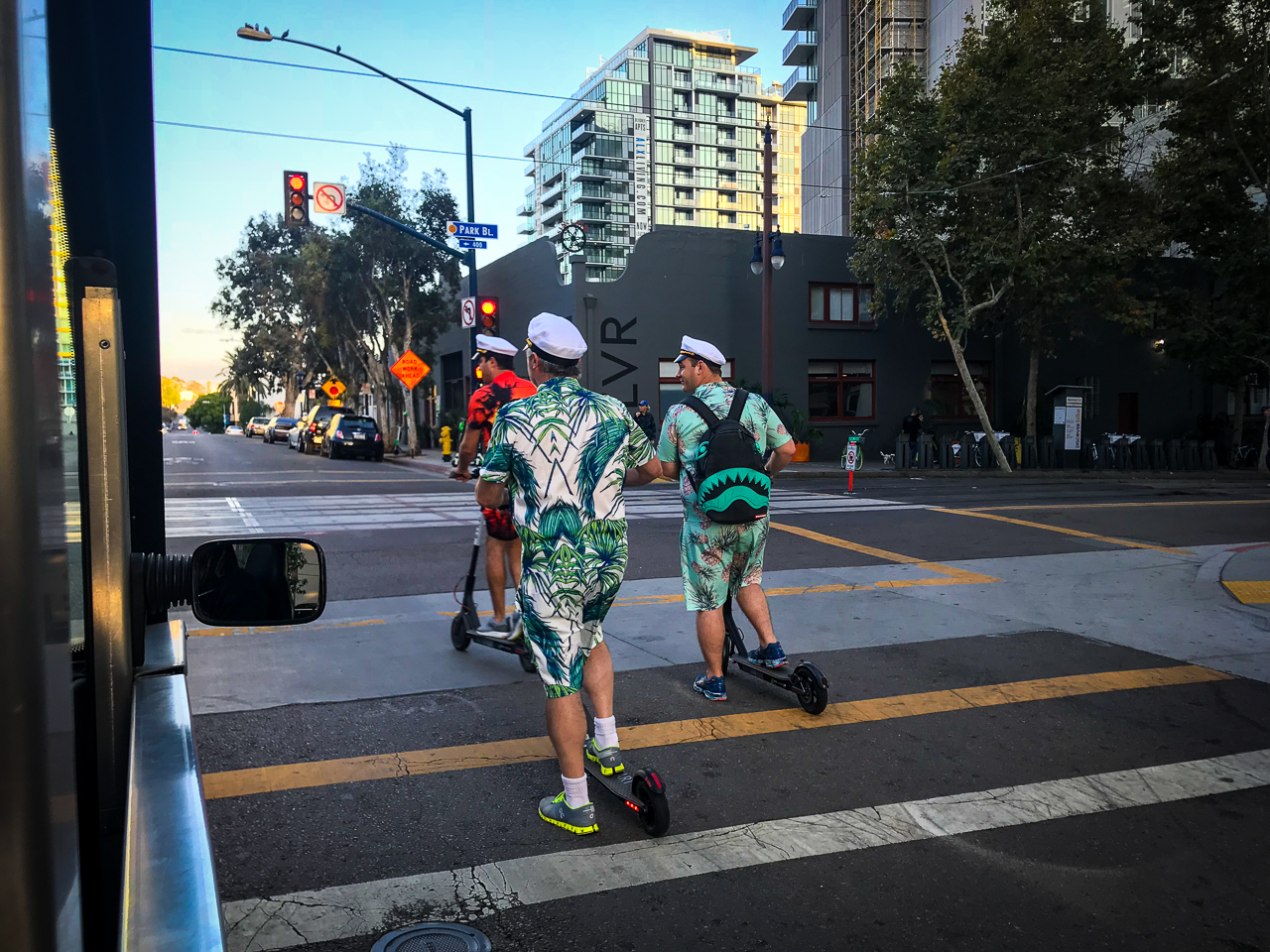 San Diego Beer Tour with Brew Hop
Offering private, custom designed tours, Brew Hop is the best option in the city for immersing yourself into the craft beer scene. Run by a husband and wife team, Brew Hop allows its tour patrons to choose which area of the city they want to explore, and then sit back and enjoy the ride. Not knowing the city well and eager to explore an area outside of the downtown core, we followed the advice of our guide, Brew Hop owner, Summer, and took a private tour through the North Park area. Summer and her team have forged close relationships with a number of the brewers in the San Diego area, and she really knows her stuff. We started off at the Modern Times Flavordome, setting the stage for a great evening.
The Fermentorium is a large, industrial building with an impressive, wide ranging tap list. We sampled a number of their beers, including the Fruitland Passion Fruit and Guava Gose, the Black House Coffee Stout, and the Space Ways New England IPA. All three are exceptional. The space allows for a lively evening of beer sampling in the Midway District. The brewery itself produces vegan products – the Milkshake IPA uses Coconut milk. That's good news if you are vegan but don't want to miss out on those delicious Milkshake IPAs.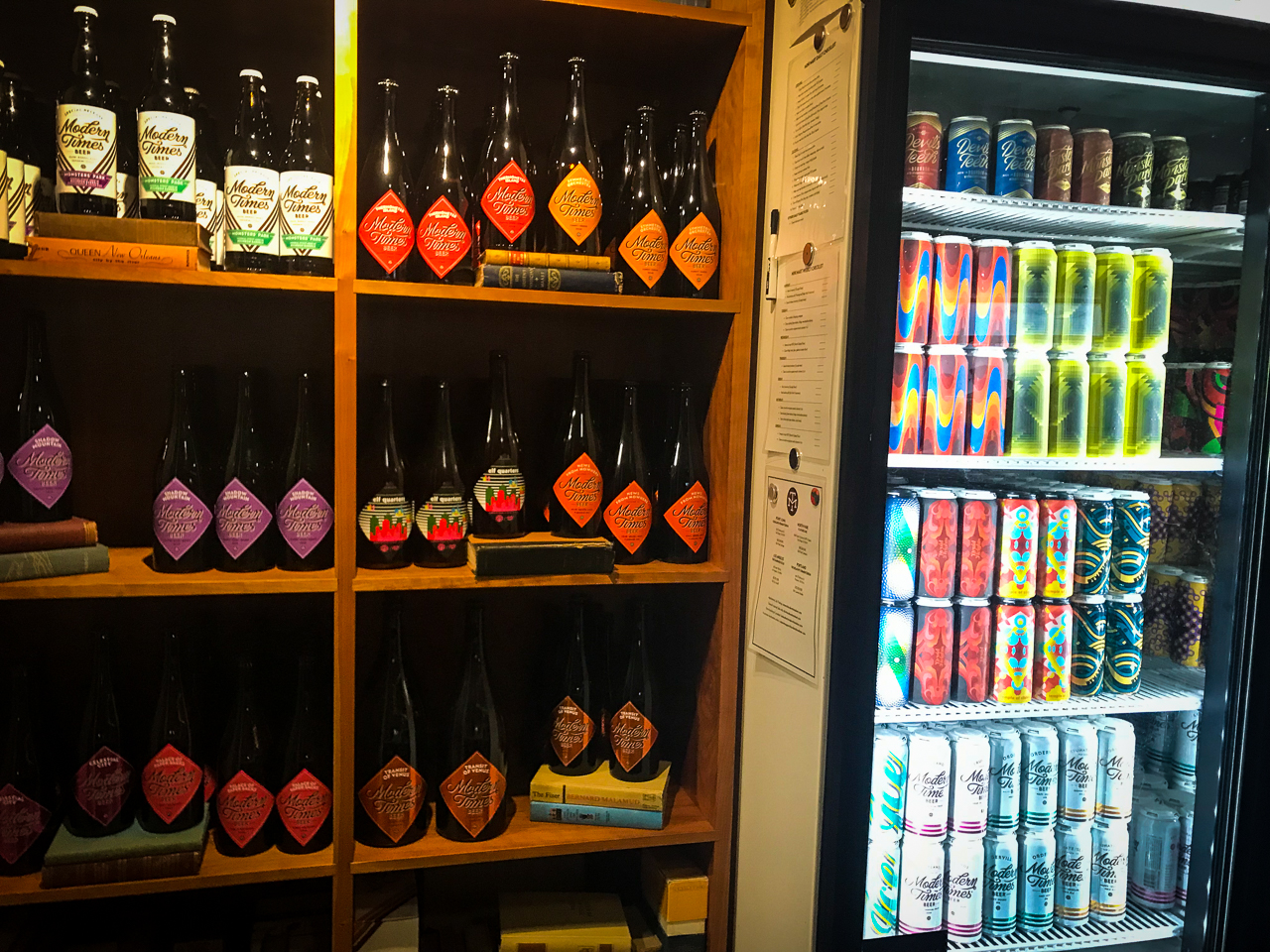 Brew Hop Stops Two, Three and Four – The Brewery Igniter
As ideas go, the Brewery Igniter is a great one. With three locations the region, the Igniter provides brewing space to start up breweries, allowing them to reduce their upfront cost and place more focus on what they want to do – make beer. The North Park location currently houses three small brewing operations and we made sure to visit each one, starting with Pariah Brewing Company.
In addition to a great name, Pariah offers a range of styles that includes several IPAs. I tasted the Passion of the Kiwi Berliner Weisse, which I highly recommend, and the brewmaster later allowed us to sample a Double IPA that was about to launch. Pariah makes really good beers. San Diego Magazine named it the best new brewery of 2017 and the distinction is well deserved.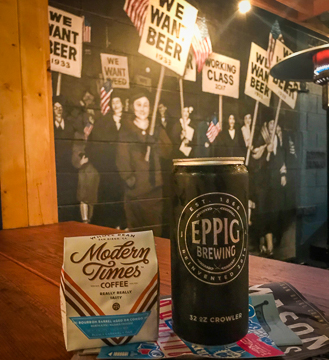 Next, we went next door to Eppig Brewing, where we found a perfectly made Vienna Style Lager, recently the Gold Medal winner in the Session Beer category at the 2018 Great American Beer Festival. This was also the first brewery where we noticed the wonderful canning contraption that many of San Diego's small breweries use. The device allowed me to order a growler-style pour of the lager and have it canned for future use (which turned out to be the next evening).
Our last stop was to the June Shine Hard Kombucha Bar, the world's first according to their website. I was excited to try the unique beverages on offer, which included Midnight Painkiller, containing activated charcoal, Cucumber Mojito, Blood Orange Mint, and Honey Ginger Lemon. These organic beverages contain antioxidants, vitamins, probiotics, and of course, alcohol, and are worth seeking out if you are visiting San Diego.
At this point, we bid adieu to Summer following a fantastic tour and found a quick dinner at Working Class, where I ordered the excellent Devotion Belgian Blonde from Lost Abbey. Our last stop was to the Toronado Pub to enjoy its extensive tap list, which included a couple offerings from the renowned California brewery, Russian River Brewing. So ended an amazing first day in the city.
Day Two: Brewery Tours of San Diego and Nighttime in the Gaslamp Quarter
Brewery Tours of San Diego
Following our private tour with Brew Hop, we took the opposite approach on Friday and joined a public tour, this one covering three breweries in the downtown area. This adventure, with Brewery Tours of San Diego, gave us the opportunity to meet a few like-minded beer lovers. On their website, the company offers a selection of tours through the region, including downtown weekday tours, weekend tours, as well as evening tours from Thursday through Saturday. Private Tours are also available.
We started our day with a pick-up at the Local Eatery & Drinking Hole. After a quick beer, we hopped on the minibus with two other couples and made our way over to Mission Brewery. Located near Petco Park, Mission is housed in an old Wonder Bread facility in the East Village, giving it ample space to host beer tastings and tours. We did both, starting with their flagship California Craft Lager, a nice starter to prepare our group for Aunt Cali's Berry Pie, a kettle-soured ale with blueberry, boysenberry, vanilla bean, and lactose and the Mocha Milk Stout, made with Cacao nibs, Vanilla beans, and Cold brew from Trident Coffee. We were off to an excellent start.
Stop two, Pizza Port, meant a delicious slice, a much-needed salad, and a pint, all included in the tour. I had the Coco Zombie, a Coconut Milk Stout, smooth and creamy, and a nice pairing with the pizza. The Pizza Port was located in Ocean Beach, a distinct area of San Diego filled with surfers, beach bums, and small shops. We made a note to return on the weekend explore the area's multiple brewpubs.
Our last stop was the Ballast Point Home Brew Mart, technically no longer a craft brewery after its purchase by Constellation Brands, but still one of the region's finest beer-makers. I've had both their outstanding Grapefruit and Habanero Sculpin' Ales on multiple occasions. On this day, it was hard to choose from the 18 beers available on tap. The Gin Barrel Aged Sour Wench Berliner Weisse was first on my list, with the Grunion Pale Ale w/ Brett being second, and both are great. Ballast Point now has multiple locations in the US. This one, the Home Brew Mart, featured the greatest selection of beer making supplies and ingredients I've ever encountered. It's a home brewers paradise.
Following the tour, we made sure to sample more beer and enjoy a delicious meal at the Local. I highly recommend the Poke if you need a light meal. One of the guys in our group opted for the Big Ass Nachos with Brisket, certainly a great choice, but not a wise one after an afternoon of beer sampling. We spent the remainder of the afternoon waiting for him to recover before making our way to 5th street in the Gaslamp Quarter, where we found a lively nighttime crowd of bar hoppers. I felt like I was in New Orleans. We spent the night in the Tipsy Crow, a three level pub with craft beer on tap and a flow of great music from the 90s and early 2000s.
Day 3: Uncovering the Tijuana Craft Beer Scene and Exploring Little Italy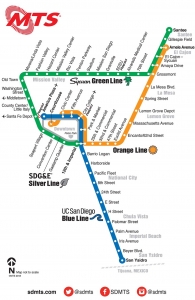 I had no idea what to expect from Tijuana. Prior to visiting San Diego, I had not really expected to visit the border city at all. We decided to take the trip South when both our tour guides recommended that we check it out. Reaching the border is not difficult, since the Blue Line that runs through downtown San Diego makes its final stop less than 100 meters from the border crossing. Getting into Tijuana was easy, but without cell coverage, we worried about finding our way downtown. That turned out to be a pretty simple task as well. A large arch spans the entranceway to the city centre, and so we followed the walking path to the arch and went looking for breweries.
The first place we found was Mamut Brewing, located on the second floor of a building on Carrillo Puerto y o Tercera. It's a great spot for an afternoon refreshment, and they make good beer as well. I tried both the Brown Ale and the Gose. From there we moved around the corner to Cerveceria Norte, a slightly hard to find spot situated on the 5th floor of a building down an alley next to Caliente Casino, off Av. Revolucion (make sure you save this one to your Google Maps). The view of the city we found here was great, offering a glimpse of Tijuana resting starkly against the barren US landscape to the North. Norte had about 8 beers on tap and their Mexican Spiced Stout was one of the highlights of our trip.
The bartender at Norte also pointed us with a few additional places nearby, including Cerveceria Transpeninsular (inside Bar Margaritas Village), where we enjoyed a beverage overlooking the action on Av. Revolucion. A number of limos were roaming the streets, packing with teenagers hanging out of the sunroofs. Our best guess was that these were quinceanera celebrations. We also spotted a number of painted horses, many covered in zebra-like stripes, and didn't know what to make of those.
Our next stop was the Teorema/Lúdica Co-tasting Room, where I tasted an excellent Kaimán Black IPA on a street level patio. With dusk settling in, we found time for one more beer at the Border Psycho Cantina. The Nitro Pale Ale we tasted there was the best beer of the day.
Darkness had fallen. As we enjoyed our last beer on the patio, a local woman approached us to ostensibly practice her English, but the personal questions she asked felt more like the security questions for online bank accounts, so we suspected that she had more nefarious motivations. She decided that we were not being truthful with her when we told here that we were from Saskatchewan, Canada. Despite it being a real place, Saskatchewan's hard to pronounce name must seem like an invention to non-Canadians. We finished our beer and made our way back to the border, catching a cinematic glimpse of vehicles lined up at least 12-wide and extending back hundreds of feet. We were thankful that we would be able to leave on foot.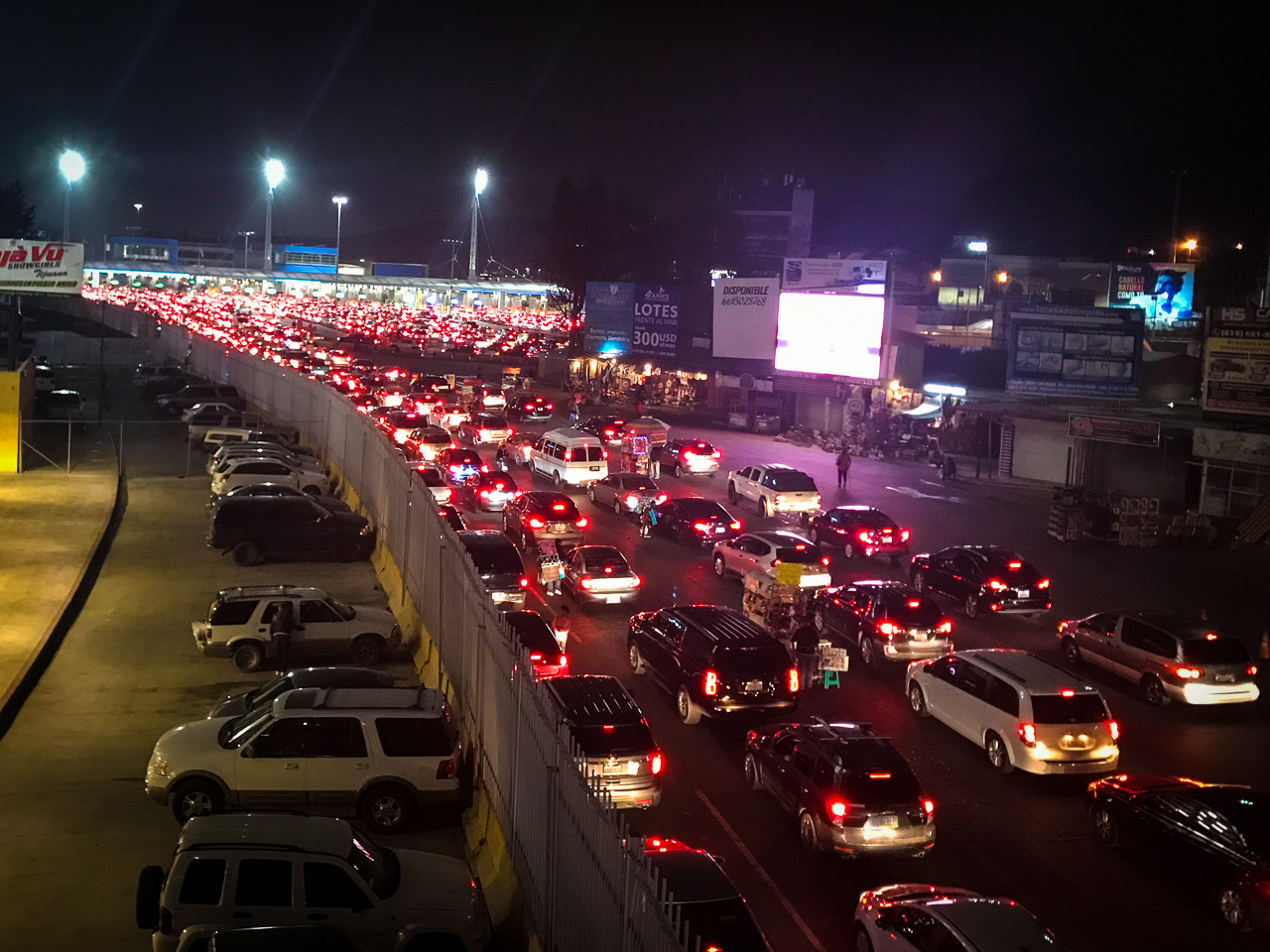 Blue Line from the US/Mexico Border to Little Italy
Once back in the U.S., we waited about 10 minutes for the next Blue train and made our way to the opposite end of the line, which would drop us near Little Italy. In contrast to the raucous scene we found in the Gaslamp Quarter on Friday night, Little Italy offered a more elegant look at San Diego nightlife. We followed India Street northwards, passing a number of great looking restaurants along the way. Intent on visiting a couple more breweries near the top of the street, we grabbed a quick slice of pizza at Landini's, which makes a thin, but soft crusted and delicious pizza. Afterwards, we encountered Mikkeller Little Italy, a Stateside branch of the famous Danish brewery, known for their experimental beers.
I have tasted great beers from Mikkeller in the past, but the two we tasted here – Raspberry Blush and Windy Hill – were not up to par. Their tap list was long, and so we may have been unlucky in the styles we chose, but I was disappointed. We eased our pain with a trip to Ballast Point Little Italy, where we were able to sample beers that we missed on our beer tour the previous afternoon.
Day 4: USS Midway Museum & Beers on Ocean Beach
After three days of brewery visits, we figured that we better check out one of San Diego's most popular attractions, the USS Midway Museum, a maritime museum that encompasses the entire aircraft carrier, Midway. Built in 1945 and in operation until 1992, the Midway was America's longest serving aircraft carrier. If anyone in your travel group has an interest in the military, I highly recommend a visit to the Midway. We were afforded the chance to visit the bowels of the ship, stretching deep below the main deck and complete with all of the amenities needed for life at sea, including a barber shop and a fairly large dentist office.
Admission includes an audio guide, where you will hear a number of amazing facts about the ship and its history. The landing strip on the top deck is filled with combat jets and helicopters used over the years, including one particular rescue chopper that was used to retrieve astronauts during the early Apollo missions. We spent more that three hours on the ship. That meant it was time for a beer.
Wandering Ocean Beach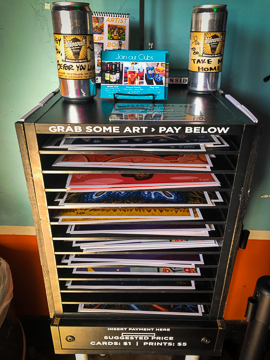 After visiting Pizza Port on our beer tour, we made sure to find the time to explore the beer scene on Ocean Beach. Once again, we found ourselves in a different world when we hopped out of our Uber. The contrasts of San Diego's neighbourhoods made it seem like we were visiting a different city each time we left home. At Ocean Beach, we encountered surf culture. I worried that if I drank too many beers, I would walk around quoting Point Break ("I am an F-B-I agent"). We immediately got a taste of the life at our first stop, Kilowatt Brewing.
We found a nice range of beers at Kilowatt, though none were memorable. Like most small breweries in San Diego, they offered tasters. I tried the Coconut IPA, the Passion Fruit Green Tea Ale, the Stone Idol Sour, and the Bourbon Barrel Aged Stout. Though I wasn't impressed with the beer, the bar itself was unique and impressive. Art hung everywhere, even the lighting belonged in a museum. Each table had some sort of unusual game where concentration was key, which seemed to be a sort of sobriety test. Locals came and went, some staying for a beer, others stopping in with their dogs to pick up a six pack. It seemed to be the most carefree pub on Earth.
We forced ourselves to stand up and keep moving but didn't have to walk to far. A few doors up, we found Belching Beaver, a small brewpub with an astounding 20 beers on tap. That many beers meant samples were a must, and we were not disappointed. Overall, the range of beers I tasted at Belching Beaver were the best brews I tried in San Diego. Their bestseller, the Mexican Chocolate Peanut Butter Milk Stout, could easily have been a disaster, but it was smooth, complex, and contained the perfect level of peanut butter notes. The Me So Sour, a mixed-fermentation sour beer, was also excellent, as were the Digital Bath Hazy IPA and the Mango IPA. The brewmaster at Belching Beaver is clearly a star and I hope to someday find their beers again.
Next, we walked about a block towards the ocean and found Helm's Brewing Co. Tasting Room. I accidentally kicked aside a dog's water bowl on my way in, soaking my right foot, and so I decided to immerse myself into beach life with a shoeless stroll into this pub as my sock dried outside. I fit right in. We had more samples here of course, opting for the $10 flight. Nothing stood out but I enjoyed every beverage and we struck up a conversation that led us to our dinner destination, the BBQ House Bar and Grill. We had planned on visiting Phil's, a well known BBQ joint in the Midway District, and so we were happy to have received the tip, which would allow us to keep exploring Ocean Beach, you know, in case we decided to move there.
The food at the BBQ house is excellent. Our group of three opted for the Family Feast, touted to serve up to 5 and we did a pretty good job on it, leaving but three wings on the tray, and even eating an extra pork rib each. The service at the restaurant was notably lacking, but the food made up it. Like every other establishment we found in San Diego, craft beer was available on tap.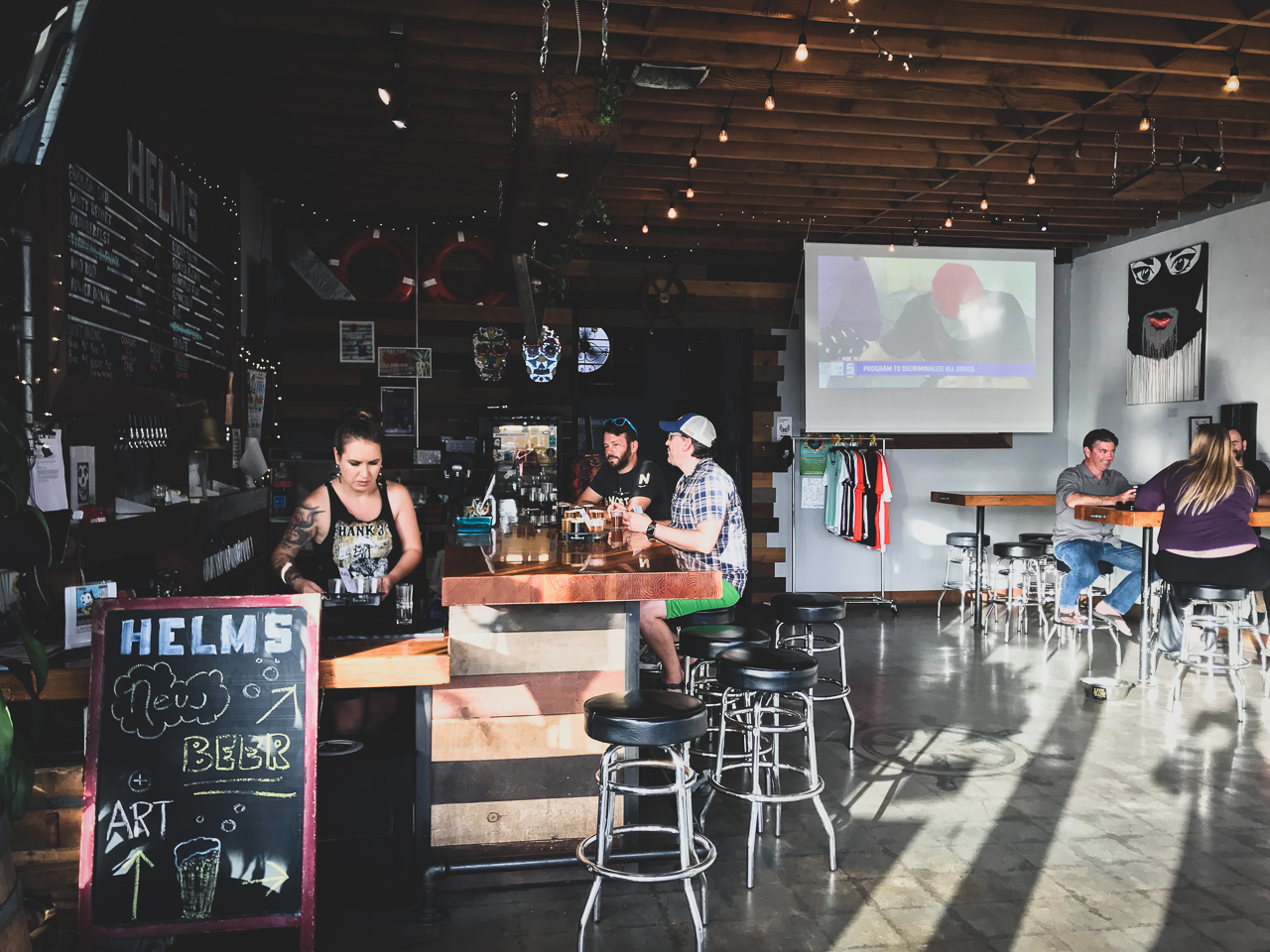 Feeling pretty full, we made our way down to the beach, which was perfectly timed with the SpaceX rocket launch over Los Angeles that night. At the time, we had no idea what it was, chuckling at the number of fellow beach goers who may have thought they were witnessing a UFO. After some down time near the water, we summoned the energy to savour one last beer at Ocean Beach Brewery. I have no idea how we found room.
Day 5 – Last Beers at the San Diego International Airport
True to form, the San Diego airport is a pretty great place to grab as drink. Stone has a restaurant near the gates that serves up some pretty delicious food and a nice selection of the brewery's beers. The Fish Tacos I had there were outstanding. I had been on the hunt for tacos all weekend and finally found them on the way out of town, rounding out an amazing beer adventure in San Diego.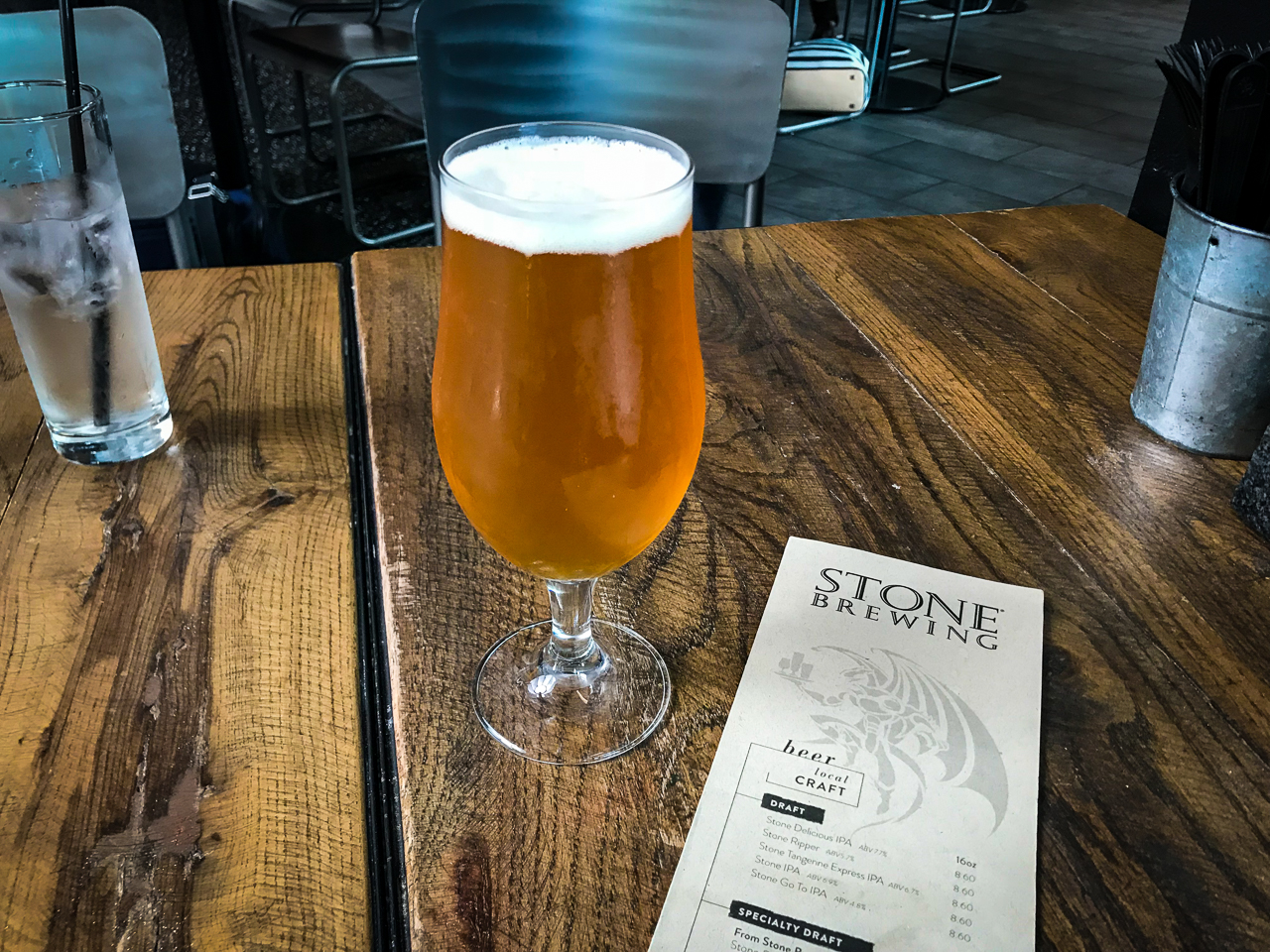 Looking for more food and drink inspiration in San Deigo? Here's more to explore!