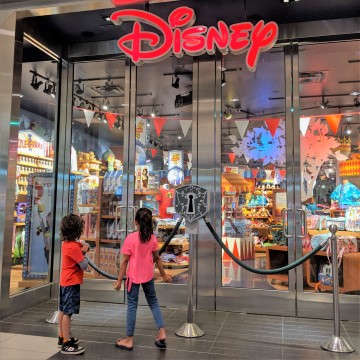 Despite living across from the Eaton Centre (which is home to a Disney Store) for nearly 15 years, I had never heard of or witnessed the opening of a Disney Store. On our trip to Sudbury with our kids, we got chatting with someone from the tourism team who told me that she brings her daughter to Toronto and having her open the Disney store is always the highlight of the trip! WHAT? Really? Well…sure enough Little Monkey didn't let me forget that conversation and so we kept trying our luck. So if you're wondering about how to open the Disney store as a guest, we got you!
Watch the video below to see how our Disney store opening mission panned out…
Tips for Opening the Disney Store in Toronto
Prep your kids for the possibility of disappointment as there is a chance that they might not get to open the Disney store on their first attempt
At the Eaton Centre Disney store, it's the first guest in line who gets to open it but I have heard that at other stores, if you're celebrating a birthday you get to open the store. Checking with a Cast Member (store employee) prior to planning your visit might be a good idea
Be sure to stand by the entrance and not run around upon arrival – mark your spot as there might be other kids following closely behind who will take the first spot if there's no one immediately in the vicinity
While they only choose one guest to unlock the magic, we were successful in having Baby Boy join along. Just call out the option loudly (as I did in the video)
There is only one complimentary miniature key that is offered to the guest who unlock the magic that day, so don't bother asking for additional ones
Based on my discussions with various cast members at our store, I know that school holidays and summers tend to be their busier openings. There are many times when there's no one in line I've been told (which is when adults will have the opportunity to open the store as kids usually get priority)
Unlocking the magic at your local Disney Store is one simple and FREE way to get close to the magic of Disney. The ceremony is only a few minutes but the music and fanfare most definitely brings that famous touch of magic and I was immediately transported to my Disney memories. While I used to visit Disney World quite often prior to having kids, we've only taken Little Monkey and Baby Boy to Disneyland when they were tiiiiiiiny (one was 3 months and the other was 2 years old) and our recent Kissimmee learnings, definitely have us thinking about a multi-generational Disney World trip for 2020.