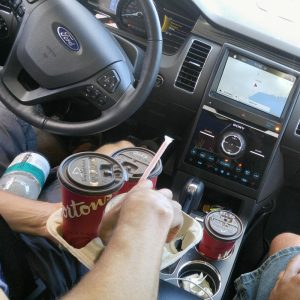 As you may know, I'm on a mission to discover local beach getaways close to the Toronto area. With the dollar where it is, many readers have asked me about fun road trips from Toronto and during our Mexico travels, we discovered that Little Monkey and Baby Boy are happiest playing in the sand and barely need any attention from us. That is how I discovered the Norfolk area.
Norfolk County's most popular tourist attractions are the ports, towns and villages along Lake Erie, known as Ontario's South Coast. These towns include Port Dover, Turkey Point and Long Point, which are all less than 2 hours from downtown Toronto. That said, if you plan to travel during a long weekend, be aware that it could take you upwards of 5 hours as we discovered on the way to Long Point!! The return was a breeze though so a day trip can easily be done during regular weekends.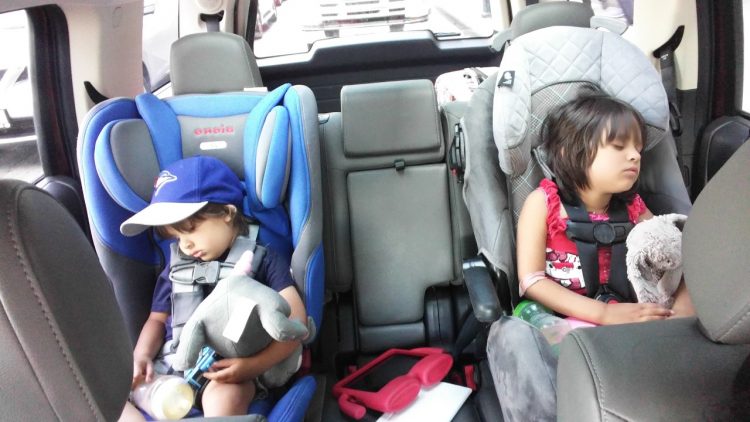 We packed up the 2016 Ford Flex that was loaned to us for a review and headed out on the Thursday leading up to Canada Day. Luckily for us, the kids fell asleep the moment we pulled out of the garage and so the hubs and I enjoyed an easy drive despite the crazy traffic. The Ford Flex's multi-panel vista roof enabled the hubs and I to enjoy the sun shining down on us while we kept the sleeping kids nicely shaded, thanks to the sunshades on each of the two fixed openings over the second row. With the wind tousling our hair, the hubs chatted causally with Siri (his phone was connected to Ford's new Sync 3 infotainment system) asking for songs he wanted to hear and we also asked the Sync 3 system for pit stops we could made along the way. Of course there were a couple Tim Hortons runs-wouldn't be a Canadian road trip without that, right? Luckily for us, the pit stops the Ford system told us about matched the ones our friends had recommended as well!
4 spots to visit on your drive into Norfolk County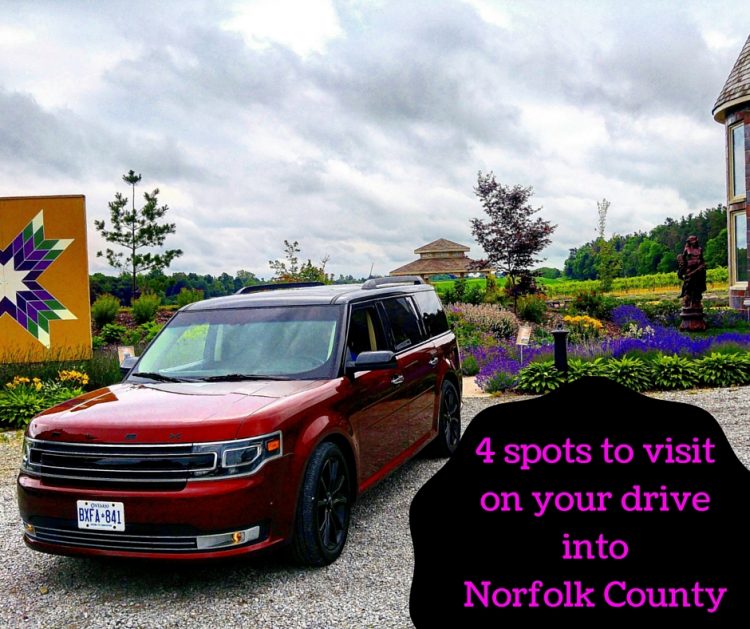 When we first spotted the Ford Flex being city folks, we were intimidated by the size but soon realized that we loved the spacious and cozy interior, more  so when friends surprised us and joined us on Canada Day. The three-row crossover SUV was perfect for our group of seven and we were able to explore Norfolk County in one car. We fit four adults and three kids (each in their car seats!) comfortably in the 2016 Ford Flex and to think, I didn't even know we had a third row as the hubs kept it flat on our drive in. With just a touch he got them up once the suit cases were out. My friend who joined us on this trip is ALWAYS extremely cold and I'm ALWAYS extremely hot, so on this sunny trip, the hubs was able to keep us both happy thanks to the dual A.C system (backseat passengers controlled their own air speeds) and the heated/cooled front seats. I should also mention that back seat passengers had cup holders on their side doors/panels which made it easy to store the coffees we picked up.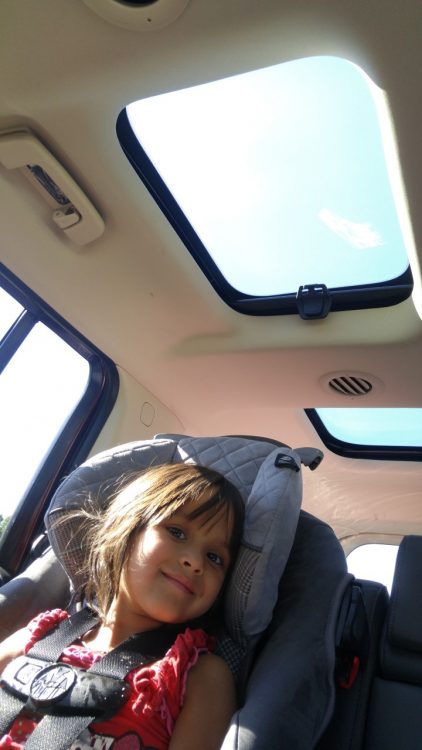 I was truly shocked that the kids survived the 5 hour drive to Norfolk County on the way in but thanks to a well timed nap, their tablets and an extra large snack bag, it was a pleasant and peaceful journey. Also meant the 2 hour return trip was a bigger surprise!! I also learned on this trip that Little Monkey knows way more pop tunes than I do, and so the four year old belted out to songs playing on the Ford Flex's Sony system.  I only knew to hum along!! Shame I tell you, shame!!! I need to up my current music knowledge.
If you're contemplating upgrading to a seven passenger SUV that offers power, efficiency (only cost us $90 in gas after 10+ hours of driving around),  technology and awesome hands-free services, the 2016 Ford Flex Limited is worth checking out, that's for sure! We have more to share with you on the beaches, beer and family fun available in the Port Dover and Simcoe area, so stay tuned for another post very soon.
Click here to read our review of the Long Point Beach Club!