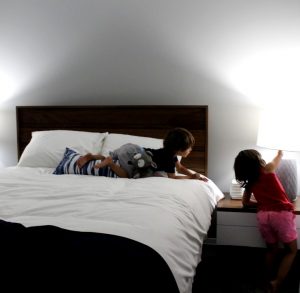 Do you remember when I told you I was on a mission to discover Ontario's best beaches? We recently explored Norfolk County and it was a beach filled vacation for us and I was truly blown away by the beauty of our Ontario beaches. During that trip we stayed at the soon to be opened Long Point Beach Club in.. you guessed it, Long Point Ontario! We were thrilled when we heard that we were the very first people to have stayed in that suite!
Disclosure : Our stay was hosted by Norfolk Tourism but, as always, opinions are totally ours!
Long Point Beach Club  is similar to any other accommodation property offering short term or weekend rentals, but they are also unique as they sell club membership packages ranging up to 99 years. The Beach Club is brand spankin' new and everything is very modern and super clean, which I loved. The old Long Point Motel and Trailer Park used to once sit where the Long Point Beach Club now proudly stands but long gone are the campy vibes and instead you're welcomed with soothing music and pristine accommodations. The Beach Club is within the boundaries of one of 16 Unesco World Biosphere Reserves in Canada and is located in one of the southernmost parts of Canada, on the northern shore of Lake Erie, directly across from Erie, Pennsylvania, and roughly halfway between Niagara Falls, Ontario and Windsor, Ontario.
We got in much later than anticipated and was greeted by the owner, Jeff, who escorted us to our room and gave us a quick tour and gave us a bunch of local area tips. Long Point Beach Club is a family run property and during our stay we met dad and son! The two bedroom units are huge!! Especially for city dwellers like us. At 1200 sq ft. it was much larger than our two bedroom condo in downtown Toronto and not only did each of the rooms have a closet and an ensuite bathroom, there was an additional guest bathroom, a full living and dining room in addition to the full kitchen. The open concept plan works really well because the kids were able to play as they pleased as I prepped our dinner.

Speaking of dinner, there is a restaurant on site owned by the family and we did dine there on our first night (before I had time to buy groceries!). The restaurant does close early so don't expect any late night meals after 8:30 p.m. I loved that like all small town restaurants, they allowed the kids to choose a little toy as we left. They played with those bouncy balls all weekend long!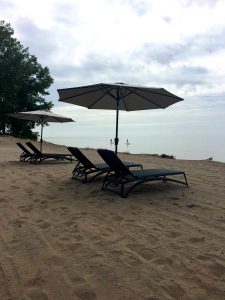 Waking up to the beach was quite the treat and I also learned that each of the 18 units have a water view. Lake Erie is just across the road and you can easily wave hello to our American Neighbours (they may not see that wave though)! The beach was still being set up during our visit but it's all nice and ready now! We caught the sunset there and I  have some awesome family pictures as we played on the rocks and the softest sand I've ever stepped on! I kid you not, insanely soft!! The Ice Cream hut was  also not open during our Canada Day visit but it would be pretty awesome to eat ice cream and lounge by the beach, that's for sure. My only advice is to watch the kids as you cross the road to the beach or the restaurant as it is a busy bend.
Long Point Beach Club is at the top of a road that takes you further down to a public beach and an area with a few restaurants and ice cream shops. We didn't explore that area much as we mostly drove around Port Dover, Port Stanley and Simcoe to visit the lavender farms and breweries. These were all a 30 minute drive from Long Point Beach Club and so you do need a car to get you around. If you're looking for more info on what do in the area click here!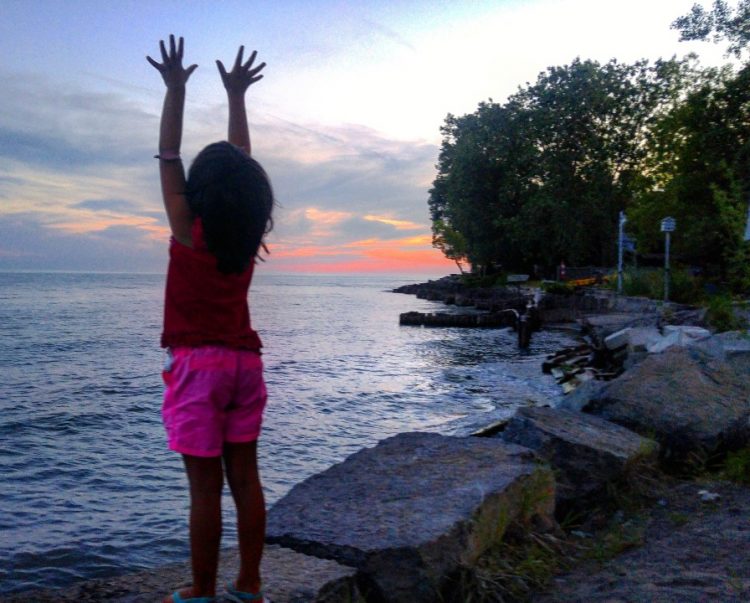 Given that our two bedroom unit also had a pull out couch, I would highly recommend Long Point Beach Club for a multi-generational trip. They have provided all the amenities so you don't have to lug around much. Please note that I brought the baby monitor you see in the video (I'm crazy like that). One thing you MUST bring if you visit the Norfolk area is bug spray, so don't forget that! Long Point  Beach Club is  most definitely the luxurious way to experience Norfolk County and if you're looking to spend a couple weeks a year on a beach, it's well worth taking a look at the ownership plans they have in place. Also if you're a boating family, you'll be glad to hear that they have docks right by the Beach Club! Remember you're less than half an hour from various beaches, including Blue Flag Port Stanley and Palm Tree lined Port Dover Beach.
Guys, a beach vacation is still within your grasp before we head into the autumn months!