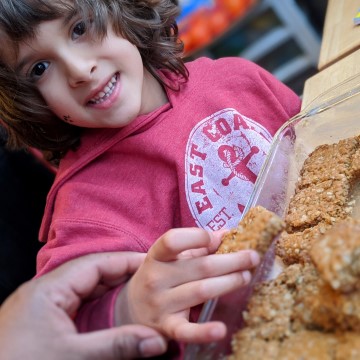 During our many Cape Breton road trips we've eaten our fair share of Oatcakes and the very first time I had one was when I was visiting Chris' grandmother. She had a bunch of oatcakes in a paper bag and they were quite delicious. As I recall, she wasn't overly impressed by oatcakes because they were salty more than sweet. That was totally up my taste alley because I love the sweet and salty combo.  You can find these oatcakes at corner shops and grocery stores if you're driving around Nova Scotia and you can totally alter the salt and sugar ratios to suit your taste, if you're baking it at home. According to the tales I've heard, this recipe arrived with the Scottish and while it originally used Scottish oatmeal it has since evolved to use every day kitchen items. It's a fun and easy recipe for kids to join you in the kitchen for so if you're looking for a delicious and easy Oatcake recipe, this one is for you!
Cooking with Kids  | Oatcakes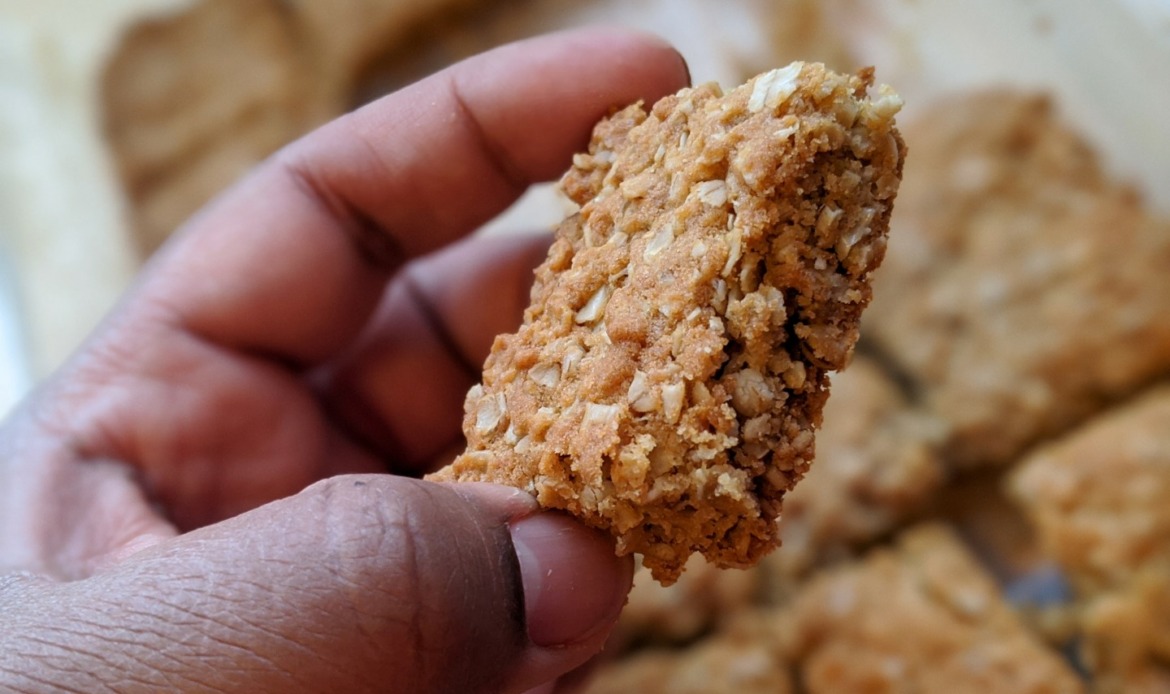 2 cups rolled oats (I've used quick cooking oats and it has turned out fine but not as crispy as with traditional oats)
1 1/4 cup all-purpose flour
1 1/2 teaspoon sea salt
1/2 cup brown sugar (white sugar works fine and if you want it sweeter, add more sugar)
1/4 teaspoon baking soda
3/4 cup butter at room temperature
1/4 cup boiling water
Easy Cape Breton Oatcakes Recipe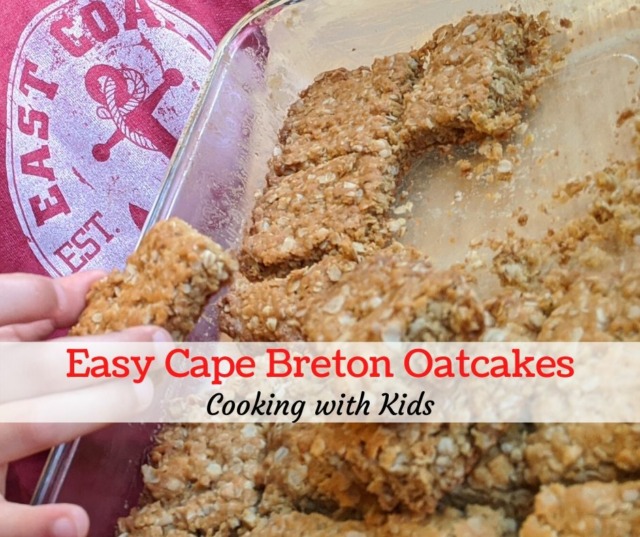 While your oven preheats to 375 F get the kids mixing the ingredients.
In a large bowl have them add in the oats, flour, sugar, salt, and baking soda. If your kids are like mine, maybe get two bowls and have them make two batches! 
Next mix in the butter and let the kids get their hands messy! It's fun! 
Get them to pull their hands out before you pour in the hot water and stir until everything comes together into a thick, sticky doughy paste.
Now comes the fun part!
If you like things savoury use some tahina instead of the traditional butter to coat a baking dish. You can roll the dough out and cut shapes but I find it easier to dump the wet dough into the baking dish and level it before scoring into squares or rectangles.
And you're pretty much done! All you have to do is bake for about 12 to 15 minutes. If you like chewy cookies you want to get it out at the 12 minute mark but if you like crispy cookies, let the oatcakes stay in for a bit longer.
As soon as you pull the baking dish out, you can cut deeper into those shapes you scored before baking the oatcakes. They do harden as they cool down so keep that mind.
We made this during one of our live streams during our quarantine and despite tossing the first batch of these easy oatcakes out due to finding bugs, this recipe took us less than 10 minutes to prep and less than 20 minutes even with the baking! They store well as long as they're in an air tight container so feel free to make a large batch! You can eat these plain like we do or with jam, cheese or butter as they do in Cape Breton!