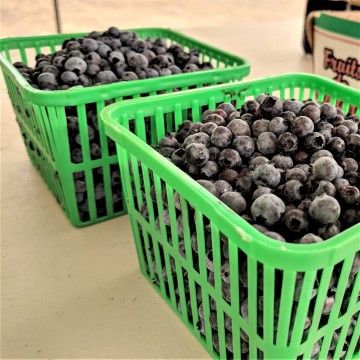 Who's ready to learn about some delicious Cape Breton desserts? Will travel for food and drink has been my motto since I was a child and on every trip we take, I do my best to hunt down local eats. Since Chris spent most of his childhood in Cape Breton and because we visit Cape Breton with our kids at least once a year, I've spent the last few years trying to discover the "must eat" dishes in Cape Breton. When I first asked Chris what traditional Cape Breton food he grew up with, he gave me a puzzled look and said there isn't anything specific to the island that he knows of and that most dishes are from Nova Scotia in general. He was wrong (hah! I do enjoy saying that). While everyone flocks to Cape Breton for the succulent seafood, there are some traditional desserts that I have had the pleasure of discovering in Cape Breton. Now, I know some of these can also be found outside of Cape Breton (in fact all of them can be found all over the Maritimes but as far as I'm aware, these ones have a strong presence in Cape Breton). If you're looking for what to eat in Cape Breton and have a sweet tooth, these Cape Breton desserts will end up on your list of things to eat in Cape Breton!
Traditional Desserts to Eat in Cape Breton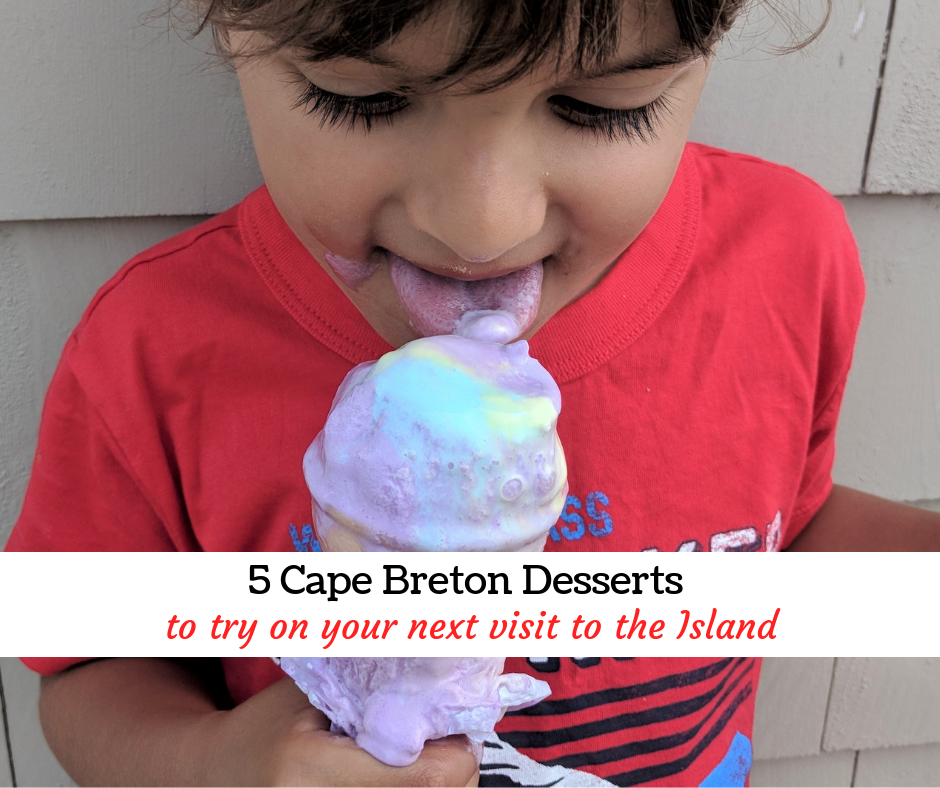 Moon Mist Ice Cream
I've visited Cape Breton more than ten times but it was only last summer that I discovered Moon Mist ice cream! Moon mist ice cream is a pastel coloured combination of banana, grape and bubblegum flavours. It sounds super weird but the kids ordered it and it actually tasted pretty darn refreshing!
Fat Archies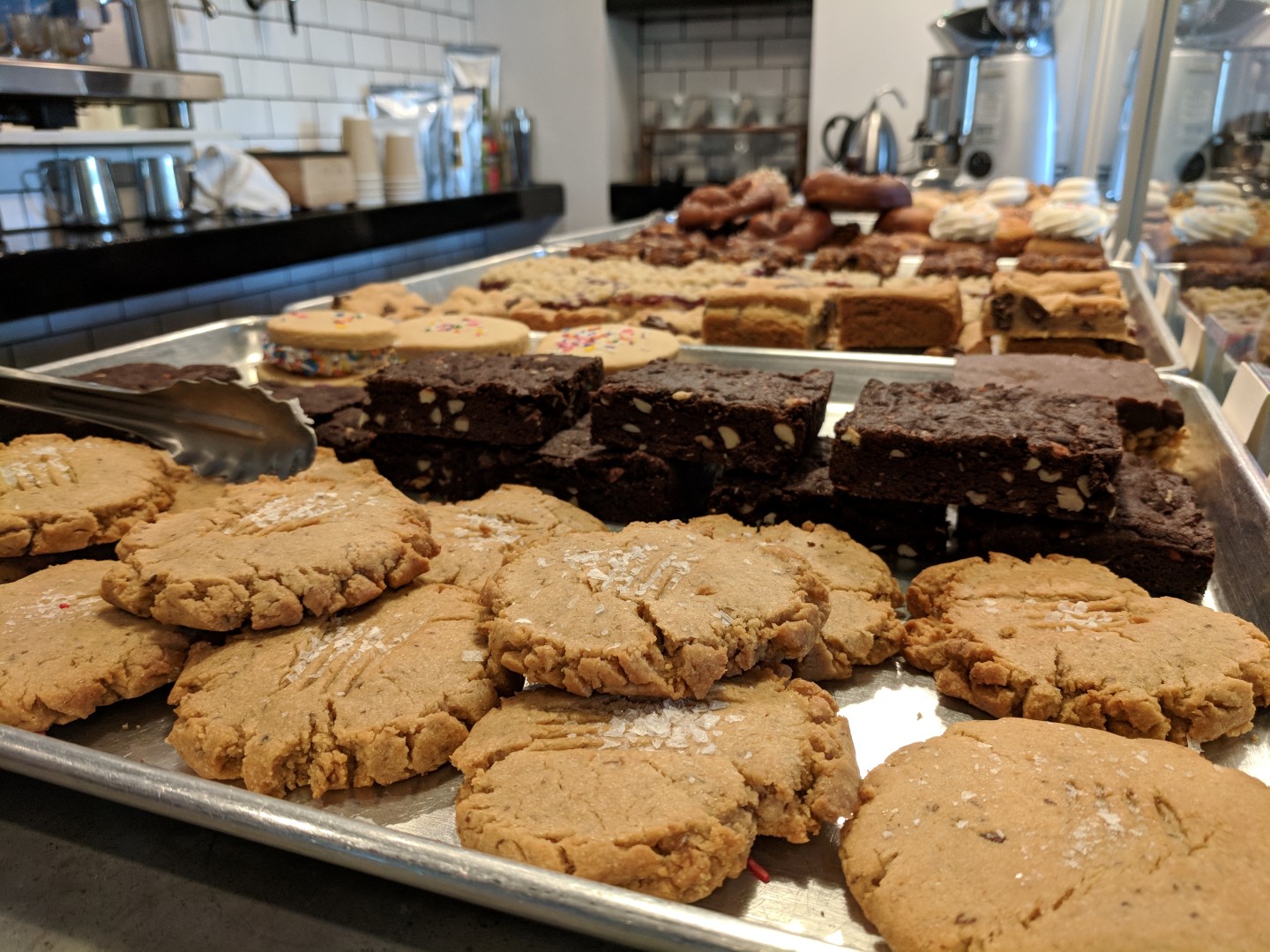 After many years Chris' mom finally let me in on a secret that Fat Archies are her favourite cookies and I gave her a blank stare. I had never heard of these before but have since learned that Cape Breton hunters ate Moose Hunters which were also known as Fat Archies. These biscuit-like molasses cookies aren't always easy to find but if you're lucky, a bakery you pop into may have them! Best eaten slathered in butter I hear.
Blueberry Grunt
Wild Blueberries from Nova Scotia are a prized possession when you live outside of the province and I've had wild blueberries in all sorts of dishes when I visit Cape Breton. Blueberry soup has been the strangest (but also super delicious) blueberry dish I've had but Blueberry Grunts is what you want to try! This warm dish has stewed blueberries topped with sweet biscuit-like dumplings and can be found at cafes around the Cabot Trail. Oh and by the way, don't confuse this dish with blueberry buckle, that's something different!
Pork Pie
Have you heard it said 'Remember, in Cape Breton things are not always as they sound"? No? Well this is a fine example. This dish is neither pie nor has pork in it! It's a tart filled with dates and topped with maple icing and yes, it's a dessert. Reminds me a bit of mince pies from England that I love so much.
Oatcakes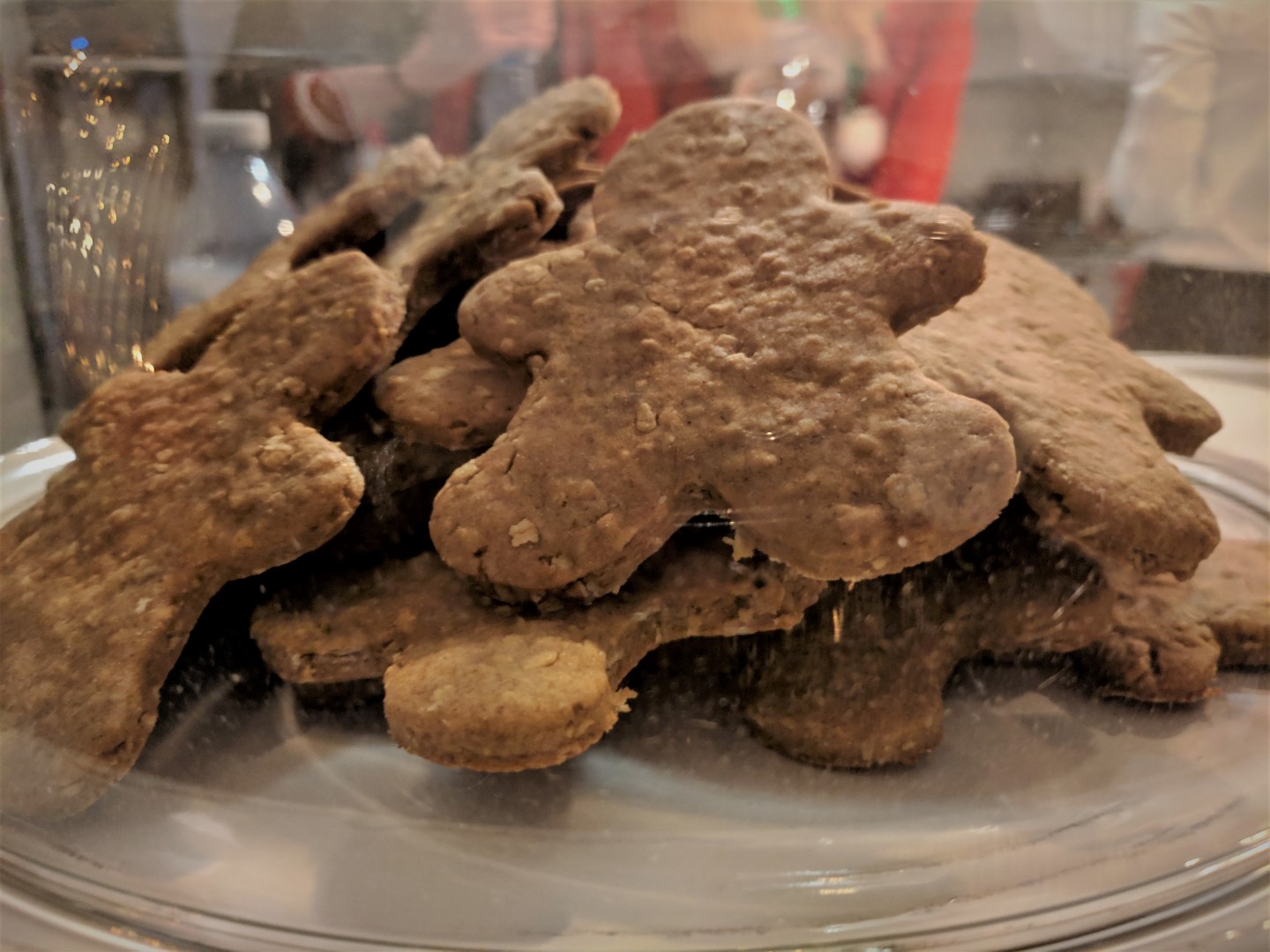 I first had these when I visited Chris' grandmother and they reminded me of the HobNob digestives because they were sweet and salty. They come in all shapes and sizes (mostly round or squares) and I've even had gingerbread men shaped ones! My favourite combination! These can be found at most corner stores as you drive around Cape Breton and definitely worth keeping in the car for a perfect road trip snack.
There are many savoury dishes you should try when you visit Nova Scotia and I hope to have that list for you soon!