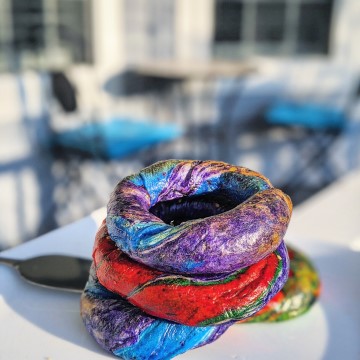 I've been seeing an easy 'two ingredient" bagel recipe being shared by friends like Mommy Gearest and since Akira LOVES bagels, we thought we'd give the Kirbie Cravings one a go. We made a few mistakes with the first batch and then I decided to go down my own path in tweaking SkinnyTaste's recipe to come up with rainbow bagels that were not only easy to make but reminded us of the Montreal and New York bagel tours we have done in the past. This recipe will keep you and your kids busy for about an hour. Longer if you let them play with the dough while you get some work in (hint hint). As always, when cooking with kids, things won't be perfect.  It'll be a royal mess and you may veer slightly off recipe but the best part about these cooking with kids recipes we share is that they'll still be delicious even if they aren't always pretty! These easy rainbow bagels are quite pretty though and I can't wait to see you guys share your creations with us. Have fun with the colours and the shapes! While they aren't as perfect as the ones we've seen in New York, they did turn the frowns (from doing homework) upside down and that's what we need during these crazy times!
Cooking with Kids  | Easy Rainbow Bagels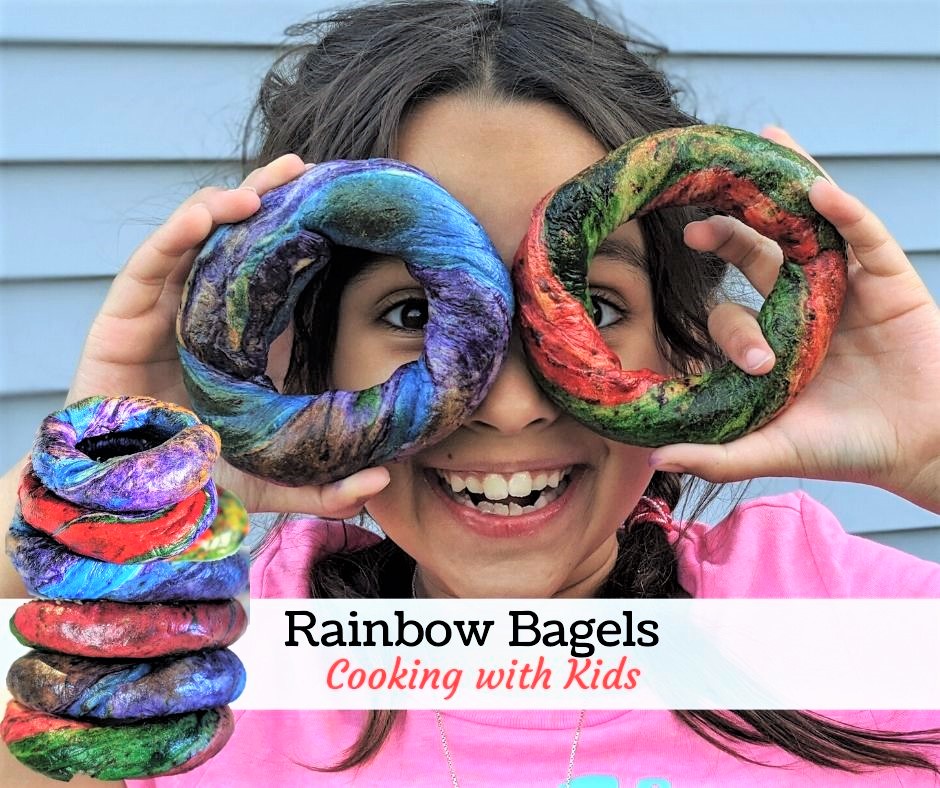 The best part about the rainbow bagel recipe is that you only need a few ingredients and the kids are more than happy to help you with it. Great way to sneak in those capacity and proportions lessons! You can even let the kids play with the dough for an hour if you wish but know that the dough won't really rise all that well if it's over worked. The recipe below yields about 5 to 6 bagels, depending how thick you make them.
Rainbow Bagel Ingredients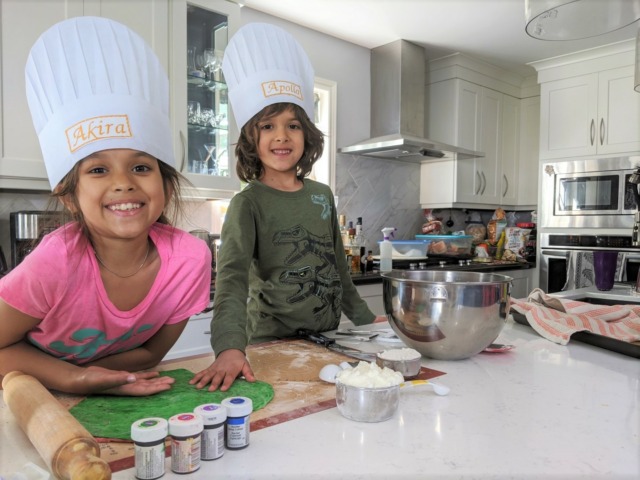 1.5 cups of self raising flour (you can mix 1 cup of all purpose flour with 1 teaspoon of salt and 1.5 teaspoons of baking powder if you don't have self-raising flour at home)
1.25 cup greek yoghurt
Food colouring of your preference (gel types work best)
1 additional cup of flour for surfaces and extra kneading
Any bagel toppings you'd like
1 Egg for an egg wash (if preferred)
Rainbow Bagel Recipe Instructions
In a bowl mix the flour and yoghurt with a wide spoon ( I used a spatula)
Once the dough becomes crumbly, let a stand mixer do the job for you quickly or keep kneading it with your hands. We use the stand mixer for 2 minutes until a dough ball formed and it was no longer sticking to the edges. If kneading by hand, you may need to do it for about 15 minutes until the dough feels like it's mixed well
Take the dough and cut it into quarters or thirds depending on the number of colours you're planning to use. We've tried it with 4, 3 , 2 and 1… my personal favourites are two coloured bagels but the kids really like the four coloured ones
While the dough rests under a wet cloth, take one of the quarters or thirds and add in half a teaspoon of colour. Knead it with your hands (great job to get the kids involved in so you can each do a colour at the same time) until the colour spreads out evenly. If the dough gets sticky, sprinkle some flour to get things back on track
Once each of colours have been added, it's time to get a rolling pin out to spread each colour into a layer. You want each layer to be about 2 mm in thickness

Cut dough into # of colours and add the colour

Roll out each colour

Layer colours on top of each other

Place the layers on top of each other ( I find it helpful to do this on a large cookie sheet or a non porous surface that has been pre-floured
Cut strips that are at least an inch in width. Feel free to lengthen the strips by using the rolling pin to spread things further
Twist each strip and roll it out with your hands before you pinch the ends together (watch the video above to see Akira rolling them out)

Once you have rolled each bagel into shape you have two options. You can bake them or you can boil them in hot water for a minute before baking them. We prefer the boiling method because it brings out a more vibrant colour and the bagels have a chewy outter texture while the inside is still nice and fluffy. However, you can easily toss them into a pre-heated oven (375 C) straight away without first boiling them.

Boil in a water

Gently lift them up with a spatula and tongs

If you want to add any toppings, do so after boiling and before placing it in the oven. Mix an egg and brush some on to the eggs and then sprinkle your toppings before sending the bagels into the oven.

Boiled and egg washed ready for the oven

4 coloured bagels ready for the oven

Bake at 375 C for 16 minutes (timing does depend a lot on your oven and the size of the bagels so keep an eye out). If you boiled the bagels first, bake at 375 C for 18 minutes
Let the bagels cool on a rack before you cut into them
Tip on how to Make Rainbow Bagels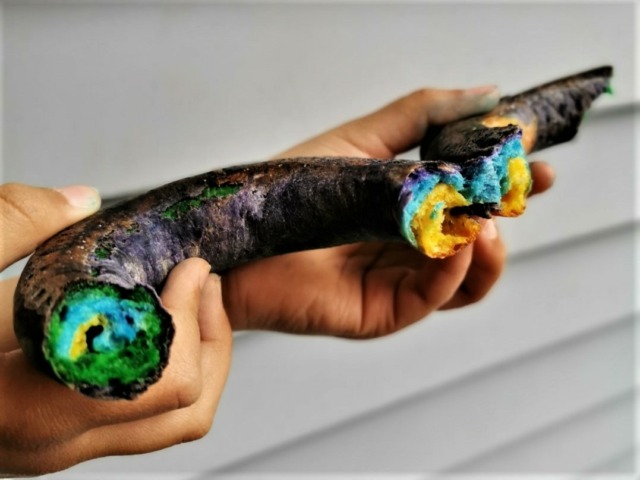 Since we played with this recipe a couple times over the weekend we have some rainbow bagel making tips to share with you.
Using self-raising flour is best because the way the bagels rise depends a lot on the baking powder being used. Each of our batches turned out differently when using all purpose flour as we're getting used to the baking powder at my mom's place.
For thick bagels, you want each coloured dough layer to be thick (an inch and half in total between all layers). The kids preferred thinner bagels so that's what we went with as you can see in the picture.
If you're picky about your layers, ensure each colour is added on a fresh surface so as not to get specks of the previous colour in your dough
Ensure the dough is fully coloured or else the 'white' parts will turn out brown, as you can see in some of the ones we made
Ensure you roll the individual strips well so that the different colours show through nicely and there's a smooth "tube like" feel to dough rope before pinching the ends
If you're boiling the bagels, do so in a wide pan and use a wide spatula to remove them delicately so as not to tear the bagels
I've included images of the various batches we made so you can see the colour combinations. I did not make all these colours in one go.
We hope you have fun making these easy rainbow bagels with your kids. Do share your creations with us as we'd love to see them!